SANTA CRUZ >> Santa Cruz homeowners on the coast likely will see new building rules for in-law units, due to the California Coastal Commission's priorities for parking availability and public access to the ocean.  
Tuesday, the Santa Cruz City Council approved new rules for in-law units, also known as accessory dwelling units or ADUs, and took other actions. Jump to a brief report.
ADU rules
In 2019 and 2020, the Santa Cruz City Council updated city laws on ADUs. The updates mostly reduced regulations and brought the city in line with new state laws. In recent years, local and state leaders have pushed ADU development as part of the solution to the state's housing shortage.
In May, the California Coastal Commission voted to deny the city's ADU law updates. Since part of Santa Cruz is in the Coastal Zone, the coastal commission must approve these changes before they take effect.
Off-street parking requirements can increase costs and make it hard for homeowners to build ADUs. In early 2019, city leaders eliminated off-street parking requirements for ADUs outside the Coastal Zone. City leaders wanted to eliminate the requirement for one off-street parking space for each ADU bedroom in the Coastal Zone as well.
The Coastal Commission did not want to reduce parking requirements on the coast. City and Coastal Commission staff negotiated a compromise, said Sarah Neuse, Santa Cruz senior planner.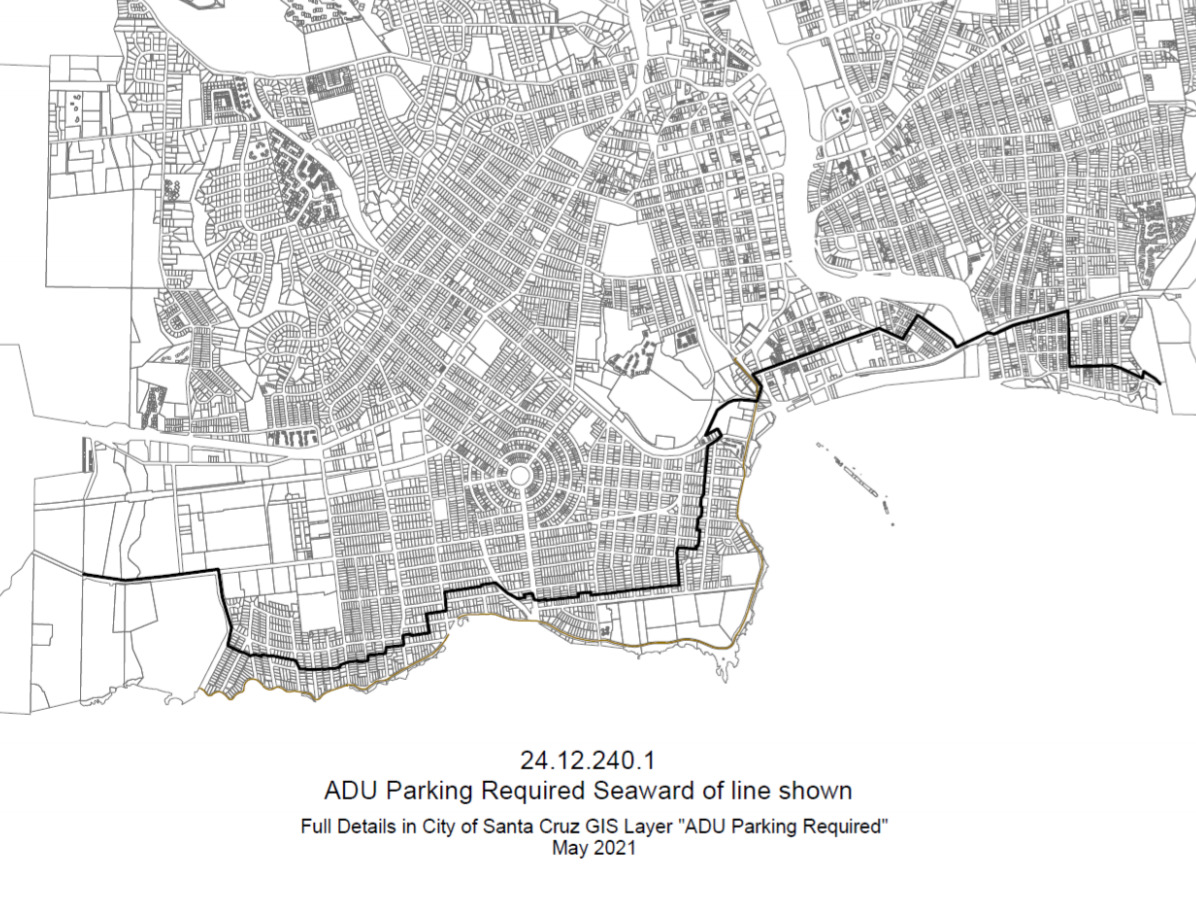 A map outlines areas along Santa Cruz's coast in which parking requirements for accessory dwelling units would apply. (City of Santa Cruz)
Instead, the Coastal Commission agreed to eliminate off-street parking requirements for most ADUs in the Coastal Zone except for ADUs within 500 feet of the coast or in areas with limited parking.
"Anytime we talk about parking near the coast, it just takes a long time, honestly. They're [the Coastal Commission] really concerned about maintaining that free access," Neuse said.
The council approved the Coastal Commission's changes 6-0, with Councilmember Renee Golder absent.
The new law could take effect in September if the Coastal Commission approves it.
New interim city manager
The Santa Cruz City Council is expected to vote Aug. 24 on the appointment of Santa Cruz Water Director Rosemary Menard as the city's interim city manager, city leaders announced Tuesday.
City Manager Martin Bernal is scheduled to retire Aug. 31. He was expected to retire at the end of July, but the date was delayed. City leaders' national search for his replacement is ongoing.
River Street sign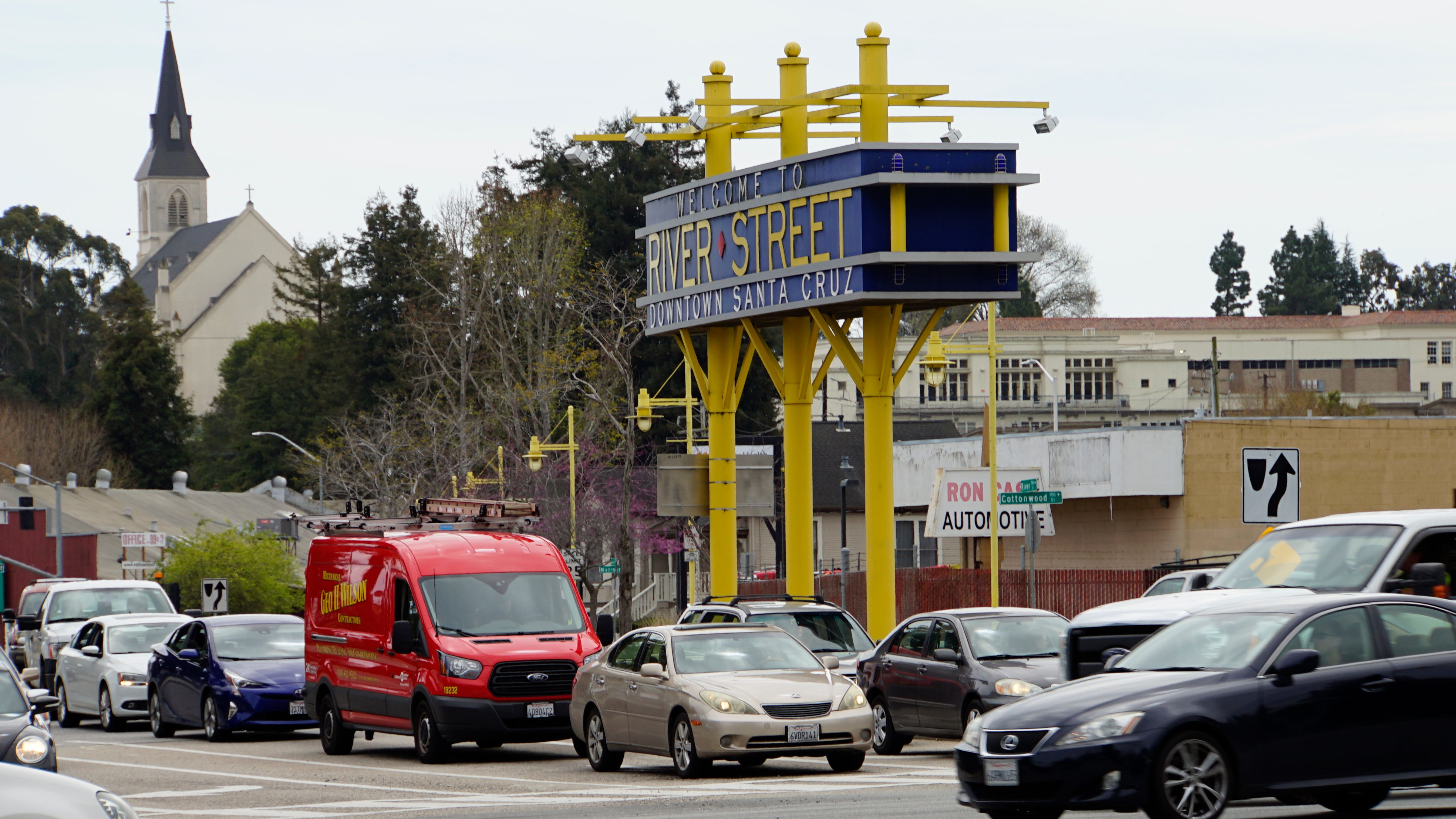 The River Street sign was removed in June to allow construction at the intersection of Highways 1 and 9 in Santa Cruz. (Kara Meyberg Guzman — Santa Cruz Local file)
At Councilmember Justin Cummings' request, city staff will look into a possible alternative for the large blue and yellow River Street sign at Highways 1 and 9. 
The sign was removed in June to allow construction at the intersection. City leaders plan for reinstallation of the sign in spring 2022.
During open public comment, Santa Cruz resident Judi Grunstra asked that city leaders not reinstall the "oversize and ugly River Street sign." 
"Those of you who lived here when it was installed probably remember the community's negative reaction," Grunstra said. "People may have gotten used to it, but the road looks much better without it."
In response, Santa Cruz City Councilmember Justin Cummings asked the city manager if it's possible for the council to vote at a future date on a possible alternative for the sign. He said he's heard requests from residents to not reinstall the sign.
City Manager Martín Bernal said it's up to the city council whether to vote on the sign's future. Bernal will ask public works staff about the plan for the intersection and report back to the council.
Become a member of Santa Cruz Local, an independent, community-supported newsroom that's owned and led by local journalists. Our stories are free and always will be, but we rely on your support.
Already a member? Support Santa Cruz Local with a one-time gift.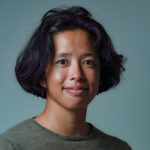 Kara Meyberg Guzman is the CEO and co-founder of Santa Cruz Local. ​Prior to Santa Cruz Local, she served as the Santa Cruz Sentinel's managing editor. She has a biology degree from Stanford University and lives in Santa Cruz.