SANTA CRUZ >> The Santa Cruz City Council took a wide range of actions Tuesday. 
Jump to a brief report:
Hotel plan could include city land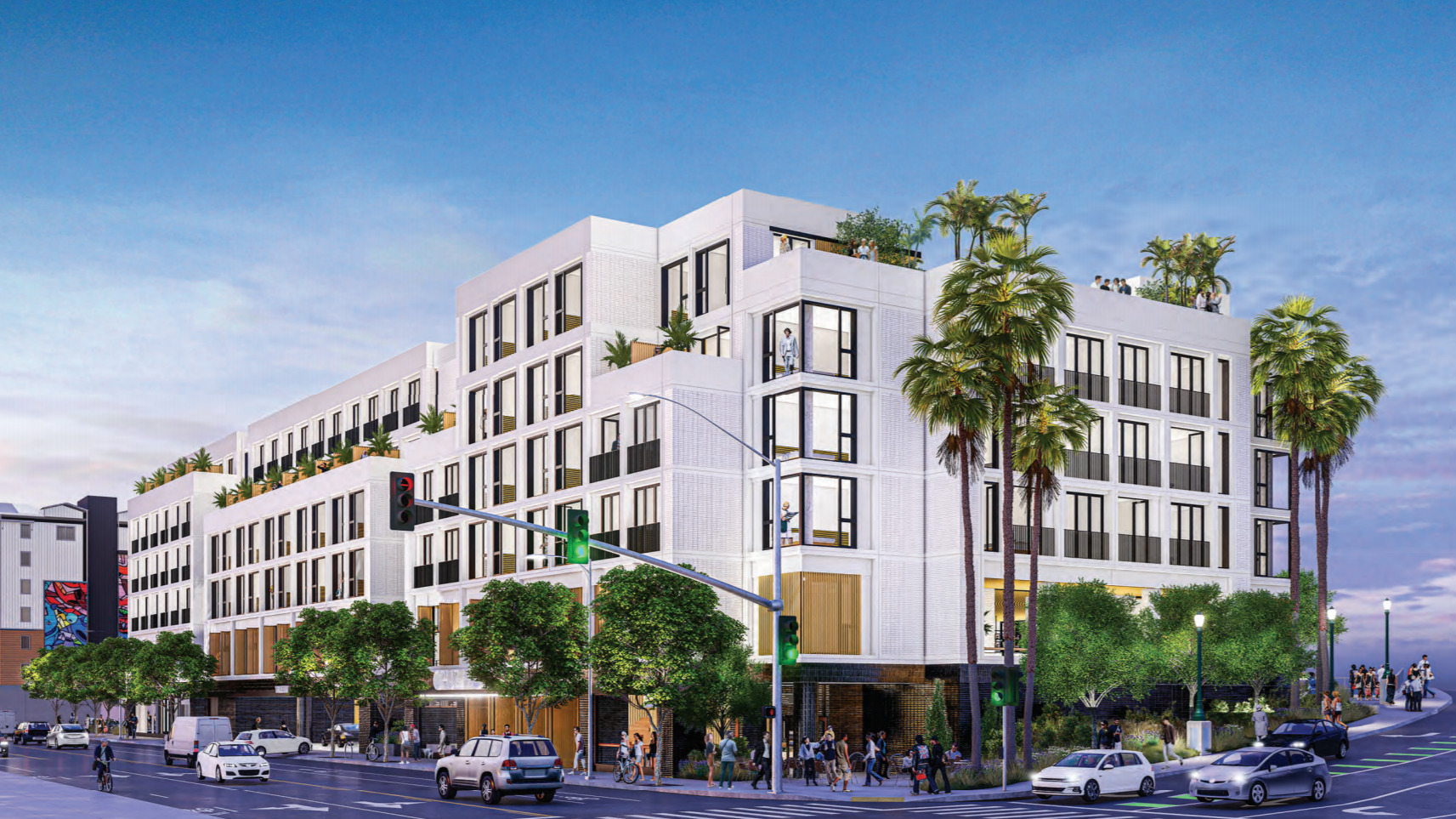 A six-story hotel is proposed for 324 Front St. in downtown Santa Cruz. (BCV Architecture + Interiors)
Tuesday, the city council approved the start of a potential sale of two publicly-owned parcels to a developer for a proposed high-end hotel at Front and Laurel streets downtown. Part of the property is now a city parking lot.
The vote was 4-2, with Councilmembers Justin Cummings and Sandy Brown against. Councilmembers Renee Golder, Shebreh Kalantari-Johnson, Vice Mayor Sonja Brunner and Mayor Donna Meyers voted in favor. Councilmember Martine Watkins was absent.
The six-story building has been proposed for 324 Front St. The developer is SCFS Venture, a New York-based company affiliated with New York-based hotel real estate investor Eagle Point Hotel Partners and Santa Cruz-based developer Owen Lawlor of Lawlor Land Use. 
The Santa Cruz Community Credit Union building at 324 Front St. and the parking lot south of it are privately owned. The city owns a roughly 4,600-square foot strip between that parking lot and Laurel Street, as well as a 4,400 square-foot portion of a parking lot north of the credit union building. The developer wants to buy those two city parcels. 
The developer has a contract with the Santa Cruz Community Credit Union to buy the 324 Front St. lot.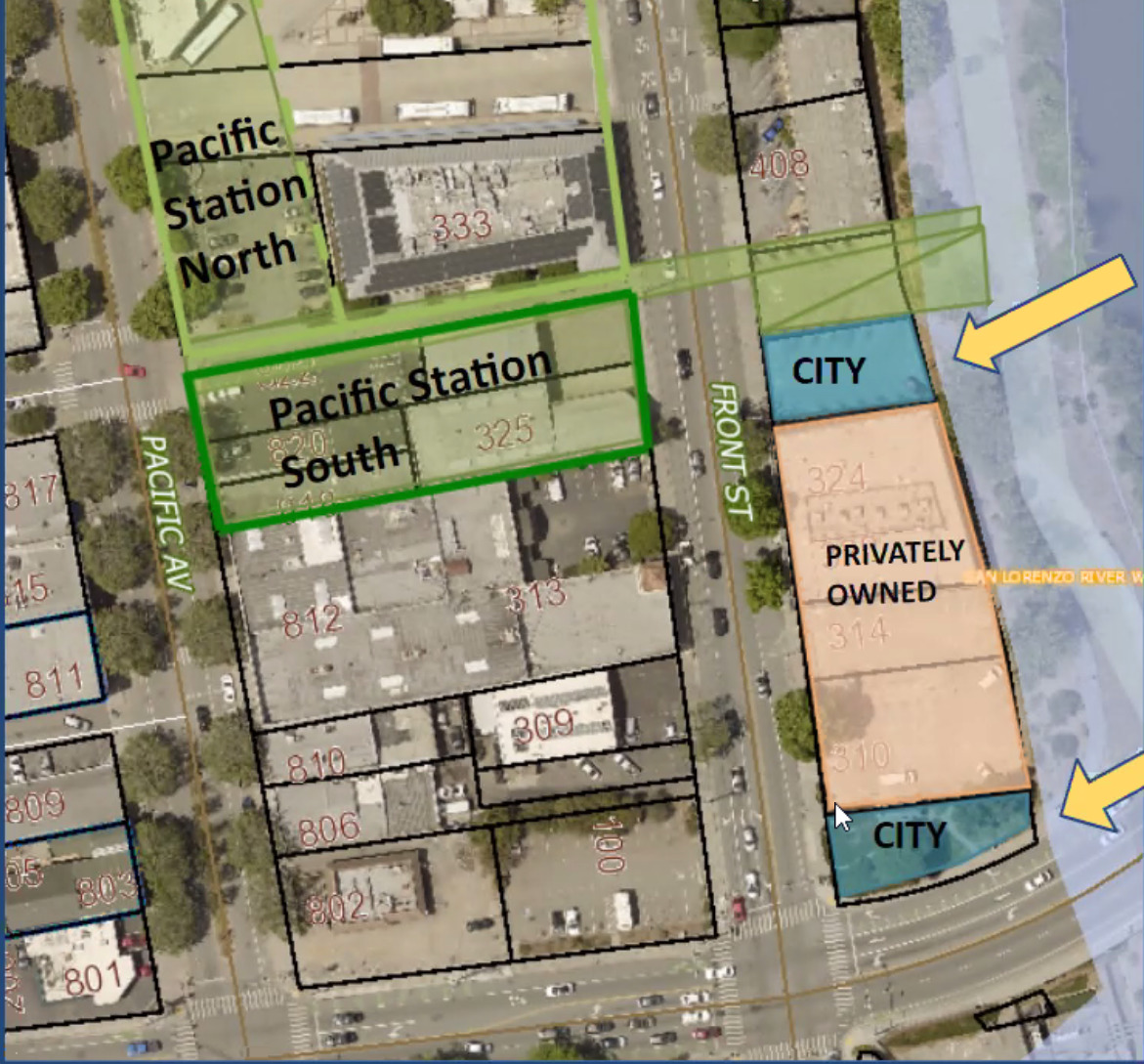 Santa Cruz leaders have begun to consider a possible sale of two city parcels to a hotel developer. (City of Santa Cruz)
The hotel project includes:
228 rooms

Retail and cafe space on Front Street

Meeting rooms and a ballroom

A restaurant and bar that opens to the San Lorenzo Riverwalk

A gym, spa and rooftop pool
The developer would be required to build a public walkway that connects Front Street and the Riverwalk on another city lot just north of the proposed hotel.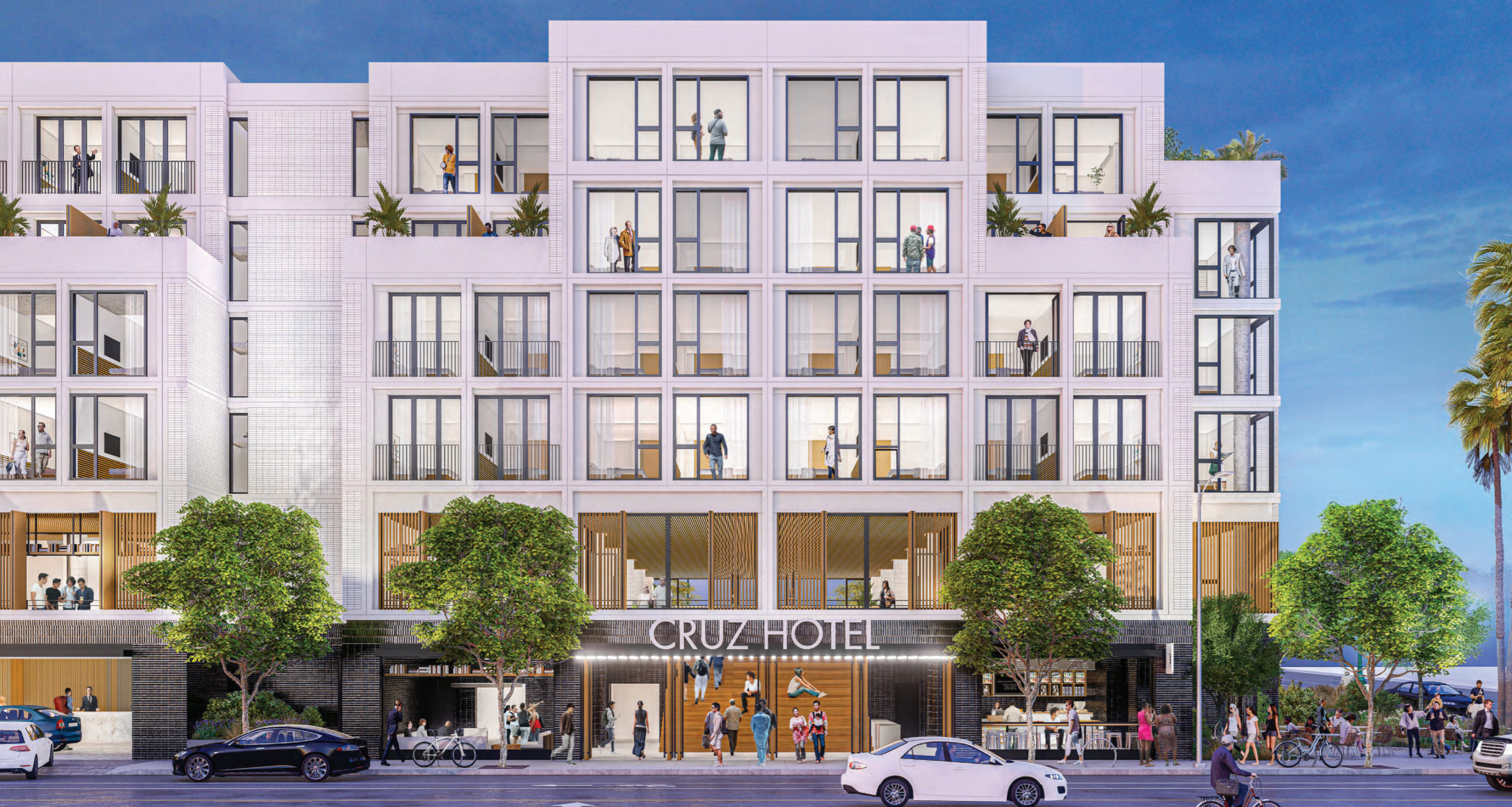 Architects envision a second-floor lobby for the proposed hotel at 324 Front St. in Santa Cruz. The hotel's name is undecided. (BCV Architecture + Interiors)
Tuesday's resolution exempts the two city parcels from a state requirement for local agencies to prioritize land sales for affordable housing, open space and other state purposes. The parcels meet the criteria for exemption due to their small size. As required by state law, the resolution also directs city staff to give notice of the parcels' availability to local, regional and state parks and recreation authorities.
The resolution does not guarantee the land sale.
A few residents who spoke during public comment expressed frustration with the potential sale of public land for a luxury hotel.
Council members against the resolution — Brown and Cummings — wanted the city to prioritize the city land for housing and negotiate with the developer to drop the hotel plan and instead create market-rate housing with more than 20% of units at affordable prices. 
"I think we all ran on a platform of saying that we want to provide more affordable housing in our communities," Cummings said. "And if we're using public land, that's the issue, is that the public is really upset with us selling their land for the production of what will be a private luxury hotel."
Santa Cruz Economic Development Director Bonnie Lipscomb said the lot sizes were too small to lure an affordable housing developer.
Lipscomb said the sale of the city parcels could provide money for city-sponsored affordable housing projects. Lipscomb said the hotel tax revenue from the project could be up to $2 million annually, part of which could be used for affordable housing projects. 
Council members who voted in favor of the resolution generally said they were excited by the hotel proposal since it would bring more people and tourists downtown and would help generate  money for the city through hotel taxes and other means.
Editor's note: This story has been corrected to reflect the ownership of the lot at 324 Front St.
City staff seek locations for homeless shelter, services
City leaders have begun to search for locations for homeless services including shelter and storage. A proposed city law that limits when and where homeless people can camp requires that city leaders provide at least places to sleep for at least 150 people and a daytime storage program.  
Anyone interested in a sale or lease of property to the city for uses such as shelter, a night-only safe sleeping program, showers, laundry and storage is asked to submit a request for qualifications.For the request for qualifications, city leaders also seek organizations that can operate those homeless service programs.  
The proposed city law is set to be considered at the council's June 8 meeting. To submit public comments, email [email protected] or enter comments on the city's "Camping Services and Standards Ordinance" webpage.
Junior Guards program resumes in June
The City of Santa Cruz Junior Lifeguards and Little Guards ocean safety and beach competition program will resume with four two-week sessions that start June 14. 
Sessions will be 9 a.m. to noon and 1-4 p.m. Registration is limited to one session per participant.

Children ages 6 to 17 are eligible.

An informational meeting for parents will take place 9-10 a.m. Saturday. June 5 on the cement bleachers at Cowell Beach between the wharf and the Dream Inn. 
Details are on the city's website and in the city's summer activity guide.
Salary range raised for next city manager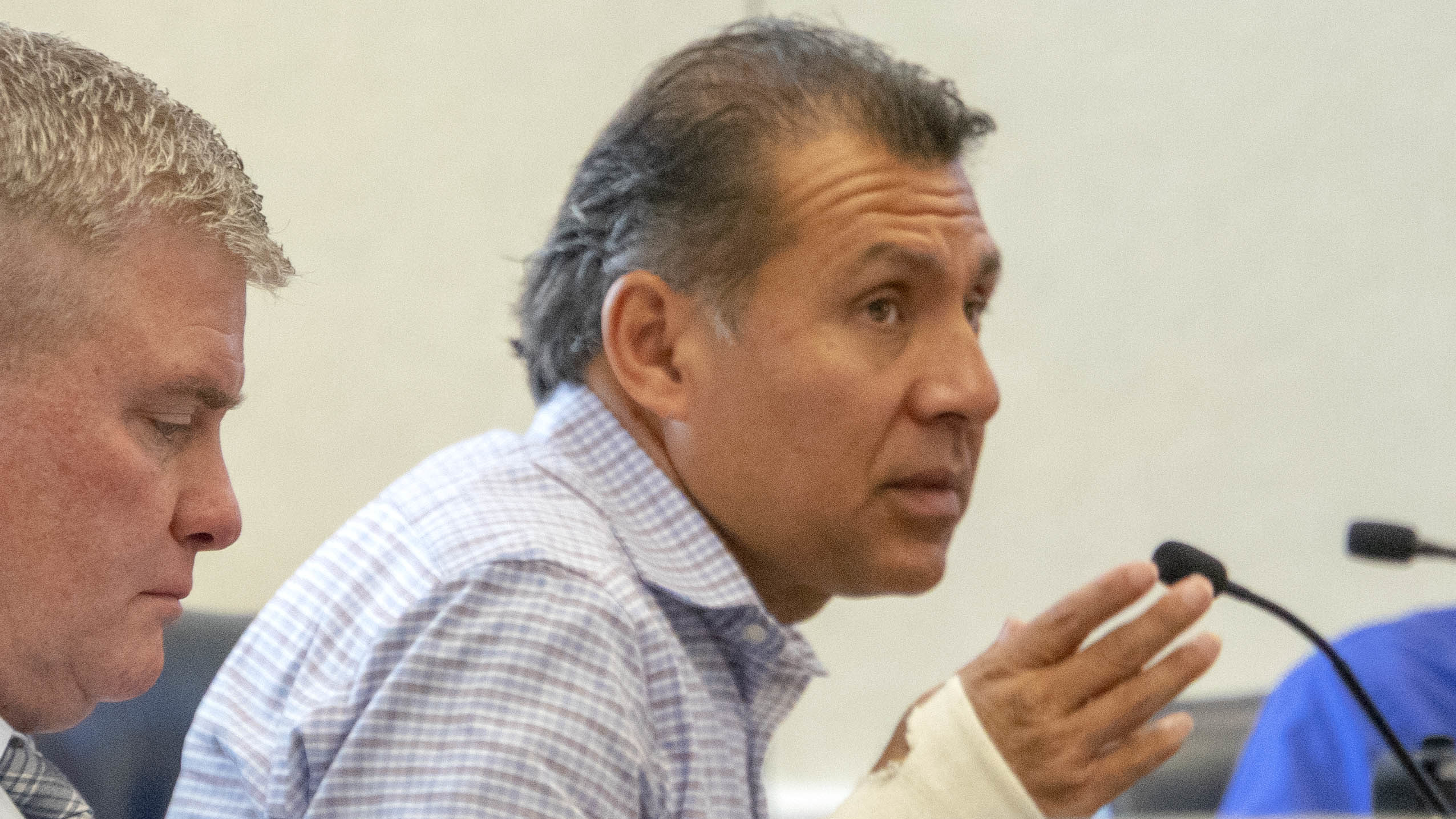 City Manager Martín Bernal is expected to retire at the end of July. (Kara Meyberg Guzman — Santa Cruz Local file)
City Manager Martín Bernal is expected to retire at the end of July, and city leaders have begun a national search for his replacement. 
Bernal's total pay in 2019 including benefits was $284,868, according to the Transparent California database. Tuesday, the council voted 4-2 to change the compensation for the next city manager to include:
A salary range increase of 10%

An employee pension contribution decrease from 12% to 10%

A contribution from the city to a deferred compensation plan
Council members Shebreh Kalantari-Johnson, Renee Golder, Vice Mayor Sonja Brunner and Mayor Donna Meyers voted in favor. Councilmembers Justin Cummings and Sandy Brown voted against. Councilmember Martine Watkins was absent.
Cummings said his "no" vote reflected public comments the council recently received. Brown said she wanted the council to increase wages for lower-paid employees.
The estimated cost of the change is about $3,000 a month and brings the position closer to the median wage for city managers. Bernal voluntarily deferred cost-of-living salary increases since 2017, according to the staff report.
Council unanimously approves road safety plan 
Tuesday, the city council approved the "Local Roadway Safety Plan," which identifies trends in collisions and makes safety recommendations. The council previously adopted a "Vision Zero" policy: a goal to eliminate traffic fatalities and serious injuries on city streets by 2030. The plan allows the city to apply for more grants to fund traffic safety projects.
The trends identified for 2015 to 2019 include:
Driving under the influence of alcohol or drugs grew as a factor in collisions, from 15 collisions in 2015 to 26 in 2019. 

About 20% of collisions in the city involved a bicyclist or walker. 

More than 90% of collisions were within 250 feet of an intersection.

About 20% of collisions involved aggressive driving. Aggressive driving includes unsafe speed, traffic signal or sign violations, and following too closely. Almost half of these collisions were rear-end collisions.

For collisions on major streets and intersections, street lighting was a factor about a third of the time. 
The plan identified the following priorities for the next five years:
Improve visibility and lighting

Reduce aggressive driving

Improve traffic safety for homeless people and other vulnerable groups
Recommendations included:
To give feedback to city staff on traffic improvements and road safety:
Submit specific complaints and ideas on the city's

Community Request for Service Portal

. Residents can request traffic signs, lights, pothole fixes and report bike and walker hazards. Residents can access the portal on a

website

or a mobile app from

Google Play

or

Apple

. 

Email city transportation planner Claire Gallogly,

[email protected]

with broader ideas on road safety improvements across the city. 
Become a member of Santa Cruz Local, an independent, community-supported newsroom that's owned and led by local journalists. Our stories are free and always will be, but we rely on your support. Already a member? Support Santa Cruz Local with a one-time gift.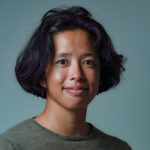 Kara Meyberg Guzman is the CEO and co-founder of Santa Cruz Local. ​Prior to Santa Cruz Local, she served as the Santa Cruz Sentinel's managing editor. She has a biology degree from Stanford University and lives in Santa Cruz.