Santa Cruz Local offers its Santa Cruz County Board of Supervisors meeting recaps free as a public service. But our journalism takes time and money to produce.
Santa Cruz Local depends on memberships from people like you to make sure vital information can be available to all. Can we count on your help?
SANTA CRUZ >> With more than 900 homes and at least 500 other buildings destroyed in Santa Cruz County, the CZU Lightning Complex Fire has become one of the most destructive wildfires in state history.
Those who lost their homes will be allowed to stay in temporary housing, with utility services, on their or a neighbor's property during rebuilding, the county board of supervisors decided Tuesday. It's one of four principles that will guide the rebuilding process for the more than 1,400 destroyed structures and several dozen more damaged in the county.
Other parts of the proposal, unanimously approved Tuesday: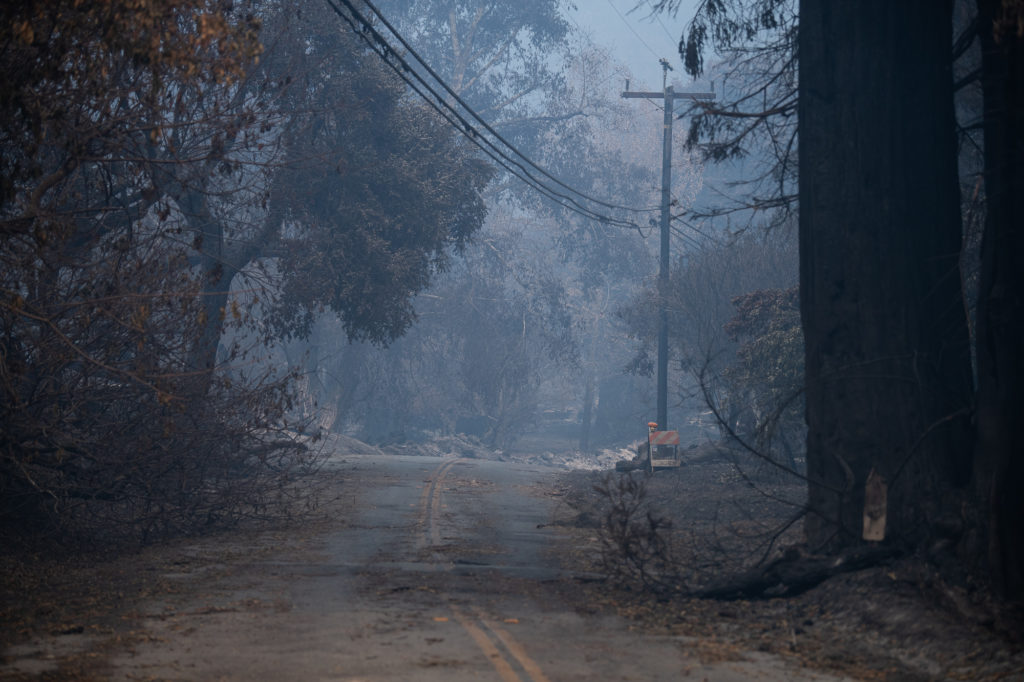 While evacuation orders were dialed back to warnings for part of Boulder Creek on Tuesday, about 13,900 people remained evacuated, according to Cal Fire. Most were residents of San Lorenzo Valley and the North Coast.
Many were anxious for official word for when they could return home.
Decisions on evacuation orders — and their removal — are made by Cal Fire officials, in collaboration with the Santa Cruz County Sheriff's Office.
"We're trying to make the environment as safe as we possibly can for the firefighters that are out there still working very hard to get the [fire] lines in and areas mopped up," said Cal Fire San Mateo Santa Cruz Unit Chief Ian Larkin, who spoke at the board of supervisors meeting.
"With our road structure that we have in this county, it's very easy for people to get in and around those areas and bypass control points," Larkin said. "So it's very important that we make sure that we limit the people that are back in there so that the firefighters can go in and get that done. We're working as hard as we can and as fast as we can to try to get more people back into the affected areas."
Hazards may include fire-weakened or dead trees that can fall, burned stumps that create holes under trails and road damage. Before areas reopen, teams inspect for road and utility safety, according to a Cal Fire news release Tuesday.
The board also voted unanimously Tuesday to extend the local health emergency due to the wildfires for 30 days. Supervisor Bruce McPherson, who represents San Lorenzo Valley among other areas, said he fields dozens of calls a day from residents asking when they can move back.
"I've had reports, not of hundreds of trees that are falling down, but thousands," said McPherson. "The last thing we want to do — as was mentioned, we've only had one loss of life in this whole fiasco, but — we don't want to have anybody get injured. Because there's so much activity going on related to regaining power, getting clear roads, the water situation, particularly in some sections of the San Lorenzo Valley."
Tuesday, a "Do not boil – do not drink" water alert remained for Brookdale and areas north, including Boulder Creek, Redwood Grove, Riverside Grove and San Lorenzo Park. Residents were advised to use bottled water for drinking, brushing teeth, baby formula and food preparation. An update on water quality is expected on the district's website Wednesday, according to the website.
Evacuation orders eased
Evacuation orders were dialed back Tuesday for an area northeast of downtown Boulder Creek, along Bear Creek Road roughly 1 mile east of Highway 9.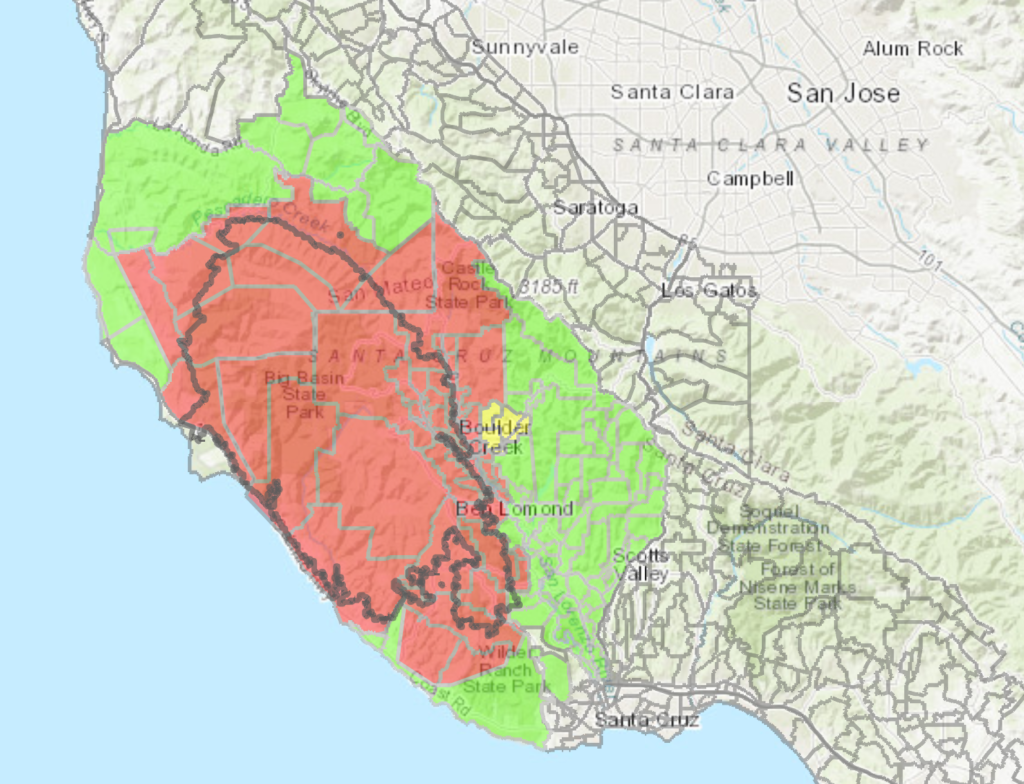 Fire, damage context
Tuesday, the CZU Lightning Complex Fire's burn area was 133 square miles. Fire crews worked to establish 120 miles of fire lines around that area, said Larkin, the Cal Fire chief. It was 45% contained, up from 41% a day prior.
Tuesday's firefighting crew was 2,228 people. Normally, a fire of this size would have "4,000 to 6,000 people assigned," said Larkin.
More than 15,600 firefighters battled 19 major fires across the state Tuesday. Since Aug. 15, approximately 14,000 lightning strikes have hit across the state, igniting more than 900 fires, according to the statewide summary on Cal Fire's website Tuesday.
Tuesday, the CZU Lightning Complex Fire was the most destructive wildfire in the state this year in terms of the number of buildings destroyed. The fire is the No. 9 most destructive in state history for that category, according to a review of Cal Fire data. Most of the buildings lost or damaged have been in Santa Cruz County. More than 7,100 structures remained threatened by the fire Tuesday, according to Cal Fire.
Teams completed damage inspection Tuesday. Residents can use information on the county's updated damage assessment map to begin to file claims for insurance and government assistance.
Online registration for federal assistance is at DisasterAssistance.gov. More resources are available at the county's Recovery Resource Center. The event is open daily 11 a.m. to 7 p.m. at Kaiser Permanente Arena, 140 Front St., Santa Cruz. Information at the in-person event also is online.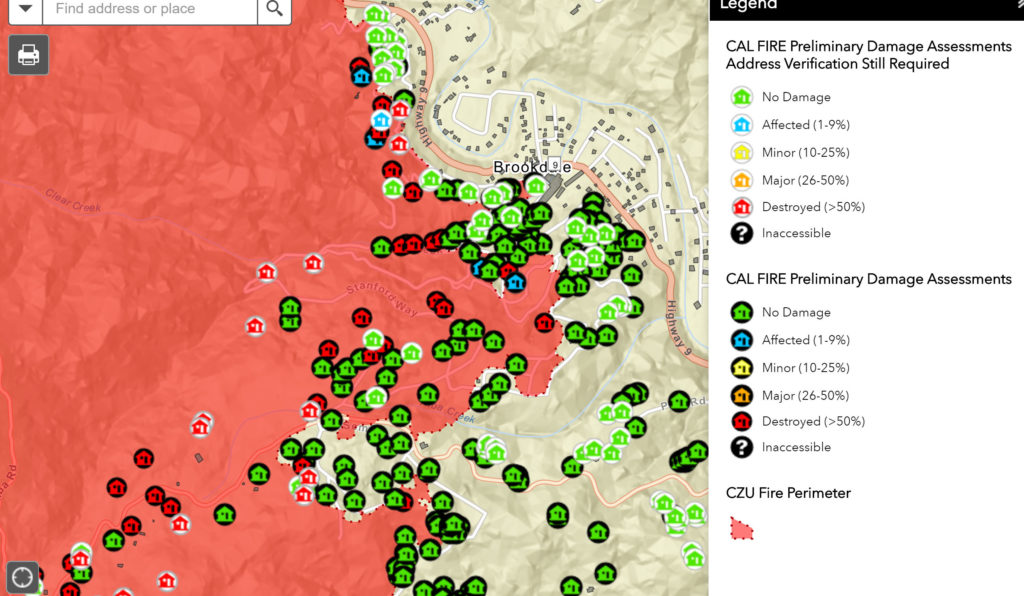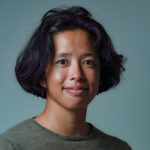 Kara Meyberg Guzman is the CEO and co-founder of Santa Cruz Local. ​Prior to Santa Cruz Local, she served as the Santa Cruz Sentinel's managing editor. She has a biology degree from Stanford University and lives in Santa Cruz.