Santa Cruz Local offers its wildfire-related work free as a public service. But our journalism takes time and money to produce.
Santa Cruz Local depends on memberships from people like you to make sure vital information can be available to all. Can we count on your help?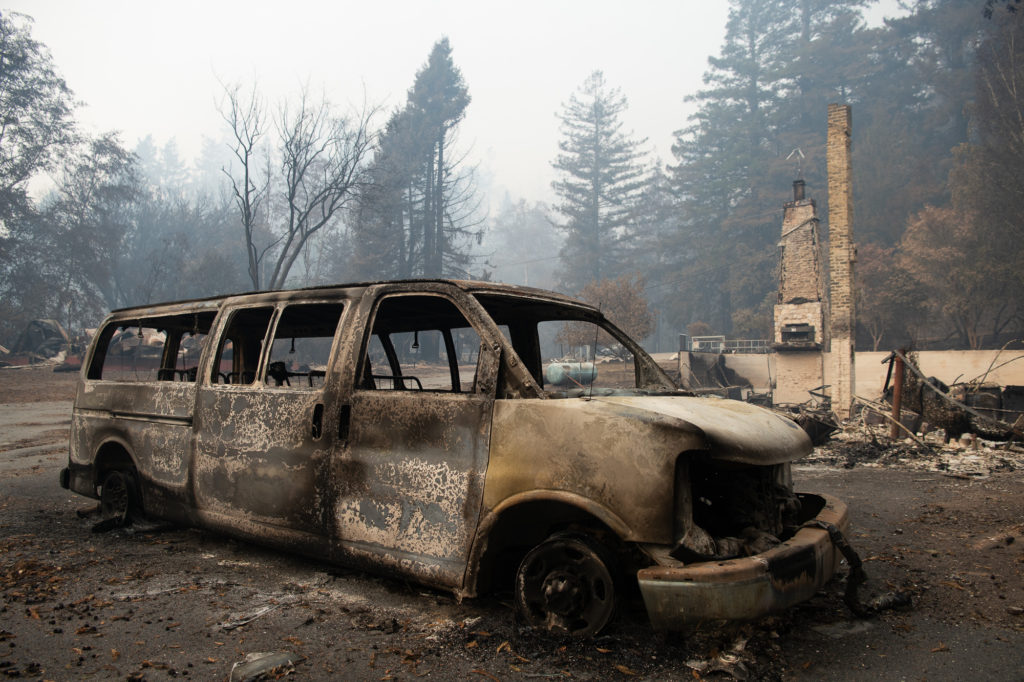 SANTA CRUZ >> Firefighters contained 19% of the CZU Lightning Complex Fire by Tuesday evening, dramatically slowing the blaze's spread with help from mild weather and nearly 1,700 firefighters and other responders.
The fire grew from 122 square miles Monday evening to 124 square miles Tuesday evening as crews began to "mop up" hot spots in some areas, said Cal Fire operations chief Mark Brunton. Favorable firefighting weather is expected through at least Thursday with high temperatures of no more than 88 degrees and northerly wind of 10 mph or less in Ben Lomond, according to the National Weather Service.
"God willing that the weather cooperates, they can do their work," said U.S. Rep. Anna Eshoo, D-Palo Alto, Tuesday evening. Eshoo spoke at a news conference at the fire's incident command in Scotts Valley.
"The percentage of the containment I think will continue to increase and we will keep welcoming the news and have more people being able to go back to their homes," Eshoo said. "This is not easy work — and I call it God's work. Because everyone is in service to the people in this community."
Five people remained missing Tuesday who could be in the evacuation zone, said Santa Cruz County sheriff's Chief Deputy Chris Clark. Three of those people are residents of Bonny Doon, one is from Ben Lomond and another from Boulder Creek, Clark said. The Sheriff's Office did not respond to requests for more details on those cases Tuesday evening.
Cal Fire has advised evacuees to expect weeks before they can return to homes in damaged areas. Dozens of roads remain unsafe with utility line damage, burned-out tree limbs, power pole damage, debris and other hazards, authorities said.
Santa Cruz County Sheriff Jim Hart — who has worked at the Sheriff's Office since 1988 — called the fire and aftermath the "biggest event since the '89 earthquake." The blaze is the largest wildfire in the county in at least the past 71 years, according to Santa Cruz Sentinel archives.
Fire operations, reopening
Cal Fire Deputy Chief Jonathan Cox said a fire area is "contained" when "we have a line that's established around the fire perimeter and that line holds for over 24 hours." Cox said, "Every percent of containment is hours and hours of sweat and blood up on those [fire] lines."
Cox said crews have been working to restore electricity in many areas of the fire zone. "But with that, we're not going to sacrifice potentially putting people in harm's way."
Battalion Chief Mark Brunton says "THANK YOU" for all of the cards of gratitude! Makes the long hours worth it!!! ❤️ #CZULightningComplex pic.twitter.com/BD526KAlU1

— CAL FIRE CZU (@CALFIRECZU) August 26, 2020
Helicopter pilots again maxed out their work hours and dropped nearly 200,000 gallons of water on the blaze Tuesday as they did Monday, Cal Fire reported. Fire control generally appeared solid on the north, west and south ends of the fire Tuesday, Brunton said. Areas outside Felton and the Fall Creek Unit of Henry Cowell Redwoods State Park remained stubborn with flames and difficult access, Brunton said.
Less smoke in Bonny Doon on Tuesday meant crews could work more easily. "We have to go almost home by home, putting [hose] line around it, securing it, mopping it up, making sure that it's safe in that community," Brunton said. Utility workers are developing work plans there, he added.
New maps
As Santa Cruz Local previewed Monday, Santa Cruz County launched an online map with fire damage information for specific addresses.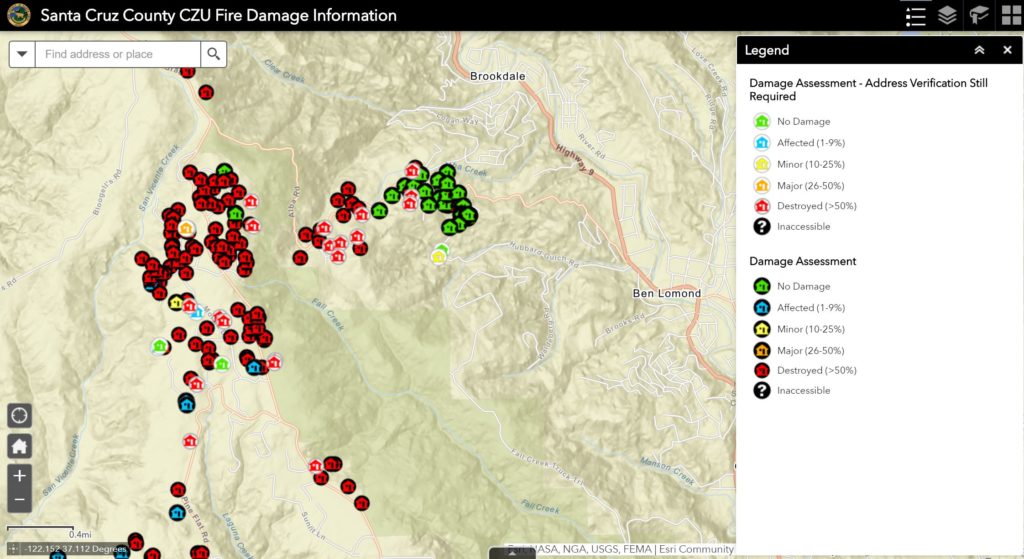 Clusters of homes appear destroyed or damaged in places such as Swanton Road and Empire Grade in Bonny Doon and off Highway 236 northwest of downtown Boulder Creek.
Many areas of the fire zone appear blank on the map now because fire inspectors have not yet surveyed those areas or they are not yet safe to enter, said county spokesman Jason Hoppin. More areas are expected to be filled in coming days.
Color-coded damage ratings have been placed on some home's parcels. The ratings range from "no damage" to "destroyed," which means the home is believed to be more than 50% damaged. The ratings are based on whether the satellite image of the fire overlapped with the whole parcel or part of the parcel. Hoppin said to keep in mind that parcel map boundaries can be up to 300 feet off of actual property lines.
Fire inspectors tried to verify damage at addresses, but in many areas there are no address markers or other identifying features, according to dozens of recent photos of ashen roads in the fire zone.
"This is going to be emotional for a lot of people. A lot of people already have insight on their homes, but other people don't," Hoppin said Tuesday. The purpose of the map is to let property owners know whether their home has been destroyed so they can start the process of insurance claims and FEMA relief by registering at DisasterAssistance.gov. Neighbors' word-of-mouth, social media and home security cameras in places like Felton have helped many neighbors stay up to date on their homes already.
The map also has links to mental health services for evacuees. Dozens of people are living in vehicles or shelters with their children and have uncertain futures. County employees, firefighters, healthcare workers, teachers and people from all walks of life are among the people who have been displaced and lost homes.
There have been reports of price gouging at hotels and motels — charging more than twice the normal rate to evacuees. County officials said to report such activity to the District Attorney's Office at 831-454-2400.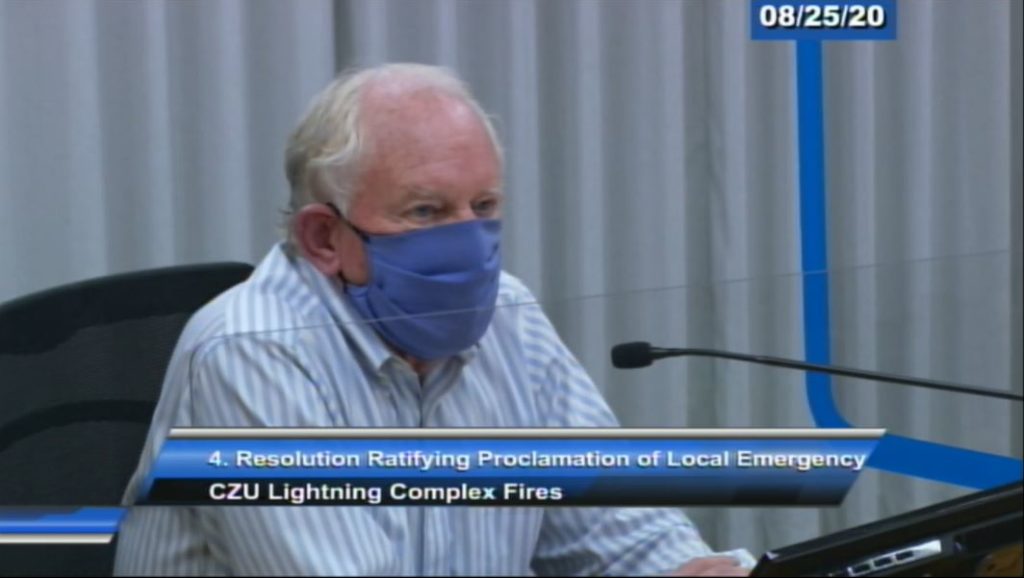 Evacuee accommodation
A woman who spoke during public comment at Tuesday's special Santa Cruz County Board of Supervisors meeting said she spent an expensive night in a hotel. She then was offered vouchers for hotels in Milpitas or San Francisco, but she had to work locally.
She suggested that the county or another group pay for or reduce costs for local hotel rooms for evacuees.
Supervisors at the meeting unanimously ratified the county administrative officer's state of emergency. It essentially allows state and federal money to flow to the county for disaster relief.
Santa Cruz County Supervisor Bruce McPherson said he toured some of the devastated areas in his district this week. "The sheer power of the fire was evident everywhere we went," McPherson said Tuesday. "We are in for a long haul here," McPherson said. "It's going to be a long process that we're committed to in this county."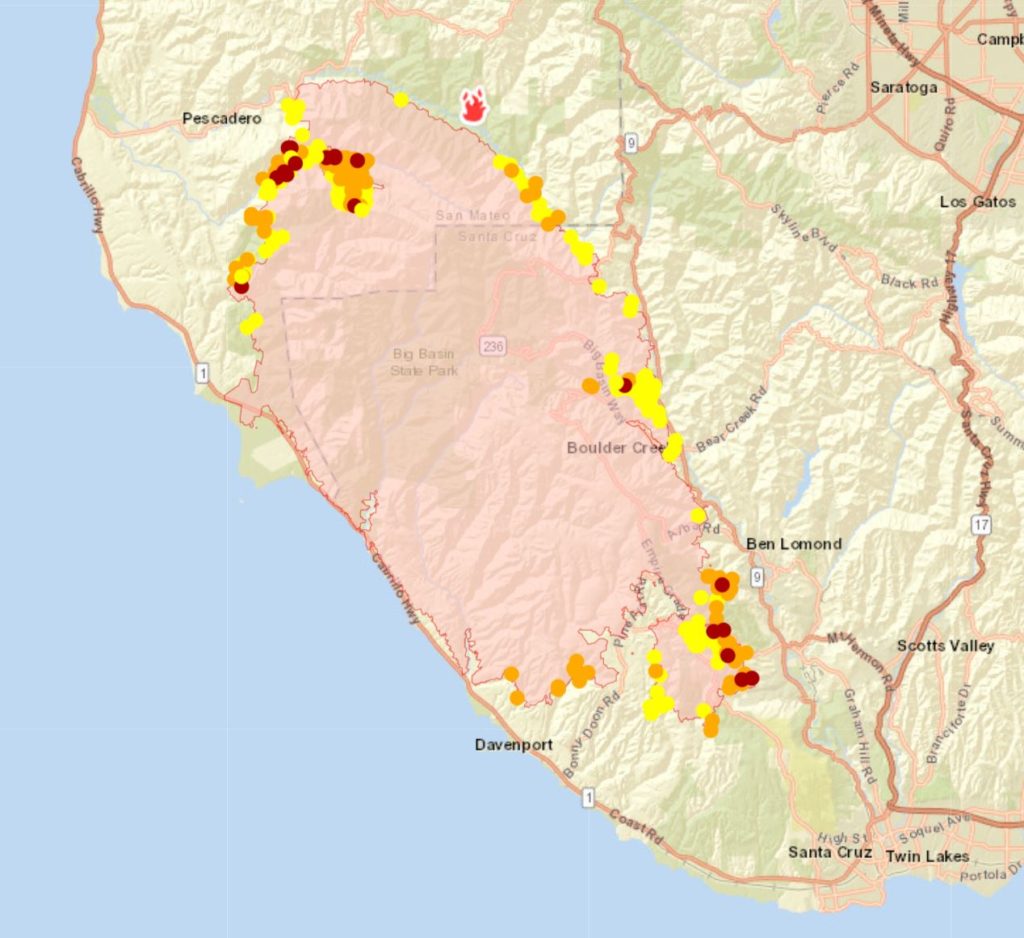 Fire origin
Ian Larkin, the unit chief of Cal Fire's San Mateo-Santa Cruz Unit, described to county supervisors how the CZU Lightning Complex Fire got out of hand.
A rare electrical storm the night of Aug. 15 and early Aug. 16 touched down 22 small fires in the forest near the northwest boundary of the Santa Cruz and San Mateo county line. "Complex" fires essentially are named for multiple ignition points. Fire struck in areas with no roads or even trails.
"It basically took the commitment of all of our Cal Fire resources from our local unit. All 13 engines, our two bulldozers and all available crews that we had — which was at the time two inmate crews and one firefighter hand crew," Larkin said. The California Department of Corrections and Rehabilitation has firefighting crews. "We had to staff those fires with minimum staffing, unfortunately, because the number of fires in order to get them under control. We also reached out to our local cooperators within Santa Cruz County in San Mateo County to start a rescue as well, and augmented our Cal Fire response."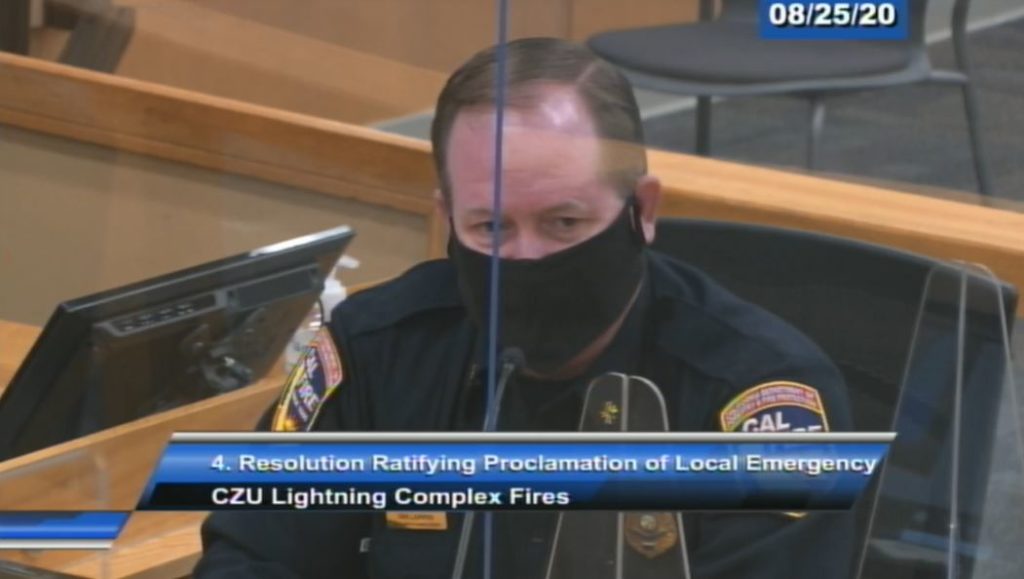 Larkin said many of the initial blazes were contained, but firefighters had trouble cutting through thick brush to get to the larger fires. "That took an exhaustive amount of time to try to get in there," Larkin said.
Larkin said his unit asked for more firefighters and equipment from Cal Fire's mutual aid system, but that system was taxed by other lightning-born wildfires that spread even faster and larger — such as the SCU Lightning Complex Fire in Santa Clara County and vicinity and the LNU Lightning Complex Fire in Napa and surrounding counties. "So that drew down the statewide mutual aid system which is a very robust system here in the state of California," Larkin said. "We rely on that much of the time to help suppress these large fires."
They had 250 to 300 firefighters on the blaze by Aug. 18. Larkin then called for a larger Cal Fire incident team to increase firefighters and equipment. "During the process of getting that team here, we had a significant wind event," Larkin said. "We had a north northeast wind that came over the fire." Where "ground fuels" like brush and leaves had burned earlier, wind "kicked up embers in the [forest] canopy and started a crown fire in San Mateo County" near China Grade Road and near Butano State Park, Larkin said.
"Those embers basically … spread spot fires 6 miles in front of the main fire. They were dropping embers into the Boulder Creek area. At that point, we started to make evacuation notices. That night that fire burned an approximate 40,000 acres," Larkin said. The new Cal Fire incident team arrived Aug. 19 and assumed command.
A blaze of 40,000 acres or 62.5 square miles Aug. 19 spread to about 124 square miles by Tuesday.
At least 443 structures have been destroyed with 432 of them in Santa Cruz County, Cal Fire reported Tuesday.
At least 319 homes and 27 non-residential structures have been leveled.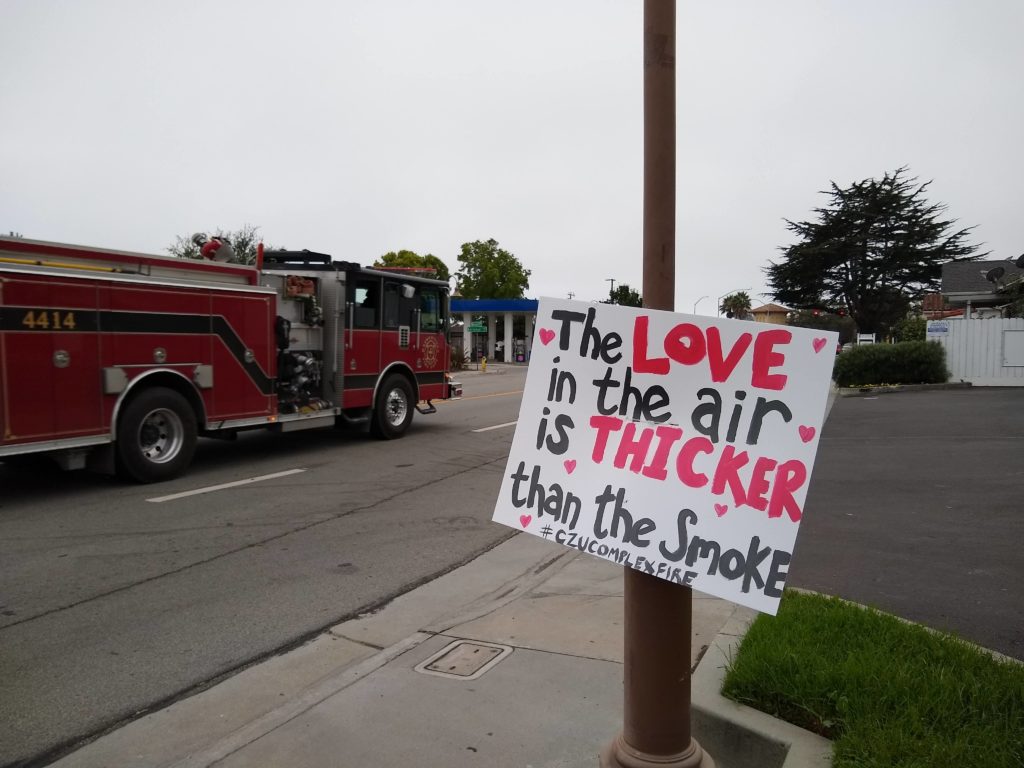 Firefighters' homes lost
At least three firefighters have lost their homes in the CZU Lightning Complex Fire.
San Jose firefighter Darrell Sales lived in the Braemoor area of Bonny Doon, KTVU-TV reported. His home was destroyed by fire Aug. 20 along with many others in that neighborhood.
The family home of Menlo Park firefighter and paramedic Carlos Carpenter was lost in the Swanton area, according to a fundraising page that has raised $44,000.
Presidio of Monterey firefighter David Serna fought the River Fire in Monterey County and found his rental home in Swanton in ashes, according to a KTVU-TV report.
Non-residential damage
Cal Fire has said 27 non-residential buildings have been destroyed. Cal Fire, county authorities, news media photos and organizations have confirmed the following buildings destroyed or damaged:
Volunteers
Volunteers are asked to sign up at Santa Cruz Volunteer Center. Volunteers who worked but didn't register are asked to do so because the county could receive disaster-related funding for in-kind volunteer work.
Mutual Aid
The following agencies responded to the CZU Lightning Complex Fire, according to Cal Fire. More law enforcement agencies will be added to this list as information becomes available.
Albuquerque Area Office – U.S. Bureau of Reclamation
Amador Fire Protection District
Anaheim Fire Department
Aptos-La Selva Beach Fire Protection District
Arcadia Fire Department
Atascadero City Fire Department
Atascadero State Hospital Fire Department
Ben Lomond Fire Protection District
Benicia Fire Department
Boulder Creek Fire Protection District
Brea Fire Department
Bureau of Land Management
California Department of Corrections and Rehabilitation
California Conservation Corps
California Highway Patrol
California Office of Emergency Services
California State Parks
Camp Roberts Fire Department
Central California District – Bureau of Land Management
Central County Fire Department
Central Fire Protection District of Santa Cruz County
Chester Fire Protection District
Coastside Fire Protection District
Corona Fire Department
Culver City Fire Department
Downey Fire Department
Felton Fire Protection District
Five Cities Fire Authority
Hemet Fire Department
Kentfield Fire Protection District
Kern County Fire Department
La Habra Heights Fire Department
Lakeside Fire Department
Long Beach Fire Department
Los Alamos National Laboratory
Los Angeles City Fire Department
Los Angeles County Operational Area "C"
Los Angeles County Operational Area "E"
Los Angeles County Fire Department
Marin County Fire Department
Marina Department of Public Service
Mendocino County Operational Area
Menlo Park Fire Protection District
Merced Fire Department
Mid-Peninsula Open Space District Fire Department
Minnesota Private
Monterey County Operational Area
Monterey Park Fire Department
Morongo Indian Reservation Fire Department
Morro Bay Fire Department
Mountain View Fire Department
Mountains Recreation and Conservative Authority
National City Fire Department
National Weather Service (Hanford)
New Jersey Forest Fire Service
Newport Beach Fire & Medical Department
North Central Fire Department
North County Fire Department
Orange County Fire Department
Orange Cove Fire Department
Oxnard Fire Department
Paso Robles Fire Department
Redwood City Fire Department
Riverside County Fire Department
Riverside County Operational Area
Sacramento Metropolitan Fire Department
San Bernardino County Operational Area
San Bruno Fire Department
San Diego County Fire Authority
San Gabriel Fire Department
San Jose Fire Department
San Luis Obispo County Fire Department
San Luis Obispo Operational Area
San Mateo County Fire
San Mateo County Operational Area
San Mateo County Sheriff's Office
San Mateo Fire Department
San Miguel Consolidated Fire Department
Sanger Fire Department
Santa Barbara County Fire Department
Santa Clara County Fire Department
Santa Clara County Operational Area
Santa Clara Fire Department
Santa Cruz County Fire Department
Santa Cruz County Operational Area
Santa Cruz Fire Department
Santa Cruz County Sheriff's Office
Santa Fe Springs Fire Department
Santa Maria Fire Department
Scotts Valley Fire Protection District (XCZ)
Shasta County Fire Department
Shasta County Operational Area
Sierra Madre Fire Department
Soboba Volunteer Fire Department
Solano County Operational Area
South Pasadena Fire Department
South San Francisco Fire Department
Sutter County Fire Department
Tahoe-Douglas Fire Protection District
Tulare County Fire Department
Tulare County Operational Area
Tule River Indian Agency
Visalia Fire Department
Watsonville Fire Department
Western Region Headquarters – National Weather Service
Woodside Fire Protection District
Zayante Fire Protection District
Editor's Note: This story has been updated to reflect an updated list of mutual aid responders.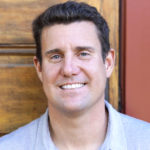 Stephen Baxter is a co-founder and editor of Santa Cruz Local. He covers Santa Cruz County government.