SANTA CRUZ >> Santa Cruz County's COVID-19 tallies and a decision from the state's health department will guide how and when public schools reopen in August.
Pajaro Valley Unified School District leaders said they plan to start school with online-only instruction. Santa Cruz City Schools, Soquel Union Elementary School District and Scotts Valley Unified School District plan for a mix of online and in-person teaching.
As Santa Cruz County's numbers of active COVID-19 cases grow, plans to reopen schools are in limbo as local leaders await word from the California Department of Public Health.
Santa Cruz County is not on a state watch list that includes counties with increased disease transmissions or hospitalizations. However, Santa Cruz County Health Officer Dr. Gail Newel said July 10 that she expects the county to be on the state watch list by the end of the month.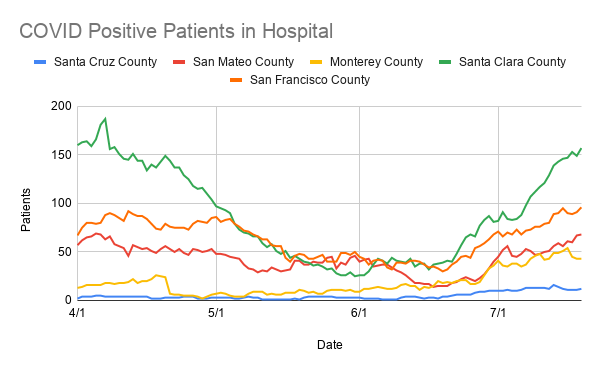 If the state public health department adds the county to the list, schools may be forced to stick with online-only education. Only counties that have been off the state watch list for 14 consecutive days can open schools for in-person teaching, Gov. Gavin Newsom said Friday.
Last week, the Greater Santa Cruz Federation of Teachers union started to poll teachers about a return to in-person teaching. Santa Cruz City Schools parents also were sent a separate questionnaire from the school district that asked whether they wanted instruction online, at their current school or alternative education for the school year.
Union leaders plan to share the results of the teacher poll with the Santa Cruz City Schools Board of Trustees at a future meeting.
"The general response I'm getting from teachers is it's just not safe given that [COVID] rates are rising, not enough testing, not enough contact tracing, [and] not a rapid return of testing," said Casey Carlson, president of the union. It represents teachers in Santa Cruz City Schools.
"We have some classrooms that don't even have doors and windows that open out into the outside, so there's a lot of concern about the ventilation too." County health leaders have said that well-ventilated areas and outdoor areas are safer than indoors in terms of potential COVID transmission.
One teacher wrote that Santa Cruz County's COVID cases are increasing faster now than they were when schools closed in March — yet leaders are considering in-person teaching.
"Another person made a point that the school board is meeting on Zoom because they don't think it's safe to have a public meeting of adults who can easily space themselves out 6 feet and wear masks. And yet you think that little kids should come back and be in a room together. And I thought that was a good point too," Carlson said.
COVID hospitalizations have risen in the county in recent weeks.
Saturday, Santa Cruz County hospitals matched an all-time high of 20 COVID-positive or COVID-suspected patients.
This month, the county's active known cases grew to 448. The county has had 772 cumulative known cases. Half of those cases were recorded since June 29.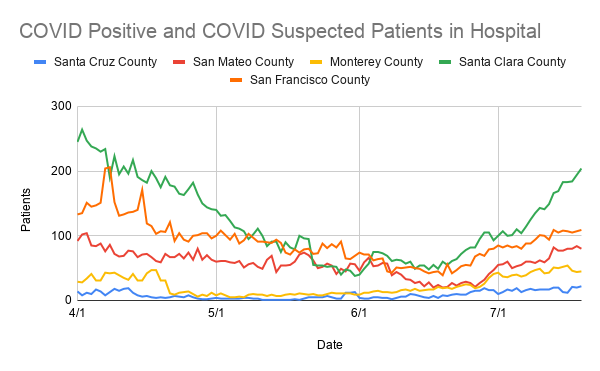 Pajaro Valley Unified School District leaders have announced that the district will begin the school year with online education only. This district serves about 19,700 South County students. About 80% of those students are low-income, according to state criteria.
Student reaction
Ashley Garcia, 12, a student at Cesar Chavez Middle School in Watsonville, said she is not excited about more online education. She said her grades dropped since COVID-19 hit the county.
"If they are going to shut down the schools, at least make the teachers explain stuff better and for it to be easier in online school," Ashley said Friday.
John Camarillo, 16, an incoming junior at Santa Cruz High School, said he would like more clarity from local leaders about the plan to reopen.
"I would want it to be, either they make one decision or make the other: Online or go to school," John said. He said a mix of online and in-person teaching wouldn't work for him.
"Online is a little bit more difficult. And lots of kids are stressed out on going online because it switched everything. The time schedule, the time we had to turn it in, it just changed everything … It'd be better for us to understand to go to school and just learn like that," John said.
Santa Cruz Local offers its coronavirus-related work free as a public service. We depend on memberships from people like you to make sure vital information can be available to all. Can we count on your help?
Uneven instruction
Monica Einaudi is a teacher at Santa Cruz Gardens Elementary School, which is part of Soquel Union Elementary School District. She said she wants strong guidance from the Santa Cruz County Office of Education on how much time teachers should spend face-to-face with students.
"All the teachers did it [online teaching] in different ways," Einaudi said. "And so it's like, this teacher's on Zoom with their class for two hours a day and this teacher does Zoom with their class once a week, and it was just all over the place. I know that's frustrating for parents, especially if they have more than one kid in the school."
Einaudi said that since her school district is small, it could respond quickly to the shutdown and get laptops and Wi-Fi hotspots to families quickly. The challenge was more about getting family participation.
"I know that this spring, the kids with the lowest income in my class didn't participate in distance learning and I had to be really persistent. So I'm really worried about the kids," Einaudi said.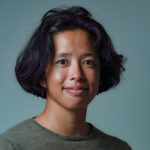 Kara Meyberg Guzman is the CEO and co-founder of Santa Cruz Local. ​Prior to Santa Cruz Local, she served as the Santa Cruz Sentinel's managing editor. She has a biology degree from Stanford University and lives in Santa Cruz.