Welcome to Santa Cruz Local's AgendaWatch, where we inform you of noteworthy agenda items in local government this week.
This email series advances our vision for Santa Cruz Local: When we are all watching and engaged in our public institutions, our needs are addressed, democracy works better and our community is stronger.
SANTA CRUZ COUNTY BOARD OF SUPERVISORS MEETING
When: 9 a.m. Tuesday, Nov. 5
Where: Santa Cruz County government building, 701 Ocean St., 5th floor, Santa Cruz
Add to your Google Calendar 
Add to your iPhone Calendar
POSSIBLE LAW ON SINGLE-USE DISPOSABLE CUPS
The board of supervisors will consider a law requiring businesses to charge customers 25 cents for single-use disposable cups. This law would apply to food-service businesses in the unincorporated county starting in 2021. The idea is to reduce litter.
The county's public works department is looking at the possibility of collecting those funds for litter prevention and cleanup. That would require a two-thirds approval by voters in a ballot measure.
REPORT ON COUNTY'S PERFORMANCE MEASUREMENT
Santa Cruz County last year adopted a strategic plan to focus the county's resources until 2024. This summer, the county followed up with adopting "SMART" (specific, measurable, attainable, relevant and time-bound) goals related to the plan. It's the first time the county has organized and aligned the work of its many departments toward a shared mission, vision, values and goals.
Tuesday, the board will hear about the staff's early effort to measure the impact of these changes.
WHICH BILLS TO PUSH FOR AT STATE AND FEDERAL LEVELS IN 2020?
Each year, the county lists priorities and specific bills to push for at the state and federal level. 
Tuesday, the board will consider a list of priorities, including federal funding for emergency storm repairs and minimizing impacts from PG&E power shutoffs.
The county's draft legislative priorities for 2020 are listed in the document below.
EMERGENCY LAW TO LIMIT EVICTIONS 
Tuesday, the board will consider enacting the eviction rules of a new state law, AB1482, immediately. The law caps rent increases at 5% plus inflation. It also makes landlords list a reason when giving tenants notices to leave. The law lists valid reasons, such as a landlord or their family moving in, a substantial renovation or tenants breaking the lease.
The state law doesn't take effect until Jan. 1, so county leaders are trying to close a loophole that allows landlords to make tenants leave then jack up rents for new tenants before Dec. 31.
The City of Santa Cruz last week passed a similar emergency law.
10:30 A.M. SESSION
AFFORDABLE HOUSING PROJECT AT 17TH & CAPITOLA
MidPen Housing, a nonprofit developer, wants to build 57 units of affordable housing with a store and two clinics at 17th Avenue and Capitola Road in Live Oak. The proposal is more than two years in the making. 
The land is owned by the county's former redevelopment agency. The state requires the county to sell the land, because the state ended redevelopment agencies in 2011. 
Tuesday, the board will consider the sale of the land to MidPen Housing and the two clinics, Dientes Community Dental Care and Santa Cruz Community Health Centers. The sale price is $3.525 million.
As part of the agreement, the county would fund $5 million of the development costs, from its Low- and Moderate-Income Asset Fund.
Also Tuesday, the board will have a public hearing about the project. Both clinics would be two stories. The apartments would be in four three-story buildings that would include a community center. A public park and plaza are also part of the proposal. The proposal would require rezoning, since it has more than 20 units and it's larger than 20,000 square feet.
NO SANTA CRUZ CITY COUNCIL MEETING THIS WEEK

Tenants in Santa Cruz now have some protection from arbitrary evictions. The Santa Cruz City Council passed an emergency eviction law Tuesday that enacts part of a new state law immediately.
The council also may change the number of affordable units that developers are required to build. It's called an inclusionary rate, and the city's looking at increasing it from 15% of units in new development to 20%.
Lastly, we hear an update on 190 W. Cliff, the 89-unit condominium project across the street from the Dream Inn. Listen now.
Members, log in to read the transcript.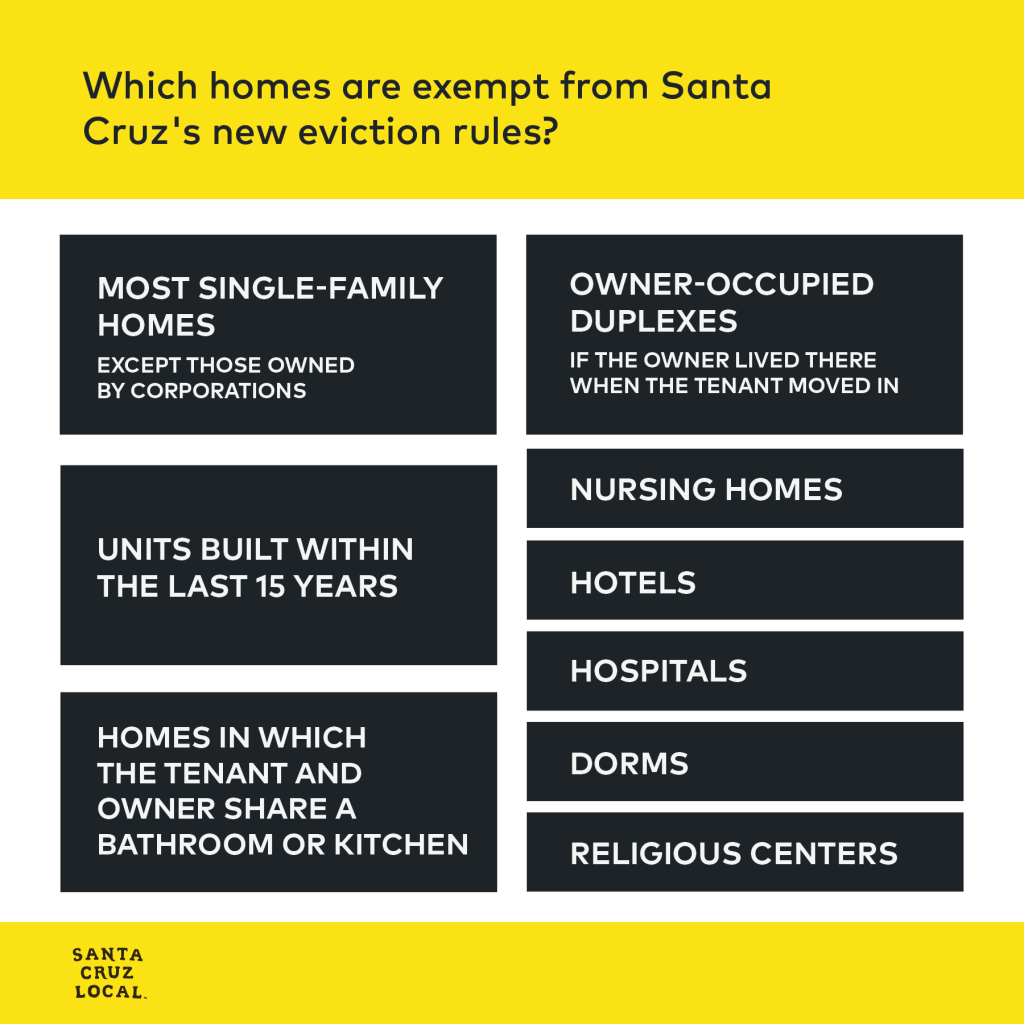 SANTA CRUZ COMMUNITY ADVISORY COMMITTEE ON HOMELESSNESS
When: 6 p.m. Tuesday, Nov. 5
Where: Veterans Memorial Building. 846 Front St., Santa Cruz
Add to your Google Calendar
Add to your iPhone Calendar
The Santa Cruz City Council created the Community Advisory Committee on Homelessness in June. It's supposed to provide policy recommendations to the city, to guide how the city responds to homelessness.
The committee has identified three areas of focus: public health, transitional campgrounds and public outreach.
Tuesday, the committee is expected to discuss one or two policies to prepare for the council's consideration in November or December.
Listen to our episode on the advisory committee's priorities.
---
SUPPORT LOCAL JOURNALISM WITH A MEMBERSHIP
If you value our work, please consider adding your name to our growing list of founding members. Your support allows us to keep our journalism going.
MEMBER
ALLY
DEFENDER
GUARDIAN
MONTHLY
ANNUAL
Our gratitude
Our gratitude
✔
✔
✔
✔
A place on our founders' donor wall
A place on our founders' donor wall
✔
✔
✔
✔
Access to transcripts
Access to transcripts
✔
✔
✔
✔
Access to additional reporting
Access to additional reporting
✔
✔
✔
✔
Discount on Santa Cruz Local events
Discount on Santa Cruz Local events
✔
✔
✔
✔
A Santa Cruz Local sticker
A Santa Cruz Local sticker
✔
✔
✔
✔
A Santa Cruz Local bumper sticker
A Santa Cruz Local bumper sticker
-
✔
✔
✔
A shout-out in an episode
A shout-out in an episode
-
-
✔
✔
A shout-out in episodes for the life of your membership
A shout-out in episodes for the life of your membership
-
-
-
✔
Two tickets to Santa Cruz Local events for the life of your membership
Two tickets to Santa Cruz Local events for the life of your membership
-
-
-
✔
Cancel anytime (but we can't issue refunds).
---
CITY OF SANTA CRUZ ZONING ADMINISTRATOR
When: 10 a.m. Wednesday, Nov. 6
Where: Santa Cruz City Hall, 809 Center St.
Add to your Google Calendar
Add to your iPhone Calendar 
HOUSING MATTERS APARTMENTS
Housing Matters, formerly the Homeless Services Center, is proposing to turn a vacant office building it owns at 801 River St. into seven apartments.
Housing Matters wants to operate the apartment complex as permanent supportive rental units for formerly homeless Santa Cruz residents. The site is next to the Housing Matters headquarters.
The proposal would require a zoning change.
CORRECTIONS
Santa Cruz's downtown library was built in 1968. Our Oct. 27 AgendaWatch newsletter listed the wrong year.
The Loma Prieta earthquake in 1989 was a magnitude of 6.9 on the moment scale, the scale most commonly used to describe large quakes.  Our Oct. 17 episode, "Santa Cruz, from quake to remake," listed the quake's magnitude as 7.1, which was its surface-wave magnitude, not a commonly-used metric for large quakes. 
And in Santa Cruz Local news…
Come meet us 6 p.m. Wednesday at the Santa Cruz Works New Tech Meetup at the Dream Inn. We'll have a table during the networking hour 6-7 p.m. We'll invite your input to guide our coverage for the upcoming election.
A big thank you to our community partner Jolokia for hosting Santa Cruz Local at a party Friday night. We met dozens of people and heard about the local issues most important to you. We heard many frustrations — from the lack of progress on solving homelessness, to a tight job market for recent college grads, and a general shortage of news coverage in Santa Cruz County. These conversations are helpful as we're continually honing where we focus our journalism.
I (Kara) am heading to Utah on Friday to attend the Solutions Journalism Summit, thanks to grants from the Peer Fund and the Solutions Journalism Network. One of the founding principles of Santa Cruz Local is that we don't just want to cover the problem; we also want to cover solutions. I'll learn best practices in the field, and hope to apply it in our work.
As always, feel free to email us at [email protected] with any questions or comments.
Kara Meyberg Guzman & Stephen Baxter
Santa Cruz Local co-founders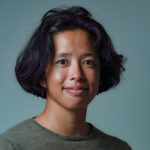 Kara Meyberg Guzman is the CEO and co-founder of Santa Cruz Local. ​Prior to Santa Cruz Local, she served as the Santa Cruz Sentinel's managing editor. She has a biology degree from Stanford University and lives in Santa Cruz.