Editor's note: This story focuses on allegations against Councilmember Drew Glover, since our previous related story focused on allegations against Councilmember Chris Krohn. Stay tuned for an audio episode, with interviews, soon.
SANTA CRUZ — A city investigation into possible workplace misconduct by two Santa Cruz City Councilmembers is finally complete, after months of study and deliberation.
An independent investigator found two claims to be "substantiated" — one each against Councilmembers Chris Krohn and Drew Glover.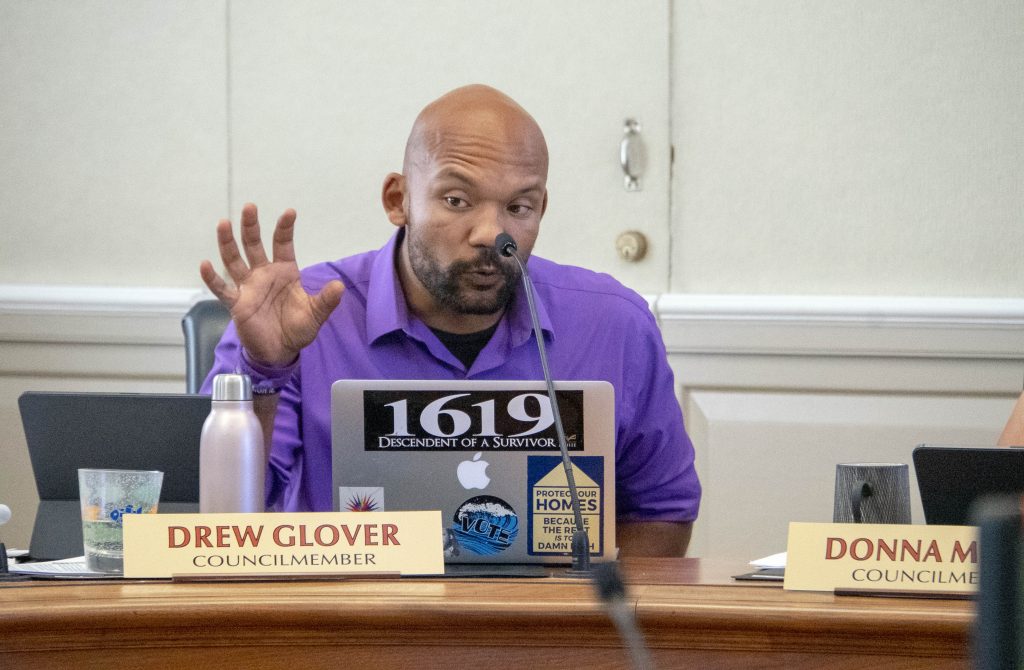 The investigator, attorney Joe Rose of the Sacramento area, was hired in March by the City of Santa Cruz because the city's human resources department determined that it could not handle the complaints in-house. The cost for the investigation and related legal fees was $18,219, according to the city's report. The report was publicly released Wednesday.
The report involves four city councilmembers and several city staffers. It illustrates the level of discord among city leadership this year. The backdrop of the conflict has included some difficult issues such as the relocation of homeless camps and tenant protection rules.
The report results also come amid a signature-gathering effort to recall Krohn and Glover from the city council. One of the reasons for the recall is Krohn and Glover's disrespectful behavior, according to the petition statements.
COMPLAINTS AGAINST GLOVER
The report revealed that one of three complainants against Glover was Councilmember Donna Meyers.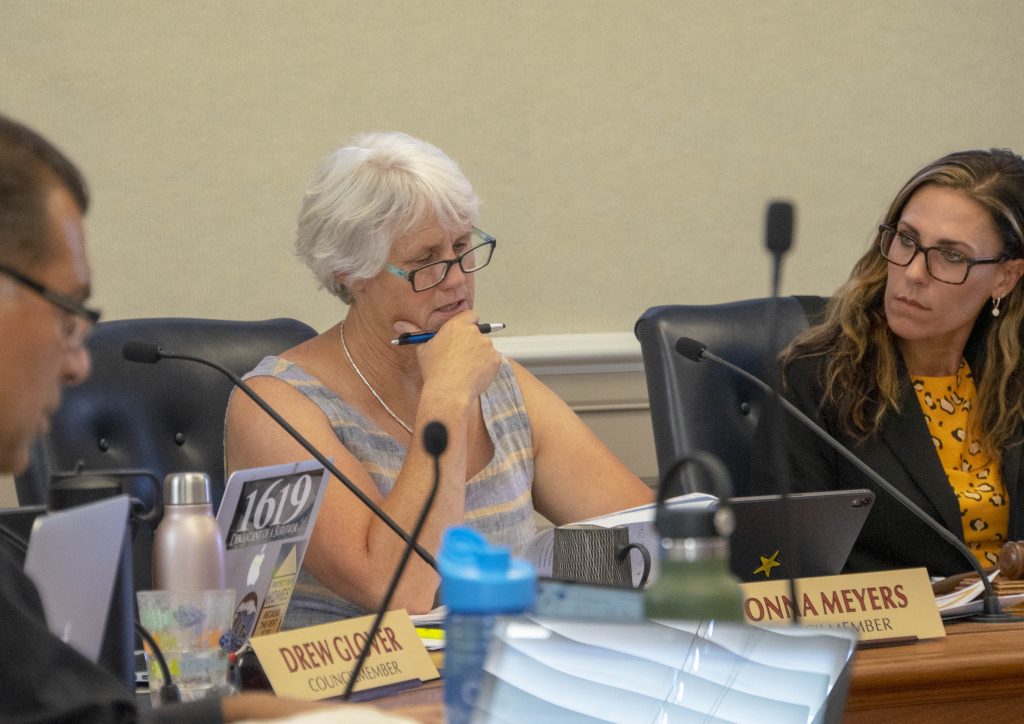 Meyers filed a written complaint with the city's human relations department against Glover on Feb. 22. She wrote that she was "4 minutes late" coming out of a conference room that Glover had booked after her.
Meyers wrote: "Drew Glover was standing at the door and confronted me at the door about his meeting in the conference room that was to start at 12:00. I apologized to him and he continued down the hall to my office and continued to confront in an aggressive way about being late in coming out of my meeting."
Rose, the investigator, agreed with Meyers that Glover's behavior that day violated the city's Respectful Workplace Conduct Policy, or in other words, that her complaint was "substantiated."
Rose wrote in his report: "Glover was needlessly and unjustifiably antagonistic to Councilmember Meyers over the minor issue of her innocently overstaying her scheduled time by a few minutes … The timing of this terse discussion was humiliating and embarrassing to Councilmember Meyers because it occurred in the presence of important community partners, who were uneasy, who wanted to get out of the room quickly because they suspected Councilmember Meyers would feel embarrassed, and who could see Councilmember Meyers was taken aback by Councilmember Glover's lack of collegiality, believing (correctly) this was a conversation that they should be having privately."
Rose wrote that Glover's "mishandling" of the situation likely undermined his ability to work with Meyers. However, Rose concluded that Glover's misconduct was not motivated by gender bias.
Meyers, who sits next to Glover during council meetings, alleged that Glover and Krohn quietly mutter derogatory comments about speakers during public meetings. However, Rose could not back up her allegation in any of his research or interviews.
Glover, in his interview with Rose, said that Meyers had overstayed her scheduled time in the conference room by 10 minutes. Glover said that he would not have made an issue of Meyers was late by only 4 minutes.
Glover said to Rose, "I have no doubt that if she was late that I asked her to be conscious of the time. I don't agree that regardless of whether it was four minutes or ten minutes that I used an aggressive or intimidating tone," according to the report.
Glover, who is black, said to Rose he could understand "how someone that may have unconscious race bias can see [his] interaction with them as being intimidating" when he is "speaking truth to someone who may not want to hear the truth."
Glover said that he did not mean to insult or offend Meyers that day. He also denied that he said vulgar or demeaning comments during council meetings, according to the report.
---
Santa Cruz Local's mission is to produce fair and accurate local journalism that holds power to account. Show your support by becoming a member.
---
There were five other complaints against Glover. Rose found all of those complaints to be "not substantiated."
A finding of "not substantiated" means that the investigation failed to disclose enough evidence to either prove or disprove a policy violation. It is a different conclusion from "unfounded," which means that the investigation established that a policy was not violated.
The complaints against Glover were filed by three people: Meyers, a city staffer, and Mayor Martine Watkins.
As Santa Cruz Local previously reported, Watkins made her complaint in public at the Feb. 12 city council meeting. She alleged that Glover and Krohn bullied her because of her gender.
However, Rose found Watkins' complaints to be "not substantiated."
Watkins has declined to speak on record about what prompted her allegation of bullying. But in her interviews with Rose, Watkins pointed to an interaction she had with Glover during the Jan. 8 city council meeting. During the meeting, Watkins debated with Glover about moving the time for public comment from the afternoon to the night session.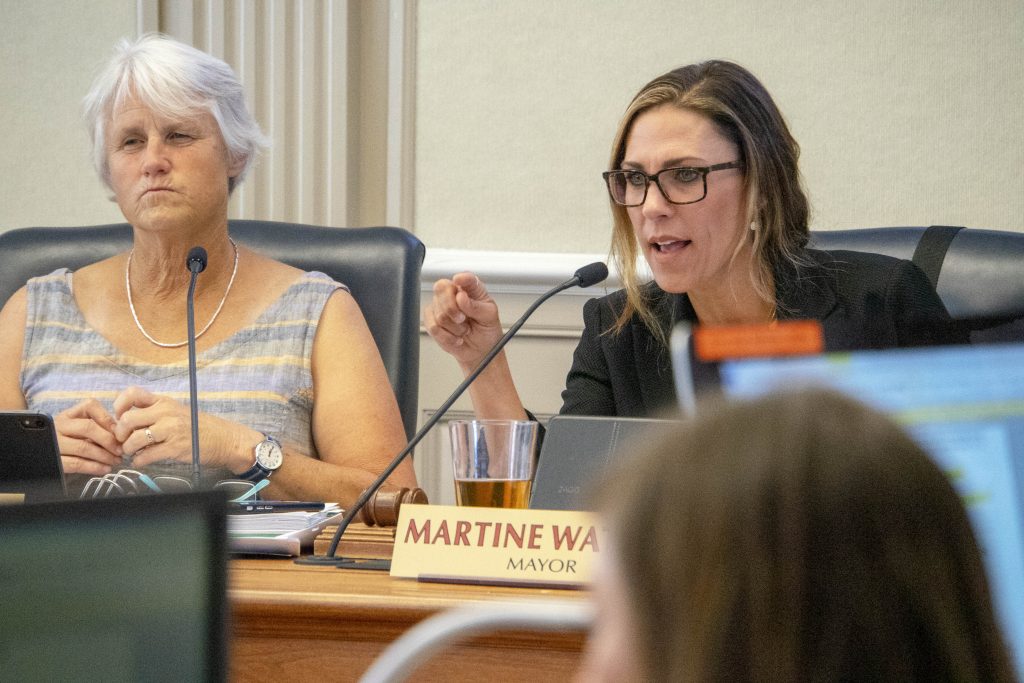 Watkins said that for working parents who wanted to participate, the afternoon session would be better. Glover responded that the council should think about students and Santa Cruz residents who commute from Watsonville, for whom the night session would be better.
Glover said at the time, "I really, really hope that as we think about this and contemplate the value of changing it and providing a set time we think outside of our own privilege, and outside of our own lives, and outside of the circles of people that we hang out with, and to the people at the very bottom of our socioeconomic ladder that find it difficult to participate in the timelines that have been expressed."
Watkins perceived Glover's response to be disparaging of her as a working mother, according to the report. Rose, however, disagreed. He wrote that Glover's point was not a gender comparison, but a socioeconomic one, and therefore it did not violate the city's policy
In his research, Rose listened to recordings of Glover when he was a commissioner on the city's Commission for the Prevention of Violence Against Women in 2018. Rose wrote that Glover's interactions with colleagues "reveal the communication style of Councilmember Glover that is off-putting or seems belligerent to some is not motivated by gender bias or anti-female animus.
Councilmember Glover appears to generally lack diplomacy in his approach and message delivery in some circumstances, but this appears to be true without regard to gender."
---
---
The nature of the other complaints against Glover, which were all unsubstantiated, related to his communication style. The city staffer who complained against him said that they did not physically threatened, but felt bullied, insulted, offended and threatened in their "role as a professional."
This staffer said they were subject to criticism during public comment in meetings — which is part of the job, they acknowledged — but Glover seemed to endorse that criticism by nodding his head and "other public displays of support," which seemed abusive. That led to the staffer being relentlessly harassed on social media, according to the report.
The staffer listed several other reasons why they felt "traumatized" by Glover's behavior. But the investigator found these claims to be not substantiated. The report did not name the staff member.
COMPLAINTS AGAINST CHRIS KROHN
As Santa Cruz Local previously reported, three people filed complaints against Krohn: Watkins and two city staffers.
The investigator found one complaint against Krohn to be substantiated: that Krohn was disrespectful to a city staffer by interrupting the staffer with a sarcastic laugh when the staffer said something like "in my professional opinion." The staffer was giving a presentation with which Krohn disagreed.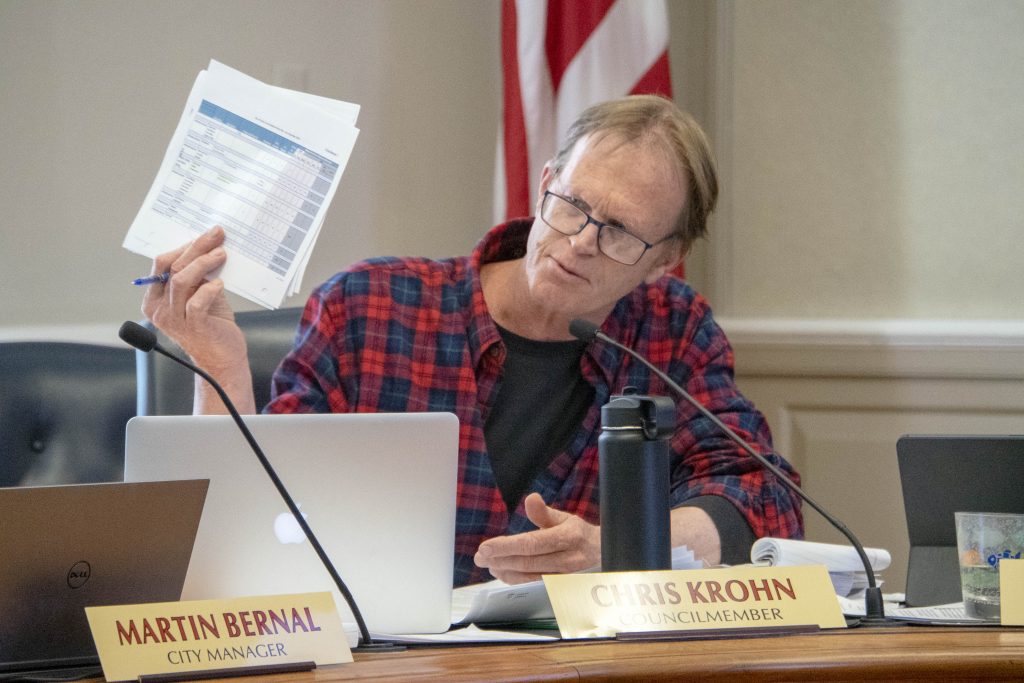 The report concluded that Krohn's "laugh, scoff, or snort was severe and egregious, and violated the city's Respectful Workplace Conduct Policy" because it was directed at the messenger, and not the message.
However, as Santa Cruz Local previously reported, the investigation concluded that there was not enough evidence to prove that Krohn's disrespectful behavior was motivated by gender bias.
Five of the six complaints against Krohn were found to be not substantiated.
The full 237-page report is here.
Editor's note: This story has been updated to correct the number of unsubstantiated complaints against Krohn.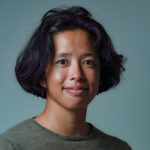 Kara Meyberg Guzman is the CEO and co-founder of Santa Cruz Local. ​Prior to Santa Cruz Local, she served as the Santa Cruz Sentinel's managing editor. She has a biology degree from Stanford University and lives in Santa Cruz.