Meet Renee Golder
Age:

44

Residence:

Lower Westside

Occupation:

Principal of Bay View Elementary School

Local government experience:

Golder is the only incumbent running for Santa Cruz City Council. She has spent more than 20 years in public education as a teacher, a bilingual Spanish-English teacher, reading intervention teacher and school principal. She also has served on several Santa Cruz City Schools district and site committees and volunteered at her children's schools, Mission Hill Middle School and Santa Cruz High School. Golder has volunteered with local sports, the Santa Cruz Junior Lifeguard Booster board, the Santa Cruz Sister Cities Committee and the city's Public Safety Task Force in 2013.

Important local issues:

Golder believes the primary issues are public safety, water and resources, open resources and parks, and housing.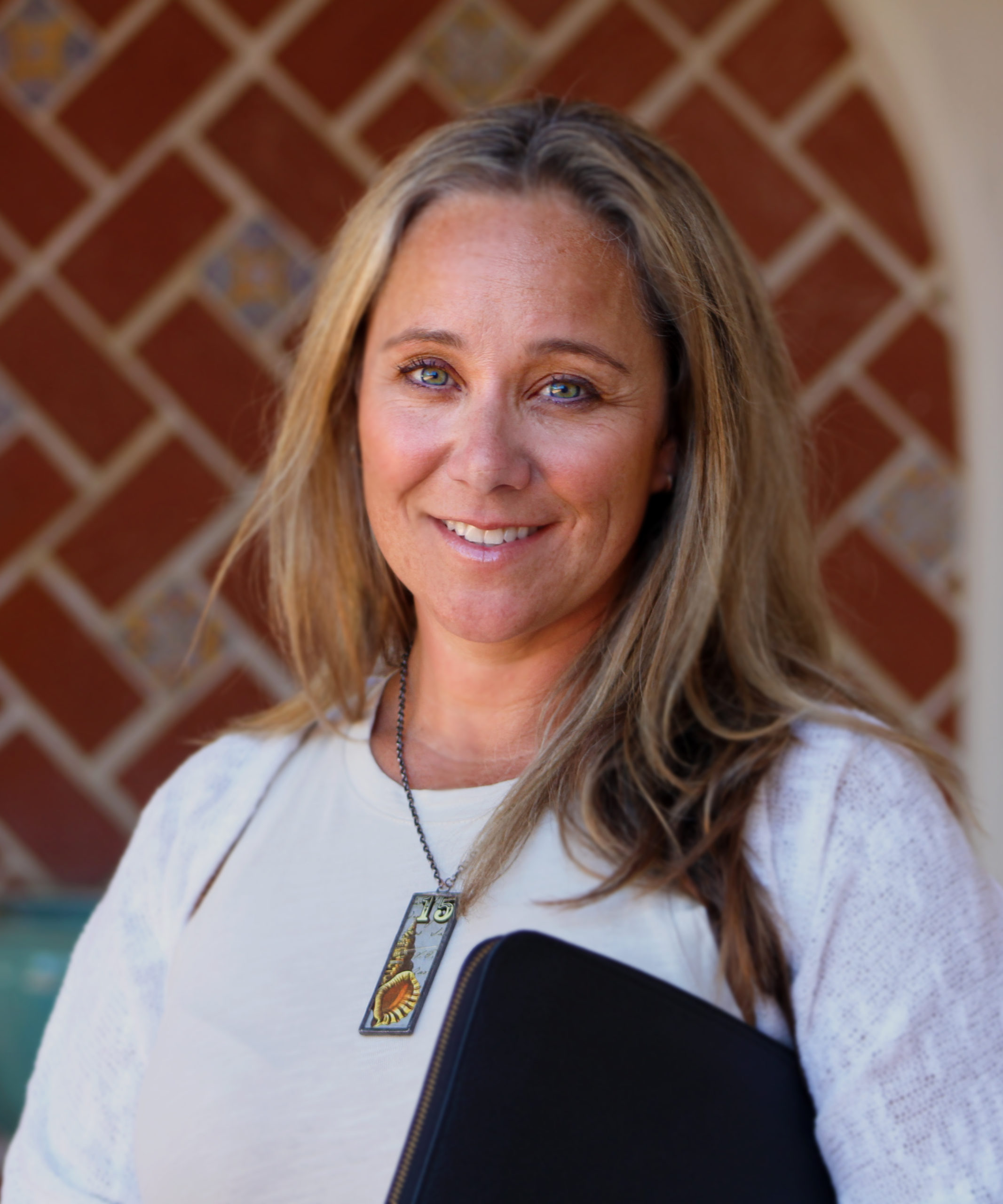 Renee Golder (Contributed)
What is your dream for the Santa Cruz community?

Golder said she hopes that Santa Cruz can be "a place where people can have a quality of life, where people are able to enjoy the beautiful natural surroundings, be able to work and live and feel safe and welcome and be able to just have happy, fulfilling lives."

Fun fact:

When asked for a fun fact about her, Golder laughed and acknowledged that she loves doing "dump runs" — basically, filling up a truck and taking stuff to the landfill.
What does your city council district want? How do you know? How will you represent your district on the council?
Renee Golder: I think my district really wants safe, clean streets where there's not RVs parked in the neighborhoods. I think people want their basic needs met as residents: They want their trash picked up, they want water coming to their faucet, they want to see development in appropriate locations, and they want to see a town where where they can walk and bike and work and feel like it's taken care of — business is taken care of.
Some voters told us there is too much market-rate housing being built and not enough affordable housing. Do you agree? How should the city council handle market-rate housing proposals? 
Renee Golder: I think there needs to be housing at all income levels. I also think that our (Regional Housing Needs Allocation) goals are at all income levels, it's our obligation to build it at all income levels.
We have been focusing as a city council for the past several years in providing tools, low- and very-low and affordable units, and we've got several projects in the pipeline: The Pacific Station North and South, the (Downtown Santa Cruz) mixed-use library and affordable housing project, and several others coming online. So yes, we do need affordable housing and we do need market-rate housing, and I also think we need something called workforce housing that we haven't previously had.
I've been working with the school district on Measures K and L. (The measures are) taking property that the school already owns and building some workforce housing to keep our schools staffed with people that can't necessarily afford market-rate and wouldn't qualify for low-income or affordable housing because they make too much. I think the university is partnering with them in some way to also get some more housing for people that are in that middle ground. Not market rate, but workforce housing that is for people in that income bracket as well.
It's interesting when you look at (area median income) but then you look at family size or people's salary steps. There's a big group of people that make too much to qualify for affordable housing, but don't make enough to purchase a home. That's another group where I think we need to take a look at and develop for.
Editor's note: Measures K and L would issue $371 million in bonds, largely to fund school upgrades in Santa Cruz City Schools. About 5% of the bond money would pay for 80 units of housing for Santa Cruz City Schools employees. Santa Cruz City Schools voters will decide on the measures on the Nov. 8 ballot. Read Santa Cruz Local's story about Measures K and L.
State rules require Santa Cruz city leaders to issue permits for hundreds of homes in the next 10 years. Do you support new housing above shops on Soquel Avenue, Mission Street and Ocean Street? How and where should the city add homes? 
Renee Golder: I totally support development on top of those areas — they're close to bus lines, they're walkable areas, and they are in need of some redevelopment. If developers or the city wants to build housing, where there's ground-floor commercial retail or something on the bottom and housing on the top, I think those are excellent spots.
The city could also look at other parts where there's vacant land, such as over by Natural Bridges Drive. I would think the city could start inquiring and see what kind of further development could be done. I know that where there's building off of Delaware, there are live-work condos going in; that's another area that's ripe for redevelopment and has potential for more housing.
During the past year, the Santa Cruz City Council's homelessness response has been to increase the capacity of managed shelters and adopt laws to limit overnight parking and camping. Do you agree with this approach, why or why not? What policies would you push for?
Renee Golder: I agree with this approach, because we've set up different tiers of support for people living in vehicles or on the streets, in tents — wherever they are. In addition, we have to have a time, manner and place for everything — you can't just be. We have to have some standards in town.
It's something the city's struggled with for a very long time, it won't be fixed overnight, but having people live in tents or on the levee or in vehicles is not ideal, it's not a permanent solution. So we need to find places for these people to go. And, truly, the city doesn't have a budget for that. It's unfortunate, but we get stuck with a lot of the bills, with all the cleanup and police contacts, and it's really a (county) Health and Human Services issue. So it's imperative that we partner with the county in this work, and we partner with nonprofits — we've been working so hard to do that.
I feel like we're constantly in a triage situation, where we're cleaning up encampments and spending tons of money on these big efforts, where if we took a fraction of that money and tried to invest it in our youth, I think we could make big changes. It's hard work. I wish I knew what the solution was.
Over the July vacation, I met with colleagues in Petaluma, who started using a CAHOOTS model for responding to crisis situations where maybe a police officer didn't need to be at. I've just been working with (Santa Cruz City Manager) Matt Huffaker and (Santa Cruz Police Chief) Bernie Escalante, and they've agreed to hire the consultants they used to start the program up there; there's probably going to be more information brought forward either at our next public safety meeting or our next homeless response update.
But I think that in order for any of this to happen, we have to be able to partner with our nonprofits and partner with our county in order to get things done. So the first step is hiring somebody that can come in and take a look at what we have, how we can change up the way we work together and, hopefully, get this implemented.
You've been absent for many votes this year in council meetings. From January through August, you were absent for large parts of 8 out of 15 meetings. Why? If you are reelected, will these absences continue? How will you prioritize your service on the council?
Renee Golder: I have a full-time job, like every other councilmember, and when meetings are 16 hours long, it's not reasonable to ask somebody to sit that long. I am not going to prioritize taking time away from my students at school to be at meetings — my priority is my job at Bay View.
I want to be clear that, to the best of my knowledge, I haven't missed an entire meeting, but I have missed parts of meetings, that's true. For those who have never been on council, they may not realize that the council meetings are only part of the job; it still takes about 20 hours a week of other work and other meetings, emails, and conversations with community members and staff.
Yes, I have missed a few closed sessions, a few open sessions, but I've always been there for part of the meeting, and the staff and the mayor have always been aware of when I'm going to arrive so they can set the agenda accordingly.
The only control I have is to say what time I'll be there, so if they want me for that part of the meeting, they can put that item at that time of the agenda.
I'd also like to say, even once this year, I was selected as a juror, and I stayed at court until 4:30 p.m., came straight to council, and then went to my office at Bay View and worked until 2 in the morning and then back to court the next day. I am extremely dedicated to my position on the City Council and I take my work there very seriously, though it is not my full-time job. I am completely committed and show up for the community.
Additionally, both candidates for mayor have assured me that one of their priorities is making the meetings shorter. Sixteen hours, 12 hours twice a month — that's ridiculous. That's not sustainable for someone with a full-time job, especially on top of all the other council requirements outside of the meetings.
If you're reelected, your role will be to represent District 6 voters who may want policy proposals and votes that represent their needs. This year through August, you've voted with the majority of the council every time except once (Golder voted against the fee increase for the city's green building program). How can you assure your constituents that you won't just go along with the majority, but propose policies that address their needs?
Renee Golder: I don't feel like I just go along with the majority, I listen to my constituents and that's how I make my decisions. I'm very accessible. I'm always available to hear people's perspectives.
I don't make any decision I make in a silo, and I think about the long-term effects. I think from a perspective of, how's this going to look 20 years from now? What are the big impacts of these policy decisions?
I am happy to meet and talk with anybody in District 6 or citywide.Just because I'm District 6 doesn't mean that I only talk to people in the district. I mean, I still meet with people that are in the county, (people) that don't just work in the city, that don't live in the city, that have issues.
New Santa Cruz City Council districts
In the Nov. 8 election, Santa Cruz city residents will choose a new District 6 representative for the Santa Cruz City Council. This is the first election where Santa Cruz voters will choose candidates from their geographical districts. District 6 includes: 
Areas south of Mission Street and west of Younglove Avenue and Columbia Street.

Areas along Western Drive.

A western part of the UC Santa Cruz main campus.

View a district map

.
Santa Cruz City Council District 6 candidates
Sean Maxwell is one of the two candidates up for the role. Read Santa Cruz Local's Election Guide to learn more about the other candidate:
Santa Cruz mayoral candidates
District 6 residents also will vote for a directly elected Santa Cruz mayor in the Nov. 8 election. Read Santa Cruz Local's election guide to learn more about those candidates:
— Grace Stetson
Editor's note: This page was updated to add Golder's responses to questions about her voting record.