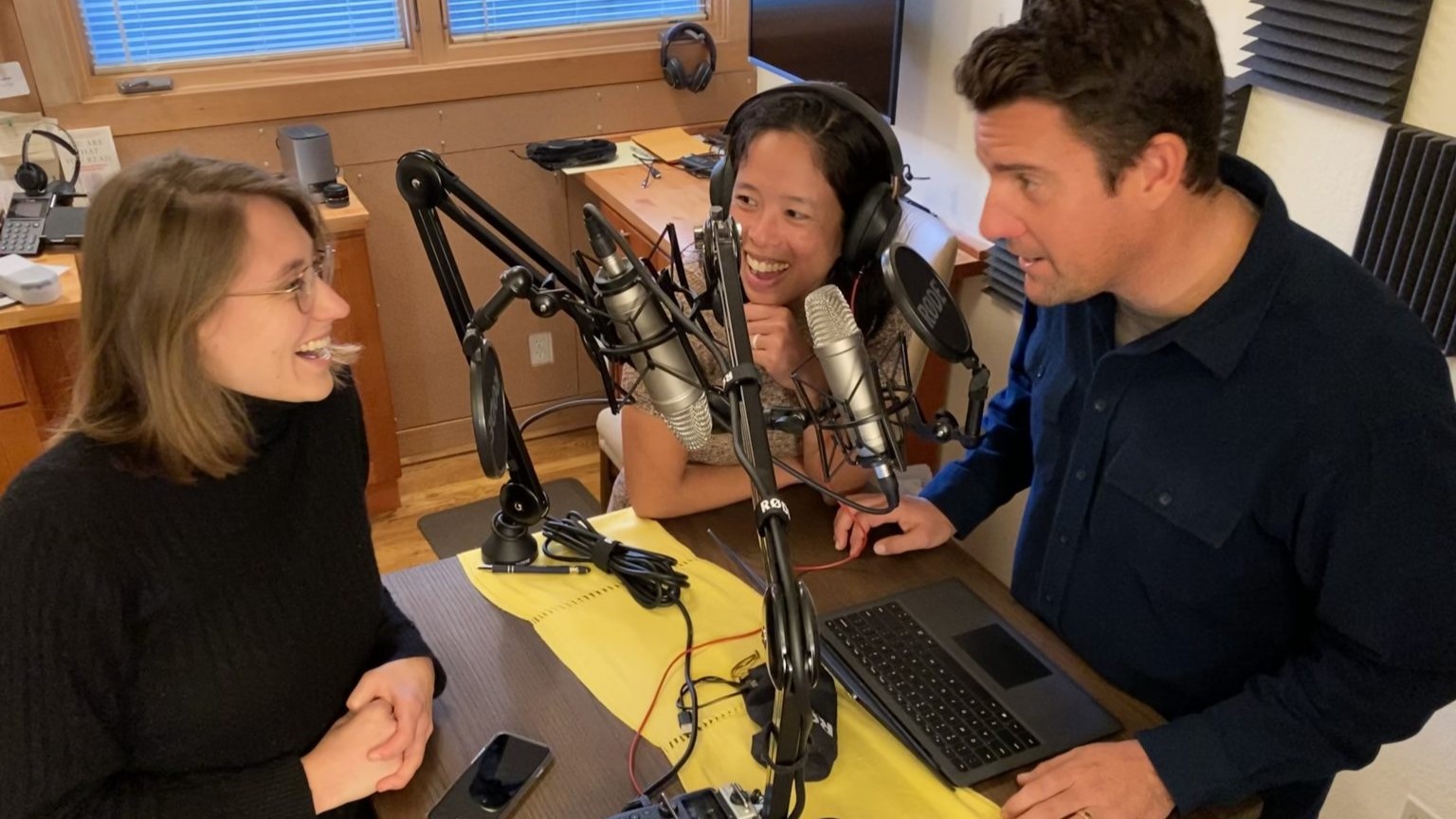 From left, Santa Cruz Local staff members Natalya Dreszer, Kara Meyberg Guzman and Stephen Baxter. (Jacob Meyberg Guzman — Contributed)
Santa Cruz Local's three-part series on homeless services spending is the most ambitious project that our news outlet has produced since we were founded in 2019.
The stories are part of Santa Cruz Local's larger Solutions to Homelessness series. It was made possible by the support of more than 100 Santa Cruz Local readers and more than $20,000 in donations during the summer of 2021. Thank you to all our supporters.
Santa Cruz Local pursued this project because we are responsive to Santa Cruz County residents through an endless feedback loop we call community engagement. We are also committed to solutions journalism that doesn't just point out problems in our county, but offers solutions and best practices.
Santa Cruz Local members and readers posed the initial questions in 2021: How is money spent on homeless services in Santa Cruz County? How much money? Where does it come from and where does it go?
To attempt to answer these questions about homeless services spending, we first spoke to county and city leaders who have been in charge of the money. Money essentially flows from the state into a group called a Continuum of Care that tries to prioritize how money is spent on homeless services such as shelters and rent subsidies. There are Continuums of Care for every county in California.
Santa Cruz County and city leaders apply for dozens of state grants to try to fund programs to help unhoused people. Money is received and spent for some services and not others. Some outcomes are tracked by each program, but they all have different time frames and reporting requirements back to the state.
"Great!" we said. "Can we see the breakdown of each spending category from, say, 2019 to 2021?" We were told that it does not exist. For starters, the County of Santa Cruz's accounting system does not have a single code for homeless services money. Because we are gluttons for punishment, we decided to file public records requests for every grant related to homeless services from 2019 to 2021 to try to decipher how the money was spent.
We filed records requests with leaders of the County of Santa Cruz and its four cities: Watsonville, Santa Cruz, Capitola and Scotts Valley. Capitola and Scotts Valley did not receive grants or spend money directly related to homeless services, so we excluded those cities from our report.
In November 2021, we received the bulk of the public records from county leaders and others.
Then the real work began.
In early 2022, Santa Cruz Local CEO Kara Meyberg Guzman, Santa Cruz Local Senior Community Engagement and Business Development Coordinator Natalya Dreszer and I split up hundreds of pages of grant documents. We compiled the information into tabs on an enormous spreadsheet.
We noted the grants and state departments where the money originated. We found or deduced how much money was awarded and how much money was actually spent. We split the homeless services into 14 spending categories.
There were many challenges:
Many grant documents were ambiguous about what the homeless service program entailed. That made it hard to categorize services. For instance, in a grant for "youth services," did the grant pay for program administration? Did it pay for staff and overhead to shelter youths overnight? Did it pay to acquire a building to start a day center for youths who were unhoused or at risk of being unhoused?

Worse, many grants paid for several services at once, so how do we split up the money for each service?

Was the money just applied for, awarded or actually spent? Many of the initial documents we received were grant applications without confirmation of their success. We only included money spent in our report.

When was it spent? Was the expenditure in fiscal year 2019-2020 or fiscal year 2020-2021? The county and city fiscal years start July 1 and end June 30, but not all grants worked on those time frames.
All of these questions required emails and phone calls to dozens of people involved with the money — from current and former county officials to city leaders to nonprofit group leaders who carried out much of the work.
We learned about the alphabet soup of grants from CESH to CARES to HEAP. All of the definitions are in our glossary. It took months of painstaking work and relentless follow-ups and reporting.
We did all of this work while we were juggling Santa Cruz Local's other weekly work. Each week, we report, write and edit news stories. We sometimes produce podcasts. For most of the time during this homeless services project, we also produced and sent an email newsletter twice a week.
By the time we triple-checked that we had all the money accounted for and categorized in our project, it was late 2022. We needed to transfer our information to interactive charts, so we hired the terrific data journalist Kaitlyn Bartley. We found Bartley through Geri Migielicz, who is a Santa Cruz Local member and Stanford University journalism instructor.
We went through several drafts of six interactive charts until we were all satisfied with the final versions. We had the charts in hand this winter — this winter with the storm destruction and floods that we reported on separately and delayed our project.
With the charts, I interviewed more city and county sources to get their reactions, feedback and context. Tyler Maldonado, a Santa Cruz Local freelancer, showed the charts to several unhoused people in the county to get more feedback.
During the past few months, I finally wrote the three-part series. The stories were edited and fact-checked by our staff as rigorously as all of our stories. Then we published.
This is not the end of Santa Cruz Local's reporting on homelessness and homeless service spending. It's really more like the beginning.
When we describe what we do at Santa Cruz Local, we say that we love Santa Cruz County and strive to understand it in all of its complexity. We hope this series takes a few steps down that path.
— Stephen Baxter,
Editor of Santa Cruz Local
Read the series:
Learn about membership
Santa Cruz Local's news is free. We believe that high-quality local news is crucial to democracy. We depend on locals like you to make a meaningful contribution so everyone can access our news.
Learn about membership