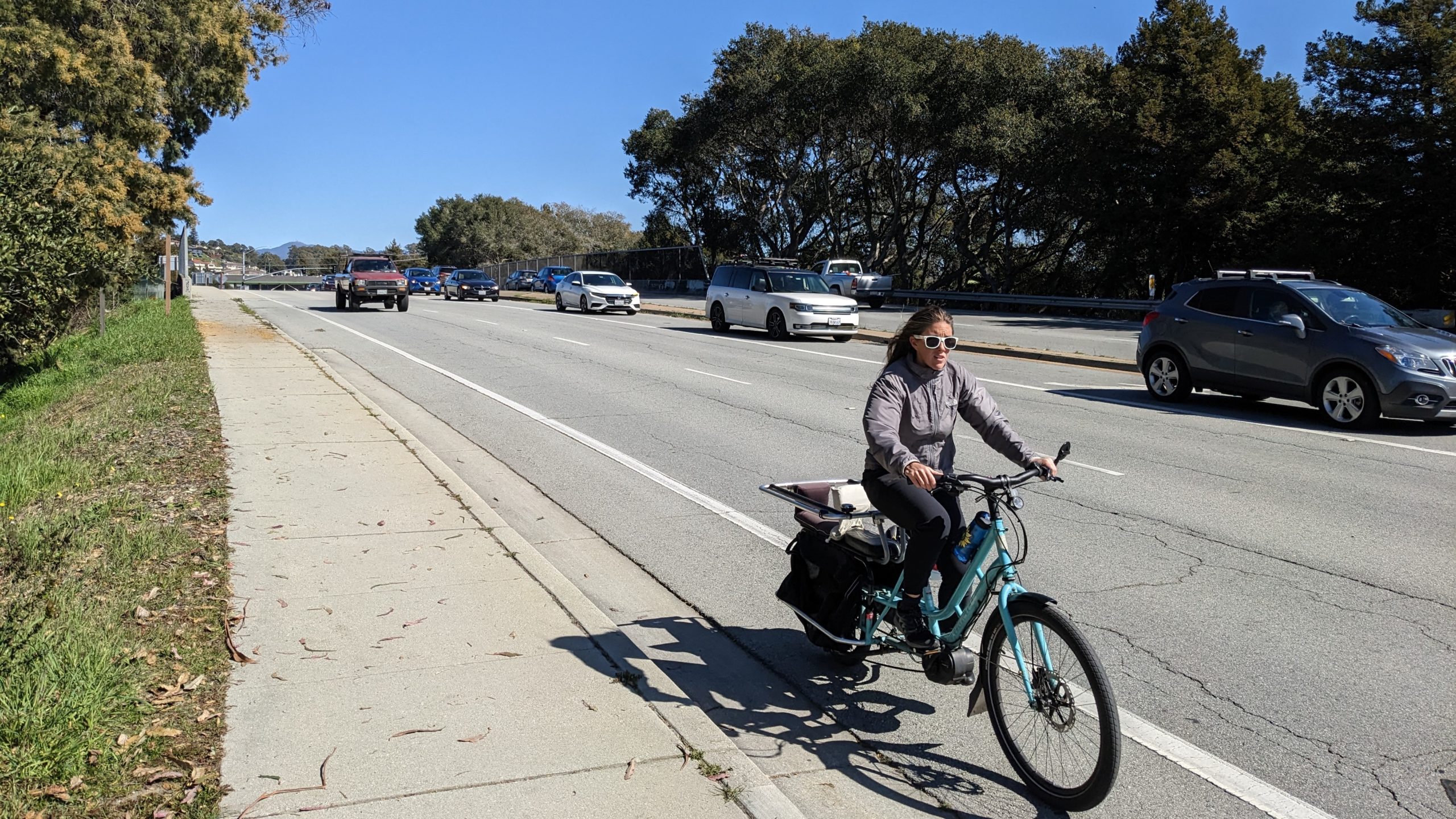 Bike lane upgrades are expected this summer on Soquel Drive in Live Oak. (Stephen Baxter — Santa Cruz Local)
LIVE OAK >> Buffered bike lanes, new crosswalks with flashing lights and stop light upgrades are expected to be installed on parts of Soquel Drive this summer to improve safety and traffic flow.
In the works for several years, Santa Cruz County supervisors on Tuesday agreed to request construction bids for the Soquel Drive Buffered Bike Lane and Congestion Mitigation Project.
Improved bike lanes are expected on both sides of Soquel Drive from State Park Drive to Highway 1. The project continues on Soquel Avenue to La Fonda Avenue.

Buffered bike lanes with flexible posts are expected from Cabrillo College to State Park Drive. They're also expected in other areas such as from Paul Sweet Road across the Highway 1 overpass nearly to Harbor High School. 

Mid-block crosswalks with flashing lights are expected in 11 locations.  

Stop lights are expected to be upgraded to improve traffic flow in 21 intersections. Some of the lights already have been upgraded. The improved traffic flow is expected to make bus transit faster on Soquel Drive, supervisors said.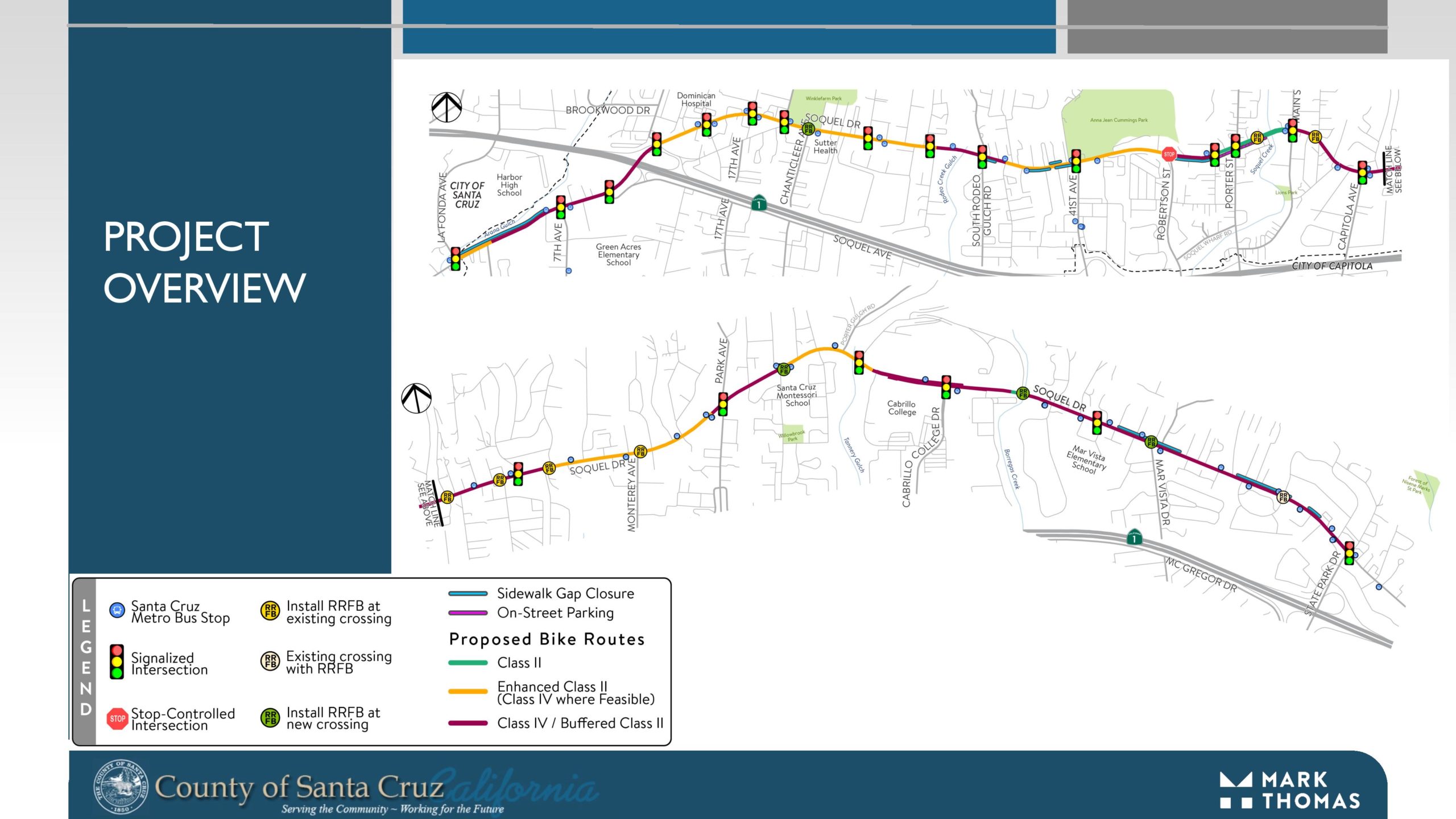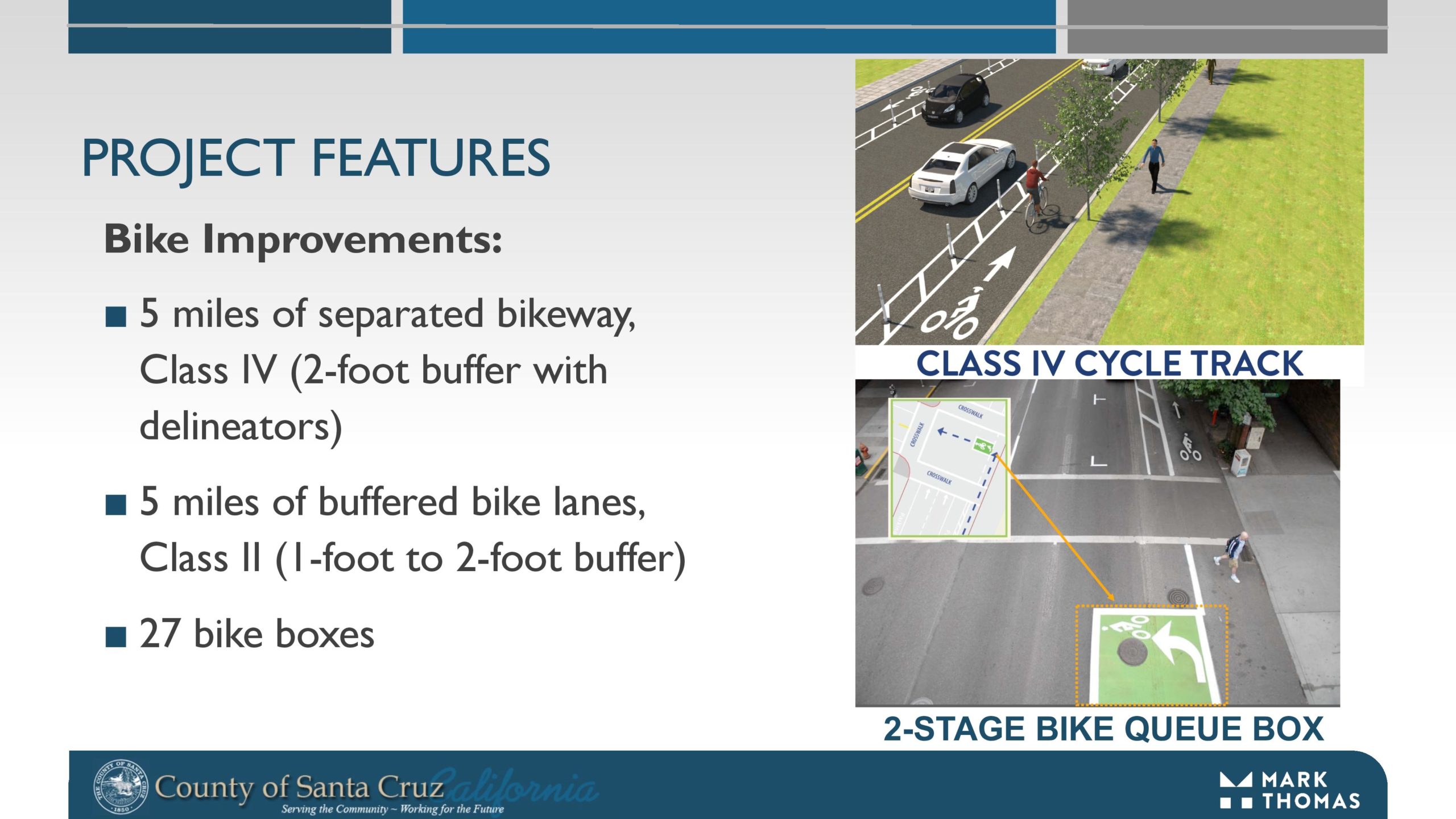 Some new Soquel Drive bike lanes are expected to be separated from vehicles with flexible posts, while other areas will have green painted lanes. (County of Santa Cruz)
The project is estimated to cost $25.9 million. About $16.4 million will come from the state's Solutions for Congested Corridors Program, $4.5 million from the county's General Fund and $4.9 million from the City of Santa Cruz, Soquel Creek Water District, Senate Bill 1 gasoline tax revenue and other state money, according to a county staff report.
Santa Cruz County Supervisor Zach Friend said the project came about from "direct requests from the community in the past decade." He said the project would reduce collisions between drivers and cyclists and drivers and walkers on Soquel Drive. 
"Our county has one of the highest incidences" of such collisions in the state, Friend said. Many of the crashes happen on Soquel Drive.
Santa Cruz County Supervisor Felipe Hernandez said that facilitating walking and cycling is "transformative" for neighborhoods. "It brings the community out and it brings families out and it makes it safer to walk and bike," Hernandez said. "That's when people come out of their homes and walk around their neighborhood, walk to a shopping center, walk to school," Hernandez said. "That's what builds community."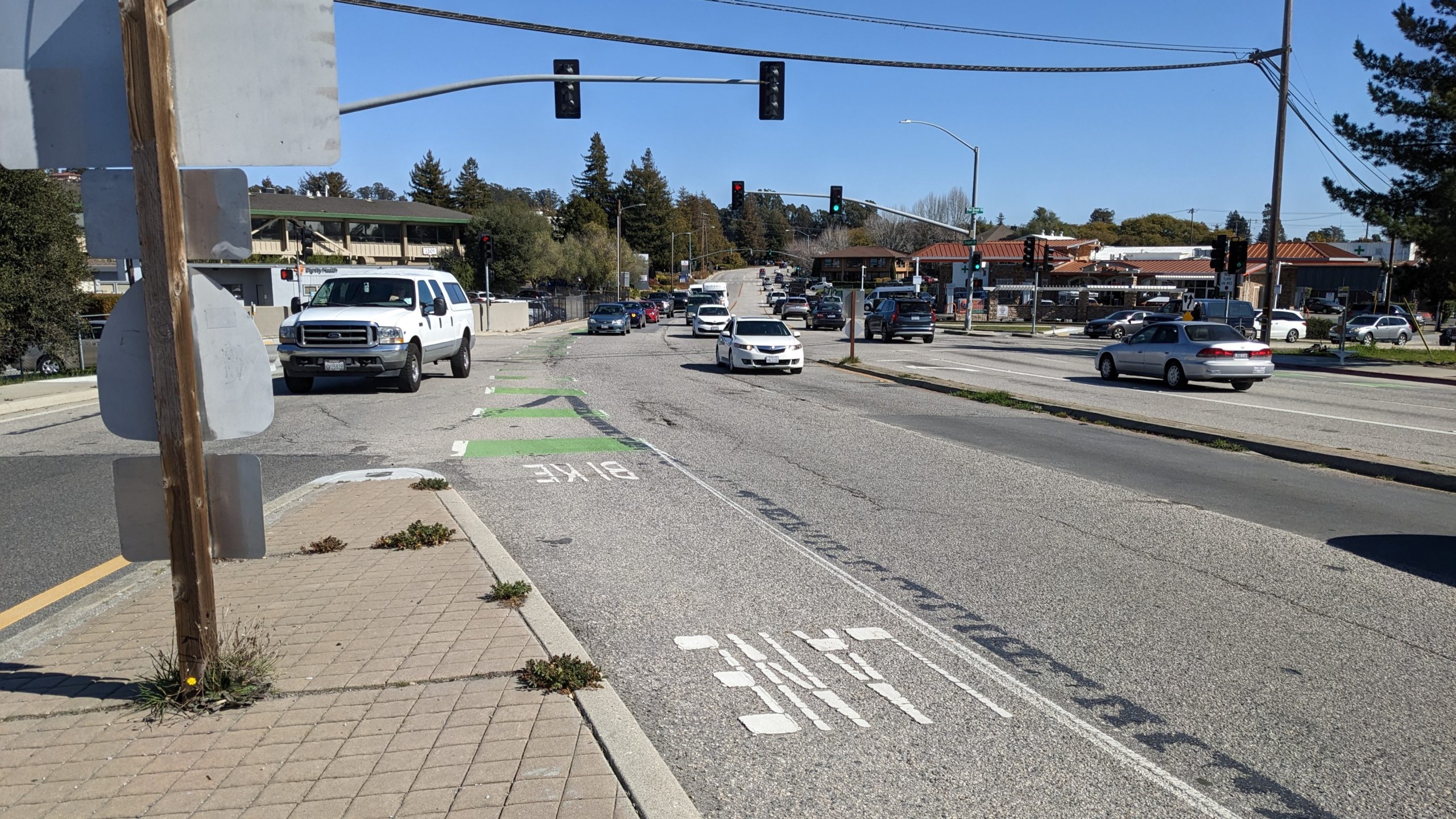 Santa Cruz County transportation engineers sometimes refer to Soquel Drive as "Highway 2" for its heavy traffic. Drivers pass Paul Sweet Road near Highway 1 on Feb. 15. (Stephen Baxter — Santa Cruz Local)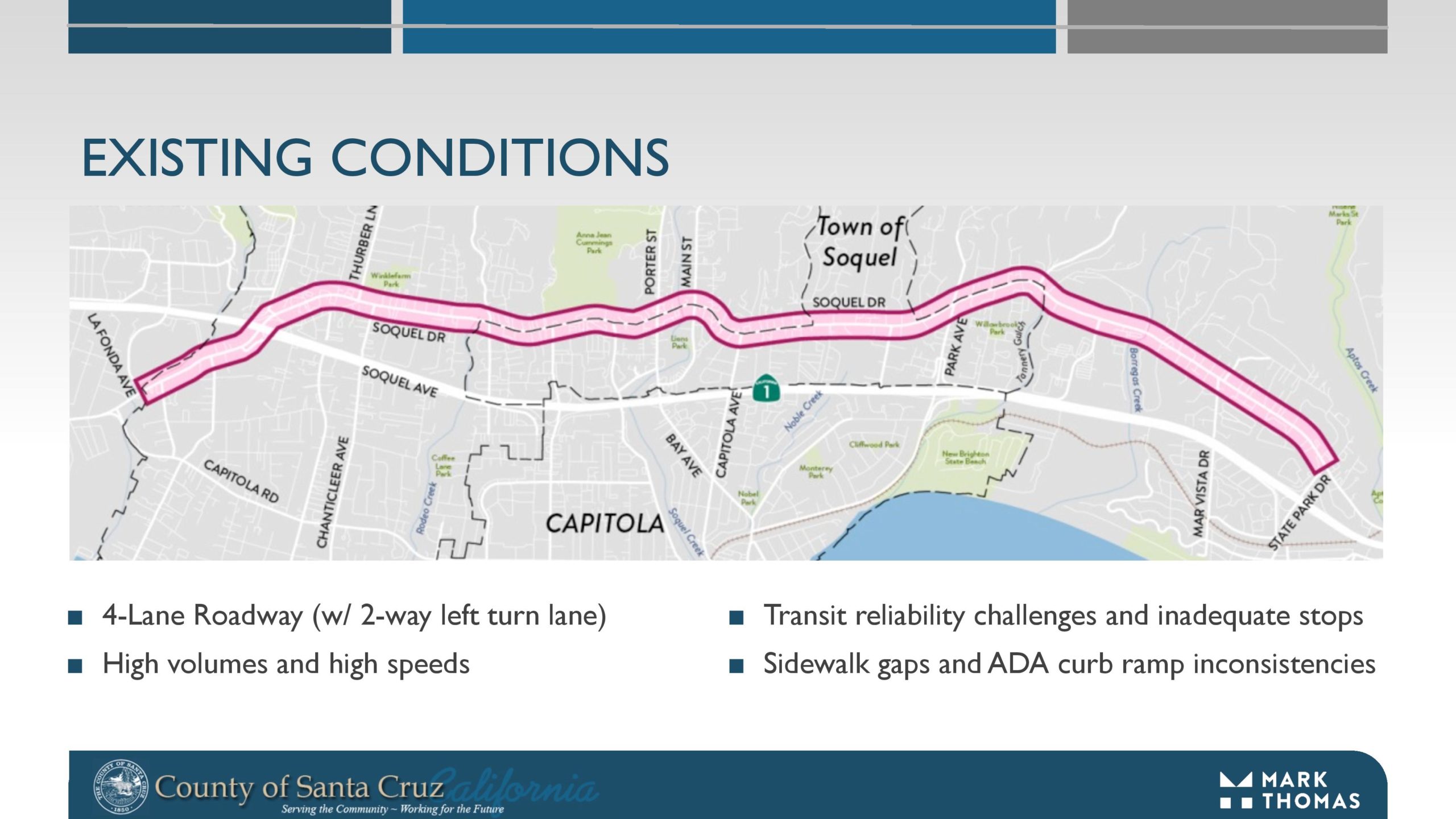 Four lanes of vehicle traffic will remain on Soquel Drive, but some lanes will be narrowed in part to accommodate protected bike lanes, Santa Cruz County staff said. (County of Santa Cruz)
Soquel Drive is expected to be repaved and painted during the project, but the width of the road will not change, said Santa Cruz County Senior Civil Engineer Russell Chen. The vehicle lanes will be narrowed in some areas to accommodate the bike lanes, and some street parking will be removed, Chen said. 
In Soquel Village near Porter Street, green painted bike lanes are anticipated as well as repainted crosswalks.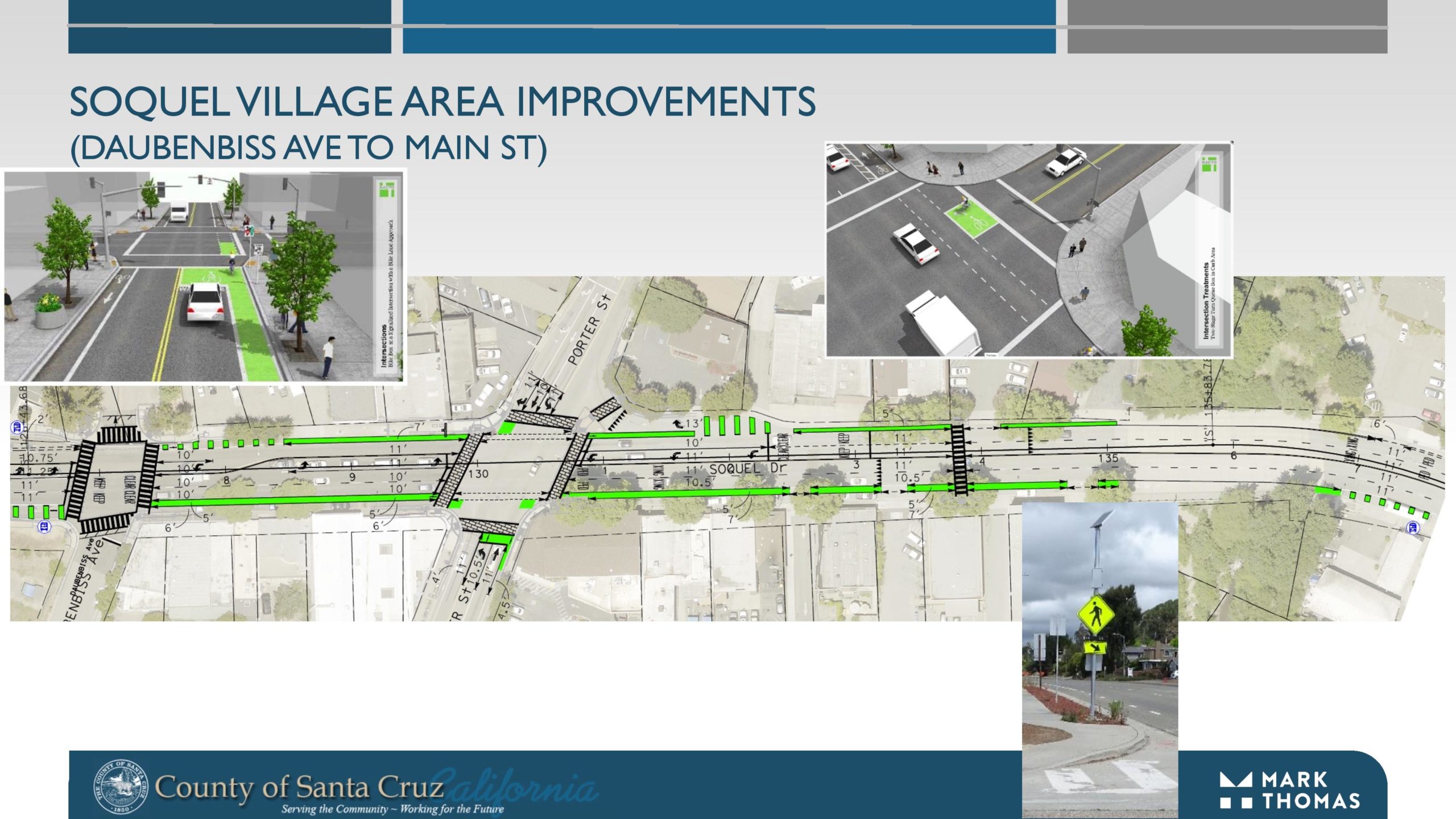 Green painted bike lanes are expected on Soquel Drive near Porter Street in Soquel. (County of Santa Cruz)
"This really is an incredibly important project," said Santa Cruz County Supervisor Manu Koenig. Koenig said that some residents who oppose new housing projects often say the county's transportation infrastructure cannot handle it. 
"So much work is going into this to make sure that traffic moves better, and also that we reduce these bike and pedestrian collisions," Koenig said. "I'm really looking forward to seeing this project underway."
The supervisors voted 4-0 to request construction bids for the project. Supervisor Justin Cummings was absent because he said he had to officiate a wedding.
Editor's note: The boundaries of the bike lane project have been clarified to include part of Soquel Avenue.
Learn about membership
Santa Cruz Local's news is free. We believe that high-quality local news is crucial to democracy. We depend on locals like you to make a meaningful contribution so everyone can access our news.
Learn about membership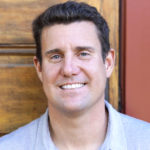 Stephen Baxter is a co-founder and editor of Santa Cruz Local. He covers Santa Cruz County government.