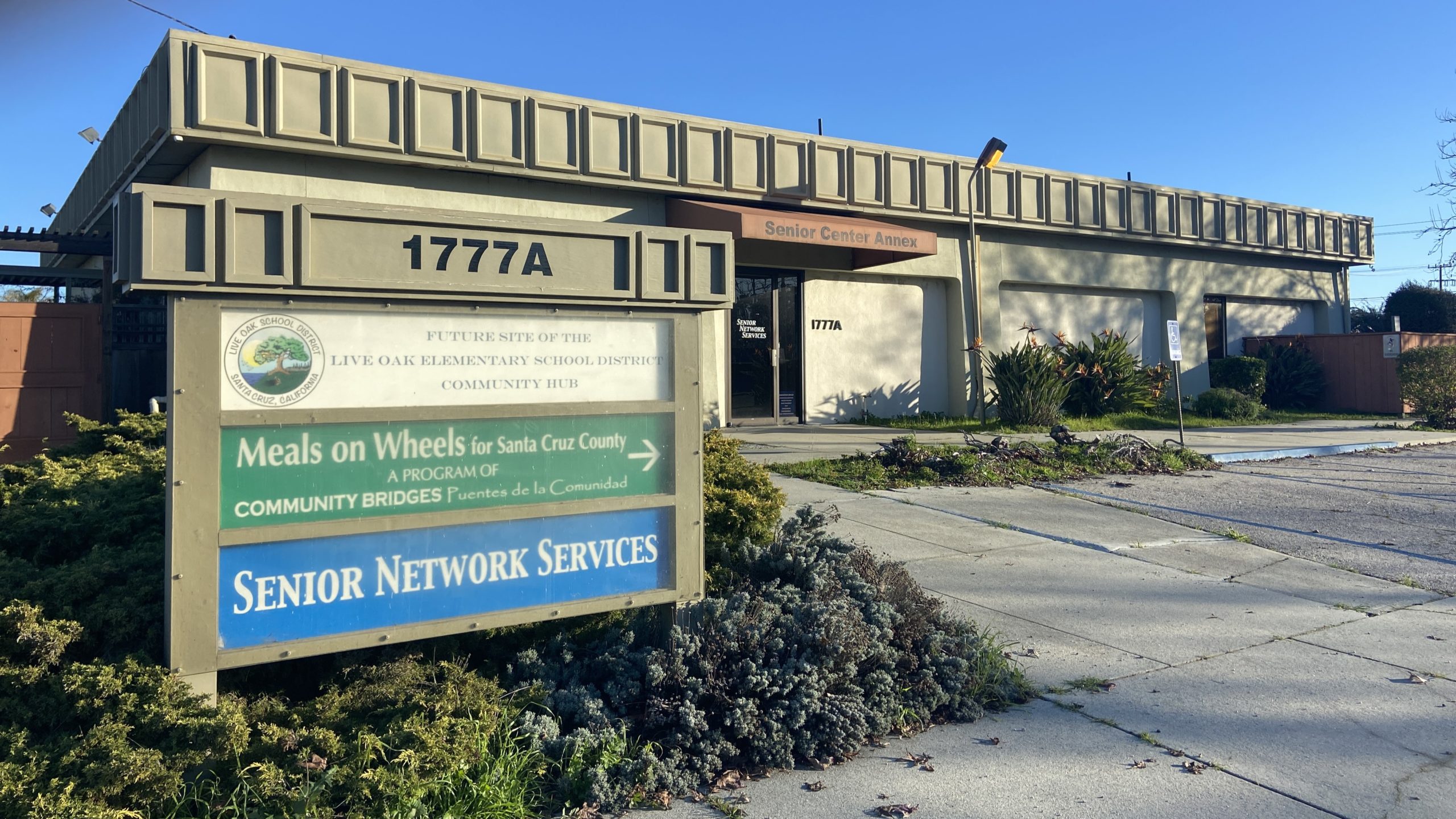 A senior center near Capitola Road and 17th Avenue in Live Oak is slated for redevelopment into teacher housing for Live Oak School District. (Grace Stetson — Santa Cruz Local)
LIVE OAK >> A proposed 30-unit teacher-housing complex is expected to displace the Live Oak Senior Center this summer, but a new Live Oak School District committee is set to consider whether the senior center could become part of the new project. 
Because of a lack of affordable housing and needed repairs at the senior center at 1777 Capitola Road, school district officials said in 2019 that they wanted to build housing on the property. The lease was extended several times, and it's now set to end June 30.
Live Oak School District leaders recently said that an ad-hoc committee will take up the matter. The next school district board meeting is at 6 p.m. Wednesday, Feb. 8 online and in-person at Live Oak Elementary School.
Live Oak School District superintendent Daisy Morales said that she and the school board believe that the property is a key part of the district's plans to provide affordable, workforce housing. The property is across the street from Live Oak Elementary School.
"This could be a critical strategy for attracting and retaining top talent to our schools," Morales wrote in an email to Santa Cruz Local. "We are open to a joint-use facilities agreement, and also understand if the tenants need to find other locations from which to provide services as the district figures out the final use of the facilities." Morales wrote. A joint-use agreement would allow senior services in the complex or as a nearby structure in the complex.
Senior center leaders have said the property's mid-county location is a central place to prepare and deliver meals to older residents in the county through its Meals on Wheels program. The center is also on a bus line, which facilitates wide participation in other services.
"It's such a great location for us," said Community Bridges spokesperson Tony Nuñez. "We'd like to stay there if possible." Community Bridges funds and supports many services at the senior center. 
Even if the senior center could become part of the new teacher housing complex, the center would still need to find an interim commercial kitchen and meeting space while the homes are constructed.
"It's encouraging that they did decide to put together a committee," Nuñez said.
The Live Oak School Board has said that the ad-hoc committee is expected to address the needs of the school district and community partners. The senior center's tenants have been invited to participate, Morales said. It's not clear whether the senior center's lease could be extended after the committee finishes its work.
Senior services
Opened in 1977, the senior center at Capitola Road and 17th Avenue serves more than 1,000 Santa Cruz County residents each month through Meals on Wheels and Senior Network Services. It also has offered programs through the Alzheimer's Association, the County of Santa Cruz and others. 
The Meals on Wheels program has been at the site since the mid-1990s. About 250,000 meals were cooked on site and delivered to homes across the county last year.

The Live Oak School District has owned the center since 2004. The district rents the space to leaders of the senior center. The nonprofit Community Bridges and the Seniors Council of Santa Cruz and San Benito Counties help fund the center's programs. 

In part because of a lack of workforce housing and high rents compared with teachers' salaries, a plan began in 2019 to build teacher housing on the site.

There was discussion about integrating the senior center into the housing project, but communication waned in 2020 during the pandemic. 
In May 2022, Live Oak School District leaders wrote a letter to senior center leaders with a notice to leave the property by Oct. 21.
Live Oak School District maintenance staff also said the senior center needed roughly $500,000 in maintenance. 
"That was unbeknownst to our senior programs," said Clay Kempf, executive director of the Seniors Council of Santa Cruz and San Benito Counties. The council funds Senior Network Services at the senior center and works with Community Bridges and Meals on Wheels. 
"That information was taken to the school board, and the school board reacted immediately to give everyone a six-month eviction notice," Kempf said. "That was when we first heard about any of this." 
Community Bridges obtained another estimate for the work at a little more than $100,000. Community Bridges offered to make those repairs on the condition that the lease was extended for two years. 
The notice to leave was extended to Dec. 31, but senior center leaders said there wasn't enough time to find an alternate site. On Dec. 14, the Live Oak School Board agreed to another lease extension through May 4. It was later extended to June 30. Demolition could start as soon as June, school district leaders said. 
Communication problems
People involved with the property discussions before 2020 said there had been collaborative conversations about the senior center and its future. The meetings involved the school district, school board, staff, county staff, county supervisors and members of the Community Foundation Santa Cruz County. Once the COVID-19 restrictions started, those meetings switched to Zoom. 
Some senior center staff said they then started to get information about the center's future by watching Live Oak School District board meetings. 
"It's been pretty much a scramble," Kempf said. Kempf said he has not received updates or insights on ways to include the senior center in the teacher housing proposal.
When Daisy Morales became superintendent of Live Oak School District in July 2021, she was more open to conversations about the future of the senior center than her predecessor, Kempf and Nuñez said. Both hope there will be a chance for continued partnership.
There aren't many ideas for what the site could look like, but Nuñez said there have been some discussions about the possibility of a multi-use facility on the site similar to the new and nearby development at 1500 Capitola Road. That project includes a Dientes Community Dental Care clinic and a Santa Cruz Community Health Center that opened a few months ago. Fifty-seven units of affordable housing also are expected to finish construction on the property in the fall.
 "The way I look at it, that's the type of project that can be a community hub here. I think we could have something that helps everybody," Nuñez said.
At the senior center site, there could be space for senior services on the ground floor levels, with workforce housing above, Nuñez said. With just a few months until the summer deadline, Nuñez said the center is in a tough spot.
"It's difficult to buy anything in six months. Even if we don't buy — if we choose to rent somewhere — to find a facility that makes sense for Meals on Wheels will be challenging," Nuñez said. 
Kempf said, "We'd hate to see resources that are just (as) scarce — that are used to feed seniors or keep them housed — end."
Learn about membership
Santa Cruz Local's news is free. We believe that high-quality local news is crucial to democracy. We depend on locals like you to make a meaningful contribution so everyone can access our news.
Learn about membership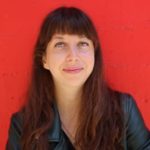 Grace Stetson is a Santa Cruz County freelance journalist who covers housing, homelessness and development. Stetson is a graduate of the Medill School of Journalism master's program. Stetson has worked for Dateline NBC, Walt Disney Publishing Worldwide, Metro Silicon Valley, the Six Fifty, Good Times and Lookout Santa Cruz.