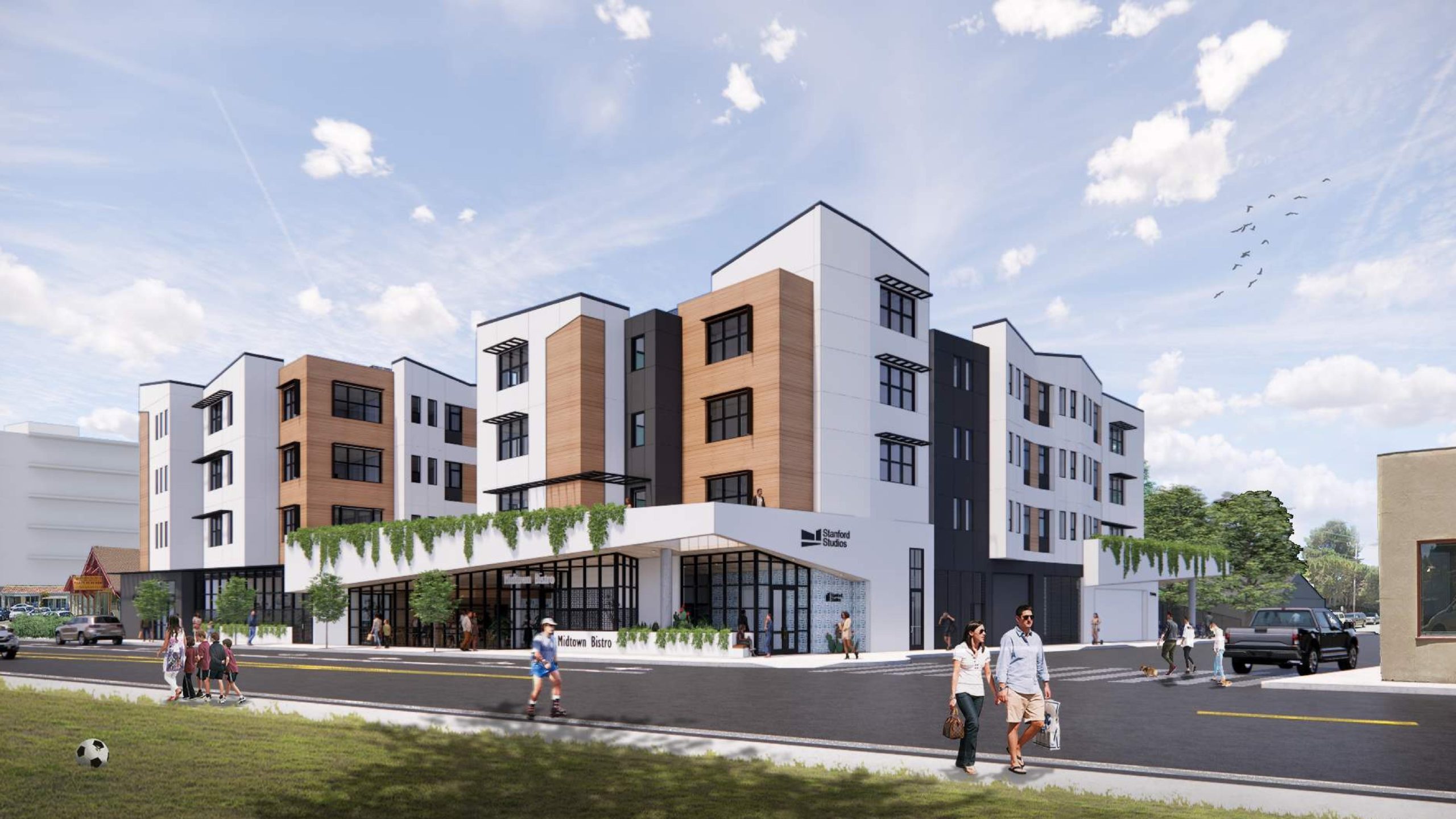 A four-story housing complex has been proposed on the 900 block of Water Street near North Branciforte Avenue in Santa Cruz. (Workbench)
SANTA CRUZ >> A four-story, 105-unit housing complex on the 900 block of Water Street is expected to be considered by the Santa Cruz Planning Commission early next year.
The project is proposed where vacant storefronts and a vacant two-story home now stand at 915, 917, 919 and 923 Water St. The site is next to The Argus Co. used car lot and across North Branciforte Avenue from a four- and five-story housing project at 831 Water St. The 831 Water project was approved for objective design standards in 2021 and awaits a building permit application, city officials said in early December. 
The new proposal on the 900 block of Water Street is bounded by Stanford Avenue and called Stanford Studios. It would create 105 studios or single-room occupancy units. About 1,080 square feet of shops or other commercial space is slated for the ground floors.
The proposal includes:
Eighty-four units of 315 square feet.

Eighteen units of 380 square feet.

Three units at 305 square feet. All the residences are proposed on the top three levels.

The ground floor is proposed to be commercial space and a 46-space parking garage that includes nine electric-vehicle charge stations. There would be 10 street parking spaces and three spaces for people with disabilities. There would be 136 bicycle parking spaces.

Onsite management 24 hours.

Common outdoor space and terraces.

Shared laundry facilities for each of the three residential levels.
Fourteen units are expected to house "very low income" tenants with income limits defined by the state. The units are expected to rent for about $962 per month, the developer said in a Sept. 7 community meeting.
Dannan Development is the developer. Santa Cruz-based Workbench is the applicant that submitted the proposal to Santa Cruz city leaders in June, said Santa Cruz Project Planner Timothy Maier. 
The Santa Cruz Planning Commission is expected to review the project in a meeting in early 2023. If that commission's decision is appealed, the project would be reviewed by Santa Cruz City Council, Maier said.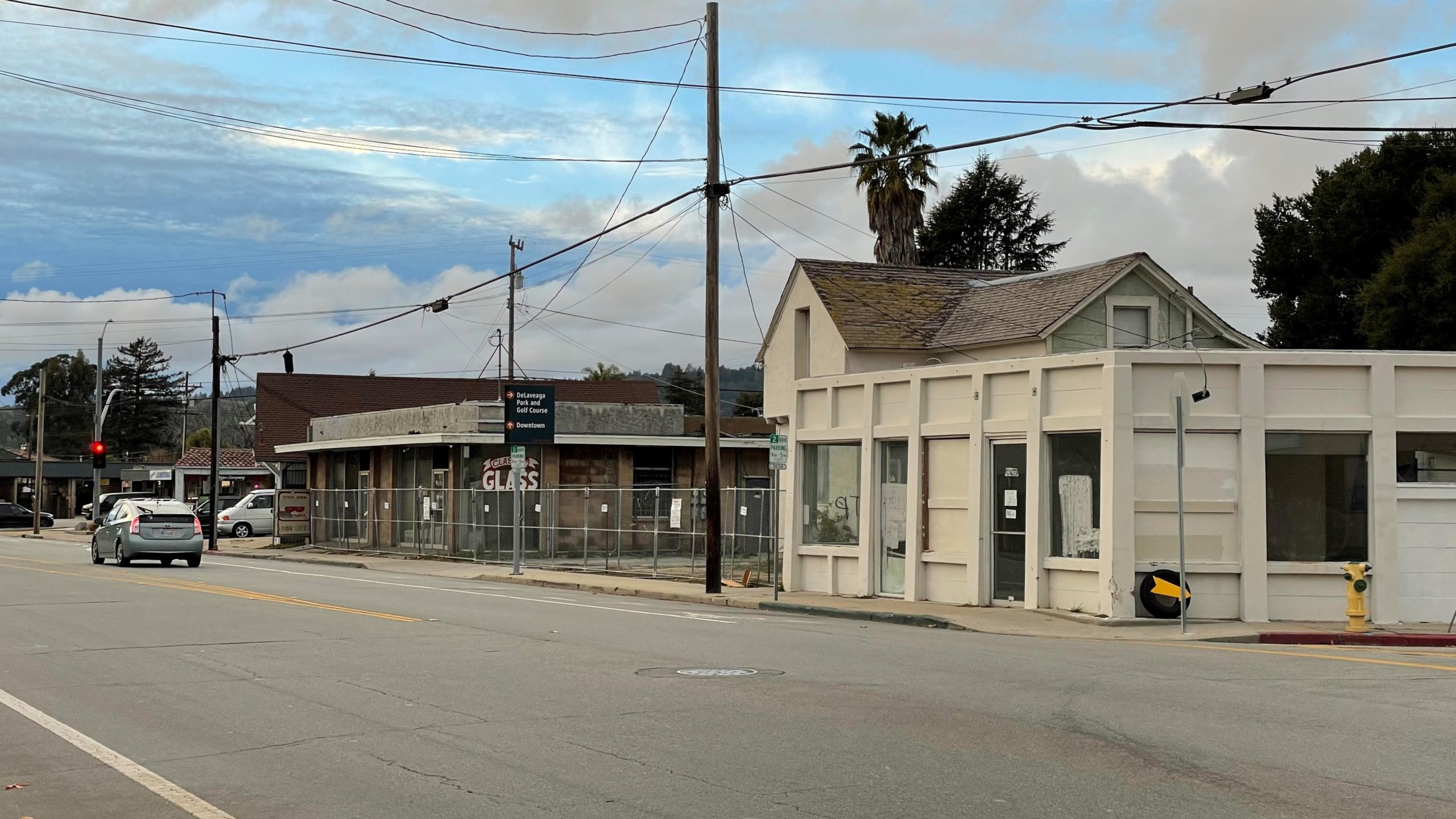 The 900 block of Water Street includes vacant storefronts and a vacant two-story home. (Natalya Dreszer — Santa Cruz Local)
The project invokes Senate Bill 330's "density bonus" to allow more dense housing than would normally be allowed on the site's zoning. The pre-application was deemed complete in July, Maier said. 
Because of the project's pre-application with SB 330, Stanford Studios is not affected by the newly implemented objective design standards and rezoning ordinances, approved by Santa Cruz City Council on Nov. 15, Maier said.
The development faces Water Street and includes a "buffer site" behind it where Dannan Development plans to build single-family homes in the near future, development leaders said. The buffer site could include nine single-family homes with in-law units. The buildings in the buffer zone are not expected to be taller than 2.5 stories.
Jamileh Cannon, founding partner of Workbench, said the firm has collaborated closely with Andy Goldberg of Dannan Development on the Stanford Studios project and the buffer zone homes since late 2021. Cannon said they want to make a project that fits and is "right sized" for Santa Cruz. 
Cannon added that the partners have worked together to determine how this development will fit into the aesthetic design of other nearby developments, with an emphasis on a "midtown modern" look.
"There's some really nice examples of work that's going to be built in the next few years here, so we're kind of taking the pieces of that language that we felt were really beautiful and reflected what a vibrant beach town could look like," Cannon said.
Neighbors' concerns
Many residents near the proposal fought another housing proposal at 831 Water St. in recent years.
Resident Doug Engfer — who also serves on the Santa Cruz Water Commission — was one of that opponents to the 831 Water St. project. As a Senate Bill 35 project, the city was required to streamline the process. The Santa Cruz City Council approved the project for objective design standards in December 2021. City planners said this month that they await a building permit application. 
With Stanford Studios, Engfer said he believes that his voice and his fellow neighbors' voices have been heard by the developer. Engfer said Goldberg is "doing the right thing" by reaching out to neighbors throughout the process to share his plans.
"We're certainly eager to see that area get redeveloped. I'm grateful that Andy was able to get control of those parcels and come forth with, frankly, a really responsible set of proposals," Engfer said. "We need housing, and we need affordable housing, and we need for that housing to be along these transportation corridors."
The project is at a major intersection in Midtown Santa Cruz, at Water Street and North Branciforte Avenue. During the Sept. 7 community meeting, former Santa Cruz County Supervisor Gary Patton raised the concern of "the danger of the Water Street intersection," for drivers turning left onto Stanford Avenue. The developers are working with city planners to determine whether a left-turn lane could be installed.
In the project's proposal from that Sept. 7 community meeting, Goldberg and Cannon shared the importance of driving alternatives such as walking, cycling, bike share services and buses. 
The project is close to amenities that make for a walkable neighborhood. Regarding the access to local alternative transportation options, Cannon said, "There's very few better places to build this type of project."
One of the neighbors' concerns with 831 Water Street was the potential shadowing from the building on nearby homes. With the buffer space between Stanford Studios and the adjacent single family homes, Engfer doesn't have the same concern. He said he believes the project will fit right in.
"It's the right kind of transition between higher-density corridors and lower-density neighborhoods," he said. "When a developer takes this sort of approach, they help us develop housing we need while also preserving the nearby neighborhood integrity."
In comparing Stanford Studios to 831 Water, Cannon said that community members were fairly pleased about the plans for this project, and happy to see the accommodations made with setbacks, the building height, and the available parking. 
Cannon said the project could break ground as soon as 2026. Potential delays for the project could be related to interest rates or bank financing.
"If it was just us doing production drawings and money wasn't in turmoil, we could go straight to construction and I would gladly tell you we'd be done in two years," Cannon said. "But it just doesn't ever go quite that smoothly."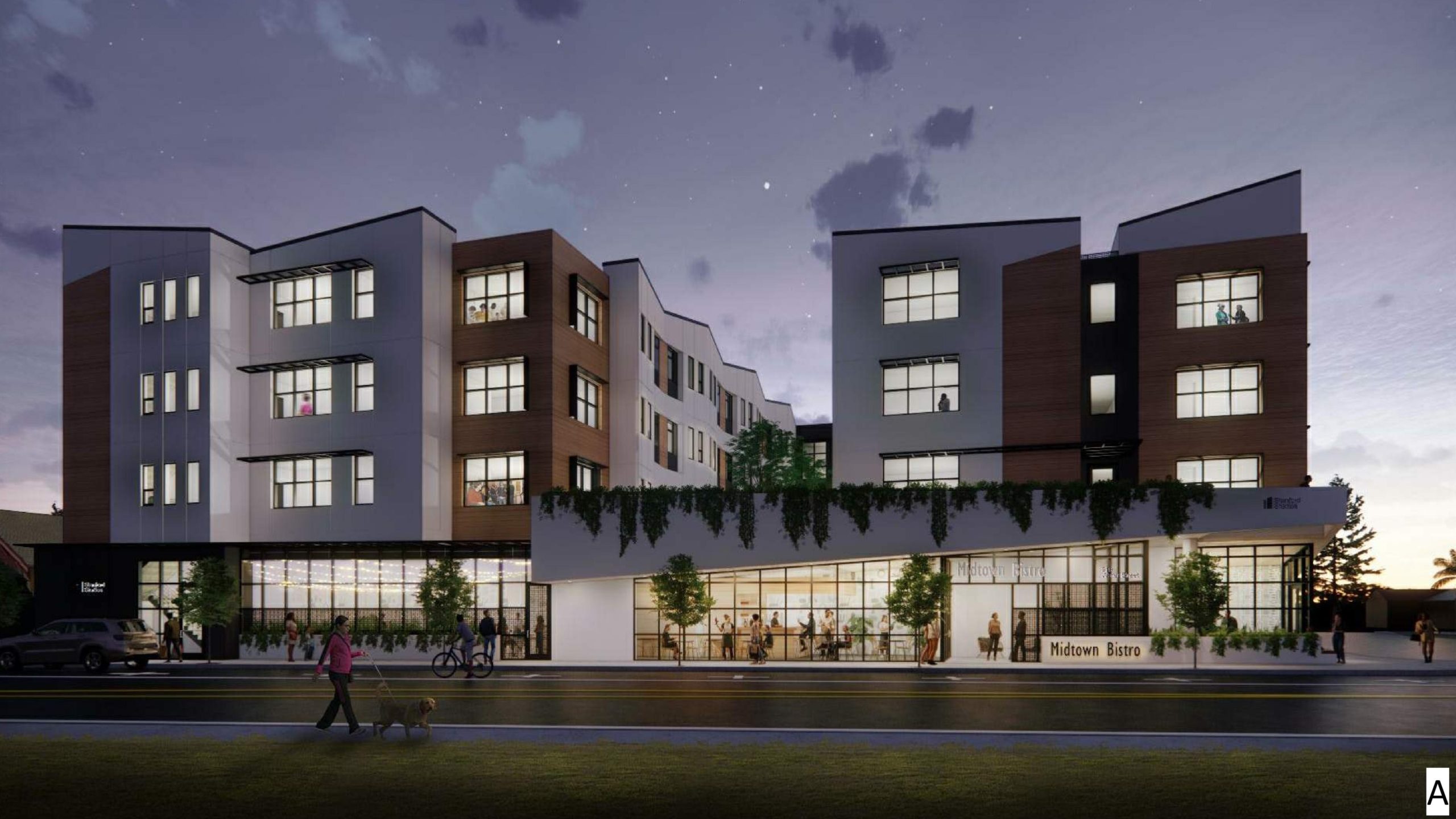 A rendering shows a potential restaurant below homes on the 900 block of Water Street in Santa Cruz. (Workbench)
Learn about membership
Santa Cruz Local's news is free. We believe that high-quality local news is crucial to democracy. We depend on locals like you to make a meaningful contribution so everyone can access our news.
Learn about membership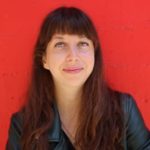 Grace Stetson is a Santa Cruz County freelance journalist who covers housing, homelessness and development. Stetson is a graduate of the Medill School of Journalism master's program. Stetson has worked for Dateline NBC, Walt Disney Publishing Worldwide, Metro Silicon Valley, the Six Fifty, Good Times and Lookout Santa Cruz.