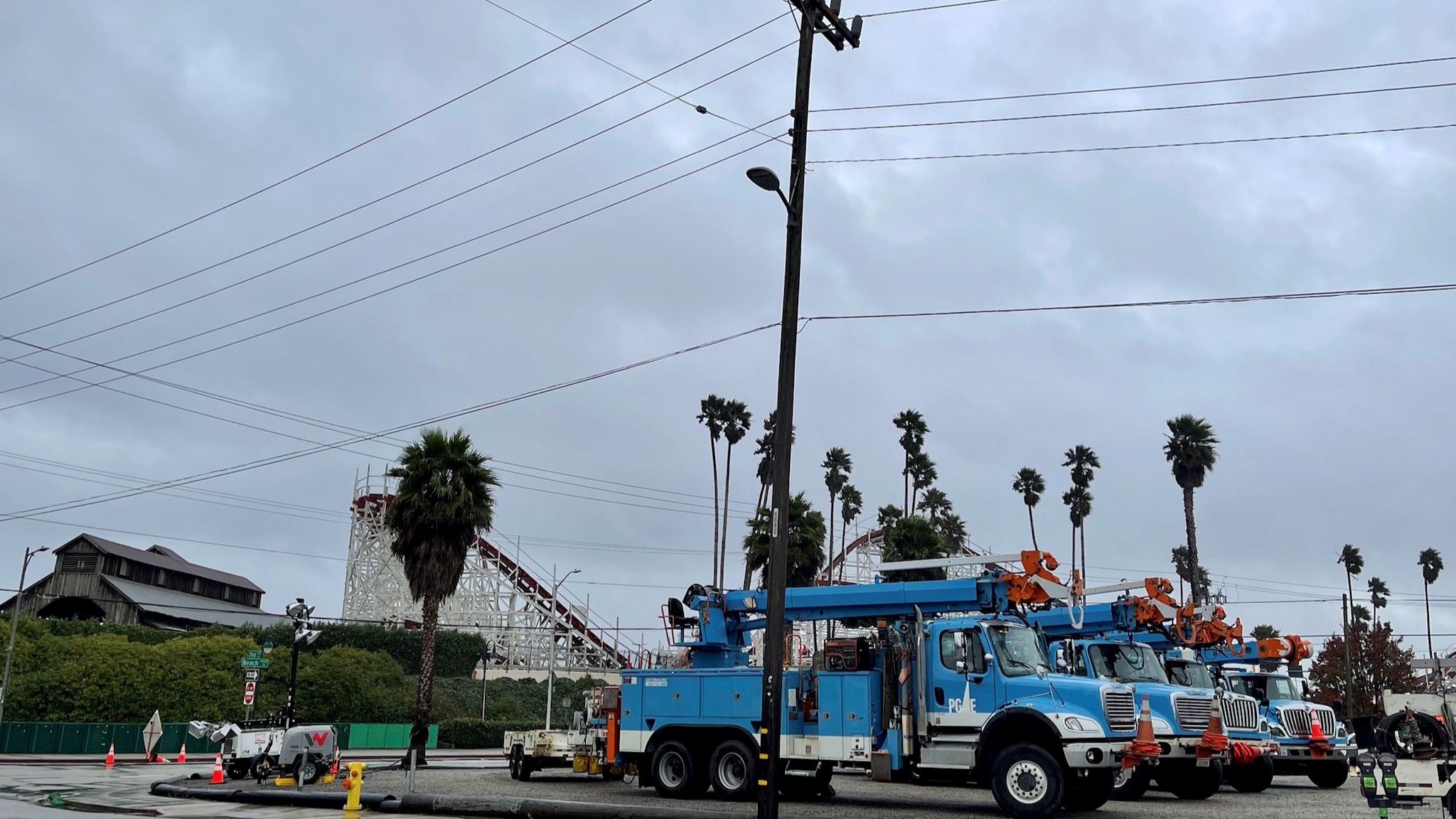 Pacific Gas & Electric Co. trucks are staged near the Santa Cruz Beach Boardwalk in December to respond to power outages during a storm. (PG&E)
FELTON >> To help prevent wildfires in rural areas, Pacific Gas & Electric Co. leaders recently outlined a statewide plan to run many electrical lines underground in the long term and expand a controversial "fast trip" system to trigger power outages.
PG&E plans to put some electrical lines underground this year and in 2023 in areas of Santa Cruz County that are at higher risk of wildfire, said John Baker, a liaison to the California Public Utilities Commission for Santa Cruz County. The public utilities commission regulates privately owned electric, natural gas, telecommunications and water companies in the state. Although the full undergrounding project is expected to take years, Baker said some areas for the work could include:
Between Felton and Scotts Valley. 

Scotts Valley to Santa Cruz.

East of Capitola.
Unlike above-ground power lines that have sparked wildfires with vegetation, underground lines are protected from vegetation, weather, collisions and accidents, Baker said. PG&E plans to underground 3,600 miles of its roughly 125,000 miles of power lines in the state by 2026. The final goal is to put 10,000 miles of power lines underground.
"It's going to take them a long time to get the 10,000 miles that they're actually wanting to eventually do," said Baker. "It's costly, and we want them to go faster. We're working on ways that we can help them do that."
On Feb. 25, PG&E submitted a 1,079-page Wildfire Mitigation Plan to the California Office of Energy Infrastructure Safety. The state office was formed last year to reduce utility-related wildfire risk. Besides underground lines, the multibillion-dollar plan describes other strategies to help prevent wildfires:
"Public Safety Power Shutoffs."

Pre-emptive power shutoffs have been used during high-wind periods and other weather events with some advance notice. The system is used "as a last resort during extreme weather conditions to reduce the risk of catastrophic fire, while also minimizing the impact on customers," PG&E representatives wrote in a statement. System changes in 2021 reduced average customer outage durations by 40%, according to the utility.

More wildfire cameras and weather stations.

PG&E plans to install 98 cameras this year to add to its 502 cameras installed since 2018. There are expected to be about 1,400 weather stations systemwide by the end of the year.

Vegetation management.

Tree trimming and other management has expanded "beyond regulatory requirements," according to the utility. More than 6,300 miles of this work has been done since 2019 and more than 1,800 miles is expected to be done in 2022, PG&E representatives said. 

Stronger poles, covered power lines.

System hardening projects are expected on 470 miles of distribution power lines this year including some underground work. 

Expanding "Enhanced Powerline Safety Settings," also known as the "fast trip" system to shut off power.

This system automatically de-energizes when tree branches and even

small rodents

fall on power lines, according to the utility. PG&E reported that the system essentially reduced fires by 80% in high fire-risk areas during the program's pilot in 2021. However, many residents of the San Lorenzo Valley and elsewhere said the power outages also shut down medical equipment, the internet, water wells, sanitation systems, and ways for thousands of residents to work and study from home. 
"We want safe infrastructure that doesn't cause accidental fires," said Baker, the liaison to the state's public utilities commission. "We're open to the fast trip," he said. "I think there's a lot of work we can do with PG&E and the local communities to find the appropriate setting for fast trips. If a better alternative comes along, we will certainly consider that."
Underground lines and insulated lines
Baker added that installing power lines underground in the Santa Cruz Mountains will take more time and be more expensive than underground projects in urban areas in part because of special equipment required.
For Santa Cruz County Supervisor Bruce McPherson and his staff, the longer-term underground power line projects should be complemented by short-term projects to insulate wires. Insulated wires generally do not spark fires as easily as uncovered lines.
"In concept, it's a great idea if they could underground all of their lines," said J.M. Brown, an analyst on McPherson's staff. "However, our office doesn't find that that's going to be particularly practical in terms of fire safety in our district, because they're not going to be able to underground enough over the next few years for us to see the wildfire prevention safety levels that we need to see," Brown said.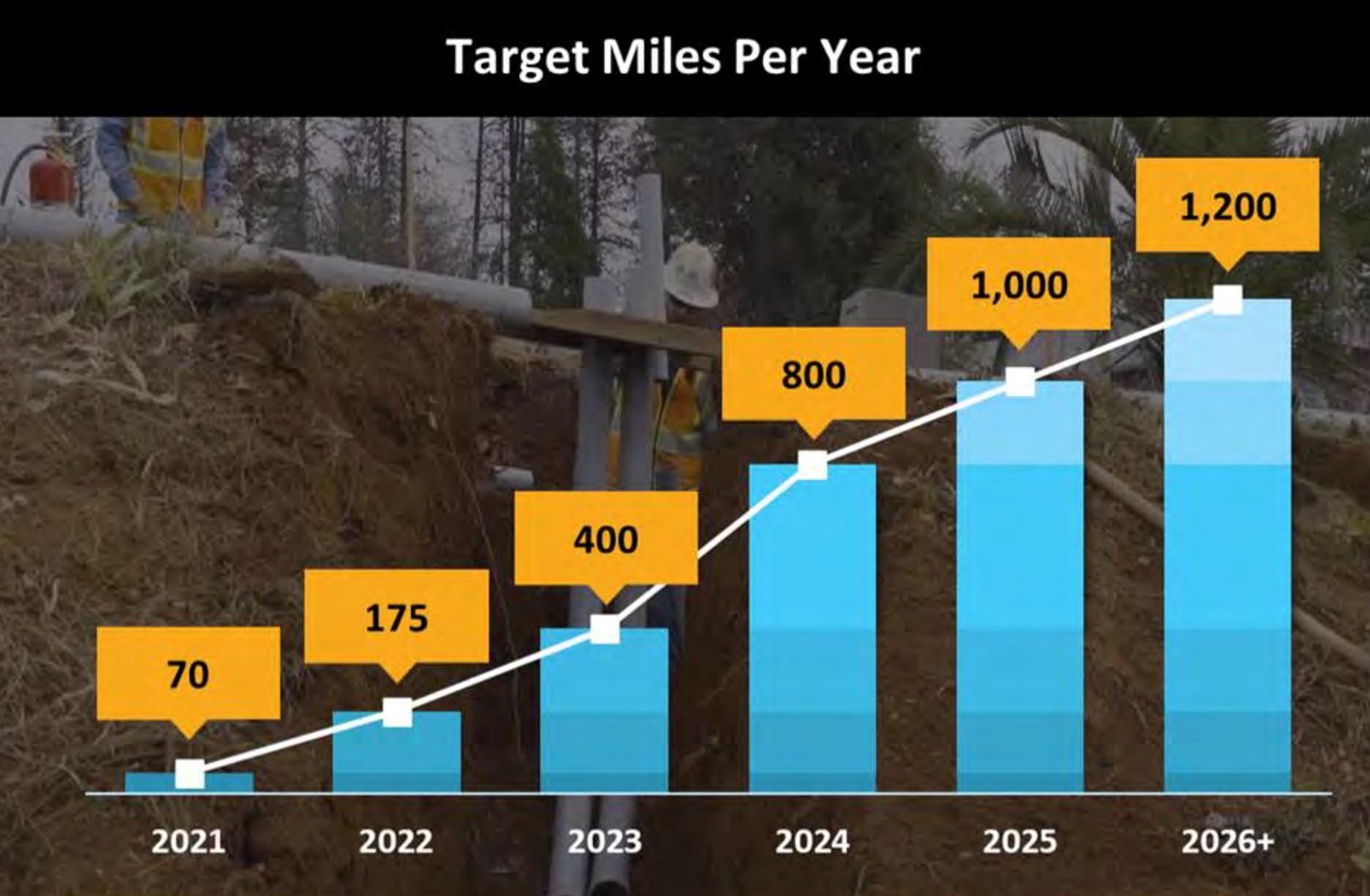 Pacific Gas & Electric Co.'s goal is to add 175 miles of underground power lines by the end of the year and another 400 miles by the end of 2023. (PG&E)
Also, McPherson has said that PG&E should modify its "fast trip" power outage settings to reduce power losses to residents and provide outage warnings in potential areas. 
"If they would truly invest in hardening their system, they wouldn't have to do so much mitigation" such as fast trip power outages, Brown said. "That mitigation often causes our constituents a great deal of pain and suffering. Whereas if, if a company would just invest more in hardening their system then I think we'd all be better off."
Mayra Tostado, a PG&E representative, said online meetings with Santa Cruz County residents are planned for June to discuss the utility's wildfire prevention strategies. Dates have not yet been set, Tostado said.
Santa Cruz Local's news is free. Our newsroom relies on locals like you for financial support. Our members make regular contributions, starting at $19 a month or $199 year.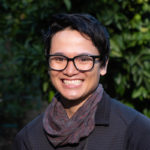 Brian Phan is an intern for Santa Cruz Local and a master's student in UC Santa Cruz's science communication program. Brian has written for the Monterey Herald.