Santa Cruz Local offers its news stories free as a public service.
We depend on people like you — we call them our Santa Cruz Local members — to chip in $9 a month or $99 a year to make sure vital information can be available to all. Can we count on your help?
SANTA CRUZ >> Two affordable housing projects downtown — together about 165 units — advanced with separate unanimous Santa Cruz City Council votes Tuesday.
The projects are:
A proposal for a 65-unit three-story affordable housing project in the Calvary Church parking lot at 538 Cedar St. All units would be affordable based on area median income, and 25% of units would be supportive housing for people who are disabled or homeless.
A redevelopment of the Santa Cruz Metro bus system's downtown Pacific Station to create 100 affordable rental apartments above ground-floor commercial space on Pacific Avenue. The bus station would reorient to face Front Street. The council last year streamlined a related proposal for 85 affordable units in a seven-story project next door.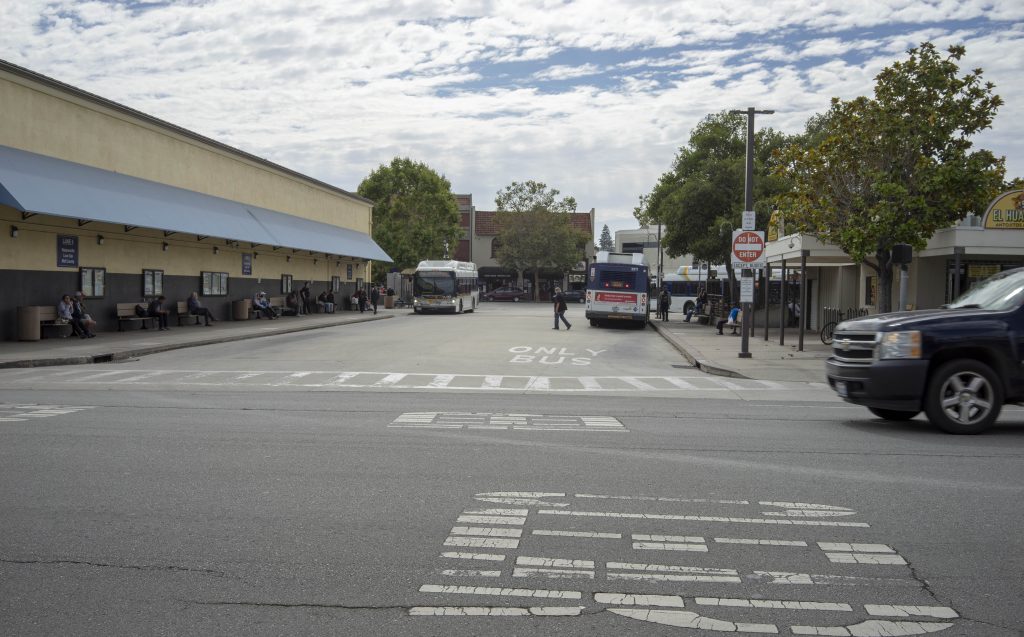 Designs for both projects are preliminary and funding models are not final.
Tuesday, the council approved a resolution that would streamline the housing proposed for both projects. New state law AB2162 speeds the permit process for affordable projects like these and allows developers not to build any parking. No parking requirements make affordable housing projects easier and cheaper to build, but adds responsibility on parking districts to meet demand.
Calvary Church housing project
The Calvary Church parking lot has about 107 parking spaces. The developer for that project, Matt Tunney, CEO of Pacific Union Partners, does not plan to build parking.
There is a wait list for downtown parking permits. Councilmember Justin Cummings asked whether low-income residents downtown could be given priority. Planning Director Lee Butler said staff could look into it.
"Parking in the downtown has been an issue," Cummings said. "And I know for some folks when I was starting on council, they were saying, 'Well, we don't know when these projects are going to come online. We have plenty of parking.' And seeing these projects emerge and the loss of parking I think is going to be something to really take into consideration especially as we're increasing the density of people staying downtown."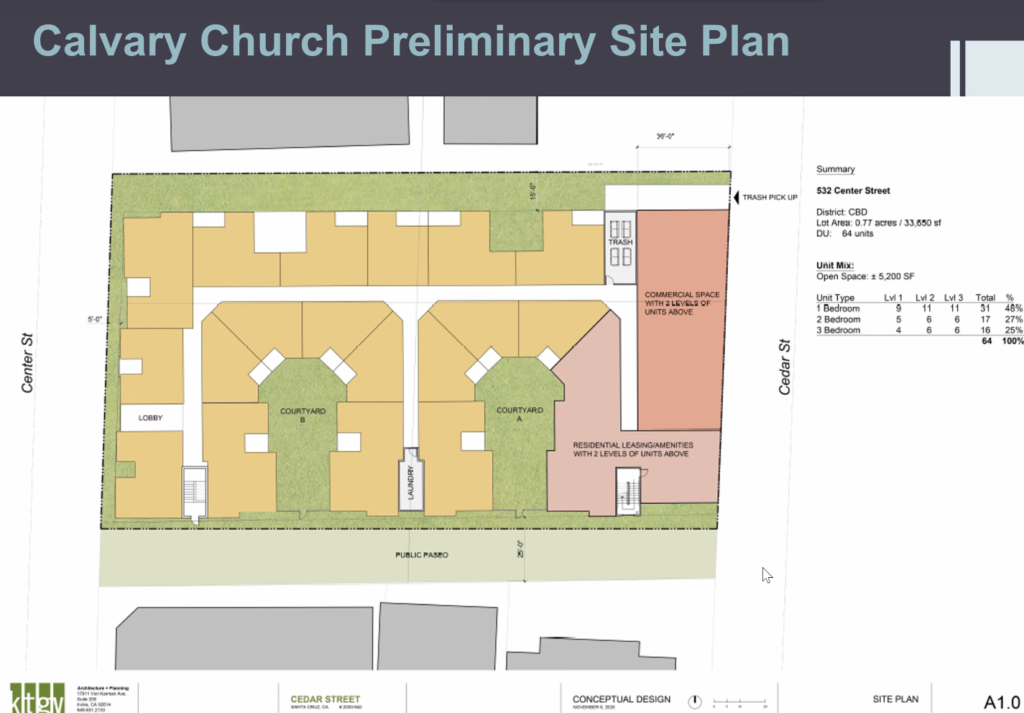 Councilmember Sandy Brown asked Tunney, the developer, if the project could produce more units. Tunney said he's open to it, though it has to work financially. Also, to increase the building height, he'd need to work with Calvary Church leaders since shade on the church would be a concern, he said.
Tunney added that a city requirement for a public walkway or paseo on the project site could be an issue.
"Putting in a paseo, I mean, could easily be half a million dollars," Tunney said. "I know that sounds like a lot, but with drainage and paving That would make the project definitely unfeasible."
Councilmember Shebreh Kalantari-Johnson, in her motion that was approved unanimously, directed city staff to work with Tunney on the design for a paseo "that's mutually agreeable to the city and the applicant. And if an agreement can't be reached, the applicant may come back to council for further discussion."
Downtown library update
The council heard a quarterly update on progress on the mixed-use downtown library, affordable housing and parking garage planned for the Cedar Street parking lot where the farmers market meets. The council approved the plan in June.
Jon Hughes, executive vice president of Griffin Structures, the project manager hired by the city, said his team has drafted plans for the project's delivery process. It includes plans for who will hire the architect, the builder and the developer.
He said a master architect and an affordable housing developer are expected to be selected by June. Next, he anticipates an 18-month design and permit process. Construction would start in early 2023 and take two years, he said.
"It could be faster, but at this point, we don't want to overcommit," Hughes said.
Bonnie Lipscomb, the city's economic development director, said that city staff plans to update the council on funding for the affordable housing portion of the project within the next three months.
"We're feeling pretty good about our ability to deliver, I think, on the affordable housing piece," Lipscomb said. "I think what's outstanding is actually the number of units and trying to maximize that within the development footprint."
Amanda Rotella, city principal management analyst, outlined a process to determine plans for the current library site at Center and Church streets.
Four proposals have been received, and staff expect to decide on a recommendation this week.
In the first week of February, staff plan to begin a three-month process of community engagement on the proposal.
Homeless camp at Highways 1 and 9
Planning Director Lee Butler, who also serves as an interim homelessness response manager, said that city crews have encouraged homeless campers along the San Lorenzo River to move from areas prone to flood. Storms are forecasted through Thursday.
"We believe everyone's out of harm's way," Butler said.
Public works crews cleared "multiple large truckloads of trash" along the river Tuesday, he said. He said city staff also are working with Caltrans officials to schedule a bi-weekly Dumpster delivery and pickup at Highways 1 and 9. Many dozens of homeless people have camped near that intersection for months.
A highway widening project, planned for decades for that intersection, is scheduled to begin in early spring. Campers will have to leave before construction begins, Butler said.
"The biggest challenge that we have right now is that we really don't have a place to send folks," Butler said.
City staff are in talks with Caltrans and county leaders "to see what options we can identify," Butler said.
Commission and committee appointments
The council approved the following commission appointments:
Planning Commission: Julie Conway
Parks and Recreation Commission: Hollie Locatelli and Kristina Kincaid-Glavis
Transportation and Public Works Commission: Kyle Kelley, Robert Orrizzi and Samantha Vrooman
Arts Commission: Bridget Lyons
Board of Building and Fire Appeals: Peter Bagnall and Myles Corcoran
Commission for the Prevention of Violence Against Women: Delphine Burns, Roya Pakzad and Ann Simonton. One open seat remains — Vice Mayor Sonja Brunner deferred her nomination until the next city council meeting.
Downtown Commission: Elizabeth Carr and Daniel Nelson
Historic Preservation Commission: Jessica Kusz and David Subocz
Sister Cities Committee: Laura Ciravolo and Douglas Hull
Water Commission: Justin Burks
County resident on the Water Commission: Tom Burns
Equal Employment Opportunity Committee: The council deferred an appointment so city staff could recruit more applicants.
Editor's note: Kyle Kelley and family have been a Guardian-level member of Santa Cruz Local since 2019. As a policy, stories that reference or quote a Santa Cruz Local donor who has contributed $1,000 or more include a written disclosure.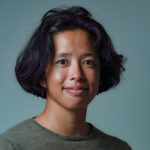 Kara Meyberg Guzman is the CEO and co-founder of Santa Cruz Local. ​Prior to Santa Cruz Local, she served as the Santa Cruz Sentinel's managing editor. She has a biology degree from Stanford University and lives in Santa Cruz.