Santa Cruz Local offers its coronavirus-related work free as a public service. But our work costs money to produce.
Santa Cruz Local depends on memberships from people like you to make sure vital information can be available to all. Can we count on your help?
SANTA CRUZ >> Santa Cruz County slid into the state's more restrictive "red tier" Tuesday after an uptick in new COVID-19 cases during the weekend and more cases recently tied to Halloween gatherings, County Health Officer Dr. Gail Newel said.
COVID vaccines are expected to be delivered to some patients and frontline workers in Santa Cruz County in December, Newel said. At least nine other California counties also tightened COVID rules Tuesday in part because of increases in reported cases.
There were 109 new cases in Santa Cruz County reported in one day this weekend, up from an average of 20 new daily cases, Newel said during a news conference Tuesday. "That's a huge increase for us," Newel said. "It's not representative of a backlog in any system. It's a true spike, and we're very concerned about this."
There were more than 400 active COVID cases in Santa Cruz County on Tuesday, health leaders said. Roughly two-thirds of COVID cases overall have been in South County.
On the heels of a COVID outbreak at Watsonville Post Acute Center that led to at least 18 deaths since September, county leaders on Tuesday reported an outbreak at The Maple House II assisted living center at 2000 Brommer St. in Live Oak.
A staff member had COVID symptoms Oct. 30 and tested positive Oct. 31, county spokesman Jason Hoppin said Tuesday night. Nine staff members and 11 residents have tested positive since then. One staff member has been hospitalized and no COVID deaths have been reported, Hoppin said.
Santa Cruz County's Health Services Agency is working with facility leaders, the California Department of Social Services and the California Department of Public Health on the problem.
"We have gone over a number of measures that they need to take to address this including providing them staffing resources" and help with N95 mask fittings, Hoppin said.
"We are entering a very dangerous period of the pandemic, and these facilities are especially at risk. Unless they do everything they can to mitigate the risk to staff and residents, this will not be the last outbreak," Hoppin said.
"Every congregate living facility was given a plan that was developed in consultation with (Deputy County Health Officer) David Ghilarducci," Hoppin said. "Every single one needs to review those plans right now and make sure they are following them to the letter."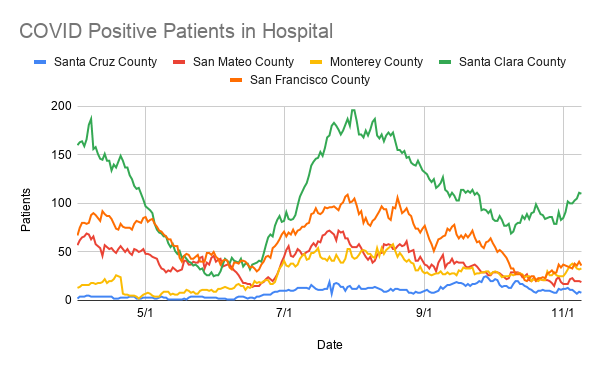 Patients with COVID in Santa Cruz County hospitals peaked at 25 on Sept. 28, according to the California Department of Public Health. Monday, there were eight COVID patients in Santa Cruz County hospitals.
Vaccine delivery anticipated
Newel said the first deliveries of a COVID vaccines are expected in the county in December.
The first deliveries will go to Watsonville and Live Oak skilled nursing facilities where there have been outbreaks, Newel said. COVID patients, frontline health workers and first responders will be next, Newel said.
Although Santa Cruz County entered the more restrictive red tier Tuesday, business leaders have three days to make changes, Newel said.
Restaurants, churches, movie theaters and museums this week must drop from 50% capacity to 25% capacity. Fitness centers must drop from 25% to 10% capacity.
Bars, breweries and wine bars must close indoor operations. Amusement parks, family entertainment centers, nonessential offices and large audience sports are no longer allowed.
Newel said that Santa Cruz County residents might want to rethink Thanksgiving travel plans.
"Although things are getting worse in California, they're better than most of the rest of the nation," Newel said. "Travelers from outside of the Bay Area and outside of California pose an exceptional risk to our communities."
San Francisco Bay Area health officers said during a conference call this week that Bay Area residents who travel outside the Bay Area for Thanksgiving should consider voluntary quarantine for 14 days upon return. The same advice goes for people who accept travelers in their home during Thanksgiving.
"It's a big deal to be gathering right now. So really think about what you're doing and how you're choosing to celebrate Thanksgiving with your loved ones," Newel said.
More information on COVID is on Santa Cruz County's COVID data dashboard.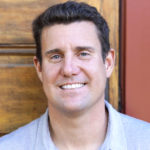 Stephen Baxter is a co-founder and editor of Santa Cruz Local. He covers Santa Cruz County government.