Santa Cruz Local offers its Capitola City Council meeting recaps free as a public service. But our journalism takes time and money to produce.
Santa Cruz Local depends on memberships from people like you to make sure vital information can be available to all. Can we count on your help?
CAPITOLA >> Capitola's affordable housing requirements should loosen to try to entice developers to build homes, the Capitola City Council agreed in concept Thursday. The council's direction was preliminary, and further discussion about several potential housing law changes are expected in future meetings.
The council discussed changes to the inclusionary housing law, which determines how many affordable units developers must build with market-rate projects. That law also requires developers of smaller projects to pay fees to a city affordable housing fund. 
This policy is a "balancing act," said City Manager Jamie Goldstein, between ensuring the construction of affordable homes and keeping development costs low enough that projects still get built.
Many cities in California and the Monterey Bay region have inclusionary laws. The city of Santa Cruz recently raised its inclusionary rate from 15% to 20% — meaning that 20% of units in new developments must be offered at affordable prices to people with lower incomes. 
Most development in Capitola has been single-family homes and additions, which account for an estimated 95% of affordable housing fee revenue, said Community Development Director Katie Herlihy.
"We don't have very many multi-family projects that come through the city, and we have very few rental projects that come through the city," Herlihy said.
Capitola is far from meeting the affordable housing development requirements set by the state and the Association of Monterey Bay Area Governments. Since 2015, Capitola staff have not permitted any units for people with low or very low incomes, according to July state data.
Thursday, no vote was taken, as the discussion was preliminary. The council is expected to return for a vote at a future meeting.
One significant change: The council reached consensus that proposed rental projects should be exempt from the affordability requirement.
Current city law requires developers to pay a fee of $6 per square foot in proposed rental projects. Those fees go to an affordable housing fund.
In the last seven years, the city has issued permits for two rental projects: a four-unit project on Capitola Avenue that has not been built, and a duplex near city hall, Herlihy said. In her staff report, she recommended that the city council remove the affordability requirement for rentals to "reduce rental housing development costs and encourage the construction of new rental units."
Mayor Kristen Petersen, Vice Mayor Yvette Brooks and Councilmember Ed Bottorff favored exemption of rentals. Removal of the required fee "provides the opportunity for additional development of rental units," said Petersen. Petersen is seeking re-election on the Nov. 3 ballot.
Councilmembers Sam Storey and Jacques Bertrand wanted city staff to look at lower fees. "With so few rental units being developed in Capitola, it's almost a moot point," Storey said.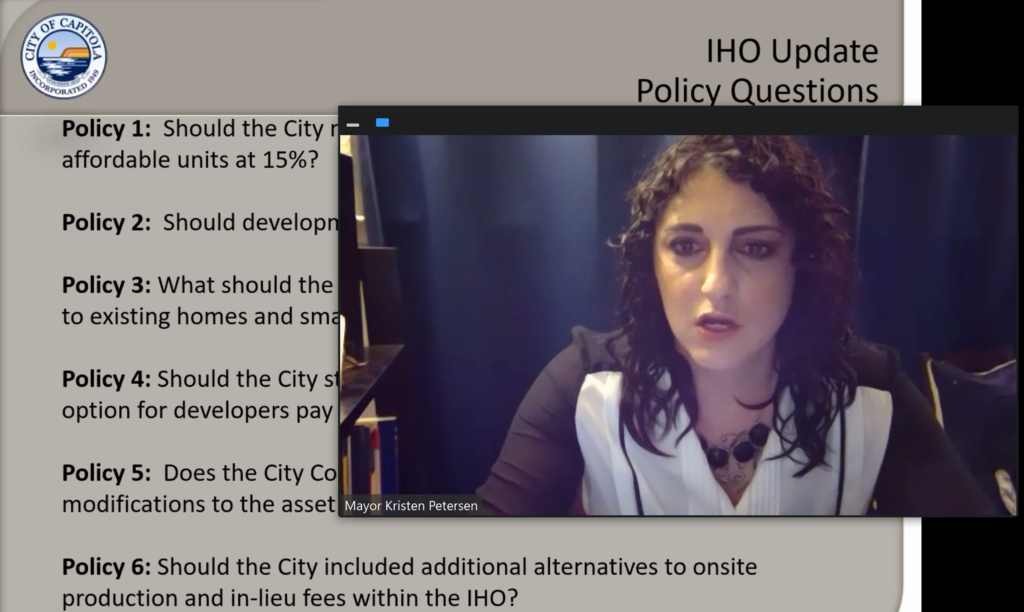 The council also reached consensus on these related items:
The city should still require that 15% of new units in multi-family homes be sold at affordable prices to people with lower incomes. This rule applies to complexes that are seven units or larger. Some council members said they would be open to including smaller complexes in the rule.
City staff should study the financial impacts of the city's fees for single-family homes, additions, and complexes of two to six units. Currently, people who build single-family homes or add to their home, as well as developers of multi-family homes of two to six units are required to pay a fee to the city's affordable housing fund.
City staff should study options for developers to pay an affordable housing fee. Except for Bottorff, the city council was not ready to agree with the staff's recommendation to give developers an option to pay a fee rather than sell 15% of units at affordable prices to people with lower incomes. The council majority wanted further study.
Requirements should be loosened for people who want to live in affordable senior housing. Most city council members said they supported increasing the limits on applicants' assets to qualify for affordable senior housing.
The city staff will study alternatives to the requirements for fees and construction of affordable units. Options discussed Thursday included allowing developers to dedicate land to the city or build affordable homes off site.
Beach closures
The city council voted unanimously to close city beaches Labor Day weekend, from 5 a.m. Saturday Sept. 5 to 5 p.m. Monday Sept. 7, to limit the spread of COVID-19.
The water will be open for activities such as surfing, swimming and boogie-boarding. People will be allowed to use the beach 6-8 p.m. that Saturday and Sunday.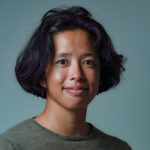 Kara Meyberg Guzman is the CEO and co-founder of Santa Cruz Local. ​Prior to Santa Cruz Local, she served as the Santa Cruz Sentinel's managing editor. She has a biology degree from Stanford University and lives in Santa Cruz.