Santa Cruz Local offers its Santa Cruz City Council meeting recaps free as a public service. But our journalism takes time and money to produce.
Santa Cruz Local depends on memberships from people like you to make sure vital information can be available to all. Can we count on your help?
SANTA CRUZ >> Critical pipeline repairs are needed before parts of San Lorenzo Valley's water system can come back online, authorities said Tuesday.
City of Santa Cruz Water Director Rosemary Menard said the CZU Lightning Complex Fire that has raged through the western San Lorenzo Valley for days has melted miles of pipes around Boulder Creek.
At a Santa Cruz City Council meeting Tuesday, Menard showed a photo of an above-ground, 5-mile plastic pipeline in Boulder Creek that burned. The pipe served the San Lorenzo Valley Water District.
"This is what's left of it," Menard said. "You can see it's a melted mess, and it's basically interrupted their ability to bring water into the system from that source until that pipeline is replaced."
Most of Santa Cruz's water supply will be "at risk" until the CZU Lightning Fire is put out, the city's water director said at a Santa Cruz City Council meeting Tuesday.
The city depends on water sources and facilities in San Lorenzo Valley and the North Coast. The San Lorenzo River Watershed provides 45% of the city's water supply. That watershed stretches 73,000 acres from River Street in Santa Cruz north through the San Lorenzo Valley. About 18% of that watershed has been affected by the fire, Menard said.
Loch Lomond, in the Santa Cruz Mountains near Lompico, serves as the city's main drinking water reservoir, crucial during droughts. Tuesday, the fire's edge remained on the opposite side of Highway 9 and about two miles from the reservoir, according to fire maps.
"We're certainly dodging a huge bullet," Menard said about the relatively low risk to Loch Lomond. "We are not out of the woods with respect to the long-term water quality, water supply [and] potential impacts associated with the burn area in our watershed."
Menard said the water district has about three months before rain brings debris from the burned areas into the river and creeks that supply the city's drinking supply.
Santa Cruz Water Department has a similar above-ground plastic pipeline in the Lidell Watershed near Bonny Doon. It's "very vulnerable," Menard said. Monday, the Lidell Watershed supplied 14% of the city's water supply, said Menard.
"We are continuing to protect that watershed," Menard said.
Water department crews have cleared brush and created fire breaks around crucial water facilities, such as water tanks on Empire Grade and the Graham Hill Water Treatment Plant.
The Laguna Watershed, near Pine Flat Road in Bonny Doon, has also burned. Menard did not list that watershed as a significant source of city drinking supply Monday.
"We'll be watching for an opportunity to get in there and do damage assessment," Menard said.
City council adopts executive order for sidewalk vendors
Tuesday, the city council voted 6-1 to ban sidewalk vendors on Beach Street, the Santa Cruz Municipal Wharf, West Cliff Drive, Main Beach and Cowells Beach.
Sidewalk vendors in other areas must follow rules including:
Have hand sanitizer available
Wear face masks and require face masks of customers
Maintain 6 feet distance, and use tape or chalk to delineate a 6-foot boundary
Disinfect equipment at least once every 30 minutes
Display a business license and, if applicable, a health permit
Remove their own garbage and not use public trash cans.
The goal is to limit crowding on sidewalks and reduce the spread of COVID-19, according to the order.
More than a dozen residents spoke to protest the order. Several said the order was discriminatory. Most of the vendors who have been selling food on Beach Street in recent weeks are Latino.
"We're a sanctuary city and I want us to be a city where we're going to work with people and make sure that trying to make money during a time when a lot of people are out of work isn't something that actually going to get people in trouble with the law," said Santa Cruz resident Stacey Falls.
Santa Cruz resident and downtown business owner Vicki Winters said that city staff went above and beyond to protect downtown businesses. She said she'd like to see "the same fortitude" for these vendors instead of a police response.
Others called for beaches to be closed to limit COVID spread, rather than target sidewalk vendors.
Councilmember Sandy Brown was the sole vote against. She wanted the council to rescind the order, and direct city staff to ask nonprofit Community Bridges to facilitate a working relationship with sidewalk vendors on Beach Street. Brown is seeking re-election on the Nov. 3 ballot.
The city council instead voted to approve the executive order, and direct city staff "to continue to work with Community Bridges to develop a more structured and equitable system that would accommodate beach area vending," according to the motion made by Councilmember Cynthia Mathews.
The ban on sidewalk vendors in certain areas is set to end Oct. 1 unless city leaders change the date.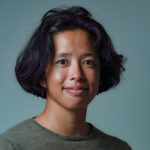 Kara Meyberg Guzman is the CEO and co-founder of Santa Cruz Local. ​Prior to Santa Cruz Local, she served as the Santa Cruz Sentinel's managing editor. She has a biology degree from Stanford University and lives in Santa Cruz.