Santa Cruz Local offers its coronavirus-related work free as a public service.
Santa Cruz Local depends on memberships from people like you to make sure vital information can be available to all. Can we count on your help?
SANTA CRUZ >> Santa Cruz County health leaders said Wednesday that county COVID-19 contact tracers cannot keep up with hundreds of new cases in recent weeks — and that most county cases have not been transmitted by strangers but rather by family, intimate partners or gatherings.
There were two deaths in the county Tuesday where COVID was a contributing factor, said Santa Cruz County Health Officer Dr. Gail Newel. Six have died with COVID as a contributing cause in the county since March.
COVID-19 has continued its spread in Santa Cruz County, disproportionately harming Latinos and South County residents, but health leaders don't have an accurate understanding of how many cases have been confirmed in the last two weeks.
Newel said in a news conference Wednesday that county health leaders don't know how many cases have been confirmed locally by commercial labs, due to a "glitch" in the state's reporting software. The problem is statewide. Those labs now rely on fax to send reports to county health officials, Newel said.
"This is indicative of the chronic underfunding of public health in our country, in our state and locally," Newel said. "And I hope this, in the midst of a pandemic, prompts some thoughtfulness about how we might better prepare for the long term with public health sustainability."
Newel estimated that the 1,196 cases tallied on the county's data dashboard as of Wednesday was likely short by about 100 cases.
Tuesday, the county had 21 COVID-positive or COVID-suspected hospitalizations and six COVID-positive patients in intensive care, according to a state dashboard.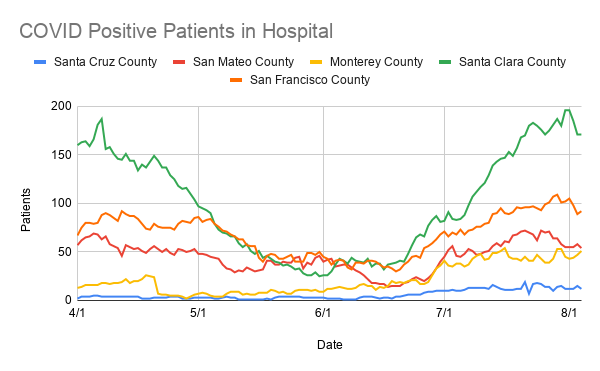 Latinos accounted for about 56% of confirmed cases, though they make up about one-third of the county's population. Watsonville residents account for about half of cases, though residents there make up about 20% of the county's population. People ages 18 to 34 have tested positive more than other age groups.
Newel said that local investigations have shown that it's unlikely that residents will get COVID from a stranger in public.
"It's almost always from a close contact: a family member, an intimate partner or someone with whom that person has gathered," Newel said.
Other updates from Wednesday's news conference included:
The county's communicable disease unit is tracking more than 20 COVID outbreaks, Newel said. 
Six of the county's seven skilled nursing facilities have had at least one patient with COVID. Those cases have been contained, Newel said. 
Two homeless shelters in the county have had case clusters in recent weeks. Three first responder units, five businesses including three agricultural businesses and five nursing homes have had cases. Two jail inmates have tested positive, Newel said.
The county's public health contact tracing teams cannot handle the dozens of new cases each day. County health leaders have used federal CARES Act money to fund contact tracing at local clinics that serve uninsured patients. The county's public health teams have focused limited contact tracing resources on the following vulnerable groups: People who live in or attend homeless shelters and camps, skilled nursing facilities and other elder or residential care, migrant housing, child care centers and eventually schools. People who get dialysis are also prioritized, since they attend often crowded dialysis centers a few times a week.
Newel also answered a question contributed by a Santa Cruz Local listener: What kind of prevention work are county health leaders doing with churches in Watsonville, since so many Watsonville residents belong to the faith community?
Newel said, "We are working with a group of community-based organizations through the Pajaro Valley, the [Pajaro Valley Prevention and Student Assistance] and now working on multilingual messaging to the Watsonville area, and that would include three churches. But I agree that this is one area that we could really step up our work because they have been really effective in the past as community partners in messaging to their congregations."
Editor's note: This story has been updated to correct the number of skilled nursing facilities that had COVID cases. The number initially was misreported by county staff.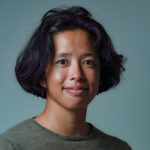 Kara Meyberg Guzman is the CEO and co-founder of Santa Cruz Local. ​Prior to Santa Cruz Local, she served as the Santa Cruz Sentinel's managing editor. She has a biology degree from Stanford University and lives in Santa Cruz.