Santa Cruz Local offers its coronavirus-related work free as a public service. But journalism can be expensive — and deep, time-consuming, investigative journalism is the most expensive of all.
Santa Cruz Local depends on memberships from people like you to make sure vital information can be available to all. Can we count on your help?
SANTA CRUZ >> Confirmed COVID-19 cases and related hospitalizations have increased faster in the past few weeks than in prior weeks mainly because of family gatherings, health leaders said.
"We went from the Mother's Day gatherings that were the initial clusters to Memorial Day and graduation," Santa Cruz County Health Officer Dr. Gail Newel said.
Latinos and South County residents have been disproportionately affected. Latinos account for 54% of the county's COVID cases, yet make up about one-third of the county's population.
Watsonville residents account for about 20% of the county's population, yet residents there make up 50% of the county's COVID cases.
Santa Cruz County health leaders reported 22 new confirmed cases of COVID-19 on Monday, a record for the largest single-day increase. County spokesman Jason Hoppin said the uptick in part reflects a backlog of cases from the weekend. The previous record, 21 new confirmed cases in a single day, was logged the prior Monday, June 22.
The county has had 112 new cases in the last 14 days. If the county records 68 or more cases in 14 days, county leaders must notify the state. County leaders did so last week, when case counts hit that trigger. That metric is one of 14 criteria that county and state leaders monitor to determine whether to increase shelter-in-place restrictions.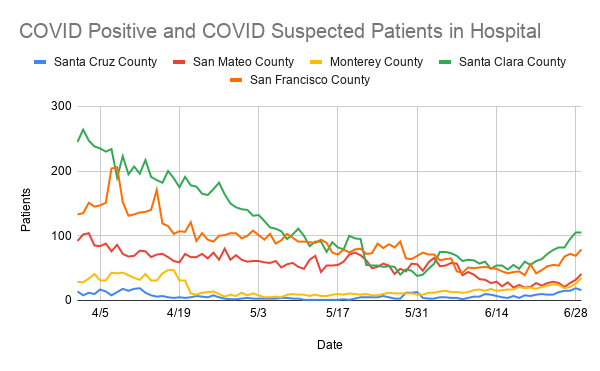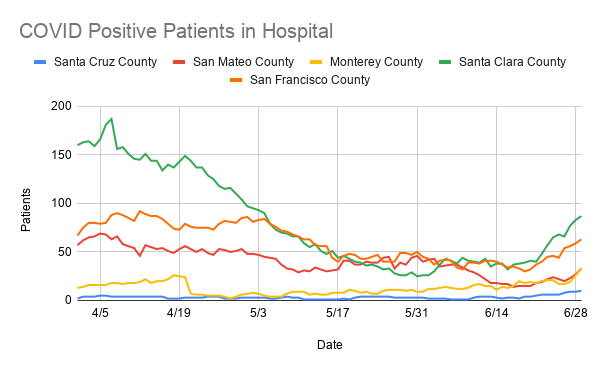 Santa Cruz County hospitals have 16 people who are COVID positive or suspected of having COVID. Local hospitals have 12 available intensive care beds, according to a state dashboard.
Tuesday, county leaders said they have not been notified whether the county will be placed on a state watch list. Tuesday, 19 counties were on the state's COVID-19 watch list due to increased hospitalizations or disease transmission in those areas. Four more counties are expected to be added Wednesday, Gov. Gavin Newsom said in a news conference Tuesday. Counties on the watch list may have to increase shelter-in-place rules.
Newsom said he plans to announce an enforcement update on face coverings Wednesday. Newsom said he and health officers across the state are concerned about family gatherings during Fourth of July weekend.
He urged people to remain vigilant, wear face coverings and distance themselves to limit the virus' spread.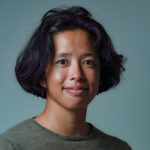 Kara Meyberg Guzman is the CEO and co-founder of Santa Cruz Local. ​Prior to Santa Cruz Local, she served as the Santa Cruz Sentinel's managing editor. She has a biology degree from Stanford University and lives in Santa Cruz.