A U.S. district court decision on Monday allows the City of Santa Cruz to permanently close the Ross Camp come Friday. We zoom out and tell you about how the City of San Jose closed a homeless camp along the Guadalupe River last month. And we give you the success story of Lauren Dixon, a 24-year-old Santa Cruz resident who clawed her way out of homelessness last year. What can Santa Cruz learn from these stories?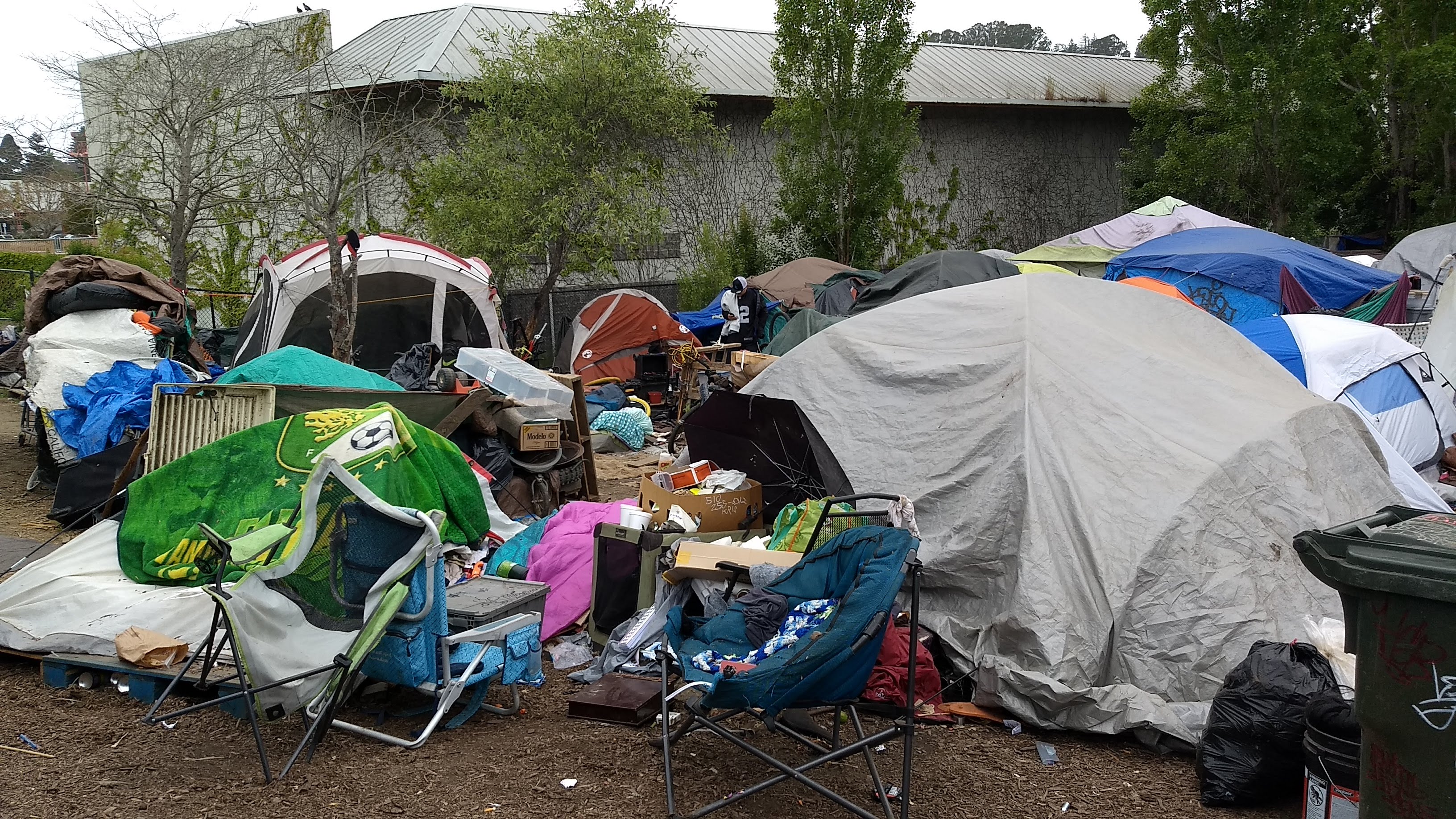 TRANSCRIPT
Kara Meyberg Guzman: It's the last week of April and it's a crisp, cloudy morning on the San Lorenzo River in Santa Cruz. Lauren Dixon is sitting at the check-in tent at the Benchlands homeless camp. She works there as a camp host. She helps monitor the campground, and keeps things neat and orderly. Like when people check in, they give her their banned items, like knives or glass pipes. She keeps those in the campground's amnesty box. Things are mostly peaceful here, but when people fight, it's her job to break it up.

Dixon is 24. When she talks, she has this way of laughing whenever she makes a big point.

LAUREN DIXON:I would say that homelessness is definitely a case by case basis. Not everybody's the same. And that's what a lot of people think. And it's sad. Because the truth is, it could happen to anyone. You know? Whether it's a decision they made, or just pure bad luck.

KMG: Dixon used to be homeless. She clawed her way out last year, through hard work and plenty of luck, she says.

[MUSIC FADE IN]

As the city of Santa Cruz grapples with homeless camps along the San Lorenzo River, I think it's important to see what we can learn from a success story like Dixon's. In this episode, we're also going to look at how the City of San Jose has approached the problem. San Jose has been cleaning up homeless camps along its waterways since the 1990s.

I'm Kara Meyberg Guzman and this is Santa Cruz Local.

[MUSIC FADE OUT]

A U.S. district judge on Monday lifted a temporary restraining order that prevented the city from closing the Ross Camp, a different homeless camp on the San Lorenzo River, by Highway 1. City and county leaders have denounced the camp as a public health, safety and fire hazard. Yet over the last few months, the camp's closure has been delayed several times.

Now it seems we're actually getting close to end. On Tuesday, the city will post a court-ordered 72-hour notice to vacate. Sometime Friday, the Ross Camp will be closed and cleaned, and people will not be allowed back in, according to Santa Cruz Police Chief Andy Mills. I spoke to him on the phone Monday night while he was driving back from the court hearing in San Jose.

Also, on Tuesday, the city will close the Benchlands Camp by the county government building. At the same time, the city will re-open the 1220 River Street Camp in Harvey West. Most of the 30 or so people living at the Benchlands are expected to move to the River Street Camp. Another 50 or so people, mostly from the Ross Camp, have signed up to join the River Street Camp.

[SHORT MUSIC BREAK]

When the Benchlands Camp closes, Dixon will begin her new role as the River Street Camp's deputy director.

For the past year, she's been working her way up the ladder. It all started when she was living at the VFW winter shelter in Live Oak. In the mornings, well before sunrise, she'd volunteer to clean the shelter.

Some months earlier, Dixon had dropped out of college in Charlotte, North Carolina. She was in a relationship with someone who was calling all the shots. They moved to San Jose, and she worked full-time canvassing for Greenpeace in Santa Cruz. When her partner chose to attend the VFW homeless shelter, she followed. It was her first time being homeless.

Then, when the city announced it was launching the River Street Camp last year, someone at the VFW connected her with a job opening there. She made $17.50 an hour, 40 hours a week, living at the River Street Camp as a resident camp host for nine months.

She believes that camps like the Benchlands and the River Street Camp, which have rules and structure, help the people who want to get help. Some people prefer living in a healthier, safer, cleaner camp, she says.

DIXON: There's a lot of people who don't want rules. You're always going to have those handful of folks that they don't want to be under any control. And I understand that way of thinking, but if you want to get real, like if you want to have the nice things in life, like housing and you know, a job, you've got to follow some rules.

KMG: I asked Dixon her thoughts on whether there's enough services at these camps. Like, would it help if each resident was given a case manager? She said she never had a case manager, because she was working and didn't have time for all the meetings. She was lucky enough to have friends who could point her in the right direction, she says.
She says it's a two-way street. Services need to be available, but people also need to want the services. Here she is talking about the services offered last year at the River Street Camp.

DIXON: We would have the people from the county come in, and you know, do food stamps, MediCal whatever. And they would sit there, for maybe 2 hours? Sometimes they wouldn't have anybody… So we had AA earlier in the year. They scared them out of the place. They didn't want them there. Yeah, it was crazy. And so it's like, what can you do?

KMG: Let's put a pin in that: the concept that for services to be useful, people have to be willing and active participants. We'll return to it in a minute when we talk about what's happening in San Jose.

But before we go there, I want to share with you why Dixon thought she was able to find her way out of homelessness.

I thought maybe because she had some college education, and because she wasn't struggling with addiction or mental health problems, that she had an advantage.

She disagreed. She didn't think she was a special case.

She said she had two big things going for her. For one, she was still college-aged, which makes it a lot easier to find an affordable room in Santa Cruz. There's a large market of college students looking for roommates and they'd rather live with people their age, she says.

The other big thing, she says, is that she had full-time work. Besides the income, that also gave her connections. She found her current roommates through work connections, she said.

[MUSIC BREAK]

KMG: OK, so let's switch gears here and talk about what's going on with the city of San Jose.

San Jose's struggle to close and clean its homeless camps along its creeks and waterways actually has a lot of parallels with Santa Cruz's story. So I think it's worth talking about to see if we can learn anything from their situation.

Let's start by zooming out for a second.

Back in the 1990s, San Jose started programs to deal with its homeless camps along its waterways. Not only were there cleanup efforts, but over the years the city found partners to offer outreach and services for the people living there.

But, the problem has persisted. Camps would be dispersed, but then pop up again elsewhere. A 2014 report found 66 homeless camps along San Jose's waterways, mostly along Coyote Creek and the Guadalupe River.

2-Homeless-Encampment-Response-Report-5-23-14-A

Fast forward to September 2018.

A group of homeless advocates opened Hope Village, an unsanctioned homeless camp, on state land near the Guadalupe River. Officials forced the camp to move. The camp had to look for a new home. Eventually the city of San Jose and Santa Clara County partnered to move the camp to city-owned land next to the San Jose airport.

The city and county began working together to expand the camp to 30 people. The camp was supposed to last 18 months. But then, the FAA stepped in, and said that the homeless camp's site was inappropriate because it was so close to the airport.

The city, the county and Hope Village organizers searched for a new site, but they couldn't find one before the lease ran out on March 30.

So, Santa Clara County gave four-week hotel vouchers to each of the 17 people living at Hope Village. The county partnered with two nonprofits to offer case management to each of the Hope Village residents. The cost to the county for the hotel vouchers was $48,000.

Side note: a similar approach has been proposed by some Santa Cruz City Council members for people at the Ross Camp, but the proposal never gained enough votes.
So, those hotel vouchers ran out last week. Let's look at the outcome.

Where are those people now?

None of the 17 found permanent housing.

Fourteen of them took referrals to temporary housing facilities with case management, according to Michelle Covert, housing and homeless concerns coordinator at the County of Santa Clara.

The other three did not want temporary housing.

The program wasn't unsuccessful. Connecting people with permanent housing was never the project's goal, said Covert.

COVERT: We had a tight timeline to exit the property that the county was leasing from the city per the FAA requirements to move. So it was a hastily put together plan because we had no other options.

KMG: People in the group had been on the streets for three, five or even 10 years. You can't expect to solve chronic homelessness for people in just four weeks, she said.

Hope Village was a low-maintenance campground run entirely by volunteers. It ran for six months on a roughly $15,000 budget, he said.There were rules, but the camp was self-governed.

PETER MIRON-CONK: We targeted a population that we thought could be salf managed. And the rules were basically, substance free, you have to live in a manner that doesn't interfere with other people living there, and you have to keep things neat and clean and organized and we were able to that. So given that, with a little bit more support staff, you could replicate it and provide shelter, provide a location for a lot more people than if you had you know, a more institutionally organized program. Because it's cheaper.

That's Peter Miron-Conk, a homeless advocate and Hope Village's director. He said he still believes in his vision for Hope Village, despite its closure.

MIRON-CONK: The reason that we closed was that we didn't have enough broad, organized support. So It had nothing to do with the operation of Hope Village.
KMG: He said that Hope Village's goal was never to connect people with permanent housing. It was just a safe place for people to sleep, where they could shower and use a toilet.

He said that local government wants to offer case management, but for a lot of homeless people, that doesn't work. For some people, the rules of a shelter, such as strict schedules and no dogs for example – those rules don't work.

MIRON-CONK: Let's face it. Everybody would accept an apartment to live in. It's going into programs with so many confining rules, that limit people's activities in ways that they're not willing to.

KMG: Miron-Conk said that he didn't agree with Michelle Covert's numbers. When he spoke to the former residents of Hope Village last week, he said 11 of them were already back on the streets.

So, back to Michelle Covert, the Santa Clara County housing and homeless concerns coordinator. I asked her for her opinion on what the City of San Jose could do to solve its decades-long problem of homeless camps along its waterways.

COVERT: The ultimate solution is housing. In the interim, we do need as many temporary housing opportunities as possible. But I think they need to be, create some basic level of safety and humanitarian service, you know, when the government is going to be involved. So some kind of fixed structure, some access to having their basic needs met, through, you know, showers, laundry, basic sanitation.

KMG: In the City of Santa Cruz,one of the biggest obstacles to creating new managed homeless camps or safe parking sites is neighborhood opposition. At least four times in the past year, outcry from neighbors has quashed such proposals: at Dimeo Lane near the city landfill, on Emeline Avenue by the county health clinic, at the Armory in DeLaVeaga Park, and most recently, next to Depot Park.

At the last city council meeting, the council approved a plan to approach the Association of Faith Communities, a coalition of religious groups in the Santa Cruz area, to possibly partner to open a homeless camp somewhere in the city.
But remember, at the April 9 meeting, after a huge outcry from the Depot Park neighborhood, the council said it would not look for new sites for homeless camps in neighborhoods or parks.

I asked Michelle Covert if she has any advice for local leaders on the cycle that the City of Santa Cruz seems to be stuck in.

COVERT: Well-run shelters and well-run housing programs do exist. And they have management plans and they have good neighbor policies and procedures, and so using those folks as testimony at potential sites, is probably helpful. Maybe also saying whether or not a site that is being proposed is a small enough scale, it's a pilot, is there a way out if it doesn't succeed? Some people need to see that government can do good for people and sometimes what government needs to do is not always popular. So. But it's necessary. So sometimes the government needs to be full force and kind of take all that heat and other times it's about maybe letting that nonprofit provider that's selected or proposed to speak on how, what their experience is and their knowledge is, and how they have a history of being responsive to community concerns.

KMG: So, one last word. I want to be clear here that we're not advocating for any particular approach, except that we think it's worthwhile to study approaches in other communities with similar problems.

It doesn't seem that San Jose has figured out yet how to deal with its homeless camps. But, we're looking for communities that have found promising solutions.

Have you heard of any? Email us a 20-second audio letter to the editor. Hit record on that voice recorder app on your phone, and email us the file to [email protected].

Here's a letter to the editor from Santa Cruz Local listener Reggie Meisler.
REGGIE MEISLER: Because of the scope and breadth of the homelessness issue, we need cost-effective and scalable solutions to shelter, like transitional encampments and safe parking programs. It's hard for me to tell where the city staff is coming from when they open these expensive camps that they only keep open for a couple of months. It just feels like they don't get it.

[MUSIC FADE IN]

KMG: That's it for this episode. Santa Cruz Local is a local news organization co-founded by Stephen Baxter and me, Kara Meyberg Guzman. Find out more about our company, read more stories, and find the transcripts at santacruzlocal.org. Follow on Twitter @theSClocal for live coverage of Santa Cruz City Council meetings.

Thanks for listening to Santa Cruz Local. Thanks to Podington Bear at SoundofPicture DOT com, for the music. I'm Kara Meyberg Guzman. See you next time.

[MUSIC FADE OUT]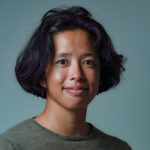 Kara Meyberg Guzman is the CEO and co-founder of Santa Cruz Local. ​Prior to Santa Cruz Local, she served as the Santa Cruz Sentinel's managing editor. She has a biology degree from Stanford University and lives in Santa Cruz.