The City of Santa Cruz reopens the Benchlands homeless camp by the San Lorenzo River on Tuesday. Meanwhile, the 1220 River Street homeless camp in Harvey West is set to reopen by April 30. It's all part of a new plan to close the Ross Camp by Highway 1. However, the Ross Camp's closure is on hold, awaiting a U.S. district court decision expected Friday. The court is expected to hear a lawsuit filed against the city by a group living at the Ross Camp. We break down what you need to know from Tuesday's Santa Cruz City Council meeting.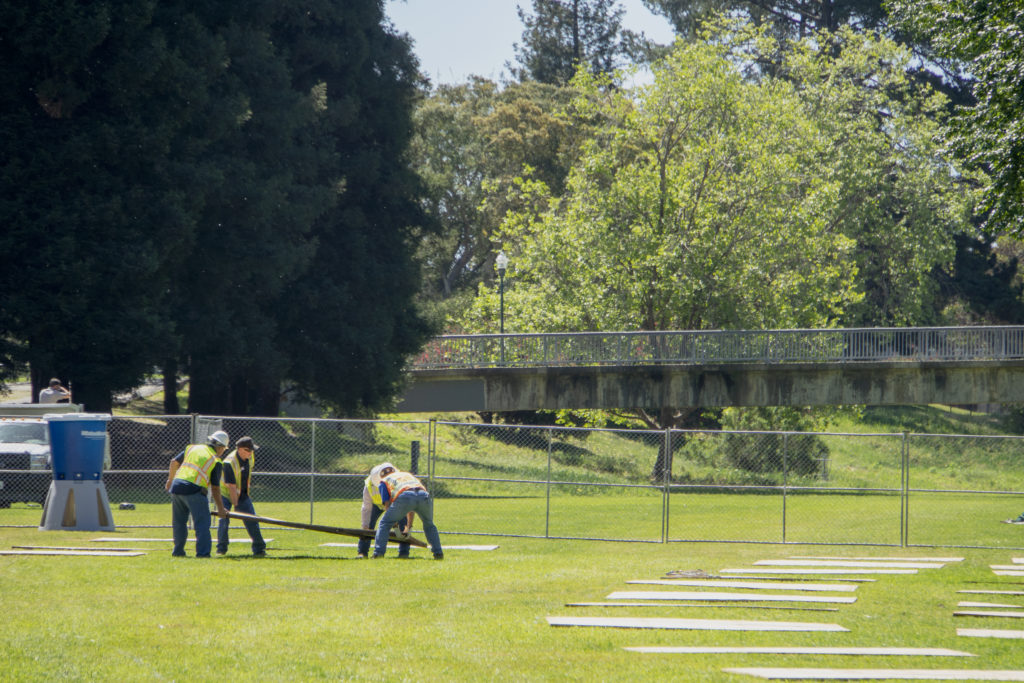 TRANSCRIPT
Kara Meyberg Guzman: I'm Kara Meyberg Guzman and this is Santa Cruz Local.
[MUSIC FADE OUT]
Once a homeless camp opens, it's hard to close, as the City of Santa Cruz has learned. Last year, the city was able to close two homeless camps along the San Lorenzo River. Closing these camps wasn't easy. The process had multiple delays, and it took many meetings and many hours of staff time.

But now the city is reopening those two camps: the Benchlands Camp by the county government building and the 1220 River Street Camp in Harvey West. It's part of the city's plan to close the Ross Camp, another homeless camp that popped up on the river in November.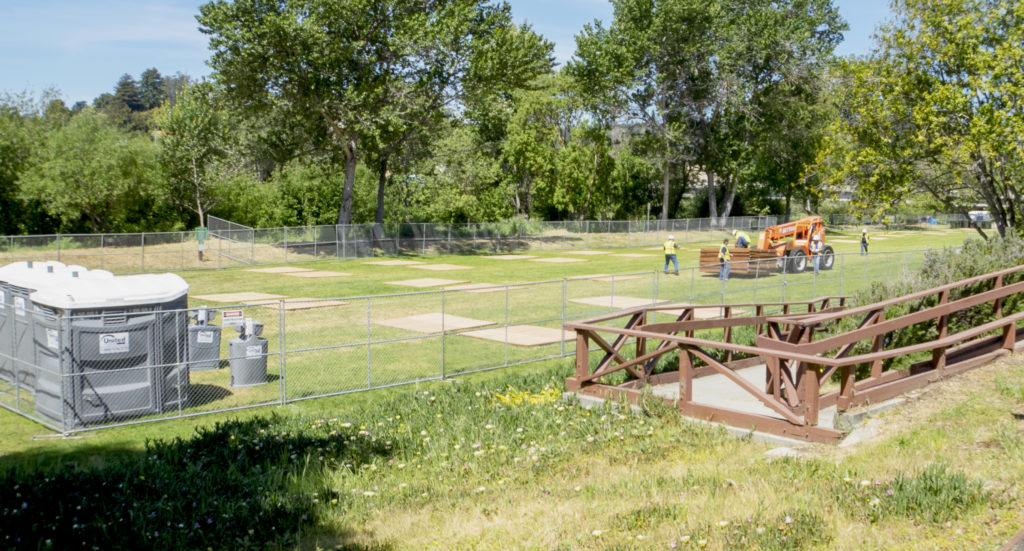 On Tuesday evening, city workers set up several dozen green and white tents on the lawn behind the county government building. About two dozen people slept there Tuesday night, according to city staff.
Tents were ordered neatly in rows, on wooden pallets. By day's end, about 100 people had signed up to join the Benchlands Camp, and to abide by its rules, such as no drugs, no weapons and no stoves.
The reopening of the Benchlands Camp is part of the city's plan to close the Ross Camp, a different homeless camp a half mile north on the river. At the Ross Camp, it's a different scene. Injection drug use is rampant. Camp stoves are used as heating sources. Bikes, clothes and other belongings are piled up alongside makeshift tents which are packed close together.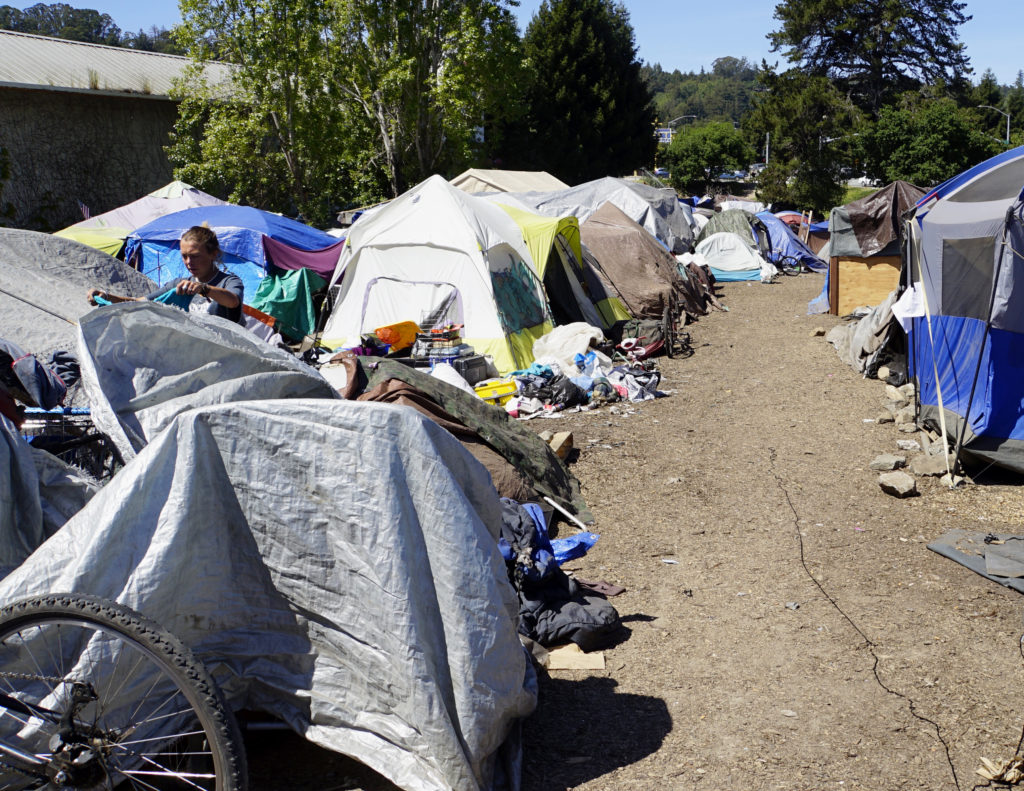 Despite pressure from neighbors and businesses, the Santa Cruz City Council has struggled for months with the Ross Camp's closure. On Tuesday, the city council again decided to close the Ross Camp, but this time with a new plan. It's closure by attrition, with no firm end date listed.

Anyone who wants to move to the Benchlands Camp and abide by its rules would be welcomed. Same for anyone who wanted to move to the River Street Camp, which also has rules, and is supposed to reopen April 30.

Meanwhile, the city would not allow the Ross Camp to grow. The city will count the people who remain at the Ross Camp, and try to help them find services and a safe place to sleep. Once people leave the Ross Camp, they wouldn't be allowed to return.

However, it's important to note, this plan is in limbo. On Tuesday, a U.S. district court in San Jose filed a temporary restraining order preventing the city from closing the Ross Camp until Friday at the earliest. That's when the court is supposed to hear a lawsuit filed against the city by a group that lives at the Ross Camp. The city could only move forward with the Ross Camp's closure if that court OKs it.

RossCampLawsuit

Side note: That court order overrides a different court order issued Monday. That previous order, issued by the Superior Court of Santa Cruz County, allowed the city to close the camp starting Wednesday. But now, because of Tuesday's court order, people will not be forced to move.

The big question underlying the Ross Camp's closure is: Where will all those people go once they leave the camp?

That question is important for two reasons: One, some residents are worried that the homeless people who don't want to abide by shelter rules will spread into their neighborhoods. And two, a federal court decision from last year says that cities can't outlaw sleeping in public if people have nowhere else to go.

We don't know exactly how many people live at the Ross Camp, but a current city estimate has around 150 people living there.

So, let's look at the numbers. The Salvation Army shelters on Laurel Street and in Live Oak have about 40 total beds available.

The Benchlands Camp will have 120 tents, and people may choose to double up in tents. So perhaps about 150 people could end up camping there, according to city staff. The River Street Camp, could take as many as 90 people, if some double up.

But it's important to note — both of those camps supposedly have hard end dates. The Benchlands Camp is supposed to close by May 1, and River Street Camp by June 30.

There are a few other options for homeless people after the Ross Camp, the Benchlands Camp and the River Street Camp close. There's other shelter beds in the region, and some are available for people with addiction. The city has its Homeward Bound program, which gives people bus tickets home. And there's a Santa Cruz hotel that's willing to partner with the city to take in some homeless people, said Susie O'Hara, the city's principal management analyst.

SUSIE O'HARA: Yes, I do believe that we have enough resources to ensure that everybody has an alternative place to go.

KMG: Councilmembers Sandy Brown, Chris Krohn and Drew Glover voted against the plan to close the Ross Camp.

Here's Councilmember Glover right before the vote. He wanted people to be able to return to the Ross Camp, after a short closure for cleanup and organization for safety. That plan didn't get enough votes.

DREW GLOVER: We're just going to be back here again in another three or six months when people move to another location and we're forced with the same situation again. So I encourage this body to stop doing the same things.

KMG: On the other side were Mayor Martine Watkins and Councilmembers Donna Meyers and Cynthia Mathews. They seemed to agree that the Ross Camp, and the health, safety and business impacts it presents, are unacceptable.

Once again, Vice Mayor Justin Cummings was the crucial swing vote. Cummings said his reason for supporting a slow attrition of the Ross Camp was that a drawn-out process would give the city a better idea of where homeless people would go.

JUSTIN CUMMINGS: I think that we need to continue to keep moving forward and we should see where we're at, in terms of how the strategy that we're , that's unfolding right now, might actually help to reduce the size of the camp, and whether or not people are actually going to come back to it.
KMG: Before we go, there's two more things you need to know.

One, the city council also approved a plan to approach the Association of Faith Communities, a coalition of religious groups in the Santa Cruz area, to possibly partner with the city to open a transitional homeless camp somewhere in the city.
Councilmembers Brown, Glover, Krohn and Vice Mayor Cummings voted for that plan.

Secondly, it's worth mentioning that Councilmembers Drew Glover and Chris Krohn left before the evening session. Tuesday evening, two city departments gave hour-long updates to the council, to help prepare for the upcoming May budget hearings.

[MUSIC FADE IN]

That's it for this episode. If you're joining us for the first time, Santa Cruz Local is a local news startup co-founded by Stephen Baxter, and me, Kara Meyberg Guzman. Our job is to watch our public institutions and hold power to account. You can sign up for our email list or find out more about our startup on our website, santacruzlocal DOT org. Follow us on Twitter @theSClocal, or reach out to us via email, [email protected] DOT org. Thanks for listening to Santa Cruz Local. Music was by Podington Bear, at soundofpicture DOT com.

[MUSIC FADE OUT]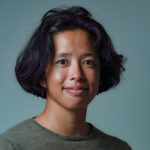 Kara Meyberg Guzman is the CEO and co-founder of Santa Cruz Local. ​Prior to Santa Cruz Local, she served as the Santa Cruz Sentinel's managing editor. She has a biology degree from Stanford University and lives in Santa Cruz.