Editor's note: This resource page is part of Santa Cruz Local's Guide to Local Government. Read an introduction and view all the pages.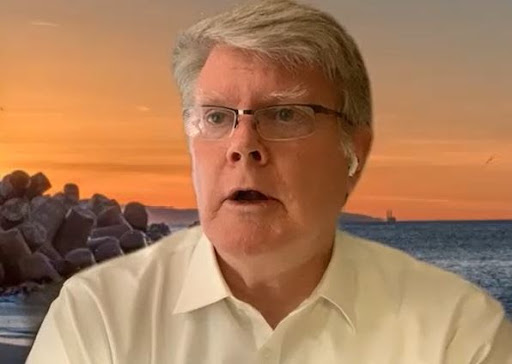 State Assemblymember Mark Stone speaks in an online interview with Santa Cruz Local in 2021. (Santa Cruz Local)
State leaders who represent Santa Cruz County residents aren't in the news as much as county or city leaders. Yet the bills they introduce, policies they can direct and money they secure can have big impacts on the county. The following is a peek at how the state government influences Santa Cruz County. It's not meant to be comprehensive.
State Assemblymembers Mark Stone and Robert Rivas and state Sen. John Laird represent Santa Cruz County in the state legislature. 
The state legislature and state departments control money for things like schools, State Parks, Cal Fire, the Department of Motor Vehicles, and the California Department of Public Health. 
Public school funding
About $99 billion went into California's Kindergarten through 12th grade public schools in the 2020-21 school year. About half of that money comes from the state. About 30% comes from local funding, and the rest from federal sources. Per pupil spending in California is low to average, depending on how it is calculated against other states. 
About five years ago, a Local Control Funding Formula was instituted. School districts now get money generally based on enrollment, attendance and students who are English language learners, in foster care or from low-income families. 
"The governor has a significant power in determining how much money goes to public education,"  said Michael Watkins, a former superintendent of the Santa Cruz County Office of Education. "So if you have a governor who's pro education, you're likely to get more additional revenue," Watkins said.
State Sen. John Laird, a Santa Cruz resident, serves as chairman of the state senate's budget subcommittee on education. It's a powerful role. About half of the state's budget goes to public education. All state funding for K-12, community colleges and state universities goes through that subcommittee.
Laird represents the 17th district, which includes Santa Cruz County, San Luis Obispo County, and parts of Santa Clara and Monterey counties.
To contact Laird, email [email protected].
State housing rules
Because of the state's housing shortage, recent state laws have made it more difficult for city councils and county supervisors to deny housing in places zoned for housing. 
State leaders also have set up Regional Housing Needs Assessment goals to encourage the permitting and building of affordable housing based on state income limits. If fewer permits are issued than required, city councils have less choices of the kind of housing that is built. 
Besides championing state bills and advocating for Santa Cruz County residents, part of our state legislators' jobs is to help constituents with problems. 
Unemployment checks
In 2020, the COVID-19 pandemic and shelter orders drove an unprecedented number of people out of work for months or longer. The state's Employment Development Department (EDD) was not prepared for the influx of thousands of people new to their rolls. Many people's payments were delayed or not received, although their employers had paid into the system for years.
Because the state system failed for many people, staff of Assemblyman Mark Stone were inundated with hundreds of pleas for help. 
"Throughout the COVID-19 pandemic, our small but mighty team has worked hard to connect constituents to essential resources and benefits," Stone's staff wrote on its website. Since March of 2020, we have received over 2,200 requests for assistance, most notably with the Employment Development Department (EDD). That number represents a thousandfold increase from our regular caseload."
They set up a form on their website for EDD assistance and published information from the EDD as they tried to fix the problems.
"Our goal is to get you your benefits as soon as we can," the staff wrote on Stone's website. "We ask for your continued patience as we act as your EDD liaison and advocate."
Meanwhile, state Sen. John Laird introduced SB 390. It would require the EDD to create a plan for how to respond to an increase in unemployment claims during economic downturns. Part of the aim is to avoid long wait times for residents. It was adopted by the senate and assembly and awaited Gov. Gavin Newsom's signature as of mid-September, 2021. 
Of course, all is not resolved with EDD and not every county resident has been satisfied with the results. But the efforts demonstrate what can be done at a state level to help residents. 
Congress members
U.S. Reps. Jimmy Panetta and Anna Eshoo represent Santa Cruz County residents in the United States Congress. They deal with federal legislation and help resolve constituents' problems. 
To give you a flavor of Panetta's work during 2021, here are his staff's totals as of September. 
244 immigrant visa cases resolved

191 passport cases resolved

142 IRS cases resolved

97 Veterans Affairs cases resolved

64 Social Security cases resolved
Contact the office of U.S. Rep Jimmy Panetta