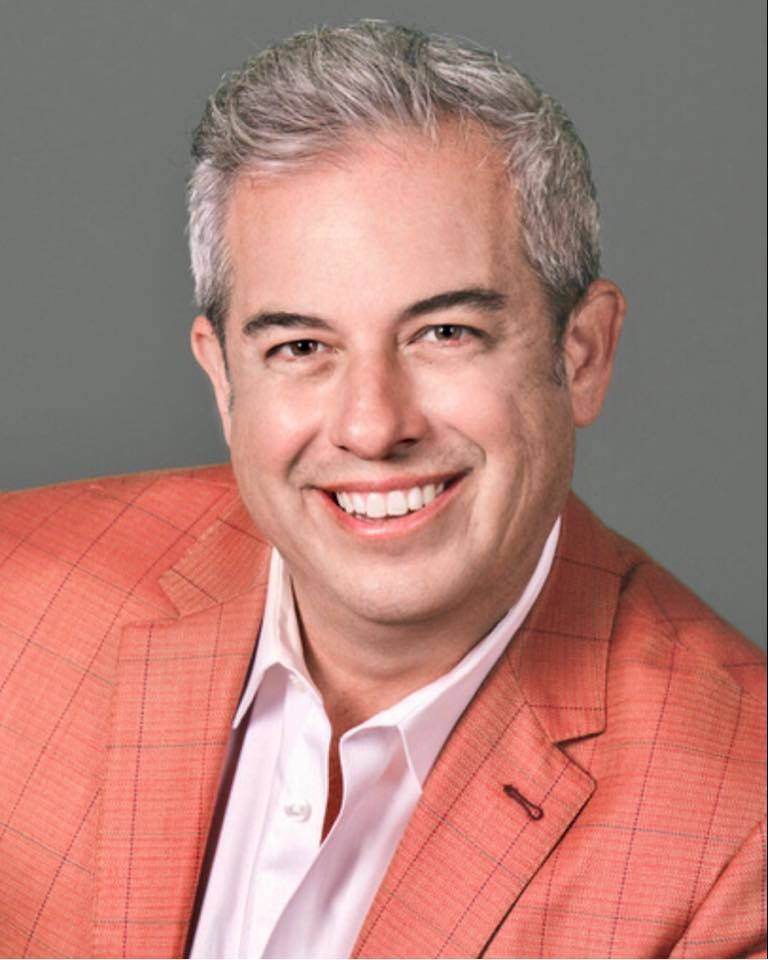 Jimmy Dutra (Contributed)
Meet Jimmy Dutra
Age: 47
Residence: Watsonville
Occupation: Watsonville city council member
Local experience and affiliations: Jimmy Dutra has served on the Watsonville City Council since 2020 and also served on the council from 2014 to 2018.  He has been mayor and mayor pro tem. Dutra is the board president of Pajaro Valley Prevention and Student Assistance, as well as a board member of the Santa Cruz Metropolitan Transit District, Community Action Board of Santa Cruz County Inc. and the Diversity Center of Santa Cruz County.
In the Nov. 8 election, residents of most of the City of Watsonville and parts of South County will choose a new District 4 representative on the Santa Cruz County Board of Supervisors. You vote in this race if you live in District 4. View a map or enter your address to see if you live in District 4.
Jimmy Dutra is one of two candidates. Read Santa Cruz Local's Election Guide for the other candidates:
Santa Cruz Local pressed the candidates on priorities we heard from District 4 residents.
Here are some of Jimmy Dutra's positions on issues brought forth by voters. Dutra answered these questions prior to the June 7 primary election.
Santa Cruz Local asked: Many District 4 residents told us they need immediate help to pay rent. What will you do as a county supervisor in your first year to expand rent assistance programs? Where could that money come from? 
Dutra said he would

work with nonprofit groups such as the Community Action Board

to expand rental assistance programs.

Dutra said he'd also work with state and local governments on rental assistance. He mentioned that he supported the state's eviction moratorium and efforts to catch up on the backlog of applications in the state's Housing is Key program.
Santa Cruz Local asked: Many District 4 residents told us about their frustration and anxiety about their low wages that don't match the cost of rent, food, gas and child care in Santa Cruz County. Is addressing low wages a priority for you? What's your plan to attract and retain employers to create more jobs that pay enough to live here?
Dutra said he has worked on the

Downtown Watsonville Specific Plan

. "Hopefully when that is finished, we're going to be able to create opportunities for a lot of businesses."

Dutra said during his work on the board of the Santa Cruz Metropolitan Transit District, bus driver retention has been difficult. He said wages may have to rise to meet that need. Dutra said the issue of living wages "is definitely a conversation that we need to have in our county."
Santa Cruz Local asked: We heard a demand for more activities for youth and families. How can you expand programs, including parks and recreation? What will you do to attract more entertainment and leisure businesses for youth and families?
Dutra said he and other Watsonville City Council members have directed millions of dollars toward the development of Ramsay Park in Watsonville. "We're going to be building a beautiful nature center for the youth to be able to enjoy," Dutra said.
Dutra noted that the city's Parks and Recreation programs meet many families' needs. He said he'd like to see more partnerships with the Boys and Girls Club and Big Brothers Big Sisters to create youth programs. 

Dutra said he wanted to work with developers and business leaders to create more options for youth and families.

Dutra said Watsonville residents have talked to him about wanting more downtown services and activities for families since he was elected to the city council in 2014. "The hard part is that, you know, we can't force businesses to open up. We have to make it appealing to them. So what can we do to make it appealing? Those are the conversations I'll be having with my staff and with the county to see what we can do," Dutra said.
Santa Cruz Local asked: Some District 4 voters we talked to said they wanted a supervisor who will advocate for Watsonville and District 4 residents. They want a supervisor who will push the rest of the board and bring more county resources to this area. Please give an example of how you have successfully pushed for the interests of District 4 residents. 
Dutra advocated for COVID-19 vaccination clinics in Watsonville

. 

Through a state contractor OptumServe, COVID vaccination clinics were opened at Ramsay Park, at Watsonville city offices on Main Street and other locations. "This is where I came through as someone who really was trying to persuade our fellow residents of the northern part of the county to really understand that we're getting hit hard by COVID-19 and that vaccination needed to be down here."

Dutra said he helped raise money and work with nonprofit groups to bring holiday lights to Main Street and parks in Watsonville. 

Dutra said South County does not get the resources it deserves. Dutra said he often hears about the need for a stronger voice from South County. "I believe that I can be that new voice for us," Dutra said.
Santa Cruz Local asked: We heard from many District 4 residents that they want more affordable housing projects in District 4. What's your plan as a supervisor to bring more affordable housing projects to District 4?
Dutra said, "We need to make sure that the affordable housing is distributed equally throughout the county." Dutra said, "We're building a lot of affordable housing units, but we also need the rest of the county to pick up their fair share." Since 2015, more affordable housing units have been permitted in the unincorporated areas of Santa Cruz County and the City of Santa Cruz than in Watsonville,

state officials have reported

.

Dutra said that before he voted for housing projects he wanted to be sure that various people were heard and "everything needs to line up with everybody." Dutra said, "It doesn't matter whether they're market-rate or affordable [housing projects], I want to make sure that it's the right project for our community," Dutra said. "I feel sometimes we're taking advantage of the community, and the conversation needs to be more about equity. And that's what I bring to the table with all the developments — to be really thoughtful with them."
Dutra's voting record on the Watsonville City Council
In February 2021, Dutra was the sole dissenting vote on a nonprofit housing developer's proposal to build 53 rental apartments at below market rate. 
The project is Watsonville city District 6, which Dutra represents. Some residents of the district expressed concerns about traffic and a lack of parking. 

Dutra said he voted against it in part because there was no guarantee that Watsonville residents would be housed at the complex. The developers said its residents would come from a Santa Cruz County Housing Authority wait list. "We need to start bringing projects in here that are actually going to be for our people, for our community," Dutra said at the February city council meeting.
Six of the apartments would be set aside for adults with developmental disabilities. More than 250 adults with developmental disabilities live with their aging parents in Watsonville, said a leader of a group that helps house people with disabilities. The project could house some of them, she said.
Dutra's stance appeared to be consistent with what he told voters during his 2020 campaign. He said then that he supported denser housing near Highway 1 or the railroad tracks. He did not list anywhere in District 6 that he'd support denser housing.
Dutra was the sole dissenting vote in November on an agreement with Santa Cruz County officials and a landowner to allow an 80-unit, 100% affordable housing project near Atkinson Lane. The proposal is in part of Watsonville he represents, District 6.
The agreement between the city, county and landowner MP Berry Farms LLC is necessary because the project would straddle city and county land. Foster City-based MidPen Housing is the nonprofit developer. The city would provide public services such as police, firefighters, water and sewer services to the project. The city is expected to accept roughly $1 million in impact fees from the developers and about $500,000 to Pajaro Valley Unified School District, said Joanna Carmen, director of housing development for MidPen Housing. 
"I'm just really against this," Dutra said during the meeting. "The neighbors that I have talked to so far are extremely against this," Dutra said. "This is a tough decision, you know, really impacting the traffic in that area," Dutra said. "We have to put in all new infrastructure. We're going to use city utilities, city water."
A four-story project at 558 Main St. will include 40 market-rate apartments and 10 affordable apartments based on percentages of area median income. It also will include a high-ceilinged restaurant space on the ground floor and a street-level parking garage in the rear. The council voted unanimously to approve it.
In August 2021, Dutra cast the lone "no" vote on a proposal to build 21 two-story townhomes at 547 Airport Boulevard. The proposal included three-bedroom units and at least three affordable homes with income limits defined by the state. The project would replace one home and manufacturing buildings owned by Monterey Bay Rebar. Owners of the rebar company said three of their employees left Watsonville because of housing costs.
Members of a pilots group at Watsonville Municipal Airport contended that the proposed development did not comply with city planning documents and court rulings related to previous developments near the airport. The council's approval included a zoning change from industrial to residential high density.
Dutra said at the time that he feared the lawsuit. He advocated for the city to update its planning documents before approval. The Watsonville Pilots Association filed a lawsuit against the city and the city council in September 2021. A trial date has not been set and it is due back in court June 30, according to court records.
In August 2021, Dutra was denied $1,124 for a trip to Indian Wells for the California Contract Cities Association 2021 Fall Educational Summit in September. The city money would have paid for Dutra's flight and entry to the event near Palm Springs, but Councilmember Lowell Hurst pulled it from the consent agenda to discuss it. Hurst said the group's agenda was "union busting" with private contractors. Dutra denied it. 
The group states that it helps "forge public, private and not-for-profit partnerships" on its website. "Our network of proven service providers is eager to serve your cities and constituencies," the group states. 
Dutra called Hurst a liar. The council voted 3-3 and the money was denied.
"This was completely political," Dutra said at the meeting. Dutra told Hurst, "It's time for you to go. Next year, please retire." 
Councilmembers Eduardo Montesino, Lowell Hurst and Mayor Pro Tem Ari Parker voted no. Councilmembers Rebecca Garcia, Francisco Estrada and Dutra voted yes. Councilmember Aurelio Gonzalez was absent because of a family matter.
Santa Cruz Local asked Dutra about the matter during a May 2022 interview. "The bottom line is that we don't all have the same political circles and [Lowell] Hurst and myself don't see eye to eye on many issues. And, you know, he's in a different political circle. So sometimes these attacks are not anything more than being politically motivated, which that one was." Dutra added, "Being authentic is really, really important. I'm not going to tell people what they want to hear," Dutra said. "I'm not endorsed by a majority of the establishment because they want a puppet and I'm not a puppet. I speak my mind. I speak up for the people of our community. And so that makes me a big target. So all I can do is, I go door to door, I share my experiences with people and they see the work that I've done, and we'll see what happens come June 7."
Santa Cruz Local's news is free. We believe that high-quality local news is crucial to democracy. We depend on locals like you to make a meaningful contribution so everyone can access our news. Learn about membership.