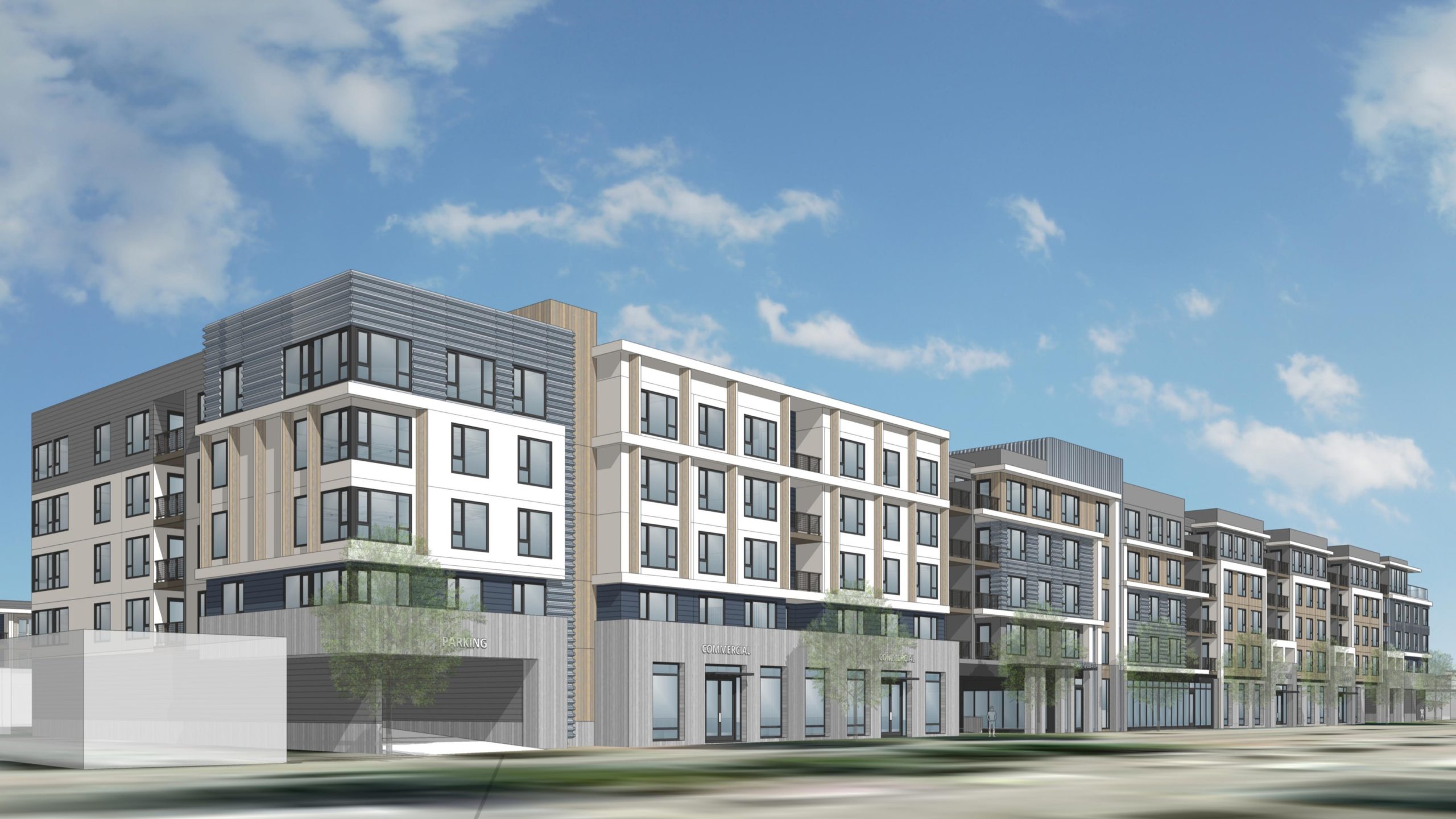 A rendering shows a revised plan for a five-story, 351-unit housing complex on the 900 block of Ocean Street in Santa Cruz. (BDE Architecture)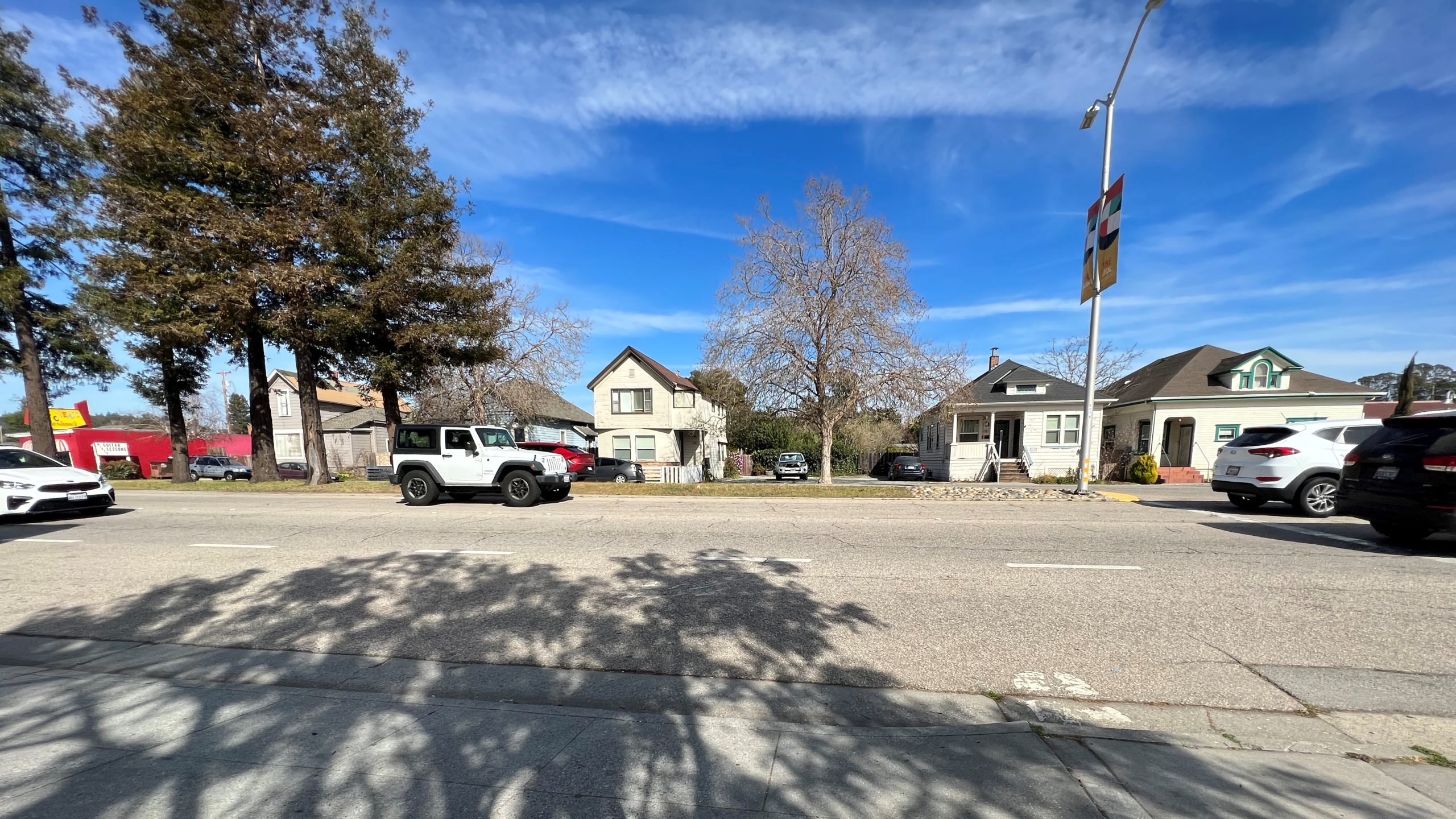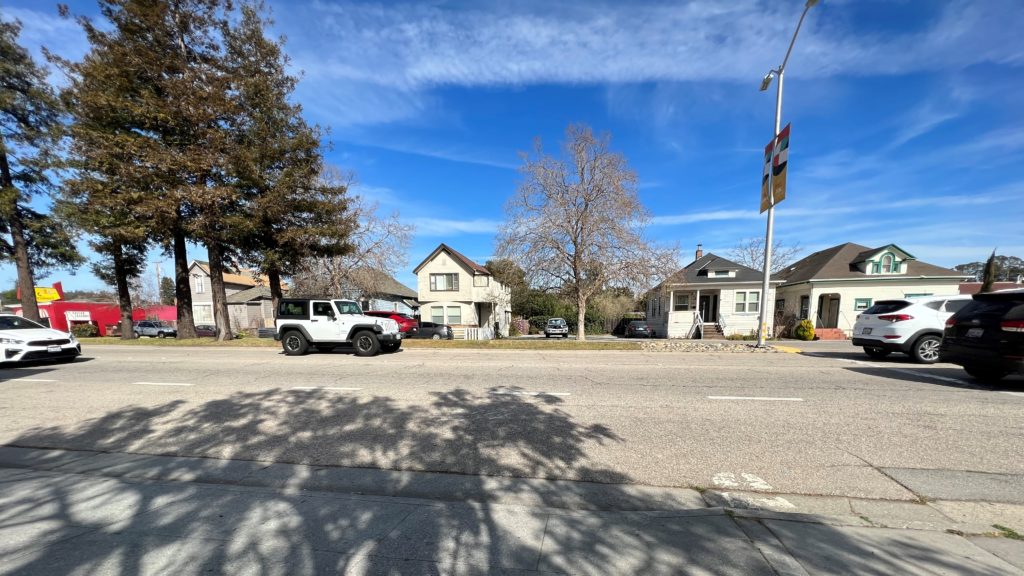 About 20 lots on Ocean Street and May Street could be part of a large project of housing and shops. (Brian Phan — Santa Cruz Local)
Last updated: Feb. 8, 2023
Project name: 908 Ocean St.
Location:

908 Ocean St. and about 20 parcels roughly bounded by Ocean, Hubbard, May and Water streets in Santa Cruz. The proposal would span from Marianne's Ice Cream at 1020 Ocean St. to Togo's sandwich shop at 902 Ocean St
Public meeting
Developer High Street Residential and Santa Cruz city staff plan to have a community meeting on the project at 6:30 p.m. Thursday, Feb. 9, 2023. The meeting will be held online and in person at the Resource Center for Nonviolence at 612 Ocean St., Santa Cruz.
Project description
Revised plans for 908 Ocean St. include 351 apartments in three- and five-story buildings. A plan from 2018 included 390 homes, four stories and mainly one-bedroom units and studios.

Details: There is a proposal to demolish eight commercial buildings and 12 residential units and combine 20 lots. Eight heritage trees would be removed.

A revised plan set and renderings were posted in early 2023. An older plan set has been abandoned.
As of February 2023, two pre-application plan sets have been submitted to the city for the new development: a "density bonus" plan and a "base" plan. Because the development includes income-restricted apartments, it is expected to qualify for the state's density bonus and can exceed the city's height limit for the area.The density bonus plan set includes:

Studios to four-bedroom apartments across 351 units that include 52 affordable units for low-income renters. Income limits are set by the state yearly. Eighty-five two-bedroom units are proposed.
Near Ocean and Hubbard streets, a five-story, 57-foot-high apartment building is planned with businesses on the ground floor above a one-level underground parking garage.  Parking garage access is slated for Ocean Street.
On May Avenue and Hubbard Street, two three-story, 34-foot-high apartment buildings are planned.
A surface parking lot is expected to have entrances and exits on May Avenue, accessible only to residents of the proposed complex.
Read more
How to make your voice heard: Submit comments and questions on the City of Santa Cruz project page for 908 Ocean St. (Ocean Place).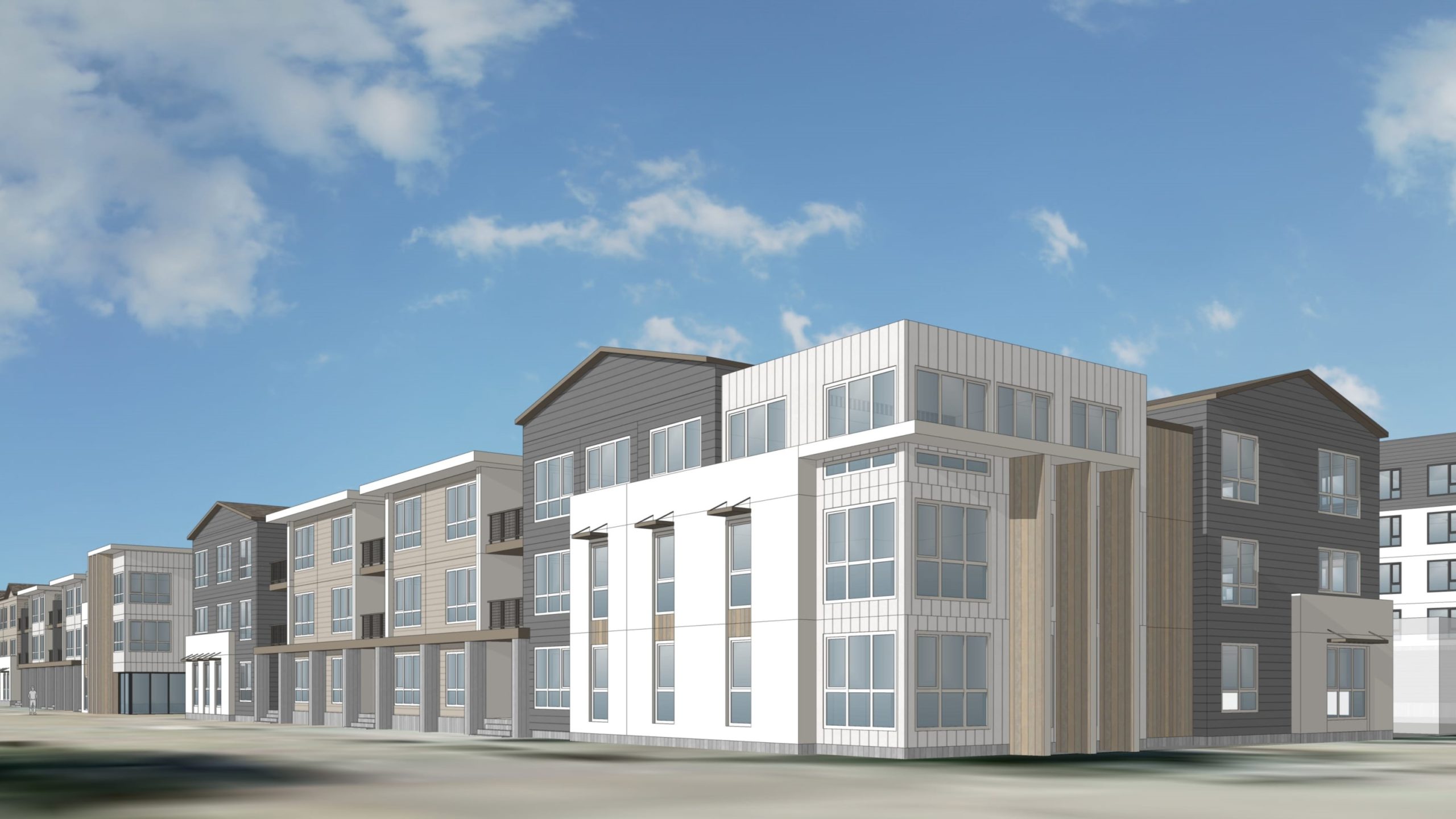 A three-story apartment building is proposed on May Avenue and Hubbard Street as part of the project. (BDE Architecture)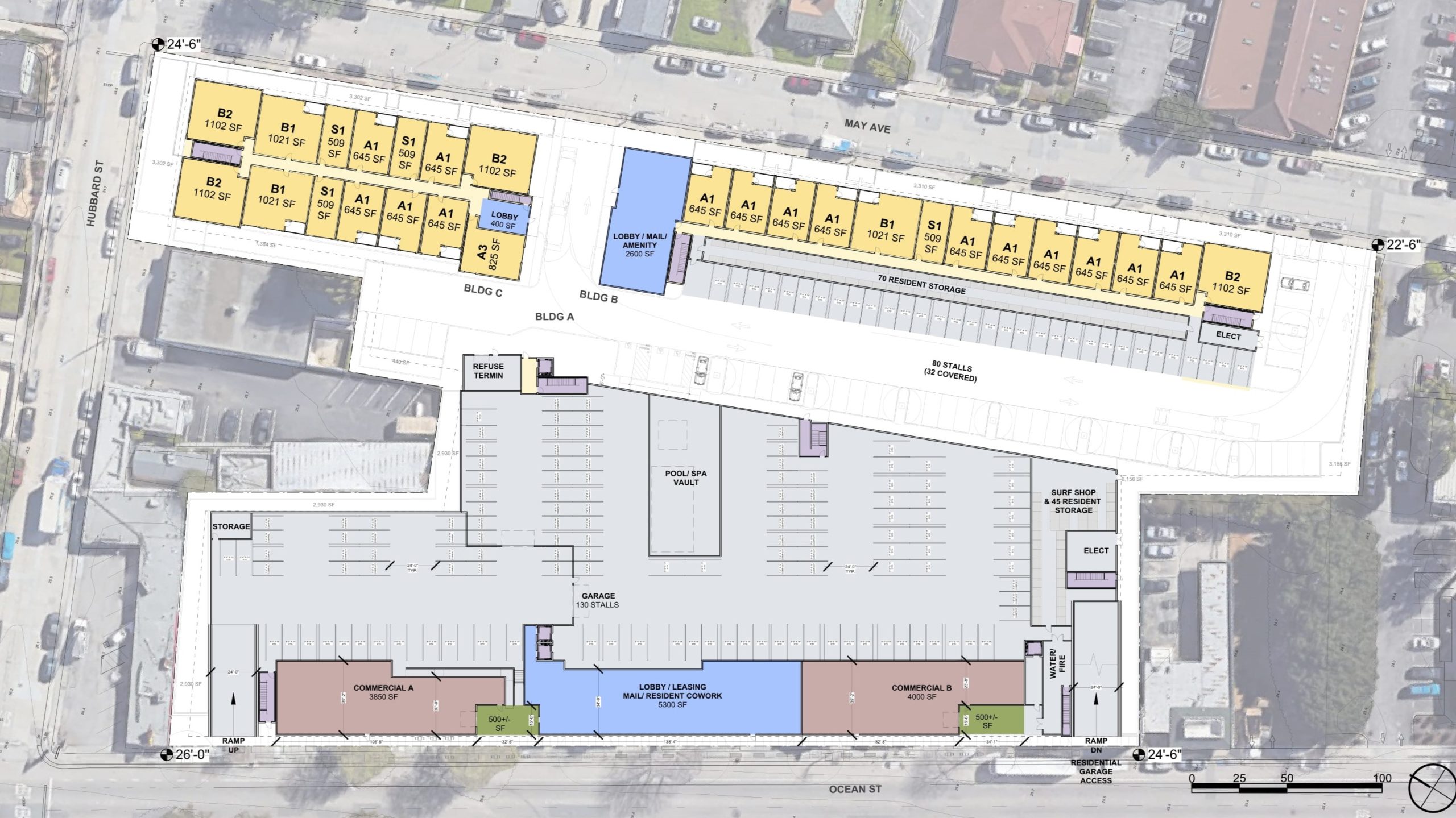 The ground floor of a proposed housing complex on Ocean Street is expected to include commercial space and parking. The ground floor on May Avenue would include homes. (BDE Architecture)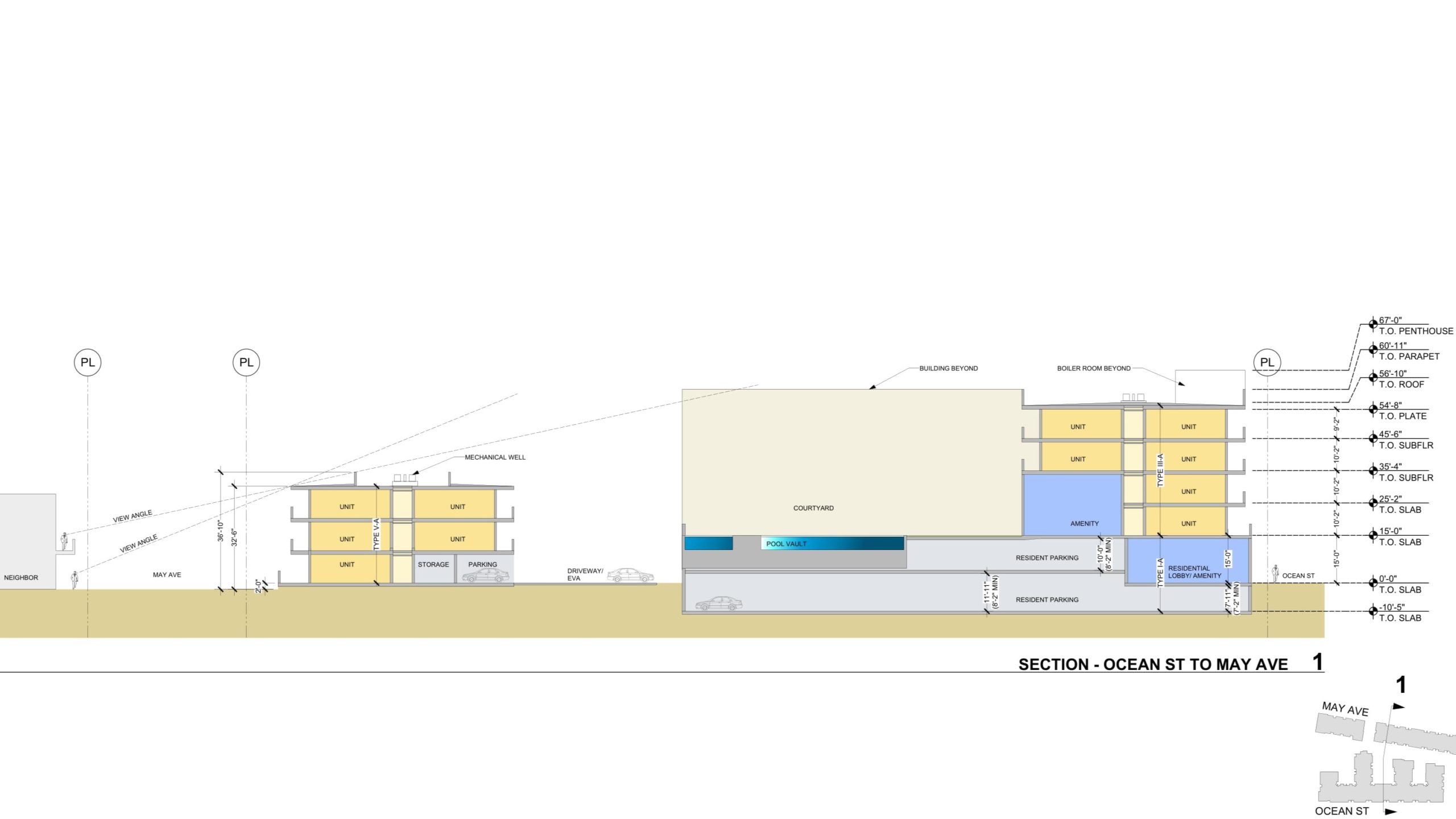 A three-story complex is proposed for May Avenue and a five-story complex is proposed for Ocean Street at Hubbard Street. (BDE Architecture)