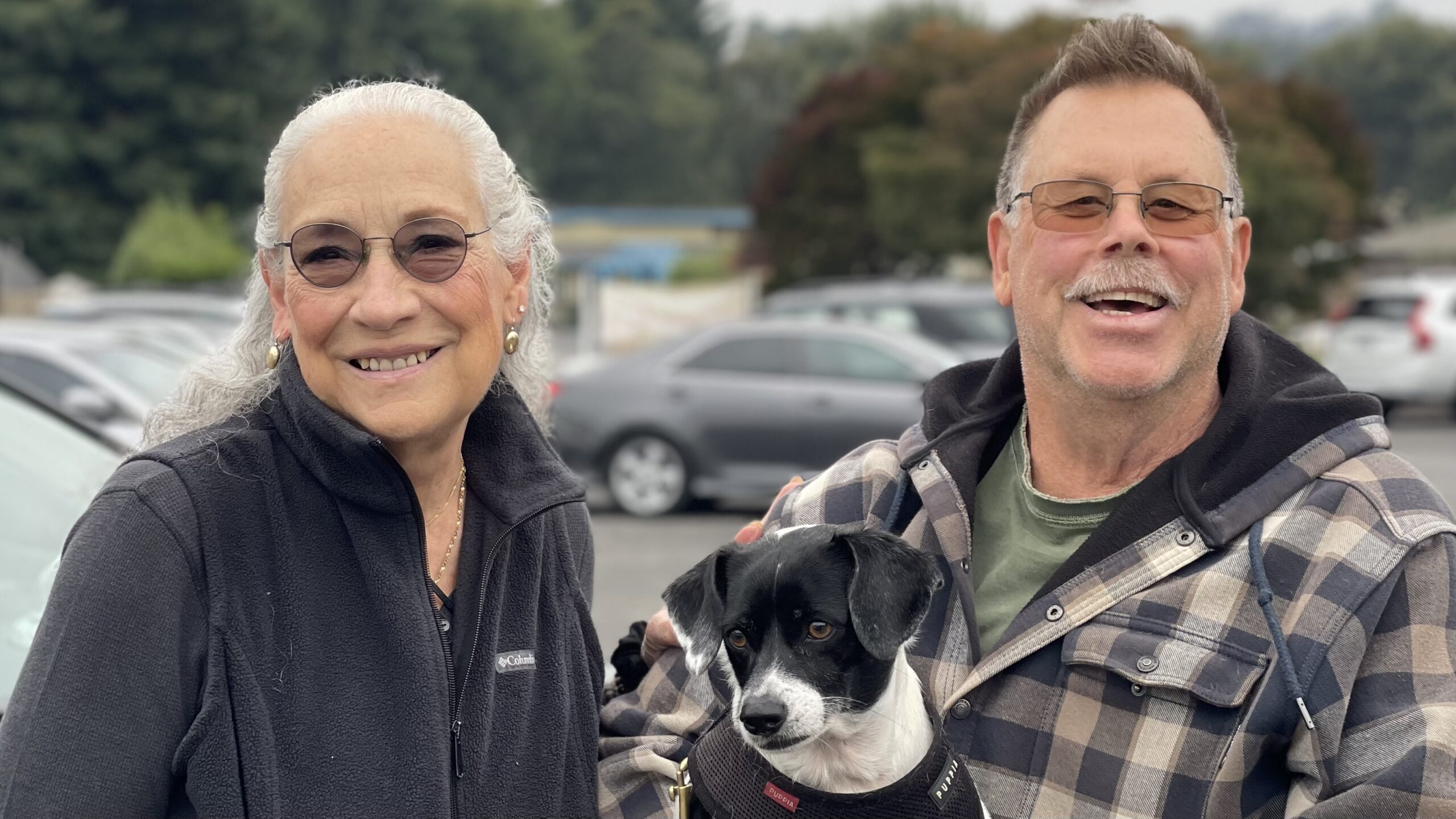 Soquel resident Glen Wunderling, right, says the cost of living and the cost of medical insurance are rising. Wunderling was at a Grey Bears food distribution site in Soquel with Barbara Murray and his dog, Lucas. (Natalya Dreszer — Santa Cruz Local)
SANTA CRUZ >> Affordable housing, rental assistance and solutions to homelessness topped the concerns of more than 80 likely voters surveyed recently in Live Oak, Soquel and Capitola.
To understand residents' priorities for the March 5, 2024 election for District 1 Santa Cruz County supervisor, Santa Cruz Local interviewed residents in the district and compiled results from an online survey. The district includes Live Oak, Soquel and parts of Capitola.
Residents in Santa Cruz County Supervisor District 1 will have the opportunity to vote for a new supervisor in the March election. The seat is held by Manu Koenig. 
Santa Cruz Local heard from 81 English and Spanish speakers ages 8 to 84. The survey was not intended to be scientific, but rather a straw poll of issues important to voters. We asked:
What is your biggest need from local government?

What personal experience makes you care about this issue? 

What do you want candidates to talk about as they compete for your vote? 
We interviewed District 1 residents at:
Live Oak Market.

Community Bridges.

Live Oak Elementary School.

Live Oak Grey Bears food distribution.

Santa Cruz Chamber of Commerce Biz Expo.

Santa Cruz County Fair.

Watsonville Strawberry Festival.

Aptos Village.
We also shared our survey in our newsletter and social media channels. 
Residents' priorities below are listed in order of frequency.
Affordable housing

Help with rent

Solutions to homelessness

Safety

Traffic relief
Affordable housing
Affordable housing was the most frequently mentioned issue across the District 1 residents we interviewed and surveyed. Residents said they wanted access to affordable housing for themselves and their communities.
Several residents said they had friends and family who moved away from Santa Cruz County because they could not afford rent. Parents said their adult children could not afford to live here.
Soquel resident Scott Young said he wanted "zoning that allows for inexpensive housing." He said one of his friends moved into a trailer in a backyard. Several other friends moved to Oregon or the East Coast because they could not afford to live in Santa Cruz.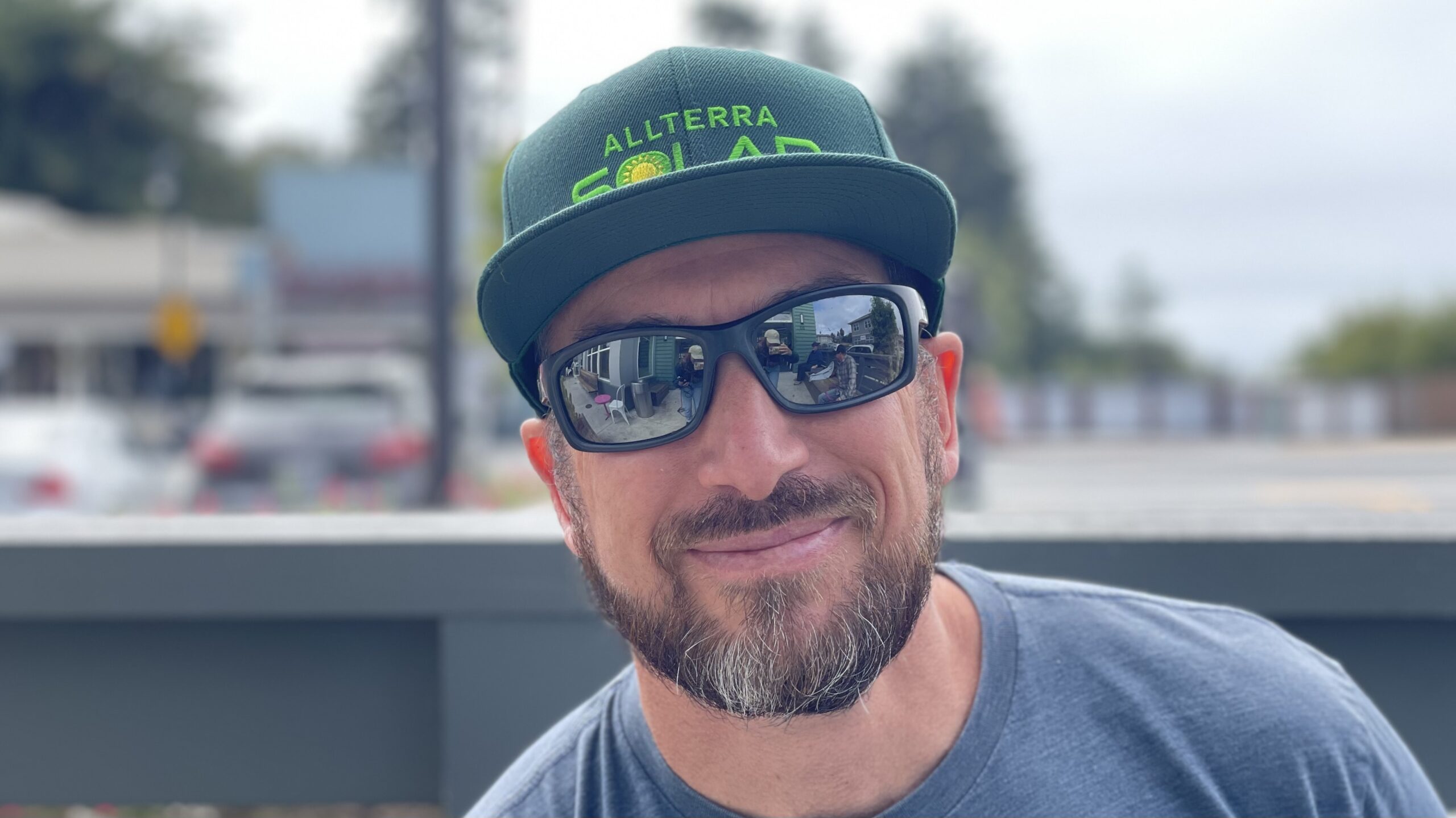 Live Oak resident Michael Taylor, 41, said he wants a higher tax on vacation rentals to help build more affordable housing. Taylor grew up in Santa Cruz County and said he knows people who spend 80% of their monthly income on rent. (Natalya Dreszer — Santa Cruz Local)
Residents said they wanted a variety of housing options to cater to different community needs. Affordable housing development was mentioned many times, as well as Accessory Dwelling Units and tiny homes. Some residents said they only wanted more affordable housing built. Others said they wanted more housing at all price points.
Duane Adams, 72, wants more affordable housing for families. "Families are the bedrock of any community," he said, "yet all the planned affordable housing developments in this area are for single people."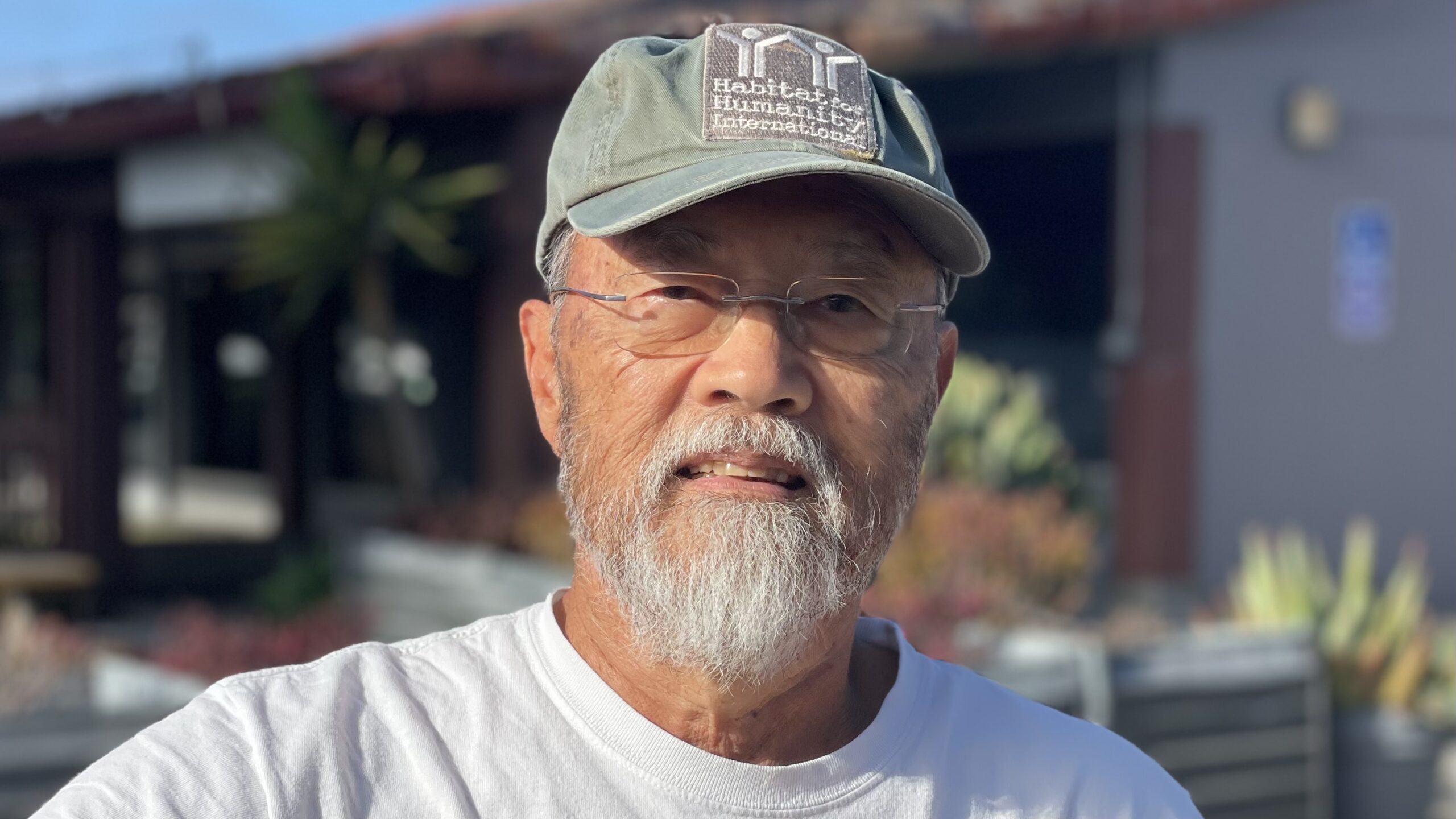 Live Oak resident Paul Kaneko, 79, is a retired city planner who worked for the cities of Scotts Valley and Watsonville. He says he wants county leaders to fix roads in Live Oak and find properties where affordable housing can be built. (Natalya Dreszer — Santa Cruz Local)
A need for help with rent
A need for rent assistance was the second most-cited priority we heard from District 1 residents.
Live Oak resident Monica Torres, 32, said she wanted resources to help her family afford rent. Torres said she spends $100 a week on gas to drive to cosmetology school in San Jose. She wants to be a hairdresser.
Torres has a night job cleaning a restaurant. The only reason her family of five has been able to afford rent is because they have lived in the same home for 10 years. If they had to leave, they would not be able to afford higher rent, she said.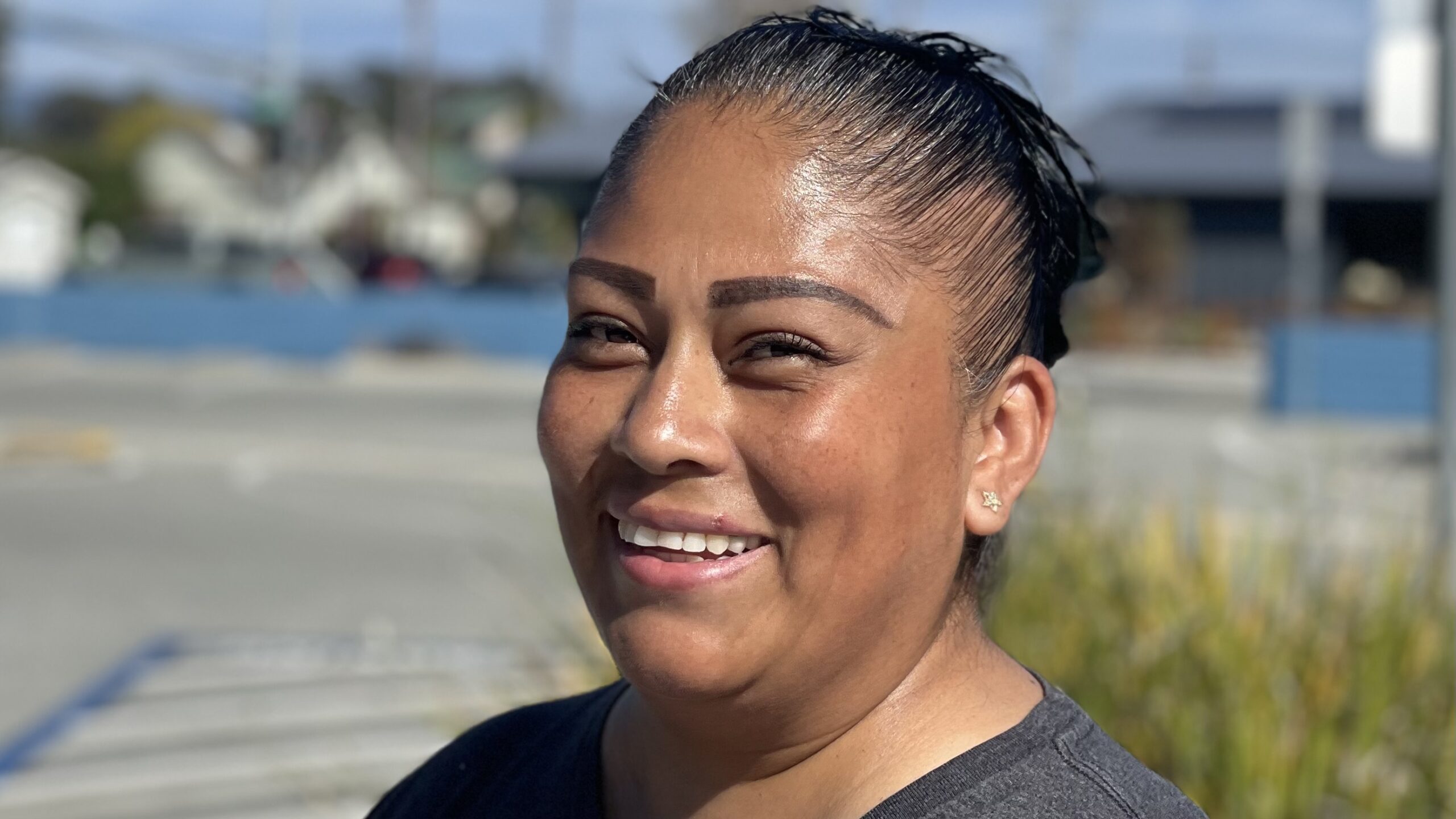 Live Oak resident Milagros Villalovos, 43, says she wants help with rent and child care before school. She starts work as a custodian at 7 a.m., but child care before school does not start until 7:30 a.m. (Natalya Dreszer — Santa Cruz Local)
Billy Rainbow, 68, is a retired software engineer. He said he almost became homeless after he lost his rental of 26 years. "Housing costs here are a crime against humanity," he said. Rainbow said he wants to see the government "actually reduce, dramatically, the existing costs for housing."
Solutions to homelessness
Another top priority among District 1 residents was solutions to homelessness. Many residents said they want local government to help people without housing. Some people said they do not want to see people in their community experiencing homelessness.
Sabrina Weaver, 62, said she lives in her car in Live Oak. She said she wants access to showers and a safe place to park her car at night. 
"I park just stealthily," she said, "so I'm not in the same place every night. You know, so I don't disturb neighbors." The Housing Authority of Santa Cruz County put her on a waitlist for a housing voucher in 2003. When she became eligible for a voucher, she said she could not find a property owner to accept it.
Katayun Salehi, 34, wants local government to provide a "dramatic increase in homeless services" and "an authentic Housing First system in the county." 
Salehi said she co-founded the Secret Garden Women's Shelter, worked at Footbridge Services and volunteered with Food Not Bombs. "We can't keep saying there is nowhere to build and not enough money," she said.
Residents also said they wanted to know how supervisor candidates will work to provide mental health and addiction services and counseling. 
Safety
Many District 1 residents want to feel safer in their community.
David Doolin, 63, lives in District 1 and owns a business in Downtown Santa Cruz. He said he wants public safety to be a top priority.
"My team has been assaulted, my property has been stolen and damaged," he said. He is concerned with the effect that crime has on business in Santa Cruz County.
Live Oak resident Lee Houghton, 46, works in construction. He said he wants Santa Cruz to be "safe and clean." 
Other District 1 residents said they are worried about gun safety at their children's schools, the accessibility of hard drugs in Santa Cruz County and drunk drivers. Residents said they wanted their community to be a safe place for families. 
Some residents said they wanted more policing and some said they wanted less. Salehi said she wanted  the county to redesignate funding for "less policing, more services."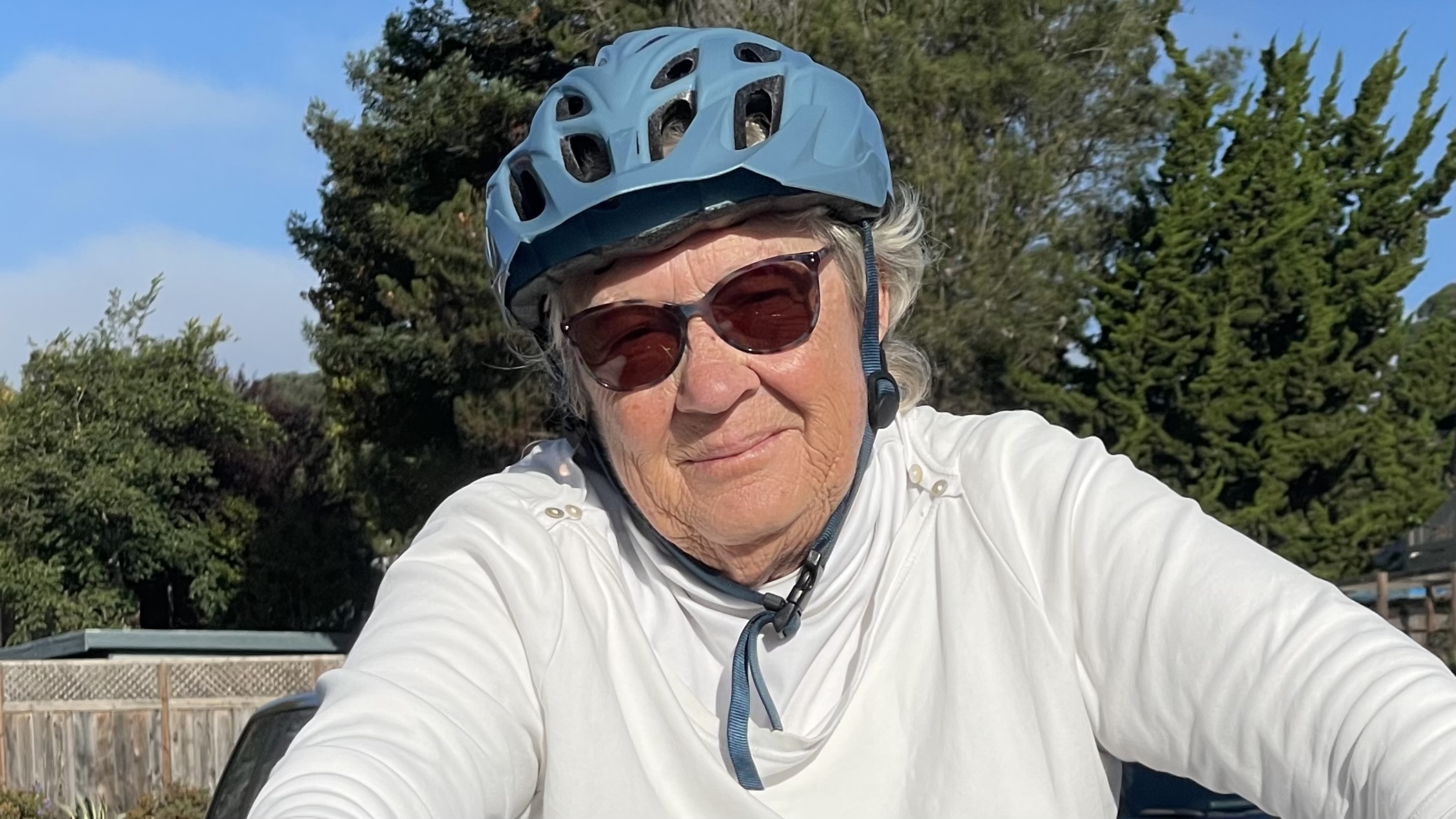 Pleasure Point resident Lynda Leigh, 74, volunteers at the Santa Cruz Welcoming Network for asylum seekers and refugees. She said she wants Santa Cruz County to have better infrastructure because she likes to ride her bike everywhere. (Natalya Dreszer — Santa Cruz Local)
Transportation
Many District 1 residents said they want transportation solutions. They said they were concerned about traffic and wanted safer walking and biking.
James Weller, 72, said he wants better access to public transportation. 
"I can't drive a car, I can't ride a bike and I can't walk very far, so I need ways to get to and from public transportation access points." He said he uses an electric scooter "but secure parking places at bus stops are not available, nor are electric outlets for recharging my scooter in place."
Several residents said they have to plan their days around cross-county traffic. Suggested solutions ranged from highway widening to an increase in public transportation and walk and bike infrastructure. Residents also expressed worry about the effect of new housing on traffic.
A draft for our People's Agenda
Santa Cruz Local's questions for the District 1 county supervisor candidates are based on themes we heard from District 1 residents. These questions are Santa Cruz Local's "People's Agenda." 
How can the county supervisors help fund and facilitate more affordable housing? Where in your district would you support more density?

Should the county supervisors help current residents with rent stabilization or rent help? If so, how?

What specific short- and long-term strategies would you support to address homelessness?

Some District 1 residents are upset with crime, drug use and litter. How can county supervisors help residents feel safer? 

Many District 1 residents told us they want traffic relief. What can the county supervisors do to reduce traffic and facilitate cycling and walking for District 1 residents? 
District 1 residents, what are your thoughts about our People's Agenda? We invite you to take our online survey. Your feedback will inform future reporting for the Nov. 5, 2024 general election.
Yesica Guzman contributed Spanish interpretation to this story.
Learn about membership
Santa Cruz Local's news is free. We believe that high-quality local news is crucial to democracy. We depend on locals like you to make a meaningful contribution so everyone can access our news.
Learn about membership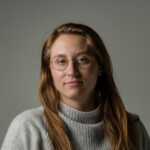 Natalya Dreszer is Santa Cruz Local's community engagement and business development coordinator.