SOQUEL >> As a 30-year Santa Cruz County resident, Susan Tatsui-D'Arcy was alarmed by the destruction of the CZU Lightning Complex Fire in 2020. Tatsui-D'Arcy lives on North Rodeo Gulch Road in the Soquel Hills, and she couldn't help but picture a similar wildfire ripping through forested areas from Highway 9 to Aptos that have not had a large blaze in years. 
With climate change exacerbating the potential for large fires, Tatsui-D'Arcy realized that North Rodeo Gulch was not as prepared as it could be. So she got to work and organized her neighbors in a Firewise community. It's a national program that helps rural homeowners reduce the risks of wildfires on their properties and encourages emergency planning. 
The North Rodeo Gulch group now includes 260 homes and is one of the largest Firewise groups in Santa Cruz County.
"A Firewise group will not grow by itself. We must be pleasantly persistent in our efforts," Tatsui-D'Arcy said. Tatsui-D'Arcy estimated that her neighbors have put in 16,000 hours of work to make the North Rodeo Gulch area ready for wildfire. 
It's not just Tatsui-D'Arcy's group that's growing. There are now at least 28 Firewise communities in Santa Cruz County, which is more than triple the groups in early 2021. Another 18 groups of neighbors are working to become Firewise communities in the county, said Lynn Sestak, a Firewise program coordinator in Santa Cruz County. 
A map shows Firewise groups in Santa Cruz and Santa Clara counties. There are now more than 28 Firewise communities in Santa Cruz County —  more than triple the groups in early 2021. (Firewise USA)
"Word of mouth is how existing Firewise communities spread information to neighboring communities," Sestak said.
Because of the low overall rain this winter in Santa Cruz County, there are low "fuel moistures" in vegetation in areas of the Santa Cruz Mountains that Cal Fire measures. That means that wildfire risk is expected to be high this summer, Cal Fire leaders said.
"It's looking similar to what we saw in 2021 and 2020, which were both really bad fire years," said Matthew Mosher, a Cal Fire CZU environmental scientist, in a Cal Fire video. 
How it works
Firewise groups often organize neighbors into micro communities with their own leader. The North Rodeo Gulch group, for instance, has 17 micro communities. Creating micro communities makes the workload easier to accomplish. Firewise groups function on a neighborhood level, whereas the Fire Safe Council of Santa Cruz County carries out similar actions but on a county level.
Firewise groups discuss topics such as:
Defensible space and vegetation upkeep around homes.

Evacuation routes and emergency kits.

Neighborhood communication networks, including radio.
Firewise suggests that groups train to use the Multi-Use Radio Service, or MURS, during power outages. The devices are similar to walkie-talkies. The North Rodeo Gulch group practices using the MURS system every few weeks to make sure everyone can be heard. 
Tatsui-D'Arcy discussed the importance of neighborhood involvement and communication, especially in the rural areas of Soquel and Aptos where neighbors are often miles apart. 
Evacuation plans are also part of the training. The North Rodeo Gulch group has partnered with Central Fire Protection District on an emerging program called Evacuation Smart. It teaches residents about wildfire behavior to help them make better decisions in crucial moments.
Planning various escape routes on rural roads can help avoid dangerous traffic jams during a large wildfire.
The group also covers basics for rural homeowners such as keeping 100 feet of defensible space around homes to help reduce the spread of fire. It also creates a safer place for firefighters to defend homes and makes it more likely for them to defend it, said Angie Gruys, a program specialist at the Resource Conservation District of Santa Cruz County. 
"If firefighters have to pick between 10 houses to defend, the one that's overgrown might not be picked," Gruys said. 
"The general concept (of defensible space) is that trees should be kept farthest from the house, shrubs can be closer, and lawns and bedding plants can be the closest. If your landscaping has a different configuration than this, you can improve defensibility by keeping larger trees limbed up and shrubs free of dead, dry material," according to the Resource Conservation District's website.
After limbs, leaves and other brush is cleared from around a home, parts can be reduced with a wood chipper. There are some free and reimbursable chipping programs available in the Santa Cruz Mountains through the Resource Conservation District of Santa Cruz County and Firewise groups in Bonny Doon and South Skyline.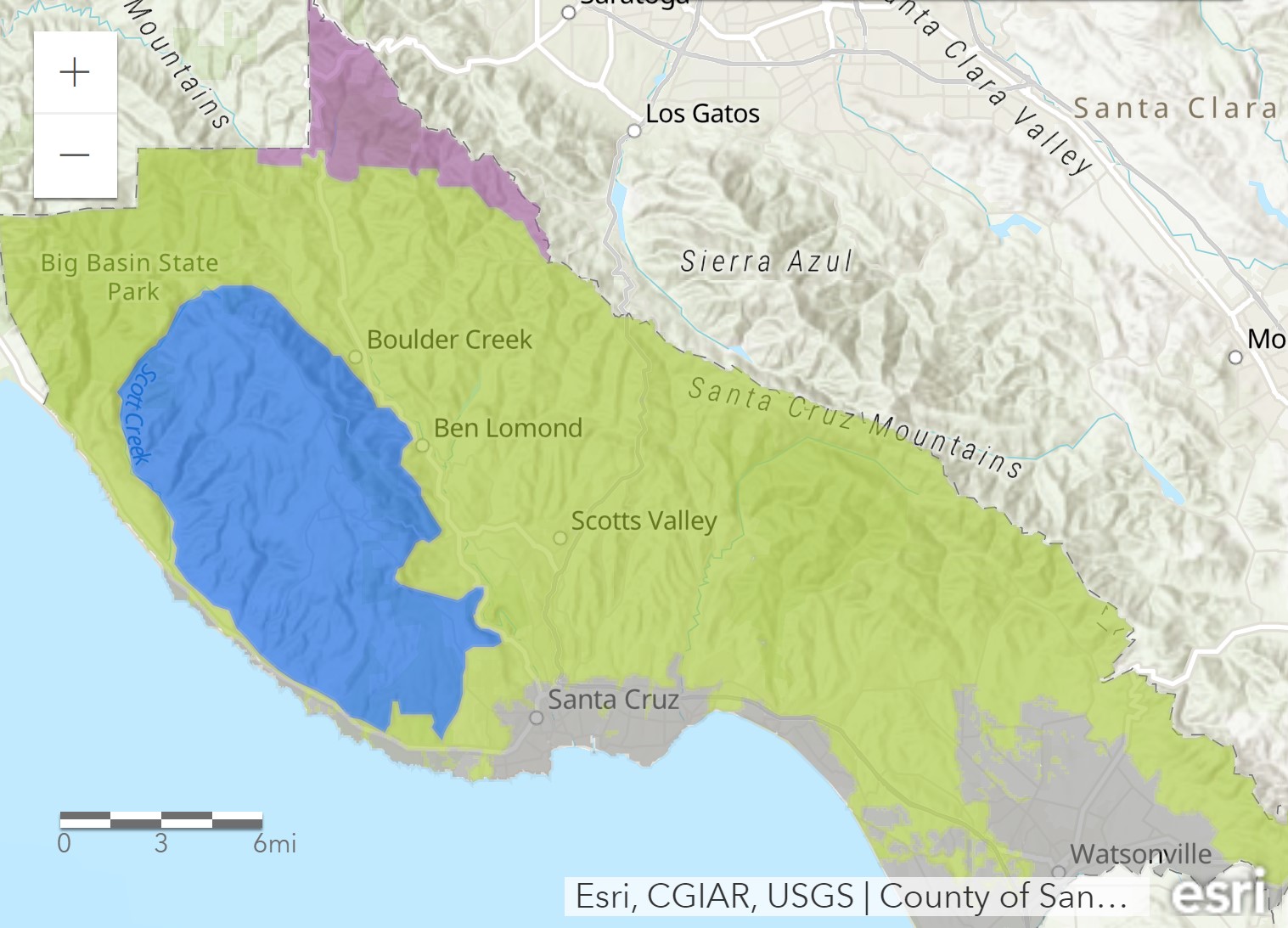 Residents in green areas are eligible for money for wood-chipping through the Resource Conservation District of Santa Cruz County. Areas in blue are eligible for programs through the Bonny Doon Fire Safe Council and areas in purple are eligible through the South Skyline Fire Safe Council. (Resource Conservation District of Santa Cruz County)
Starting July 15, residents in many areas of the Santa Cruz Mountains will be able to apply for reimbursement of up to $10,000 for licensed-contractor chipping services for brush around their homes. The Resource Conservation District of Santa Cruz County runs the program. A minimum of eight residents are required to be involved, and the reimbursements will take place in the fall. 
Angie Gruys, who runs the chipping program for the Resource Conservation District, said about 250 people took part in a similar chipping program this spring. "A lot of people are doing it on their own, too. But I think the program helps get them motivated," Gruys said.
How Firewise groups spread
Many new Firewise groups have started in areas of Bonny Doon and the San Lorenzo Valley where many homes were lost during the CZU Fire in 2020, leaders said. The CZU Fire started with lightning strikes in August 2020 and destroyed more than 900 homes on the North Coast, near Boulder Creek and areas of the San Lorenzo Valley, authorities said.
"After the fires in Bonny Doon, we have been taking things much more seriously," said Steve Mendevil, an Aptos Hills resident. 
Other new groups are in the Aptos Hills and there is one in Corralitos, said Lynne Sestak, of the Fire Safe Council. Sestak said she believes the growth in community interest for Firewise stems in part from the CZU Fire and the Caldor and Dixie fires of 2021.
Word of mouth about Firewise groups also has been a powerful tool in other areas, Sestak said. For instance, residents on Riva Ridge just west of Highway 17 and Summit Road helped influence residents on nearby Hutchinson Road, Old Ranch Road and a few miles away at Upper Zayante Road, Sestak said.
Another factor that has sparked residents' interest in new groups is that some residents in Firewise communities may be eligible for a discount on home insurance through the California Insurance Commissioner's office. 
Learn more about defensible space and home hardening
On June 18, leaders from the Resource Conservation District of Santa Cruz County and Cal Fire will host a free tour of a home in Bonny Doon to demonstrate defensible space and ways to harden a home against wildfire. 

Some of the topics include fuel reduction efforts, rooftop sprinklers, fire hoses, misting systems, pool pumps and ways to help first responders. 

The event takes place in separate sessions at 10 a.m. or 1:30 p.m., June 18., Space is limited and registration is online for the

morning session

or

afternoon session

.
Wildfire resources
Santa Cruz Local's news is free. We believe that high-quality local news is crucial to democracy. We depend on locals like you to make a meaningful contribution so everyone can access our news. Learn about membership.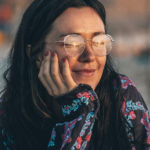 McKenzie is an environmental journalist and creative writer based in Santa Cruz. McKenzie is a recent graduate of UC Santa Cruz's cultural anthropology and literature department.