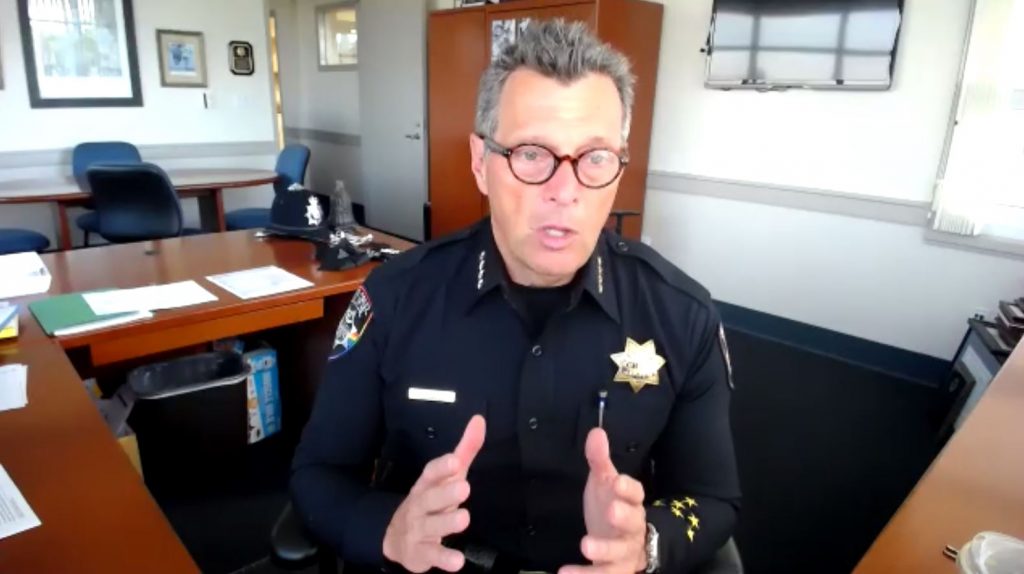 Santa Cruz Police Chief Andy Mills talks about policy changes during an online meeting with residents in June 2020. (City of Santa Cruz screenshot)
SANTA CRUZ >> Santa Cruz Police Chief Andy Mills said Tuesday that he has accepted a position as police chief of Palm Springs.
Mills, 64, said his last day in Santa Cruz will be Oct. 29. He plans to start at Palm Springs police in early November. 
"This has been a great ride," Mills said in an interview Tuesday. "This is a wonderful city with wonderful people. It's an incredible department with talented people internally. I couldn't be more grateful to live and work in Santa Cruz," Mills said. 
Mills was hired a little more than four years ago. He was previously police chief in Eureka for four years. 
Mills said he applied for the police chief position because Palm Springs is closer to his grandchildren. "This is all about my grandkids," Mills said. "It's another great city but it's also closer to my family. It allows me the opportunity to go see school plays, birthdays, that kind of thing," Mills said. "It's a good fit."
Mills said it would be up to Santa Cruz's interim city manager, Rosemary Menard, to name an acting police chief.
Mills dealt with calls for police reform in 2020 with some changes to hiring and transparency practices at Santa Cruz police.
Mills is expected to replace Acting Palm Springs Police Chief Melissa Desmarais. Desmarais chose not to seek the position, the Palm Springs Post reported. Desmarais replaced Bryan Reyes who retired in August after 27 years of service to the city.
Palm Springs city leaders said they conducted a nationwide search for a new police chief that included more than 50 applicants. "Chief Mills was clearly the top performer in the process," Palm Springs City Manager Justin Clifton said in a statement. "I think he will be able to integrate with our team and community seamlessly. He brings a wealth of experience and leadership that, with help from the rest of our team, can take us to the next level," Clifton said.
Career moves
Mills is a graduate of Indiana Wesleyan University, the FBI National Academy and California P.O.S.T Management School.
He started his career as a patrol officer at San Diego police in 1983. He was a commanding officer in gang investigations and later oversaw divisions in San Diego. He became police chief of Eureka in 2013.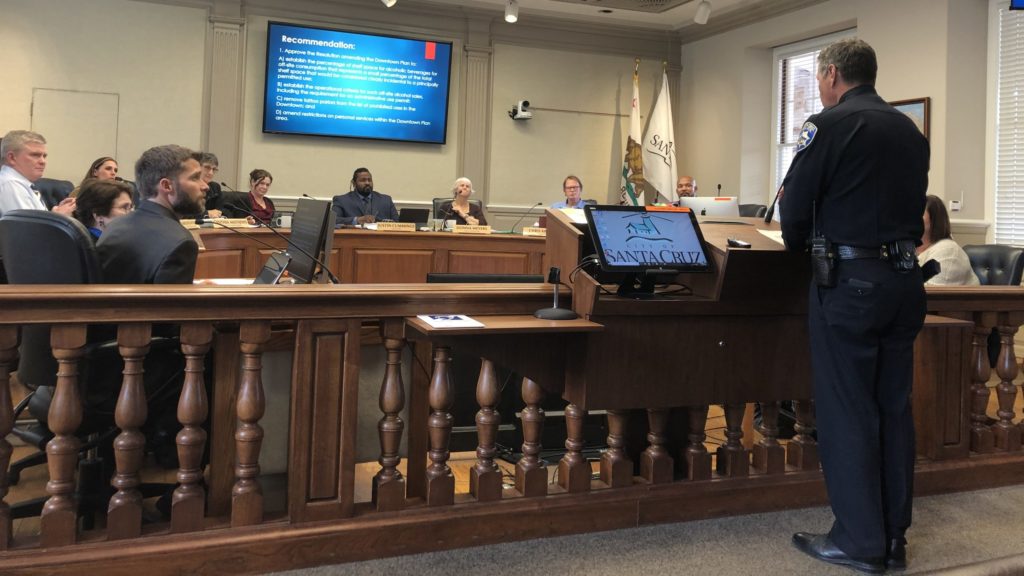 Andy Mills speaks to the Santa Cruz City Council in January 2020. (Santa Cruz Local file)
Mills is a member of the Major Cities Chiefs Intelligence Commanders Group. He was appointed by Gov. Jerry Brown to serve on the Board of State and Community Corrections.
Mills serves as executive chair of the California Violence Prevention Grant Program and on the board of the Herman Goldstein Award for Excellence in Problem Oriented Policing, Palm Springs Communications Director Amy Blaisdell wrote in a statement.
Mills' annual salary was $223,827 before taxes, said Santa Cruz city spokeswoman Elizabeth Smith. Mills' annual salary in Palm Springs is expected to be $243,756 before taxes, Palm Springs city officials said.
"The Palm Springs Police Department has a long-standing tradition of inclusive community policing and building important neighborhood and stakeholder relationships," Mills said in a statement. "I am honored to be chosen to serve as the next Palm Springs police chief, and I look forward to working with our officers, the community, city manager and council to continue providing an exceptional level of public safety service to the Palm Springs community."
Mills is the third law enforcement chief in Santa Cruz County to leave the post this year. Watsonville Police Chief David Honda retired this summer and was replaced by interim Police Chief Tom Sims. Capitola Police Chief Terry McManus is expected to retire in November.
Become a member of Santa Cruz Local, an independent, community-supported newsroom that's owned and led by local journalists. Our stories are free and always will be, but we rely on your support.
Already a member? Support Santa Cruz Local with a one-time gift.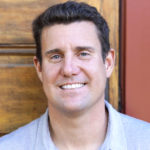 Stephen Baxter is a co-founder and editor of Santa Cruz Local. He covers Santa Cruz County government.