This is Santa Cruz Local's AgendaWatch newsletter issue for Sunday, Sept. 19, 2021. Our newsletter informs Santa Cruz County residents of big upcoming decisions in local government and how to get involved.
In this issue:
1 / SANTA CRUZ CITY COUNCIL
RV parking limits proposed in special meeting
4:30 p.m. Tuesday Sept. 21 / Online and by phone
Tuesday, the Santa Cruz City Council will discuss proposed limits on RV and trailer parking for residents and visitors. The proposal by Vice Mayor Sonja Brunner and Councilmembers Renee Golder and Shebreh Kalantari-Johnson comes in response to Westside residents' concerns about trash, waste and crime related to people who live in their vehicles. The proposal would not be enforced until city leaders designate more places for homeless people to park at night.
The proposal would update the city's 2015 overnight parking ban and align it with a new city law that limits where and when homeless people can camp. 
The city's overnight RV parking ban required a Coastal Commission permit to take effect. At a Coastal Commission hearing in 2016, several commissioners expressed concern about the law and called it "onerous," "drastic" and "draconian." The commission voted 11-1 to investigate the law in a public hearing but the hearing has not been scheduled.
Tuesday's proposal includes:
A requirement for overnight parking permits for oversized vehicles: Residents' permits would be valid for one year and allow the vehicle to be parked in a spot for 72 hours. Visitor permits would be similar but valid for 30 days. Oversize vehicles are defined as vehicles or trailers that are at least 20 feet long or 7 feet tall and 7 feet wide.

Without a permit, RV parking generally would not be allowed on streets, alleys or city lots 12-5 a.m. The limits would not apply to emergency situations such as mechanical breakdowns. Fines would be set for violations.

RV sewage discharge into city storm drains would be prohibited. 
Read Santa Cruz Local's previous story on the proposal.
Editor's note: This story has been updated. A previous version misstated the year the Santa Cruz City Council adopted an overnight parking ban. 
Santa Cruz water rate increase in the works
Tuesday, the Santa Cruz City Council is expected to begin a process to raise rates for city water customers. The proposed increase is largely driven by $271 million of planned water infrastructure and supply projects by 2027.
The rate increase is tied to a tiered system. Residents with average water use, also called Tier 2, would see a roughly $4.50 increase to their monthly bill in 2022. Higher water bills would start in subsequent years.
A public hearing to set the water rates is expected Nov. 23. If a majority of customers protest the rate increase during a 45-day window before the hearing, the proposed rate increase would fail.
—Kara Meyberg Guzman
To participate: Join on Zoom or call 1-833-548-0276, meeting ID 946 8440 1344. To comment ahead of the meeting, email [email protected] by 5 p.m. Monday.
2 / SANTA CRUZ COUNTY
County supervisor districts to be redrawn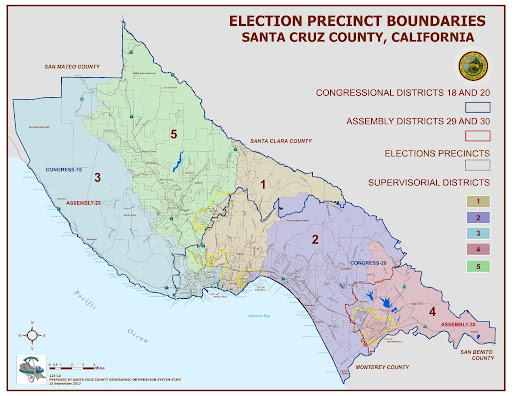 There are five county supervisor districts. The districts include pieces of the four cities: Watsonville, Capitola, Santa Cruz and Scotts Valley. City boundaries are in yellow. (County of Santa Cruz)
Boundaries of Santa Cruz County's five supervisorial districts are being redrawn based on Census data. The boundaries shift every 10 years, and the goal is to "create districts that are substantially equal in population and representative of the communities they serve," Santa Cruz County spokesman Jason Hoppin wrote in a statement. 
Final maps are expected to be approved by county supervisors in December. At the following meetings, residents can provide input on how neighborhoods are grouped in the districts.
6:30 p.m. Wednesday, Sept. 22 at the Santa Cruz County Sheriff's Office Community Room, 5200 Soquel Ave., Live Oak

6:30 p.m. Sept. 29 at the Felton Branch Library, 6121 Gushee St., Felton

6:30 p.m. Sept. 30 at Starlight Elementary School, 225 Hammer Drive, Watsonville
The Redistricting Advisory Commission makes recommendations to the supervisors. It includes Cheri O'Neil of the first district, Michael Watkins of the second district, Kris Reyes of the third district, Peter Radin of the fourth district and James Mosher of the fifth district . Find more information about county redistricting at the county's website. 
3/ CAPITOLA CITY COUNCIL
Capitola road project grants to be considered
7 p.m. Thursday Sept. 23 / Online and by phone
The Capitola City Council will consider grant applications for road and sidewalk projects from about $11 million available from the Santa Cruz County Regional Transportation Commission. 
Capitola is expected to receive $400,000 to $1 million based on prior awards and a competitive evaluation, Capitola Public Works Director Steve Jesberg wrote in a report. Projects in the grant application include: 
Repavement of 41st Avenue from Clares Street to Cory Avenue for about $1.5 million. The project could be divided if less money is received. 

New sidewalks on Kennedy Drive from Sir Francis Avenue to Park Avenue for about $150,000.  

Pavement work on Capitola Road from Clares Street to 30th Avenue for about $500,000. 

New sidewalks on McGregor Drive from Park Avenue to McGregor Park for $750,000 to $1 million. City leaders described it as a difficult project with steep slopes and bridge supports. 

New sidewalks on Washburn Avenue from Park Avenue to New Brighton Middle School for about $125,000.
To participate: Join the Zoom meeting, passcode 372114. To join by phone, call 1-408-638-0968, meeting ID 865 7950 6670. To comment ahead of the meeting, email: [email protected] by 5 p.m. Tuesday. To comment by email during the meeting, email [email protected]. The meeting will also be streamed online and on Spectrum Channel 8.
4 / WATSONVILLE CITY COUNCIL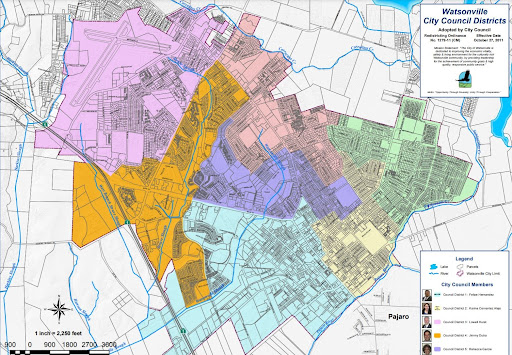 A map shows Watsonville city council districts. (City of Watsonville)
Special election to replace Watsonville council member
Watsonville City Councilmember Aurelio Gonzalez has stepped down from the city council because of an ongoing family emergency. 
Gonzalez' term ends in December 2024. An election to replace Gonzalez is expected to take place Dec. 7. Polls are expected to be open Dec. 4-7. 

Candidates who live in the second district have until 5 p.m. Monday, Sept. 20 to submit nomination forms to take Gonzalez' place. Nomination forms are available at the Watsonville City Clerk's Office, 275 Main St., Suite 400. 

Call Watsonville City Clerk Beatriz Vazquez Flores at 831-768-3040 for information. 
Watsonville City Council districts to be redrawn
Watsonville has had district elections since the 1980s, after a Supreme Court case found that at-large elections diluted the voting power of Latinos.
After every 10-year census, city leaders shift the district boundaries so that each district has roughly the same population.
"It's a big significance because we are growing," said former Watsonville mayor Oscar Rios on Friday. Rios was the first Latino to win a Watsonville council seat after the court ordered district elections in 1989. "And so we have to look at what the districts are."
Watsonville city council districts are expected to be redrawn in the coming months and approved by the city council in December. Several meetings will take place to gather public input and review census data.
6:30 p.m. Oct. 14, online or at a location to be decided.

City staff will present information on the redistricting process. Residents can provide input on neighborhood boundaries to help a city committee decide

how to draw the new districts.

6:30 p.m., Oct. 28, online or at a location to be decided.

City staff will review a statewide redistricting database, maps, old districts, and other data requested by a city committee. Residents can provide input on neighborhoods and district boundaries for draft maps.

6:30 p.m., Nov. 18, 275 Main St., top floor, Watsonville.

City leaders will present draft city council district maps and hold a public hearing on the maps. A city committee will decide whether to revise the draft maps or draw new draft maps. 

6:30 p.m., Dec. 9, 275 Main St., top floor, Watsonville.

City leaders will present maps, listen to residents and vote on maps to recommend to the city council. 
5 / EVENTS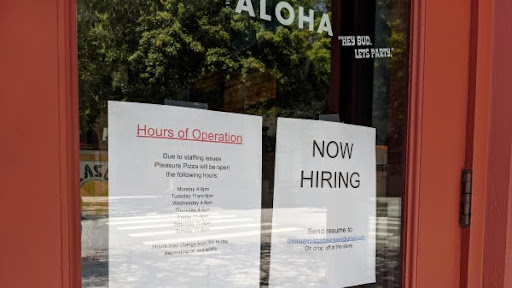 A sign at Pleasure Pizza at 1415 Pacific Ave. in Santa Cruz shows reduced hours because of a lack of staff in September. (Stephen Baxter — Santa Cruz Local)
Downtown Santa Cruz job fair
1-4 p.m., Friday, Sept. 24, various locations in downtown Santa Cruz
A Walkabout Job Fair on Friday, Sept. 24 will include more than 30 downtown Santa Cruz businesses who need part-time and full-time employees. 
The event coincides with UC Santa Cruz's Downtown Day. "Slugs can discover or rediscover local businesses, get to know the streets of downtown, and watch performances by student clubs including Sabrosura Latin Dance Troupe and Cloud 9 A Capella," UCSC spokesman Scott Hernandez-Jason wrote in a statement. 
UCSC's first day of instruction in the fall quarter is Thursday, Sept. 23. 
6 / HOMELESSNESS SERIES UPDATE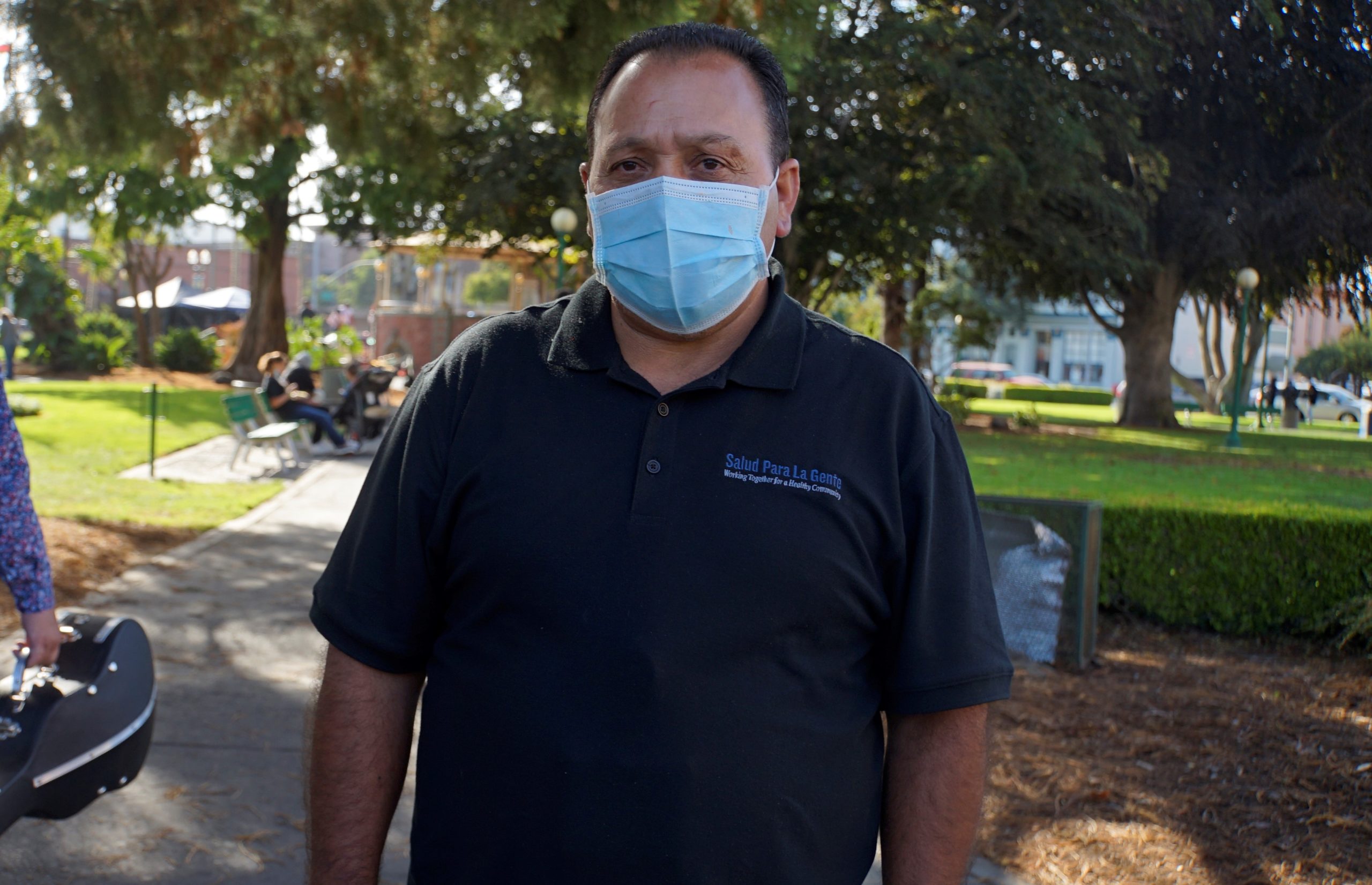 Froylan Infante Garcia, a janitor at Salud Para La Gente, shares his thoughts on homelessness Friday at Watsonville City Plaza. (Kara Meyberg Guzman — Santa Cruz Local)
Froylan Infante Garcia, 54, earns $3,200 a month as a full-time janitor at Salud Para La Gente in Watsonville.
Infante Garcia described himself as hard working and mentally strong. "I want people to see that even with all of that, I live and work just to eat. I cannot imagine a house or a good future, not right now. I just work to survive," Infante Garcia said in an interview Friday at the Watsonville Farmers Market. He spoke in Spanish.
Infante Garcia and his wife live in their car. Infante Garcia is one of more than a dozen homeless people Santa Cruz Local has interviewed in recent weeks, as part of an investigation into solutions to homelessness in Santa Cruz County.
Infante Garcia has been homeless for almost three years. When he rented an apartment, his debt grew. "I had to make a decision: either eat or rent," Infante Garcia said. 
He said his wife receives disability payments. They earn too much to qualify for housing assistance, he said. They cannot afford an apartment due to move-in costs that include first and last month's rent plus a security deposit. He wants a service that would cover his move-in costs, he said.
We want to hear from you. What information or resources do you need related to homelessness in Santa Cruz County? How are you impacted by homelessness?
Your feedback will help guide our reporting.
Guide our homelessness coverage.
Encuesta sobre personas sin hogar. 
This series is made possible by the support of more than 100 Santa Cruz Local readers. Santa Cruz Local readers gave more than $20,000 in July and August to support this series. Thank you!
7 / YOUR THOUGHTS
What's missing in your neighborhood?
We posed this question in our last newsletter issue. Here are some of your responses:
"More safe places for kids to ride bikes. I'm a big advocate of the Greenway trail idea."—Claudia Graziano Burgin
"Street cleaning. Stop sign at Logan and Cayuga. Middle island for Cayuga" —Maria Etheredge 
"Sidewalks are hit and miss in my neighborhood. I live just a couple blocks from a major transportation corridor and I'd like to be able to walk to nearby bus stops, grocery stores, pharmacy, library and various shops without having to walk in the street. I'd like to see the Regional Transportation Commission dedicate part of their budget to helping property owners where sidewalks are missing to complete continuous sidewalks to facilitate walking and the use of public transportation and reduce greenhouse gases." —Jan Karwin
Today's question: What keeps you up at night? Share your thoughts.
We'll share responses in our next issue.
A note from staff
We're asking you questions in our newsletter and sharing your responses because we want to get to know you better. And we want you, our Santa Cruz Local readers, to get to know each other a little bit too. 
You're part of a smart and informed community of Santa Cruz Local readers. We invite you to support our work with a Santa Cruz Local membership today.