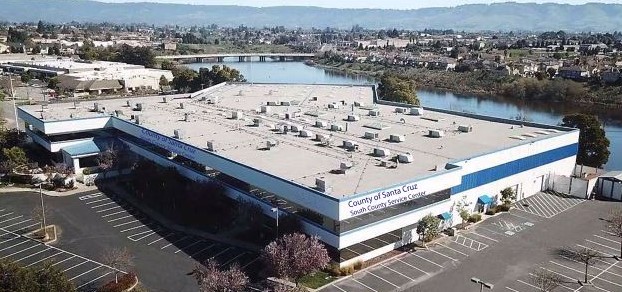 A rendering shows 500 Westridge Drive, Watsonville. Santa Cruz County leaders approved a purchase agreement for a new South County Service Center at the property. (County of Santa Cruz)
SANTA CRUZ >> Described as the county's biggest public investment in South County in decades, Santa Cruz County supervisors on Tuesday unanimously approved a $16.4 million purchase of a 121,000-square-foot building in Watsonville for a new South County Service Center. 
The building is expected to consolidate several county programs that were leased in five buildings and create a public counter for some services that had only been available at the county's main building at 701 Ocean St. in Santa Cruz. 
"This is the most significant investment in the South County that's been made in a couple of generations," said Supervisor Zach Friend. "In terms of equity and access to services, unquestionably. In terms of environmental improvements because of how many vehicles will be taken off the road that would normally have to do that commute up to 701 (Ocean St.) for both employees and residents of South County. And from an economic perspective: Having employees down there that will be supporting the local businesses in the area," Friend said.  
About 340 county employees are expected to work at the site which was the headquarters of the boating supply firm West Marine. There are about 95,000 square feet of offices and 26,000 square feet of warehouses across 7.7 acres on the adjacent parcels at 500 and 355 Westridge Drive. There are 536 parking spots. 
County services expected to move into 500 Westridge Drive, Watsonville include:
Escrow is expected to close in August. County leaders expect to make more than $10 million in improvements to the property for a total project cost of $27.6 million. Bonds are expected to help finance the project. The project is expected to save several million dollars from leases it no longer must pay.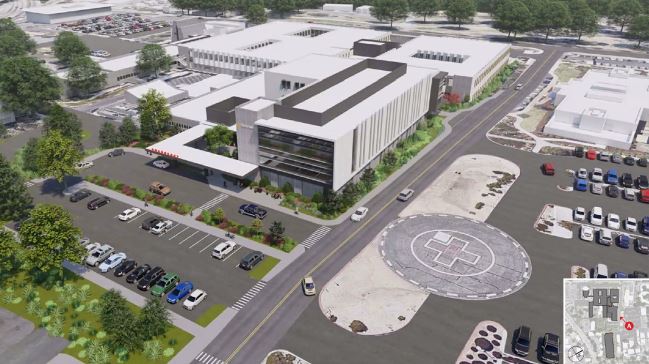 A $360 million Dominican Hospital renovation is expected to include two larger surgery rooms, a 3-story parking garage and conversion of all patient rooms to single occupancy. (County of Santa Cruz)
Dominican Hospital renovation approved
Supervisors on Tuesday unanimously approved a permit and other requirements for an $360 million renovation of Dominican Hospital at 1555 Soquel Drive in Live Oak. The project will add two larger surgery rooms and convert all the patient rooms to single occupancy in an 85,000-square-foot addition. It also will create a three-story parking garage. 
Hospital leaders described the project as a modernization rather than an expansion in part because it will still have 222 patient beds. It is expected to add 39 new employees to its more than 1,500 current employees. 
The project also includes new landscaping and common outdoor areas. Supervisor Manu Koenig, who represents the area, said it was a "great project" that also "does a good job of shielding the impacts of the new building from the surrounding neighborhood." 
County Public Works leaders asked hospital leaders to pay $540,600 to a Transportation/Roadside Improvement fee based on the impact of the hospital's square footage increase. Hospital representatives and Deidre Hamilton of Hamilton Land Planning said the hospital leaders should pay $88,800 instead because the anticipated vehicle trips to the site are roughly the same. 
The money is expected to be leveraged with about $1.5 million from the state to help pay for overdue improvements to Soquel Drive. 
Supervisor Ryan Coonerty suggested that the fee be lowered to about $338,000. Supervisor Zach Friend said it might create a precedent for other applicants and reduce much needed money for roads. The supervisors voted 5-0 in favor of the original $540,600 fee.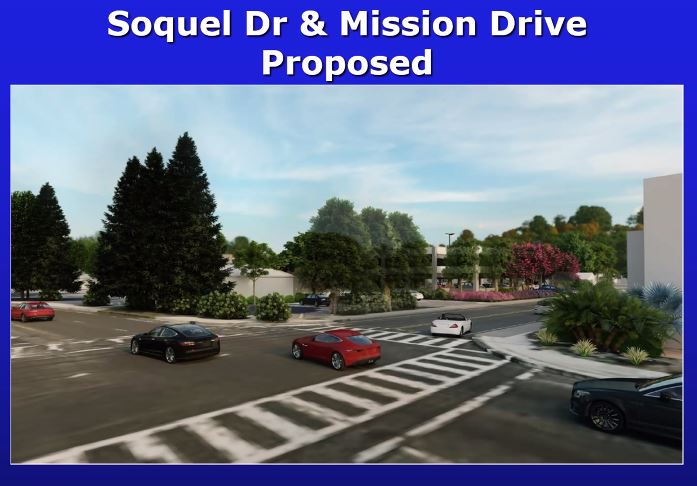 A rendering shows a parking garage set to be built at Dominican Hospital on Soquel Drive in Live Oak. (County of Santa Cruz)
Syringe litter plan to be discussed June 29
Supervisors on Tuesday unanimously accepted a two-year report on the county's syringe services program. They also agreed to consider a potential new program that residents and business owners can contact for same-day removal of syringe litter. A decision on the potential program is expected at the board's June 29 meeting. 
The county's Syringe Services Program essentially distributes and collects needles and offers a range of services intended to reduce drug addiction. The program operates at 1060 Emeline Ave. in Santa Cruz and 1430 Freedom Blvd. in Watsonville. County health leaders said syringe service programs such as the county's are a best practice that helps reduce disease spread, improves access to the life-saving drug Narcan and improves access to drug rehabilitation programs.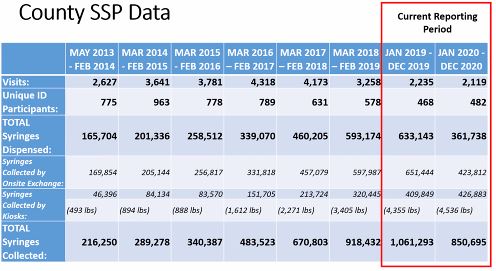 Santa Cruz County's Syringe Services Program distributed fewer syringes but had a similar number of clients during the pandemic in 2020 compared with 2019. (County of Santa Cruz)
Santa Cruz County's Syringe Services Program distributed more than 300,000 syringes in 2020, which was on par with Santa Clara County with a population of about 1.9 million people and Monterey County with about 435,000 people. Santa Cruz County's population is about 273,000. A separate, private program called the Harm Reduction Coalition also distributes and collects syringes. Its tallies were not available Tuesday.
Because of syringe litter, Supervisors Ryan Coonerty and Bruce McPherson suggested that the board approve a potential $100,000 litter removal program, as well as coordinated syringe distribution and collection data and a new county task force to reduce drug use. 
Supervisor Zach Friend said he wanted to delay the proposal in part so that implementation details could be ironed out with leaders from the county's Health Services Agency. 
Dr. Gail Newel, the county's health officer, said, "I also want to clearly acknowledge that we have a needle litter problem. Any amount of needle litter is unacceptable. But needle litter is not a public health crisis. It's not a contributor to early death or increasing disease rates in our county. Needle litter is a reminder to us that we have a drug problem here that some of the most vulnerable among us continue to use intravenous drugs, and we have not adequately served them," Newel said.
Santa Cruz County's rate of opioid deaths per capita is among the highest in the state. Three were about 8 opioid related deaths per 100,000 people in Santa Cruz County in 2013 and 11 opioid related deaths per 100,000 people in 2019. It was the 15th highest rate of death of 58 counties in 2019, according to state data.
"I want to be absolutely clear that I believe that Santa Cruz County has a drug problem," Newel said. "I also say this from a personal point of view, as a mother who lost her oldest child to a fentanyl overdose here in Santa Cruz County in 2016."
The supervisors are expected to take up the proposal again at its June 29 meeting. 
Correction: This story has been updated to reflect the cost of renovation at Dominican Hospital. 
Become a member of Santa Cruz Local, an independent, community-supported newsroom that's owned and led by local journalists. Our stories are free and always will be, but we rely on your support.
Already a member? Support Santa Cruz Local with a one-time gift.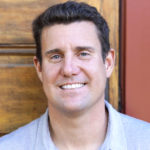 Stephen Baxter is a co-founder and editor of Santa Cruz Local. He covers Santa Cruz County government.