Since Santa Cruz Local's launch in 2019, we have been committed to producing fair and accurate local news that responds to residents' priorities.
We continually ask — through surveys, interviews and listening sessions — what information you want and need. Your priorities guide our newsroom's focus.

We listen to our existing audience and the wider Santa Cruz County community.
We want to get Santa Cruz County residents engaged in our local public institutions because that helps address residents' needs and strengthens our local democracy.
Our news stories explain big decisions in local government.

We explain how to participate in local government and make your voice heard.
We are committed to earning your trust and producing local news that's valuable to you. We hold ourselves accountable to these goals by measuring our progress.
We released our first Santa Cruz Local impact survey in February. Some of the big questions that we tried to measure:
Does our work get Santa Cruz County residents engaged with local government?

Are we earning trust from residents?

Is our work useful and valuable to residents? How?
What we heard
We heard from 73 residents from Feb. 24 to March 1.
Engagement with local government
22% of respondents attended a city council meeting or other public meeting because of reading or listening to Santa Cruz Local.

81% of respondents follow local news more because of Santa Cruz Local.

97% of respondents have discussed a Santa Cruz Local story with their family or friends.

85% of respondents further researched the topic of a Santa Cruz Local story.

10% of respondents said they were inspired to volunteer for public service

because of Santa Cruz Local's reporting
Trust from residents
82% of respondents said Santa Cruz Local's goals are to be fair and serve the community.

90% of survey respondents rated their trust in Santa Cruz Local's reporting as 8 or higher on a scale of 1 to 10.

82% of respondents find Santa Cruz Local's work to be balanced, in-depth, honest and reputable.
Is our work useful and valuable to residents?
"Santa Cruz Local is invaluable as a trusted news source that helps me feel more engaged with my community. Before Santa Cruz Local, I wasn't even paying attention to local news because most of it was just fluff or biased." — Audrey Kim, Santa Cruz Local member
"Such a local gem. Santa Cruz Local covers in detail things you don't get in our local papers." — Sharon Mullenaux, Santa Cruz Local member
"I appreciate truly local news without having to hear about Monterey and Santa Clara counties." — Carol Childers
"I work pretty hard to stay on top of local news, and even so, there's a lot I miss. Santa Cruz Local tends to fill in those gaps, and I've learned about new county issues from your newsletter too." — Laura Giorgi, Santa Cruz Local member
What if Santa Cruz Local didn't exist?
"I wouldn't have a free relevant source of news for things happening around us. Your pieces are filled with information, unbiased and very helpful." — Mimi Dibartolomeo
"The cultural void that is Santa Cruz would become worse. Santa Cruz Local gives me a line to grab to remain in the area and remain active in public service." — Lee Allan Sanders, Santa Cruz Local member
"I would not be as informed about Santa Cruz city and county governance." — Tina Mazzei, Santa Cruz Local member
We asked residents to list words that describe Santa Cruz Local.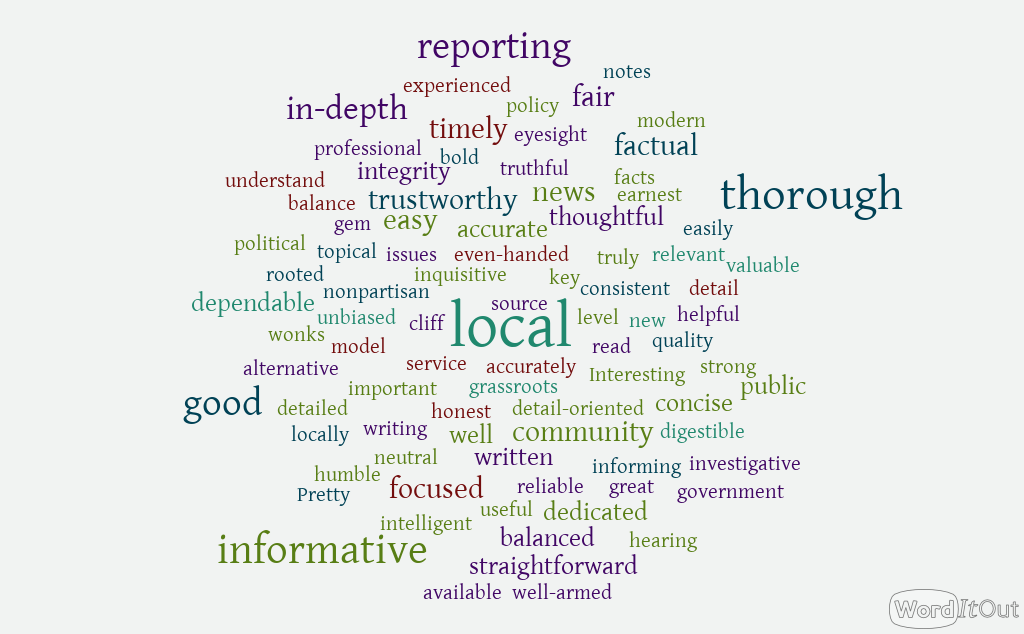 Words that were used more frequently to describe Santa Cruz Local appear larger in this word cloud. Our goal is for residents to describe our work along these themes: balance, honesty, depth, reader agency, professionalism, simplicity and relevance.
Feedback on how we can improve
What can Santa Cruz Local do to better earn your trust?
"Maybe have more county-based issues as well as city." — Jim Engelman, Santa Cruz Local member
"Continue to do the in-depth reporting you're known for." — Patrick Cady
"Stay in business longer so that we have more time to judge your honesty." — Gayle Ortiz, Santa Cruz Local member
Some residents told us they wanted more frequent episodes of our podcast and a consistent schedule for our newsletter. (The newsletter goes out Sunday evenings and usually Wednesday or Friday mornings.)
Others wrote that they want more stories for marginalized communities that explain how those communities will be affected by potential new local laws. Several people said they wanted us to interview more people who are not heard anywhere else.
Next steps
This survey and report are the first steps to establish a baseline to measure our performance. We also have other questions we'd like to measure, including:
How well does our reporting reflect the needs and priorities of all Santa Cruz County residents, including those who are not normally heard by local media?

Our mission is to "produce fair and accurate local journalism that holds power to account." How well are we fulfilling it? 

How user-friendly and accessible are our newsletter, podcast and website?
Your feedback guides our newsroom's processes as well as the design of our newsletter, podcast, website and other products. This practice is continual. You'll hear from us more, with surveys and requests for interviews about our work. 
We invite you to respond with your ideas, questions and concerns. What resonates with you from this report? Call out our blind spots. What are we missing? Contact us at [email protected] or use the form below.