Santa Cruz Local offers its wildfire-related work free as a public service. But our journalism takes time and money to produce.
Santa Cruz Local depends on memberships from people like you to make sure vital information can be available to all. Can we count on your help?
SCOTTS VALLEY >> With nearly 1 in 3 Santa Cruz County residents displaced by fires that have stormed through the North Coast and western San Lorenzo Valley, firefighters Friday expressed sharper priorities to stop the blaze from crossing Highway 9 and from entering the city of Santa Cruz. 
The CZU August Lightning Complex Fire grew to 89 square miles by Friday evening, up from 75 square miles Thursday, Cal Fire reported. It was 2% contained Friday evening. About 77,000 have been told to evacuate essentially everywhere west of Highway 17 in the county.
Mark Brunton, a Cal Fire operations chief, said authorities plan to evacuate the city of Santa Cruz only "if it's absolutely necessary." He added, "We're not going to be very cavalier about it just because it poses a lot of issues, a lot of problems not only for us but also for the other surrounding counties."
---
The red outline shows areas under evacuation orders. (Map courtesy of Cal Fire) For fire maps, visit Santa Cruz Local's Wildfire Resources page.
---
The National Weather Service reported a 20 to 30 percent chance of showers and thunderstorms in the area Sunday afternoon through Monday night. A high temperature of 89 is expected both days in San Lorenzo Valley and 74 in Santa Cruz.
Firefighters risked their lives to rescue three groups of residents who tried to protect properties in Bonny Doon on Thursday night but became trapped, Brunton said. After the rescue, many stayed, he said. Separately, several homes were saved Thursday night in an hours-long, "valiant" firefight near Boulder Creek Golf Club and Country Club, Brunton said.
Major firefights also held back flames on West Park Avenue near the north end of downtown Boulder Creek.
At least 97 homes were destroyed and 24,323 remain threatened. There were no injuries Friday.
Evacuees should prepare not to return to their homes for weeks, said Brunton, of Cal Fire.
Cal Fire is stretched thin and not many state firefighters are expected to arrive in coming days, Cal Fire said. About 12,000 firefighters across the state responded to 21 large fires and 560 fires in sum Friday, officials said. A landmass the size of Rhode Island already has burned, a Cal Fire official said in a state news conference Friday.
The CZU August Lightning Complex Fire is the third largest in the state and has about 1,100 firefighters battling it. By comparison, a blaze in Napa and Sonoma counties and environs is roughly five times the size of the CZU fire and is being fought by about 1,400 firefighters.
"I'm calling for federal fire fighting forces and resources to be deployed to California from the Department of Defense, the National Guard Bureau, and the Bureau of Land Management," U.S. Rep. Anna Eshoo, D-Palo Alto, wrote in a statement Friday night. The entire CZU August Lightning Complex Fire is in Eshoo's district.
"I'm in constant contact with county officials, Cal Fire, California Office of Emergency Services, the governor's office and federal officials. I'm doing everything I can to get more help to these hard-hit areas," Eshoo wrote.
Even with more firefighters, the Highway 9 corridor poses myriad challenges.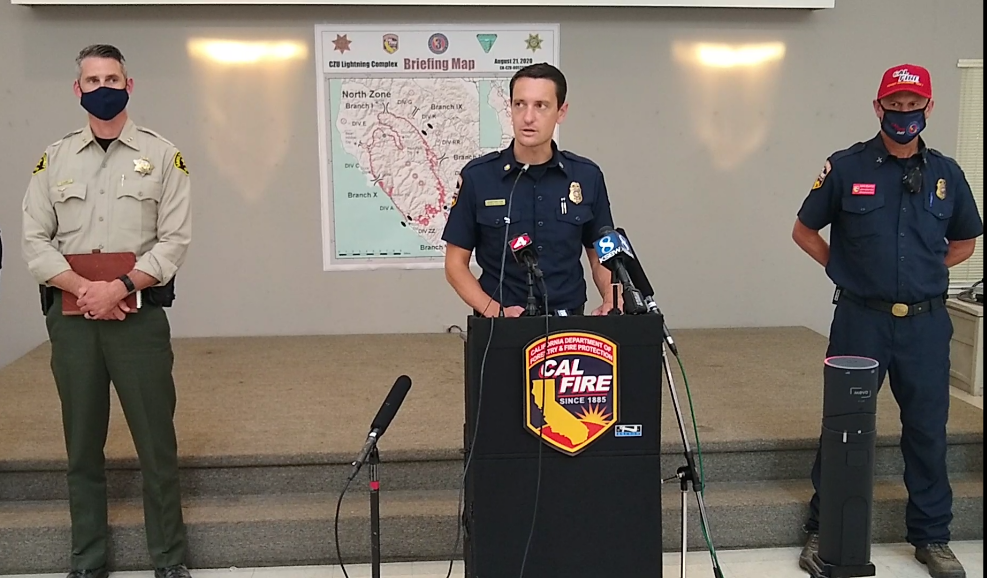 Tactics
"This is a stubborn fire to try to control for a variety of reasons," Mark Brunton said after Friday's Cal Fire news conference at incident command at Skypark in Scotts Valley.
"With the topography, where the communities are, there's no really good places to put good solid control lines like we normally would." Steep, winding, narrow roads throughout the Highway 9 corridor make it dangerous or impossible to circle bulldozers and other equipment around homes for protection, Brunton said.
"Will we overcome eventually? Yes, but it's going to take time to do so and it's going to take resources — which we don't have," Brunton said.
Referring to Bonny Doon and the North Coast part of the fire, Brunton said, "Typically, in an area that size, we would have probably 10 or 20 times the resources to put out that fire. We simply don't have it," he said. "In my 34 years of doing this, I've never been this early in the season with this many catastrophic fires."
Many people have asked about air attacks on the fire, Brunton said.
Air tanker pilots can drop fire retardant and helicopter pilots can drop water only on the north and northwest side of the blaze in San Mateo County because it is upwind, said Cal Fire incident commander Billy See. Because the wind in the area typically blows north to south, the populated southern reaches of the fire near Highway 9 are essentially off limits to air tankers and helicopters, See said. 
There is too much smoke, it's not safe for pilots and it's essentially ineffective for fire suppression anyway, See said.
Damage
Bonny Doon and the Highway 236 corridor northwest of Boulder Creek have had the most homes and other structures decimated, firefighters said. "Our hearts go out to those folks," Brunton said. "It's very devastating what they've experienced."
Firefighters Friday held the blaze from reaching downtown Boulder Creek. They also held fire from getting more than about a quarter of the way down Alba Road toward Highway 9, Brunton said.
The Alba Schoolhouse, a one-room schoolhouse built in 1895 at 12070 Alba Road in Ben Lomond, was leveled by fire, authorities said.
Pie Ranch's historic farmhouse at 2080 Highway 1 in Pescadero was leveled, according to photos.
Locomotives and the roundhouse at the Swanton Pacific Railroad on the 200 block of Swanton Road, Davenport, were greatly damaged except for one replica 1912 locomotive that was out for repairs, the group reported on social media. The one-third scale railroad center is run by California Polytechnic State University. Al Smith, the president of Orchard Supply Hardware and former mayor of Los Gatos, built the center in the 1980s and gave it to his alma mater.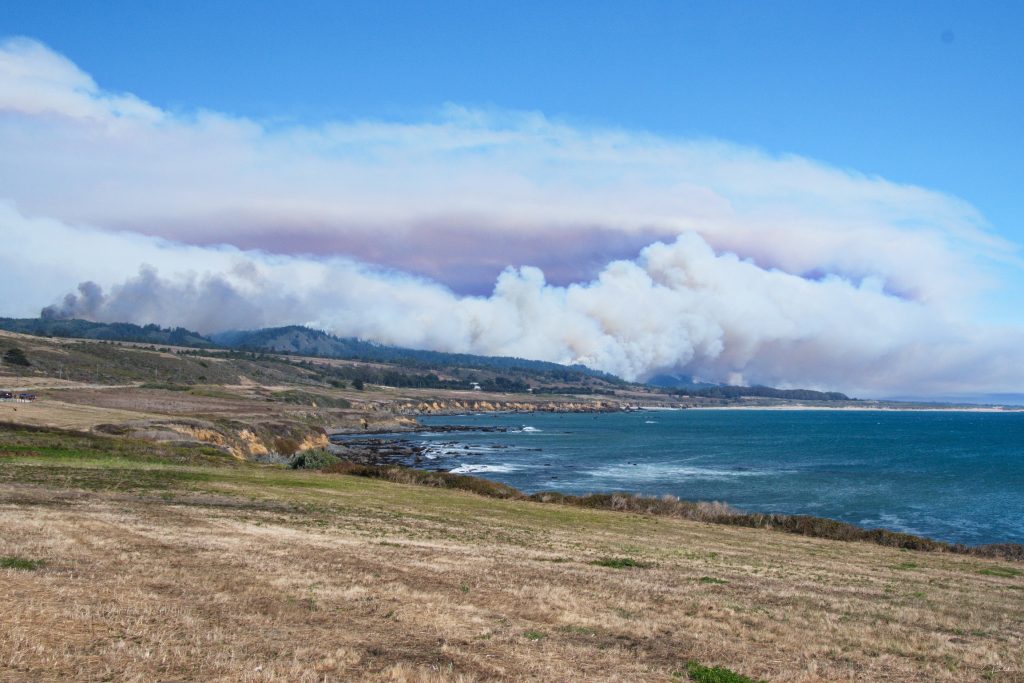 Saves
Cal Fire said Bonny Doon Union Elementary School at 1492 Pine Flat Road remained intact. No other schools or public buildings have been reported destroyed, according to Cal Fire.
Power remained out in Davenport because the fire torched power transmission lines there, Cal Fire said. Bureau of Land Management fire crews in Davenport have relied on water trucked in with water tenders rather than underground water because pumps failed without power, Brunton said.
The Beauregard Vineyards Tasting Room and Winery at 10 Pine Flat Road in Bonny Doon has remained intact because of private firefighters hired by insurers of the property, according to Cal Fire.
Cal Fire reported many other homes saved but declined to give details.
Law enforcement
Santa Cruz County sheriff's deputies switched roles from evacuating residents Thursday to fending off suspected looters. Authorities also put up "hard closures" with barricades at places such as Highway 1 and Bonny Doon Road, said Santa Cruz County sheriff's Chief Deputy Chris Clark.
Four women and a man were arrested Friday on suspicion of looting and burglarizing a home on Fall Creek Drive in Felton, according to the sheriff's office. Deputies also tracked other suspected looters elsewhere in the evacuation area, according to police radio traffic.
"It's disgusting," Clark said, "to think that someone would want to prey on someone during a disaster." He added, "With the staffing that we have up there, we are hoping to find people. If you're up there and looking to loot, we have people that are looking for you."
Santa Cruz city preparation
As retired firefighters, lifeguards, neighborhood leaders and others canvassed Western Drive and High Street neighborhoods Friday, Santa Cruz Fire Chief Jason Hajduk said he was hopeful the city would not have to be defended.
"We are optimistic that we are not going to have to evacuate. We are optimistic that the fire is not going to impact the City of Santa Cruz. However, we are making plans in case it does happen," Hajduk wrote in a statement.
Floating ash have drizzled over the Westside for days. Authorities advise Westside residents to store patio furniture indoors, as well as things like toys, doormats and trash cans. 
Shelters
For evacuees unable to find alternative shelter, emergency shelters are:
Santa Cruz Civic Auditorium, 307 Church Street, Santa Cruz (Update: As of Thursday evening, the auditorium was full.)
Santa Cruz County Fairgrounds, J.J. Crosetti Building, 2601 E. Lake Ave., Watsonville
Santa Cruz Bible Church, 440 Frederick St., Santa Cruz (room for evacuees as well as parking)
Seventh Day Adventists Conference Grounds, 1931 Soquel-San Jose Rd., Soquel.
Congregational Church of Soquel (parking only), 4951 Soquel Dr., Soquel. Bathrooms are available for evacuees.
Twin Lakes Church (parking only), 2701 Cabrillo College Dr., Aptos. Bathrooms, water and food are available.
Cabrillo College Lot K (parking only), 6500 Soquel Drive, Aptos.
Parking lot and grounds of Coastlands Aptos Foursquare Church, 280 State Park Drive, Aptos. (Open to cars, RVs and tents. Limited tents available on site).
Gymnasium of Cabrillo College, 6500 Soquel Drive, Aptos. Congregate shelter.
Simpkins Family Swim Center, 979 17th Ave., Live Oak. Room for 25 evacuees, accessible for people with disabilities.
Lakeview Middle School, 2350 E. Lake Ave., Watsonville. Open for outdoor camping with limited indoor capacity.
For information for evacuees and others affected by the CZU August Lightning Complex Fire, visit Santa Cruz Local's Wildfire Resources page.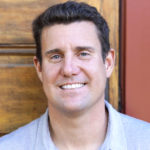 Stephen Baxter is a co-founder and editor of Santa Cruz Local. He covers Santa Cruz County government.