Santa Cruz Local offers its wildfire-related work free as a public service. But our journalism takes time and money to produce.
Santa Cruz Local depends on memberships from people like you to make sure vital information can be available to all. Can we count on your help?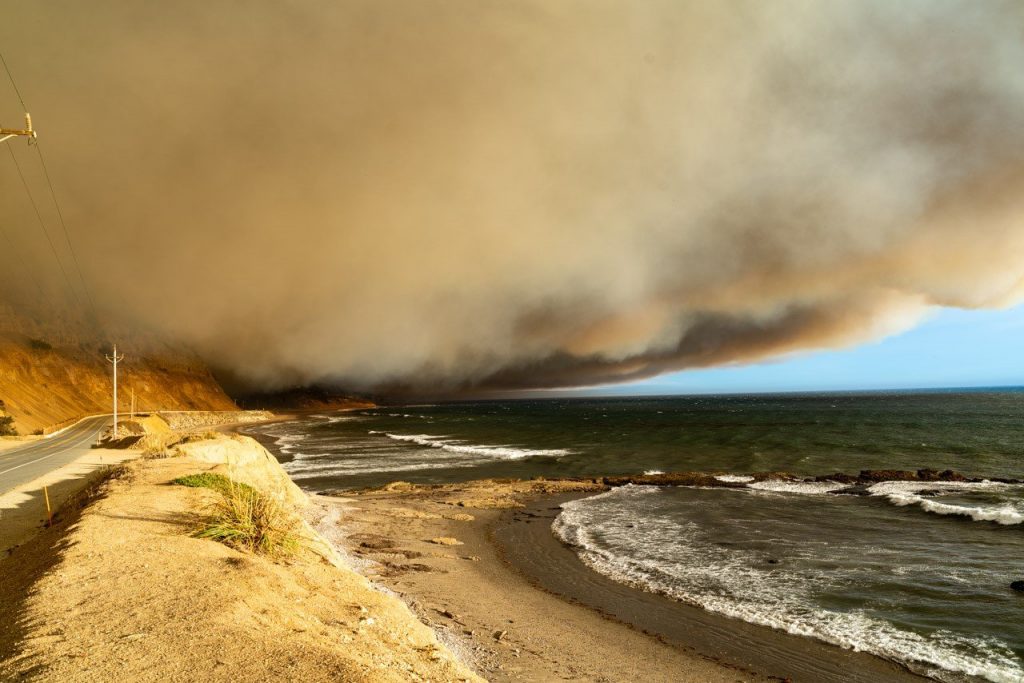 SANTA CRUZ >> Helicopters whirred across a sepia sky Thursday as firefighters battled one of the largest wildfires in Santa Cruz County's history.
A lightning-born blaze that burned about 39 square miles on the North Coast and San Lorenzo Valley by Wednesday grew to about 75 square miles Thursday evening, Cal Fire reported. At least 50 homes were destroyed and nearly 21,000 homes threatened. The blaze remained 0% contained Thursday evening.
A few bright spots emerged through the floating ash.
Firefighters saved some homes on Empire Grade and near Highway 9 in Brookdale, among other places.
A marine layer and higher humidity is expected Friday which could help slow the fire's spread, authorities said. 
Nearly 1,000 firefighters from across the state battled the blaze Thursday — nearly double the force on hand Wednesday.
No injuries have been reported beyond three minor wounds to firefighters Wednesday.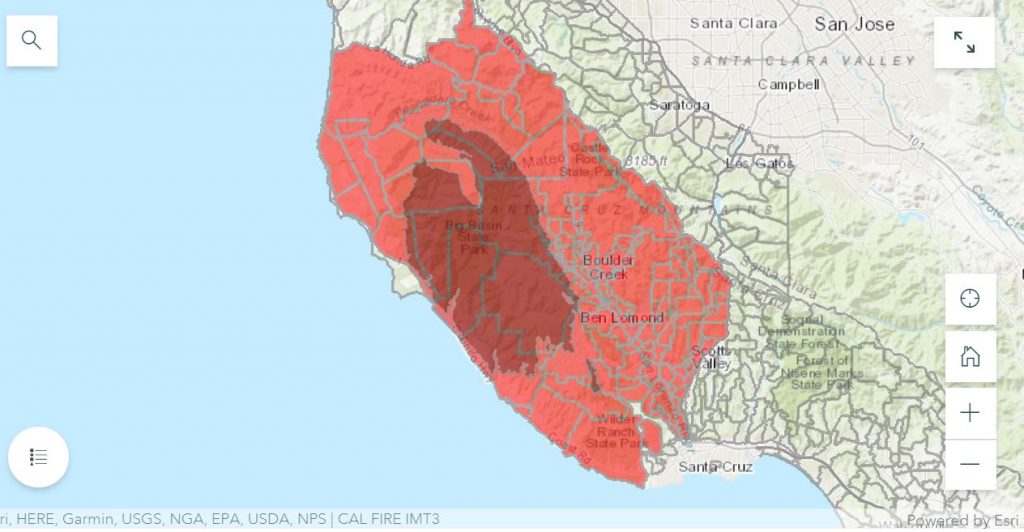 All residents west of Highway 17, including Scotts Valley, were ordered to evacuate Thursday. That's 49,000 people or about 18% of county residents.
"This fire is historic for an area like San Mateo-Santa Cruz," said Ian Larkin, unit chief of Cal Fire's San Mateo-Santa Cruz Unit. "We have not seen fires burn like this in this unit — in either one of these counties — for many, many years. And those fires were much smaller than what we have in front of us today," Larkin said.
The CZU August Lightning Complex fire that started this week is the largest in at least the past 11 years. The Lockheed Fire, which burned about 11 square miles, was in August 2009.
Evacuations
By Thursday, the entire North Coast was evacuated from Wilder Ranch to Año Nuevo state parks at the San Mateo County border. Evacuation orders stretched through the San Lorenzo Valley into Scotts Valley, Paradise Park, UC Santa Cruz and Pasatiempo.
Evacuations reached Santa Cruz city limits at Wilder Ranch State Park and UCSC. Santa Cruz Fire Chief Jason Hajduk advised city residents to prepare their homes and a "go bag" in case of evacuation orders.
"Fire intensity and ember cast has been greater than ever before experienced in this county," Hajduk wrote in a statement. "We need your help to prepare yourselves and the city for the fight I hope we never have to fight."
Dozens of evacuees took refuge at a county-organized, at-capacity Santa Cruz Civic Auditorium on Thursday. Space remained at the Santa Cruz County Fairgrounds' J.J. Crosetti Building at 2601 E Lake Ave., Watsonville
Other evacuation centers also opened Thursday night:
Seventh Day Adventists Conference Grounds, 1931 Soquel-San Jose Rd., Soquel
Santa Cruz Bible Church, 440 Frederick St., Santa Cruz. (Room for 76 evacuees and parking.
Congregational Church of Soquel, 4951 Soquel Dr., Soquel (Parking and bathrooms only) 
Twin Lakes Church 2701 Cabrillo College Dr., Aptos. (Parking for up to 50 cars and RVs, bathrooms, water and food)
Cabrillo College Lot K, 6500 Soquel Dr., Aptos (Parking only)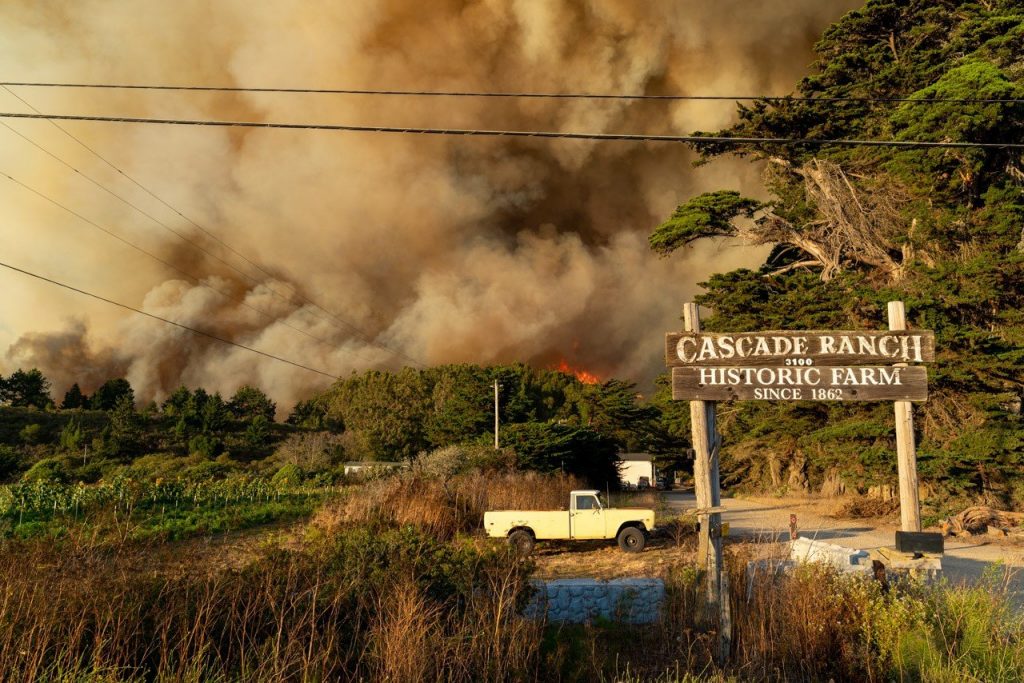 A smaller-than-usual number of UC Santa Cruz staff and students were on campus because of the pandemic. They were told to evacuate Thursday and stay off campus for at least two weeks. An evacuation center for UCSC students opened at Cocoanut Grove at the Santa Cruz Beach Boardwalk. 
About 65 Santa Cruz County sheriff's deputies helped evacuate residents in fire-threatened areas Thursday, said Chief Deputy Chris Clark. About 30 law enforcement officers including some from the California Highway Patrol performed security checks for possible looters. Clark said deputies "help look for folks that are out there doing things they absolutely shouldn't at a time when people are hurting."
Authorities said evacuees should not return to their homes until further notice because of dangerous conditions and limited road access for fire crews. "We do ask that if you are evacuated, please stay evacuated," said Mark Brunton, a Cal Fire operations chief.
Deputies advised people looking for loved ones to search an American Red Cross "Safe and Well" directory. Evacuees are advised to post their status.
Missing persons can be reported to the Sheriff's Office at 831-471-1121, Clark said.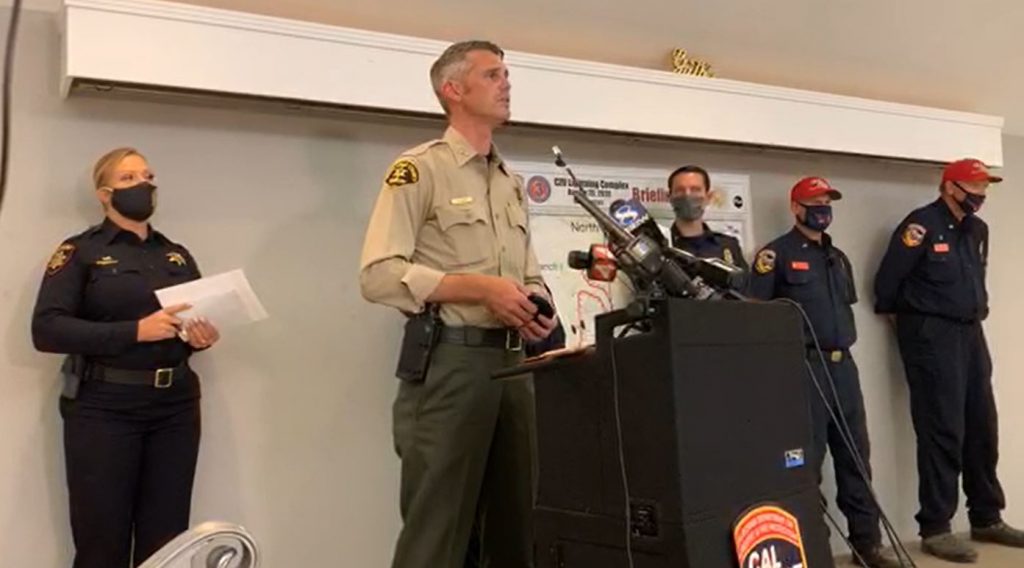 Damage
Firefighters on Thursday fought back flames from homes near the west side of Highway 9 in Boulder Creek, Ben Lomond and Felton, according to Cal Fire.  
In Boulder Creek, Ben Lomond and Felton, "fire has crested above those communities and has moved its way down to Highway 9 just north of the community of Ben Lomond," said Brunton, of Cal Fire. "We have resources and fire suppression personnel in those areas actively fighting fire and protecting structures," Brunton said.
"Davenport is still threatened. Fire is subsiding along the coastline slightly, but it still exists," Brunton said. "We've had a lot of opportunities to save a number of structures throughout the Empire [Grade] area where the fire's impacted heavily. A lot of hard work by our firefighters working extra-long shifts, and we're trying to put the few resources we have in the most advantageous strategic areas possible," Brunton said.
Fire radio traffic included several reports of homes engulfed in flames in Bonny Doon, Brookdale and Boulder Creek. About 2:45 p.m. Thursday, authorities reported two homes on fire within view but there was no way to access or douse them — or even to determine an address.
Deputies went to homes where residents refused to leave. They checked on at least two seniors with dementia whose families had called authorities trying to find them, according to the police radio.
Weather
In Boulder Creek, a high temperature of 94 is expected Friday and Saturday with mostly sunny skies, according to the National Weather Service. Santa Cruz should reach 84 and 78 on those days. Wind is expected to stay around 10 mph in both areas.
Full audio, text of Cal Fire news conference this evening
– Marine layer, more humidity due
– 48,000+ acres burned, up 8000 acres from Wed
– 50+ buildings destroyed
– 20,952 buildings threatened
– 997 firefighters, up from 590 Wed #CZULightningComplex

https://t.co/rsrOboZDbQ

— Stephen Baxter (@sbaxter_sc) August 21, 2020
Cal Fire incident commander Billy See said he anticipated increased fire spread at night. "This country likes to burn at night, more so than during the day, and that's because of wind patterns. The winds aloft will lower down and clear out the smoke, which will increase the fire's rate of spread through the vegetation out there," See said.
"It's all based on terrain, weather conditions and fuel conditions," See said. "And fuel conditions out there are very poor just because of the drought conditions that have been suffered here on this coastline."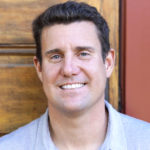 Stephen Baxter is a co-founder and editor of Santa Cruz Local. He covers Santa Cruz County government.