Santa Cruz Local offers its wildfire-related journalism free as a public service. But this work takes time and money to produce.
Santa Cruz Local depends on memberships from people like you to make sure vital information can be available to all. Can we count on your help?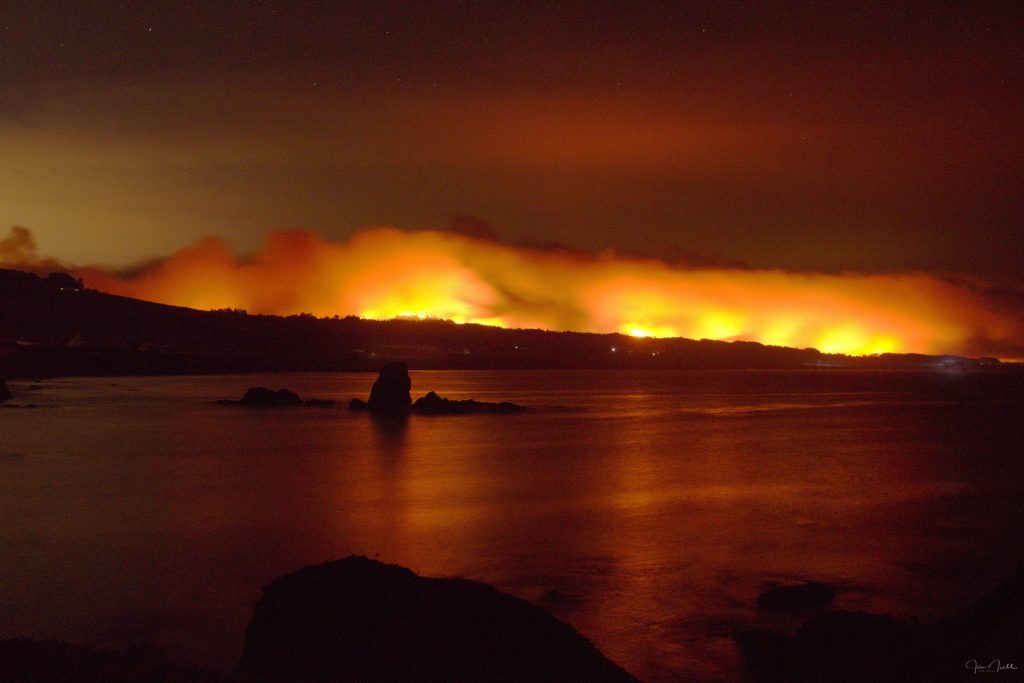 SANTA CRUZ >> Wildfires sparked by lightning claimed more than 25,000 acres on the North Coast, destroying at least 20 homes and prompting evacuations for more than 5,000 people, firefighters said Wednesday evening.
The "CZU August Lightning Complex Fire" was 0% contained as of Wednesday evening. Authorities sent automated evacuation calls to Ben Lomond and Lompico residents Wednesday night. Buildings threatened by the forest fires jumped from about 1,200 Tuesday night to more than 8,500 Wednesday night, Cal Fire reported. More than 590 firefighters have responded.
"We do feel that there is going to be an impact to the community of Boulder Creek and potentially to Ben Lomond and eventually into Felton with the weather conditions that we are experiencing now," said Mark Brunton, a Cal Fire operations chief, Wednesday evening.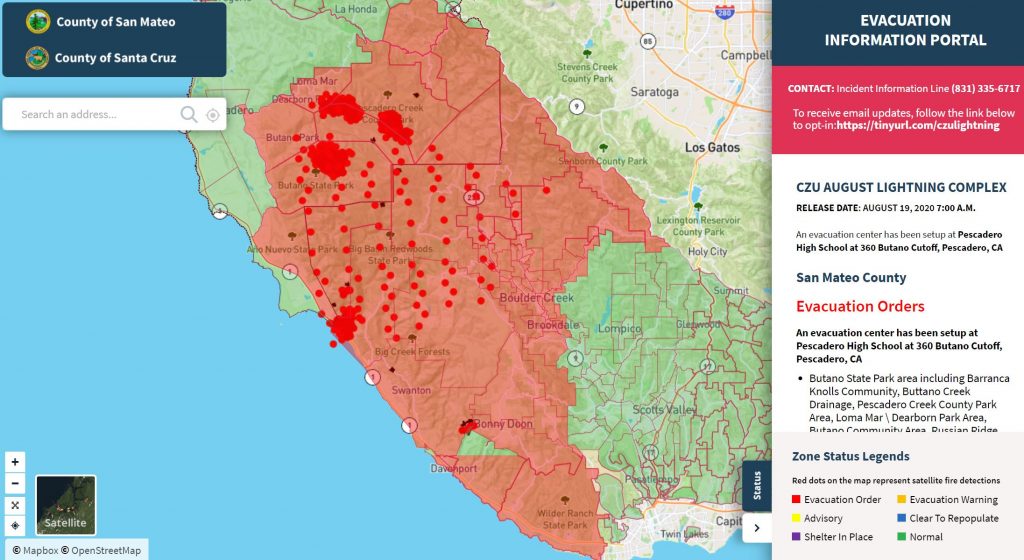 Five large blazes were first reported about 3:15 a.m. Sunday, according to Cal Fire. Flames whipped into Butano State Park in San Mateo County, Waddell Creek in Santa Cruz County and on Cement Plant Road just north of Davenport, authorities said. State Parks said historic buildings in Big Basin Redwoods State Park were burned, as well as homes on Swanton Road, Pine Flat Road, Empire Grade and Highway 236.
Cal Fire leaders said that northwest wind has blown smoke and flames from forests near the San Mateo-Santa Cruz county line toward Davenport, Boulder Creek and Bonny Doon. Blazes near the county line were mainly on inaccessible terrain and difficult to fight, authorities said.
Wednesday, pilots did not fly planes to drop retardant on the blaze because of heavy smoke, said Brunton.
Hills on the north side of the blaze were hard for firefighters to reach. "This is the real deal when it comes to inaccessible. It's trails, it's skid [logging] roads, it's very, very difficult terrain to get in and fight," said Jonathan Cox, deputy chief of Cal Fire's San Mateo-Santa Cruz Unit, Wednesday. "This is not an area where you can drive into or walk into. This is 3-foot duff with a big timber overlay on top of it."
Three firefighters suffered minor injuries while fighting the fires as of Wednesday evening, Cox said. There were no other injuries of residents reported, Cox said.
Simultaneous blazes throughout the state also meant firefighters and equipment were limited. Santa Cruz County sheriff's deputies went door to door to evacuate homes. Authorities also used automated calls, social media and other alerts to tell people to flee.
"We are trying to get people out to safety as best as possible,"Cox said. "Everybody with a badge and a uniform are here for a single mission. That's why we signed up for this."
Evacuations
Residents evacuated Tuesday and Wednesday from Bonny Doon Road, near Highway 236, in Davenport, Davenport Landing, Zayante and Ben Lomond and as far south as Wilder Ranch State Park, according to Cal Fire and county evacuation maps.
Evacuation centers were set up at the Santa Cruz Civic Auditorium at 307 Church St. in Santa Cruz, Santa Cruz County Fairgrounds at 2601 E. Lake Ave. in Watsonville and Half Moon Bay High School at 1 Lewis Foster Drive, Half Moon Bay. Family-size tents were set up in a building at the county fairgrounds. Distance rules tried to prevent the spread of COVID-19.
"Due to the overwhelming footprint of the incident, the county is asking evacuees to find accommodations with family or friends if possible," Santa Cruz County spokesman Jason Hoppin wrote in a statement.
Heavy fire conditions along Empire Grade on the #CZUAugustLightningComplex we had to retreat to the black with a @SJFirefighters strike team while the fire is blowing over the roadway in all directions. Major structure loss extreme fire behavior pic.twitter.com/JHUTXRKcLR

— socalfirephoto.com (@SoCalFirePhoto) August 20, 2020
Damage
At least one home was burned on Pine Flat Road, Swanton Road and Empire Grade, according to videos, photos and Brunton, the Cal Fire operations chief. Cal Fire leaders on Wednesday would not confirm more areas where homes were damaged because investigations were incomplete.
A photo Wednesday showed a hillside at Waddell Creek in flames at the entrance to Big Basin Redwoods State Park. That park — established in 1902 and the oldest California state park — had "extensive damage," according to a statement from State Parks. "The fire damaged the park's headquarters, historic core and campgrounds." It remained closed Thursday along with Henry Cowell Redwoods, Ano Nuevo and Butano state parks.
Weather
Authorities said dry weather played a key role in ignition of the original blazes.
"We've gone almost a week without fog in a county that has fog almost every day," Cox said.
"That has a big impact on our firefight. We don't have the fuel recoveries at night. We have the higher temperatures at night. This is really that alignment of worst case scenarios where we have heat, we have ignition source and we have dry fuel. And those three in alignment — not just in Santa Cruz County and in San Mateo, but across Northern California — have really resulted in where we are now," Cox said.
Ash drizzled over Westside Santa Cruz on Wednesday. Air quality was "unhealthy for sensitive groups" Wednesday and improved to "moderate" Thursday, according to the Monterey Bay Air Resources District.
A high temperature of 83 degrees is expected Thursday in Santa Cruz with "widespread smoke," according to the National Weather Service. A high of 80 is anticipated Friday with mostly sunny skies and northwest wind of about 5 to 10 mph.
"San Lorenzo Valley as well as coastal Santa Cruz areas are expected to be impacted with smoke in the next several days," the air district stated. "Expected air quality indices for those areas can range from moderate to very unhealthy with possible periods of hazardous." Residents are advised to stay indoors.
Statewide, Cal Fire reported 10,000 lightning strikes and more than 360 reported fires since Saturday. Firefighting resources are stretched.
"With the weather conditions that we are experiencing now and that we are going to be seeing not only for the next 24 but 72 hours, that makes that threat very direct and very real," said Brunton, the Cal Fire operations chief, Wednesday. "We're doing everything we possibly can to protect life and property."
Resources for residents
Fire and Evacuation maps: smco.community.zonehaven.com and tinyurl.com/storymapCZU
Cal Fire email updates: tinyurl.com/czulightning
CalFire public information line for CZU August Lightning Complex fires: 831-335-6717
Evacuation centers and accommodations:
For those unable to secure alternative accommodations, shelter is at:
• Santa Cruz Civic Auditorium, 307 Church Street, Santa Cruz, CA
• Santa Cruz Fairgrounds, 2601 E. Lake Avenue, Watsonville, CA
Shelters are open to county residents. Pets are welcome under the owner's control and preferably with a pet carrier. Behavioral health specialists will be on site for support.
American Red Cross accommodation assistance for evacuees: 1-866-272-2237.
American Red Cross website to list yourself safe for loved ones: redcross.org/safeandwell and click "List Yourself as Safe and Well"
Animal evacuation assistance: 831-471-1182.
Santa Cruz County Human Services benefits hotline: 1-888-421-8080. Residents impacted by the fire who are enrolled in benefits programs may be eligible for replacement benefits.
Traffic advisories and road closures: cruz511.org and cad.chp.ca.gov, drop-down menu "Monterey."
Air quality and forecast: air.mbard.org/
Donations: Santa Cruz County leaders ask community members not to donate durable goods or food during disasters. Donations of large, family-sized tents can be brought to the Emeline Warehouse, 1082 Emeline Ave., Santa Cruz. The warehouse is behind the 1080 Emeline Ave. Health Clinic.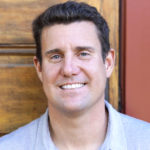 Stephen Baxter is a co-founder and editor of Santa Cruz Local. He covers Santa Cruz County government.