Santa Cruz Local offers its news stories free as a public service.
We depend on people like you — we call them our Santa Cruz Local members — to chip in $9 a month or $99 a year to make sure vital information can be available to all. Can we count on your help?
SANTA CRUZ >> Santa Cruz County shelter orders are expected to ease on Tuesday and after June 2, when county health leaders and county supervisors plan to submit an application to the state for further economic reopening.
Santa Cruz County Health Services Agency Director Mimi Hall said Thursday that a new COVID-19 shelter order will start Tuesday to get the county to "early Stage 2" on the state's reopening roadmap.
That means the reopening of:
Curbside retail, manufacturers, logistics, childcare for non-essential workers and office-based businesses. Several shops on Pacific Avenue in Santa Cruz are already open for curbside retail.
Car washes, pet grooming, landscaping and gardening, outdoor museums, open gallery spaces and other public spaces with restrictions.
"A lot of the state is already there," Hall said. That includes San Benito, Santa Barbara and San Luis Obispo counties.
Separately, county leaders plan to apply for "late Stage 2" reopening with a roughly 60-page document for county supervisors to sign at their June 2 meeting. If approved by the state, that variance would allow:
Non-essential shops, shopping malls and swap meets with distance and sanitation rules
Dine-in restaurants with restrictions. Bars and gaming areas would not be allowed.
Schools could reopen with restrictions. However, schools in Santa Cruz County are not expected to open, county leaders said.
Many downtown shops and restaurants are closed due to COVID-19 shutdowns. Sockshop & Shoe Co. was one of a few retailers in downtown Santa Cruz that offered curbside pickup Thursday. (Kara Meyberg Guzman — Santa Cruz Local)

Cedar and Union streets in Santa Cruz had little to no traffic Thursday. (Kara Meyberg Guzman– Santa Cruz Local)

Pacific Wave in Santa Cruz offered curbside pickup Thursday. (Kara Meyberg Guzman — Santa Cruz Local)

Peet's Coffee customers in downtown Santa Cruz waited outside for pickup Thursday. (Kara Meyberg Guzman — Santa Cruz Local)

Pour Taproom in Santa Cruz offered pickups for online orders of beer Thursday. (Kara Meyberg Guzman — Santa Cruz Local)

The Penny Ice Creamery offered takeout Thursday. (Kara Meyberg Guzman — Santa Cruz Local)

A dentist office was closed Thursday in downtown Santa Cruz. (Kara Meyberg Guzman — Santa Cruz Local)

Pacific Avenue in Santa Cruz had few visitors Thursday. (Kara Meyberg Guzman – Santa Cruz Local)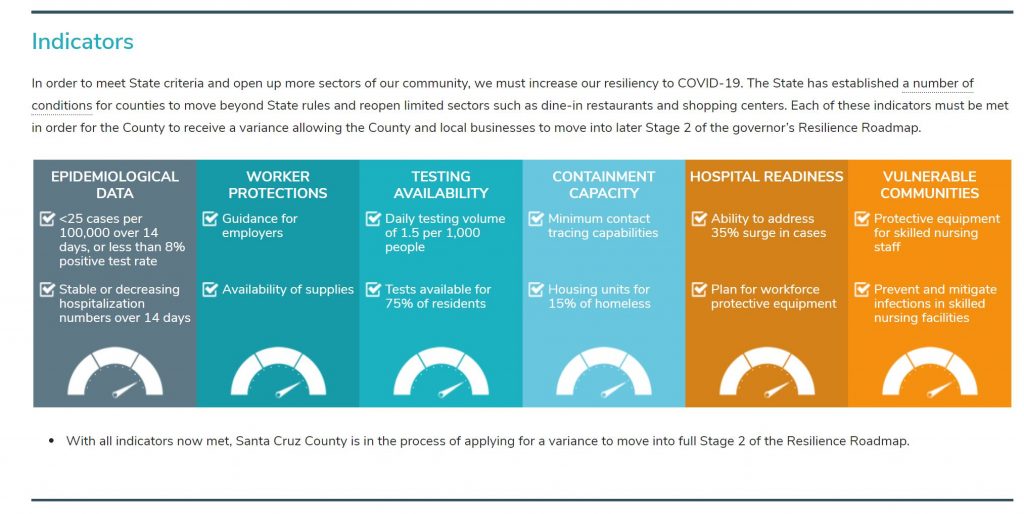 "Personal services" such as hair and nail salons would not reopen under the June 2 application. Such services as well as cinemas and places of worship are in Stage 3. Gov. Gavin Newsom said this week that religious services could be allowed in the coming weeks by state order.
Health leaders have said gatherings are more likely to spread COVID-19. Beaches in Santa Cruz County are expected to remain closed 11 a.m. to 5 p.m. through July Fourth, county leaders said.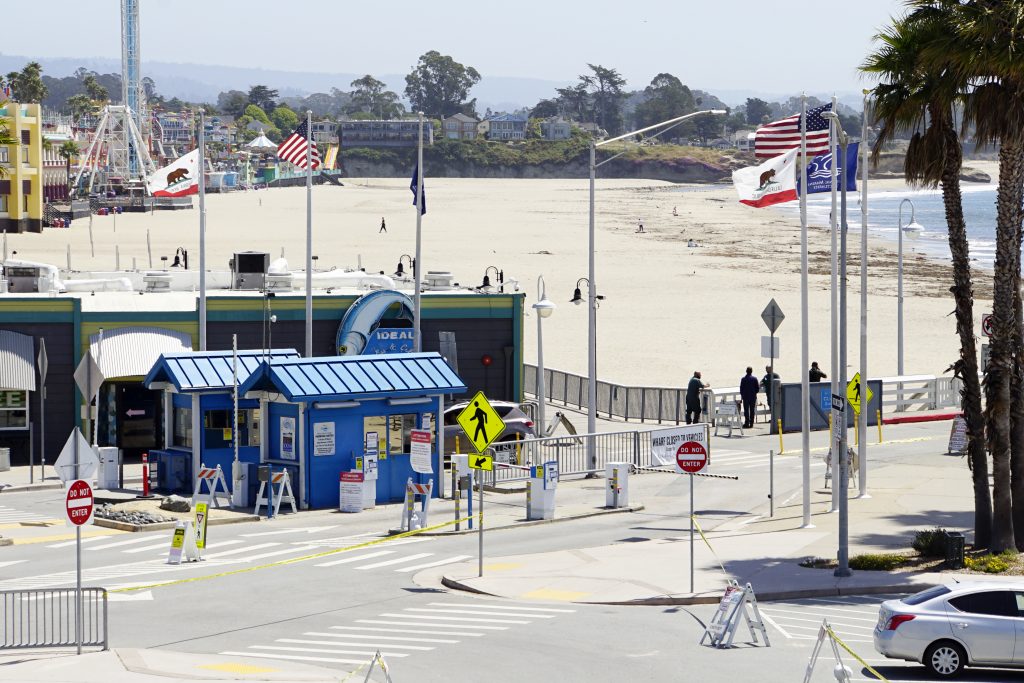 "Our health officer has to give a lot of thought as to what those modifications might look like, and we have a lot of efforts going on working with the community to help maintain prolonged safety," Hall said at a news conference Thursday. Because the state has already approved "late Stage 2" reopening for some counties, Hall was asked why Santa Cruz County doesn't accelerate the timeline.
Hall mentioned the state's criteria was eased Monday for the number of COVID-19 contact tracers and other measures.
"Before Monday, we were four weeks away from meeting the criteria," Hall said Thursday. "We were not anticipating to meet those requirements."
Hall added, "We hadn't done the pre-work and gathering the data and the information. When I look at some of the counties that are similar to us, their various applications are 57 to 62 pages. And there's a lot for us to do in a very short amount of time. I don't even know that we could get the information together. I suppose we could before June 2, but it would be challenging. There are a number of steps, and the first step is having that consultation with the state. We only received feedback from the state yesterday that they're ready for our consultation, and so we're getting that consultation today after this press conference.
"It's not a piece of paper that you fill out. It's much more in depth than that. And then they look for verification of, of all of your data," Hall said. "We're working really hard to meet that deadline."
The state had required 41 contact tracers in Santa Cruz County. Now the requirement is "sufficient contact tracing."
By late June the county expects to have 60 contact tracers trained anyway, Hall said. The county also was supposed to have 410 daily COVID tests. The county's daily average is now 572 tests, Hall said. The test swab shortage was solved this week with shipments, county leaders said.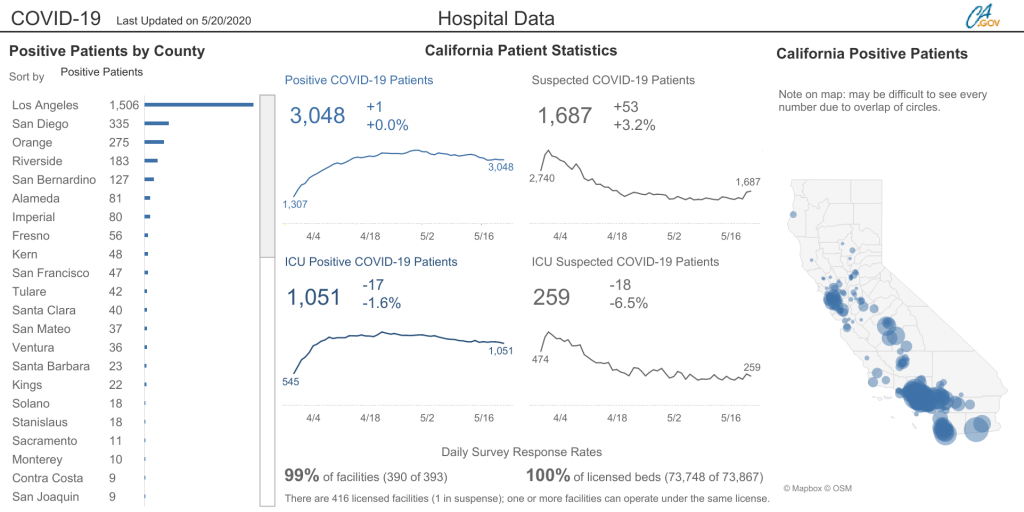 Dr. Gail Newel, the county health officer, said the number of confirmed COVID cases has risen. In the past week, cumulative cases rose from 155 to 174. The county's doubling time — the number of days it takes for case count to double — also has dropped in the last week. That's not good but it's expected, Newel said.
"As we reopen our community, we are going to see more cases. We are going to see more hospitalizations. We anticipate more deaths as well," Newel said. "But we need to balance this with the very real cost, not just economic cost, but also death and disability of an economic downturn. I keep talking about death by poverty. It's a very real phenomenon. And we're really trying to do a balancing act and watch our data carefully, day to day and week by week."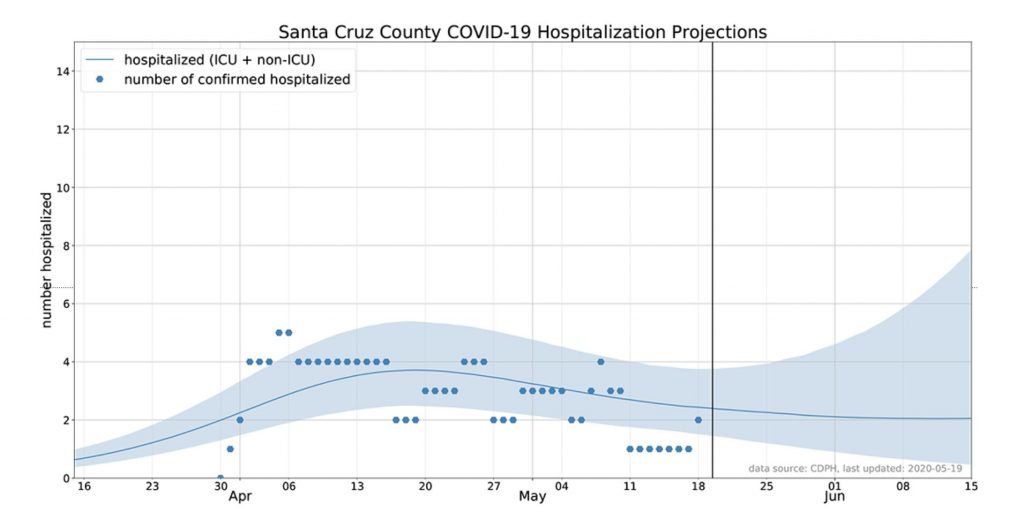 Newel said visitors to Santa Cruz County still pose a threat.
"I know that tourism is a huge part of our culture and our economy. But that is perhaps our greatest danger from a disease perspective. The governor's stay at home order is still very much in place," Newel said.
"We considered closing the beaches altogether over the next coming Memorial Day weekend," Newel said. "In consultation with our law enforcement partners and county and city leaders, we made the decision to continue as is and see how Memorial Day goes … If it goes really well, we might be able to keep things open for Fourth of July."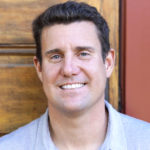 Stephen Baxter is a co-founder and editor of Santa Cruz Local. He covers Santa Cruz County government.