SANTA CRUZ >> As California and Santa Cruz County allow more workplaces to do business Friday as part of a staged reopening plan, county leaders remain short of protective gear, COVID-19 tests and case investigators to meet criteria for further reopening.
Friday, shops such as florists, bookshops, sporting goods stores and other "over-the-counter retailers" can open for curbside pick-up orders, county leaders said. For other businesses, the state on Thursday released detailed distance and hygiene guidelines for reopening workplaces including car dealers, warehouses, manufacturers and offices.
Santa Cruz County Health Officer Dr. Gail Newel said this week that business leaders in the county should defer to the state rules. "Business owners are advised to review state guidance to determine whether their establishments may reopen as well as operational practices, so that they may avoid enforcement actions," Newel wrote in a statement.
Santa Cruz County leaders reiterated Thursday that the roadblocks to reopening were a lack of COVID testing, tracing and a 30-day supply of personal protective equipment in the county. The other two criteria so far have been met: A decline in COVID hospitalizations and ensuring sufficient hospital capacity.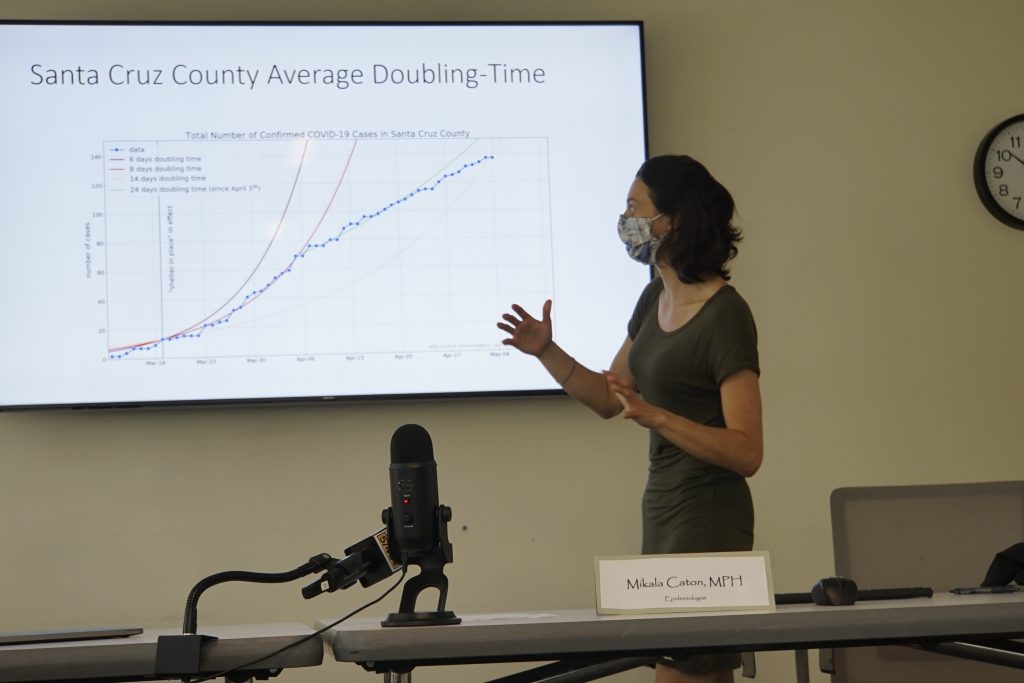 "We know people are going through economic pain and we're very sensitive to that," said Dr. David Ghilarducci, Santa Cruz County's deputy health officer, Thursday. "But the idea is that if we have the state of preparedness — and that has to do with testing capacity, hospitalization, surge capacity, contact and tracing capacity, and so forth — if we have that resiliency in place, then we can start to relax some of the restrictions."
Where Santa Cruz County stands
Testing goal: 400 tests daily. An average of 124 tests have been performed daily in the past 30 days, according to Santa Cruz County data. There were about 3,722 tests performed from April 6 to May 6. Testing has been prioritized for first responders, healthcare workers and referred patients.

Eleven test sites are set up or in the works in Santa Cruz County, according to a new state website. The sites typically require a physician's referral and an appointment for antibody or molecular tests. "Testing will soon not be a problem," Santa Cruz County spokesman Jason Hoppin said Wednesday.

Another development described Thursday was that healthcare workers, first responders and people in skilled nursing facilities will be put on a "14-day regimen" with or without symptoms, Ghilarducci said. "We're moving now into a surveillance mode, which means that we're going to actively test especially our most vulnerable populations," Ghilarducci said. "We realized that the yield of a test on an asymptomatic patient or person is much lower, and there's a propensity for false negatives in that situation. But nevertheless, it does give us more data on which to build our models and understand when we might see an uptick in cases. So it's about understanding the prevalence or the amount of disease in the community."
Equipment goal: Minimum 30-day supply of personal protective equipment for healthcare providers. Santa Cruz County daily demand was met Tuesday with 1,192 gowns, 1,726 face shields and 221 glasses and goggles on hand, said Deputy County Health Officer David Ghilarducci. The county has sufficient N95 masks, Ghilarducci said in late April. The county does not have a 30-day supply of all the gear. County officials ordered 136,000 gowns and 33,000 units of eye protection in April but have not received all of it.
Investigation goal: Sufficient case investigation, contact tracing and isolation/quarantine capacity. The county does not yet have a target number of trained contact tracers. Nonessential government workers and many retired medical professionals are expected to be trained as COVID contact tracers this month, Hoppin said.
Gov. Gavin Newsom said that reopening more businesses Friday would mark the second stage in a four-stage reopening plan.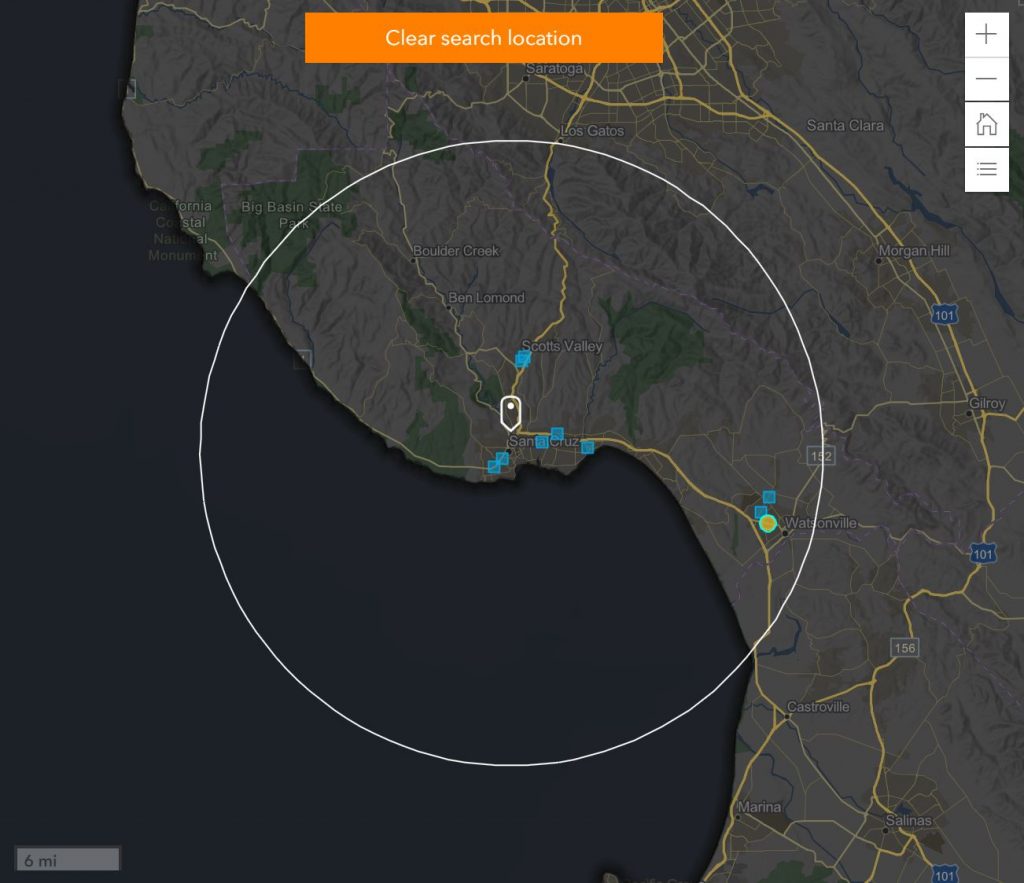 For Santa Cruz County and the rest of the state, curbside pickup for more shops starts Friday if the business meets state guidelines. There are also openings for offices, manufacturers, clothing stores, car dealers and other businesses if they meet state rules. The next step, Stage 3, would reopen churches, movie theaters and "hospitality services" with distance rules, state officials said.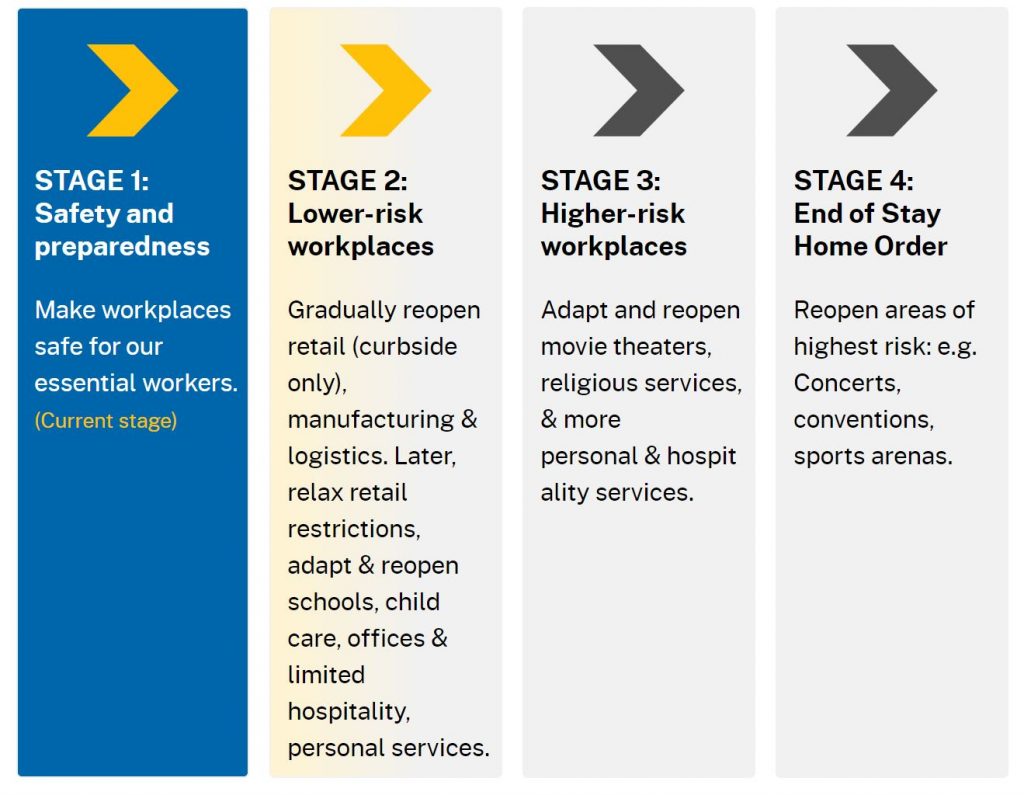 The governor's plan requires that before reopening, all businesses must:
Perform a detailed risk assessment and implement a site-specific protection plan
Train employees on how to limit the spread of COVID-19, including how to screen themselves for symptoms and stay home if they have them
Have health screenings
Use disinfecting protocols
Comply with physical distancing guidelines
California officials on Thursday also outlined regional criteria that could open some parts of the state faster than others. Using some, but not all, of the state's regional criteria, Santa Cruz County with a population of 273,000 would need:
Fewer than 27 new COVID cases in 14 days. Santa Cruz County had about 28 new COVID cases in the past 14 days, according to county data. Health officials expect COVID case numbers to rise as test capacity increases.
No COVID deaths in the past 14 days: Santa Cruz County has had no new reported COVID deaths in the past 14 days.
Minimum daily testing capacity of 410 tests. There have been 124 tests performed daily on average in the past 30 days, according to Santa Cruz County data. Testing is expected to ramp up in coming weeks.
At least 41 contact tracers: The county has not released its current number of contact tracers.
---
Times like these need reliable reporting. Our work is free for everyone in Santa Cruz County, but we need your support. Become a member today.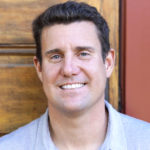 Stephen Baxter is a co-founder and editor of Santa Cruz Local. He covers Santa Cruz County government.