SANTA CRUZ >> Citing strong progress in the fight against COVID-19 in Santa Cruz County, the county health officer on Thursday issued new rules that open businesses like construction, real estate and some childcare with distance and hygiene mandates. The order ー which starts late Friday night ー also closes beaches in the county 11 a.m. to 5 p.m. daily.
The new rules are less restrictive than San Francisco Bay Area counties, but the order does not have an end date. Santa Cruz County Health Officer Gail Newel said she plans to modify the order roughly every three weeks as COVID conditions change.
"Gatherings of any size will be one of the very last things to be lifted," Newel said during a news conference Thursday. "Social distancing is the most important part and the biggest contributor to our success in keeping our most vulnerable out of the hospital and keeping our healthcare systems from being overwhelmed," she said.
Beaches will be closed 11 a.m. to 5 p.m. except for people who cross the beach to access the ocean, the order states. "Sitting, lying, standing, sunbathing, sightseeing, picnicking, and all other non-exercise, passive, or sedentary activities at beaches are prohibited," the order states. 
Newel's said beaches would close because gathering and lingering anywhere is the "highest risk" activity to spread COVID. Sitting on a beach with others is different than, say, visiting a grocery store because those visits involve brief and distant interactions.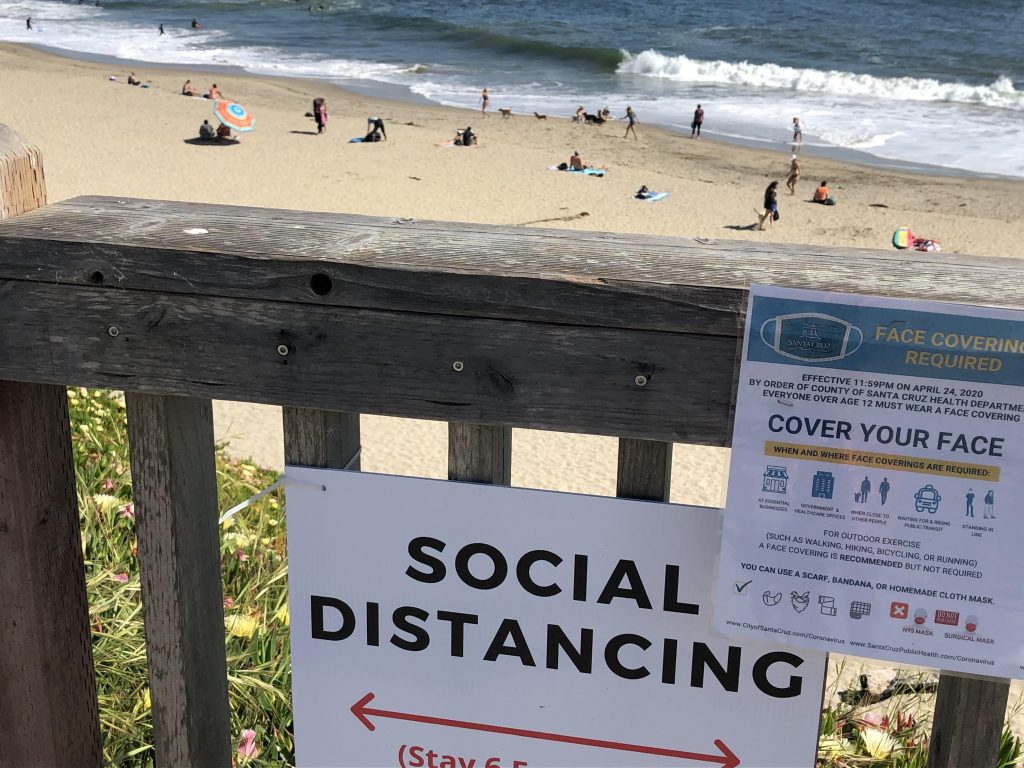 In response to some residents' proposals to limit out-of-county visitors to Santa Cruz County, Newel said legal concerns left the decision up to the state's health officer. Restricting county travel would be reciprocal.
"The state health officer could put us in a quarantine which would restrict visitors from coming into our county, but it also restricts our residents from leaving the county. And I don't think that any of us would be very happy about that either," Newel said.
The county's only cluster of cases has happened at a supermarket, and it was among employees rather than customers. Newel said Thursday that 13 employees of New Leaf Market in Aptos have tested COVID positive, as well as a 14th person who lives with an employee.
Newel said 80 New Leaf employees were tested and 40 results were negative. Test results have not been returned for others.
Thursday, there were two people in the Santa Cruz County hospitals with COVID-19. COVID hospitalizations have trended down since early April, according to county data.
Of the 131 people who have ever tested positive for COVID-19 in Santa Cruz County, 88 of them have recovered, according to county data. Roughly 3,700 COVID-19 tests have ever been administered in Santa Cruz County, according to county data. Testing is limited and has been reserved for people with severe symptoms, healthcare workers and first responders, so it is not a good gauge of COVID prevalence.
Newel also said childcare facilities could open for children of essential workers. Schools will remain shut in Santa Cruz County per school district orders.
"We recognize that having our children out of an educational system is difficult and the longer we go without school and without the safety and security of the school system for some families, that it becomes more critical," Newel said during a phone town hall with state Sen. Bill Monning on Thursday.
"Schools are not just schools to many of our families and our communities. They're also where they get fed, where they get medical services and social services. And we recognize that the longer the schools are not in session, the more difficult it is for our local families. So that's part of the reason, is we're trying to meet that need. We also recognize that young people are less vulnerable to complications, including hospitalizations and death from this virus and for that reason we feel better about doing that," Newel said.
Elective medical procedures, preventive care, well-child visits and dentistry are allowed in the new order. "Santa Cruz County residents are encouraged to contact their healthcare providers to schedule deferred care, including preventive care," Santa Cruz County spokesman Jason Hoppin wrote in a statement.
---
We look for stories that impact your life. It's important to report the news, but our goal is to answer your questions. Support our work with a membership today.
---
Rules in the new order include:
Childcare
Childcare, summer camps, and other educational or recreational institutions or programs are allowed for children of all ages if they enable owners, employees, volunteers, and contractors for essential businesses, essential governmental functions, or minimum basic operations to work. "To the extent possible, these operations must … be carried out in stable groups of 12 or fewer children. 'Stable' means that the same 12 or fewer children are in the same group each day."
Schools are still expected to remain closed in Santa Cruz County per school district orders.
If the state lifts childcare restrictions further, then the county will follow, Newel said.
Business
Construction and real estate business is allowed with distance protocols. Some rules include wearing gloves, goggles, face shields and face coverings as appropriate. Sharing of tools, phones, desks, offices and equipment is discouraged. Construction workers must tell supervisors if they have a COVID-positive person in their household.
Outdoor workers such as arborists, landscapers and gardeners are allowed to work with distance protocols. Garden centers, agricultural operations and nurseries may open with protocols.
Stores that sell fabric and crafts can open in part so people can make protective gear such as face coverings.
Protocols for all open businesses include:
Signs must be posted outside that inform employees and customers to avoid entering with a cough or fever; maintain a minimum 6-foot distance from one another; sneeze and cough into a cloth or tissue or, if not available, into one's elbow; and to not physically contact anyone unless necessary.
Employees must stay home if sick.
Break rooms and bathrooms must be disinfected frequently.
Customers must be limited in stores to maintain 6-foot distance.
Hand-washing facilities and hand sanitizer must be available.
Hotels and vacation rentals
Hotels, motels and bed and breakfasts, RV parks, campgrounds and vacation rentals remain closed except for essential workers. Vacation rental owners, operators and patrons can be fined for non-essential business.
Sports
Golf is allowed with no flag sticks, no rented carts and other rules.
Mountain biking, surfing, walking and running are allowed.
Transportation
Separate from the order, Santa Cruz Metro representatives said this week that buses are limited to five to eight passengers who are commuting to or from essential work or errands. Bus drivers ask passengers their reason for travel.
The county order states that, "Businesses that manufacture, distribute, sell, rent, lease, repair and maintain vehicles and other transportation equipment (including electric vehicle charging stations) and the supply chains that enable these operations" are allowed with social distance requirements.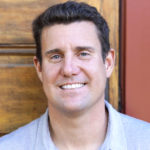 Stephen Baxter is a co-founder and editor of Santa Cruz Local. He covers Santa Cruz County government.