Editor's note: This resource page is part of Santa Cruz Local's Guide to Local Government. Read an introduction and view all the pages.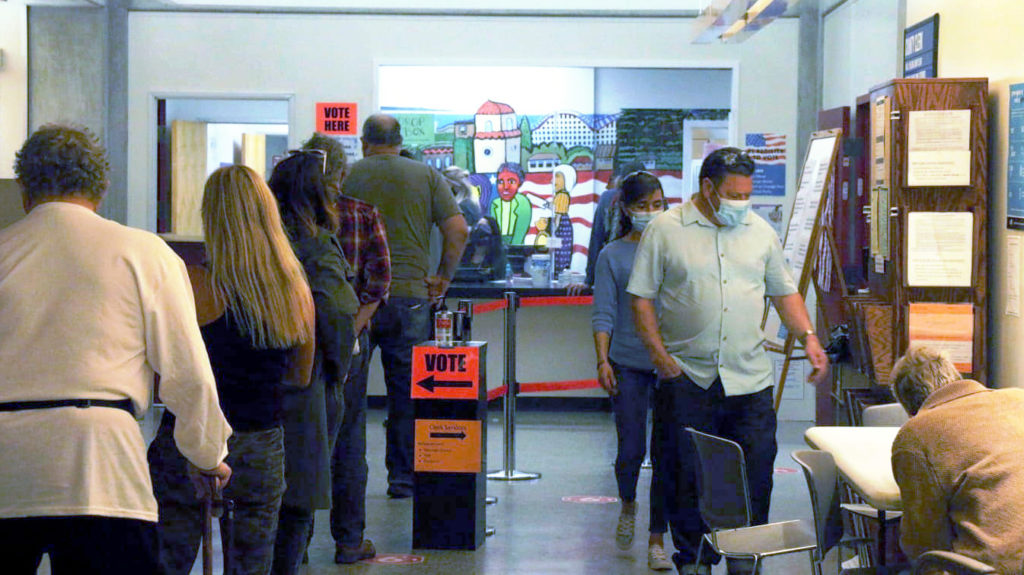 Voters line up on Election Day, Nov. 3, 2020, at the Santa Cruz County Clerk's Office. (Natalya Dreszer—Santa Cruz Local)
Cities and counties
Cities and counties provide some of the same services in different areas— things like street repairs, permits, parks and recreation and many other things. So, depending on where you are in Santa Cruz County, that's who's in charge.
A key difference in the types of services that the county and cities provide is that the 58 counties in California are kind of like arms of the state government. Much of the county's budget comes from the state, and its budget is far larger than cities. Counties handle public health, as we saw during the pandemic. Counties are the main provider of social services, such as those related to homelessness, emergency food and shelter. The counties essentially administer the state's court system too, with budgets for the District Attorney's Office and public defender.
Cities, on the other hand, typically handle fewer public dollars. They provide fewer services to fewer people. They police smaller areas. Yet city leaders can enact laws in an array of areas — from parking fees to plastic bags, to the appropriate number of marijuana dispensaries, triathlons and vacation rental units.
What basic services do cities provide?
Street maintenance, parking
Wastewater treatment
Water (Separate water districts may be within a city boundary)
Police
Permits for buildings, businesses, events and other uses
Parks, recreation, public events
Public buildings and facilities including wharfs
What are some powers of my city council?
Plan for growth and land uses such as housing, shops, offices and industry
Set rules for affordable housing and set design standards for new development
Approve housing and other development projects
Approve salaries and benefits of city employees
Set rules for code compliance on noise, pollution, safety and other standards
Write laws and policies related to homelessness response
Recognize and make proclamations to people and businesses (for instance, the council may award a bakery for 30 years of service)
Services differ in cities: Trash, fire, libraries, buses, water
Santa Cruz and Watsonville have city-run trash collection. Scotts Valley, Capitola and unincorporated county areas have private trash haulers.
Capitola does not have its own fire department. Its fire protection comes from Central Fire Protection District which also covers Aptos, La Selva Beach, Rio Del Mar and Soquel. (I told you it was complicated.)
Scotts Valley Fire Protection District is independent of the Scotts Valley City Council.
Santa Cruz Public Libraries is a joint powers agreement between the cities and the county.
Santa Cruz Metropolitan Transit District, which operates the bus lines in the county, is its own public entity with a board of directors. It has representatives from the four cities and the county and nonvoting representatives from UC Santa Cruz and Cabrillo College.
Santa Cruz and Watsonville have their own city water systems. There are at least nine other agencies that provide water across city and county boundaries.
What power does the county board of supervisors have?

A county supervisors meeting in 2020 is broadcast on the County of Santa Cruz's Facebook page. (County of Santa Cruz)
At its core, county government is in charge of
County roads
County fire protection
Public health
County law enforcement: Sheriff's Office, jails, probation
District Attorney's office, public defender
Handles most federal, state money to county
Building and environmental services
County parks
Assistance with food, shelter
What does the board of supervisors oversee?
The board typically makes policies for the unincorporated areas of the county. However, they can coordinate with cities for countywide policies such as for homelessness.
Planning for new construction and land use in unincorporated county areas
Advocate and plan for parks and recreation facilities
Response to emergencies
Homeless services
Housing policies including vacation rentals, affordable housing
Parking permits
Learn about how local government works in Santa Cruz County and how to make your voice heard.