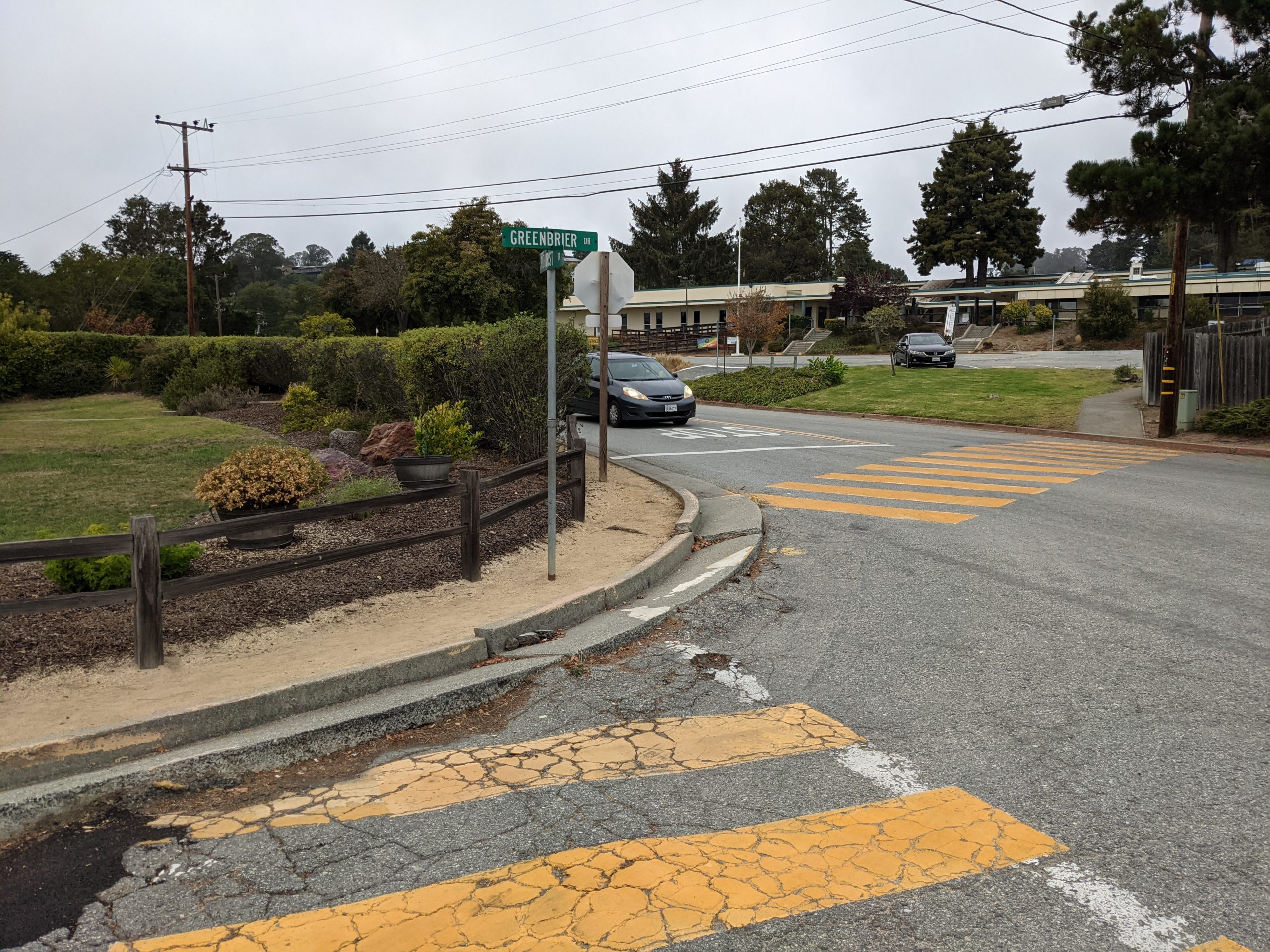 Some roads near Rio Del Mar Elementary School have sidewalks, others don't. (Stephen Baxter — Santa Cruz Local)
There are far fewer sidewalks in places like Aptos, Soquel, Live Oak and the San Lorenzo Valley than in the county's four cities. In unincorporated Santa Cruz County areas, about 3 out of 4 roads do not have sidewalks, transportation leaders said in 2010. One reason is that many residents in past decades wanted to keep a rural feel rather than a suburb. Their county supervisors pushed for policies that reflected that stance. Also keep in mind that more than half of the county's residents live in unincorporated areas outside of cities.  
In the 1990s in places like Live Oak, Santa Cruz County Supervisor Jan Beautz directed millions of dollars or state redevelopment money to sidewalks, curbs, gutters and sewers in Live Oak. "I used to jokingly refer to it as the Bank of Jan Beautz," Keeley said recently. "She used to get a kick out of it when we were on the board of supervisors together."
These days in places like Rio Del Mar, residents have asked for more sidewalks so their children can get to school safely. 
"In my district, there were neighborhoods such as in Rio del Mar, on Sumner (Avenue) and Clubhouse (Drive) that were slated to receive nearly fully-funded sidewalks about over 30 years ago," said Zach Friend, the current county supervisor from that area. "There was significant pushback at the time for wanting to maintain a rural character," Friend said. "Now, I could never build it because the cost would be in the millions and that there are (Americans with Disabilities Act) related grade issues in some of those areas. But now you've got kids trying to walk to Rio Del Mar Elementary hugging a shoulder and it's not safe."
On Nov. 16, 2021, Santa Cruz County Supervisors approved a $112,000 contract to help fix crosswalks, roads, curbs and sidewalk ramps at Greenbrier and Pinehurst drives near Rio del Mar Elementary School. Pajaro Valley Unified School District is also expected to pay $100,000 toward the project.
Supervisor Friend called the fixes "long overdue." He thanked Santa Cruz County Assistant Director of Public Works Steve Wiesner and members of the Pajaro Valley school district for their work on it.
In the San Lorenzo Valley, there has been a push for many years to include more sidewalks in areas near Highway 9. Because Caltrans maintains Highway 9, county leaders have said they have to work closely with Caltrans for even small changes.
In Felton, two people have died in the past five years in collisions near Highway 9. Partly in response to those deaths, Caltrans has planned for sidewalks, signs and flashing lights along Highway 9 roughly from San Lorenzo Valley High School to Graham Hill Road. 
The project is expected to cost $8.4 million and start construction in 2025. Caltrans leaders want residents' input on the project.
Editor's note: This story has been updated to correct the spelling of Jan Beautz. Additional information also was added about Rio del Mar street upgrades in November 2021.