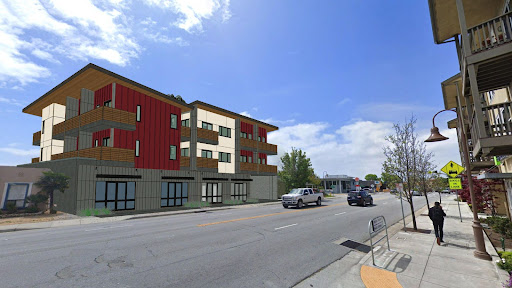 Apartments above shops are planned for 1811 and 1815 Mission St. in Santa Cruz. (Peter Spellman Design Inc.)
Last updated: Feb. 24, 2023
Location: 1811 and 1815 Mission St.
Summary: A three-story mixed use development with ground-floor offices and second- and third-story apartments is proposed on the south side of Mission Street between Palm and Dufour streets.
The project would demolish two single-family homes and construct 27 single-room-occupancy apartments.

It  would include four "very low income" units and 12 parking spaces.
Status: A project application was submitted in September 2022 and deemed incomplete by the city's Planning Department. The applicant is working on resubmittal, said Santa Cruz City Planner Rina Zhou.
Developer: Getgo Properties, LLC
Read more:
Learn about membership
Santa Cruz Local's news is free. We believe that high-quality local news is crucial to democracy. We depend on locals like you to make a meaningful contribution so everyone can access our news.
Learn about membership