Editor's note: This resource page is part of Santa Cruz Local's Guide to Local Government. Read an introduction and view all the pages.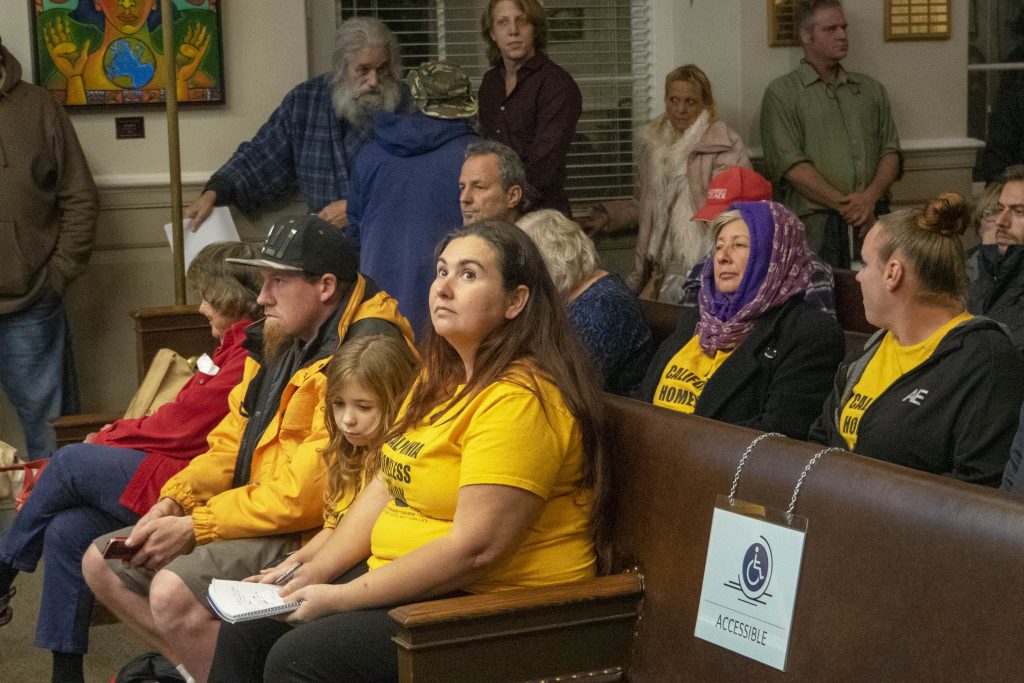 A proposed law related to homeless camping draws dozens of people to a Santa Cruz City Council meeting in November 2019. (Kara Meyberg Guzman — Santa Cruz Local file)
By law, city councils and the board of supervisors can only vote on or discuss items that are on the agenda. There are a few exceptions, such as if the council votes that an emergency exists.
State law also requires agendas to be posted publicly before the meeting. Agendas for city council and board of supervisors meetings are typically posted online the Friday afternoon before the meeting. 
How do items get on the agenda?
The city manager or county administrative officer submits the item

City staff can submit items to the city clerk

Council members or county supervisors can submit items. Each jurisdiction has its own rules for how many co-signers of elected officials are required to get a proposal on the agenda. 

A city board or commission can suggest an idea to the city council, but the council does not have to accept it. Or a county commission, committee or other advisory body can suggest an idea to the county board of supervisors. There are

more than 40 county commissions

. Each city also has several volunteer boards and commissions who advise the city councils. The supervisors also do not have to accept commission suggestions. 
How do I know when it's my turn to speak?
If the item is on the "consent agenda,"

it likely will be discussed near the start of the meeting. Consent agenda items are considered routine and are typically accepted unanimously and at once.

If the item you want to speak about is on the agenda

, you wait until the council or the board reach that part of the meeting. Your turn to speak will come after a staff presentation and before the council or board's discussion and vote. 
If the item you want to speak about is not on the agenda

, look on the agenda for the "Oral Communications" or "Public Comment" part of the meeting. You'll get about one to three minutes to speak. The council or board cannot take action that day, but they could decide to put your issue on a future agenda.
How do I keep track of big upcoming decisions?
The easiest way is to sign up for Santa Cruz Local's free, twice-weekly email newsletter. We study the local government agendas each week. It lets you know about big upcoming decisions in Santa Cruz, Watsonville, Capitola and Scotts Valley city councils and the Santa Cruz County Board of Supervisors.
Meeting details and information on how to participate are in each email.
Learn about how local government works in Santa Cruz County and how to make your voice heard.