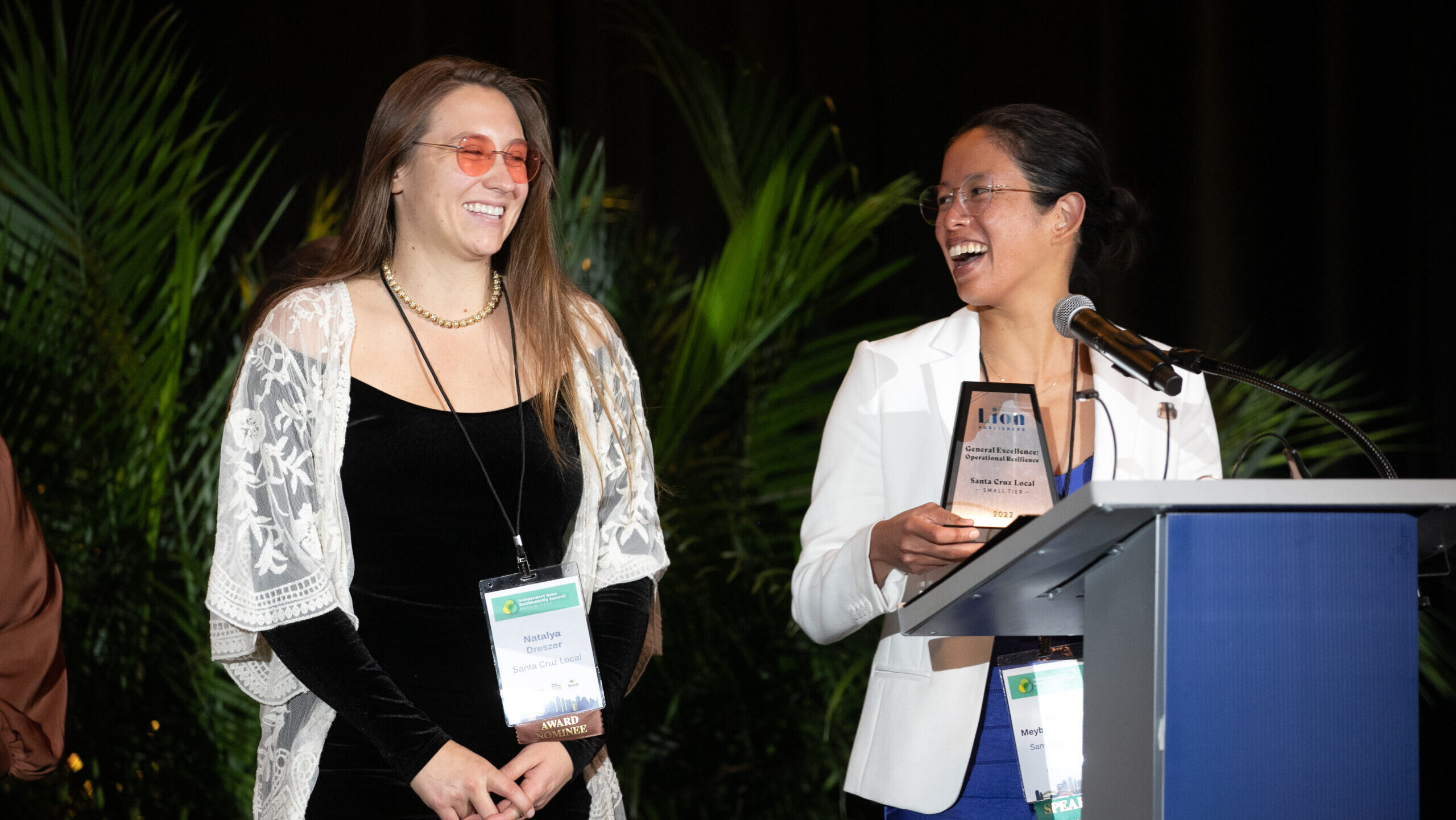 Santa Cruz Local's Natalya Dreszer, left, and Kara Meyberg Guzman accept the Local Independent Online News Award for General Excellence: Operational Resilience in October 2022 in Austin, Texas. (Local Independent Online News Publishers)
Santa Cruz Local is now a 501(c)3 nonprofit organization. 
At Santa Cruz Local, we believe that Santa Cruz County is stronger when everyone has access to fair, accurate, high-quality local journalism. That's why all our news is free.
Our business model depends on locals like you to donate, because many of our readers cannot. Santa Cruz Local recently changed our tax status to make it easier for you to donate. Now that Santa Cruz Local is a 501(c)3 nonprofit, your donations and membership contributions are tax-deductible.
Santa Cruz Local fills the gaps in our local news ecosystem — particularly gaps related to depth, equity and access.
Deep, investigative journalism:

We are the only news outlet in our county that does deep investigations. This type of news is time-consuming and expensive. For example, we recently published an ambitious series on

public spending on homeless services

. It took us two years to produce. 

Community listening:

We interview and survey hundreds of Santa Cruz County residents each year to understand your questions, concerns and priorities. That's what determines our newsroom's focus. We are accountable to you.

Spanish-language news for the Pajaro Valley:

Noticias Watsonville, our Spanish-language news podcast and Whatsapp community, launched this summer. We provide free, fair and accurate news that centers the needs and priorities of Spanish-speaking Pajaro Valley residents. 
We invite you to consider a donation to Santa Cruz Local during our Nov. 1 to Dec. 31 drive. Santa Cruz Local is part of NewsMatch, a nationwide campaign to support nonprofit local journalism. Your donation from Nov. 1 and Dec. 31 will be matched dollar-for-dollar, up to $1,000 per donor. 
Our new nonprofit status also makes your Santa Cruz Local contributions eligible for many companies' matching gift programs. If you work at a business or organization with a matching gift fund, I can help register Santa Cruz Local as a match recipient. 
Also, if you are open to a gift of $1,000 or more, let's talk! Connect with me at [email protected] or 831-291-3456. We are building a local match fund to help ensure our year-end success.
— Kara Meyberg Guzman, Santa Cruz Local CEO/Co-founder
Sept. 11, 2023
Learn about membership
Santa Cruz Local's news is free. We believe that high-quality local news is crucial to democracy. We depend on locals like you to make a meaningful contribution so everyone can access our news.
Learn about membership