Recreational vehicles line Natural Bridges Drive in Santa Cruz in 2021. (Stephen Baxter — Santa Cruz Local file)
Correction: The City of Santa Cruz will pay for a new RV parking program at the National Guard Armory in Santa Cruz. An earlier version of this story misstated the funding source.
SANTA CRUZ >> A legal, overnight parking program for at least 20 RVs is set to start this month outside the National Guard Armory near Delaveaga Golf Course in Santa Cruz.
The $390,000, one-year program was funded by the City of Santa Cruz and will be run by homeless service providers from the Santa Cruz Free Guide and the Association of Faith Communities. The program builds on an Association of Faith Communities RV parking program that has offered overnight RV parking in lots outside churches for the last few years. Those lots are usually full.
The new program will allow 30 to 60 people to use the armory parking lot 24 hours. A case manager and city staff are expected to work with them to find permanent homes, as well as help with job searches, connections to addiction treatment and other services. 
Evan Morrison, executive director for Santa Cruz Free Guide, called it a low-barrier program. "You need to be homeless, living in an RV, and the RV needs to be functional," he said. 
"We realized that having any higher barriers eventually ended up preventing people from getting housing. Once [people] are in, we can work with them to deal with the stuff that they've got going on," Morrison said.
Morrison said he has been interested in opening a separate, no-barrier parking program since the fall of 2020. He wanted to partner with the Association of Faith Communities model and help meet the city's goals.
"We're interested in honestly doing any program that would make a difference with people who are homeless," said Morrison.
Participants may include families, children and pets. "It gives folks a level of freedom" that they wouldn't necessarily get in a shelter or temporary housing, Morrison said.
The program money will go to salaries, infrastructure and flexible funds, Morrison said. People who live in the RVs can be there 24 hours, although staff will not be there 24 hours, program leaders said.
The contract between Free Guide and the City of Santa Cruz began July 1. City workers have to finish some electrical upgrades and other work before it opens. People interested in participation can call 831-515-8665 or email [email protected]. 
Armory parking lot
Morrison said the armory location is a major benefit, with established connections to bathrooms, shuttles and other services. The armory building was a shelter in the past two years funded by COVID-19 related grants. The county-run indoor shelter closed June 27, but a managed tent camp remains outside the armory building, overseen by the city. 
An indoor shelter at the armory is expected to reopen in a few weeks. The Salvation Army is expected to run the shelter with $1.7 million from the City of Santa Cruz. 
Morrison said he hoped the new overnight RV program outside the armory will get participants housed within six months of arrival. Yet, he's worried the Santa Cruz housing market's lack of available options could affect participants' "graduations" from RV living. That's one of the main reasons the program aims for a six-month turnaround, but will have to assess the market options over time, which Morrison said would be difficult with the continued housing shortage and high prices.
"Will there be units available in our housing market for them? I don't know the answer to that question. We may end up with a bottleneck," he said. "We don't know, but we're not going to kick people out of the program if there isn't housing. We are making a commitment to folks to work with them to end their homelessness. We're going to honor that."
Lack of landlords
A shortage of landlords who will accept Housing Choice vouchers has been a major obstacle to connecting people with housing, according to county leaders, homeless service providers and several unhoused people interviewed by Santa Cruz Local during the pandemic.
With a voucher, families pay about 30% of their income toward the rent and the Housing Authority for the County of Santa Cruz pays the remainder of the rent directly to the landlord on the tenant's behalf. Landlords can get a $2,000 signing bonus, a point person to help with tenant issues and 24-hour emergency support. Tenants also receive one-on-one case management.
The Free Guide and homeless services
Meredy Wells launched the Free Guide in 2015 to provide more information for the unhoused about services and their locations.
At the time, Wells would print out the guide and hand it out at camps. Now, the guide — handed out weekly, with over 1,200 handouts in 2021 — is still a major part of the group's mission. There is also an online directory, but Morrison said it is "challenging to keep current."
Those challenges inspired Morrison — the nonprofit's executive director since Nov. 2018 — to find other ways to help the unhoused. Initial conversations with Santa Cruz city leaders started in the summer of 2021. 
Larry Imwalle, the City of Santa Cruz homelessness response manager, said the Armory parking partnership with Free Guide will be a welcome addition to the area's services. 
City staff also work with the Association of Faith Communities for the group's overnight SafeSpaces parking program. Imwalle said the Association of Faith Communities runs 8-10 lots nightly, with each accommodating about six vehicles and up to 50 people. 
"The partnership was kind of a win-win, being able to kind of leverage AFC's expertise in and running these programs with Free Guide to be able to grow that capacity," Imwalle said. "It looks like a promising fit to be able to provide good services."
Jon Showalter, the Association of Faith Communities executive director, said his team has worked with Morrison and Free Guide staff to share insights and advice on running safe parking programs. He confirmed that the number of vehicles and individuals his staff can accommodate nightly has reached its height, and thus a newer program is a welcome addition.
"We've been running the only program in town for three to four years now, and we have a wealth of information," Showalter said. He said they learned what the staff and site needed and how much it would cost.
With Free Guide's new program, Showalter is excited by the addition, noting a dearth of service providers throughout the county compared to the size of the homeless population.
"Organizations like Free Guide and AFC, we can fill that void (to provide) immediate services to folks in the community," Showalter said.
Case management
While the new overnight RV parking program at the Armory has elements similar to the Association of Faith Communities program and a city program at the Santa Cruz Police station on Center Street, Morrison and Free Guide aim to go a step further and provide case management services to participants. 
Case management is supposed to be included in the last step of the city's Oversized Vehicle Ordinance, but Morrison said case management should be at the forefront.
Howard Maxwell is a sole full-time case manager hired this summer for the new safe parking program at the Armory. Maxwell and Morrison have gone into camps and to places where RV dwellers park over the past month to assess people's interest and create a database to ensure those interested in the Free Guide program can participate. In the first few hours of canvassing, they found 17 people interested in the program.
"People are very interested in it — they're passing the fliers on, they're calling on Saturdays and Sundays," Maxwell said. "I'm very excited, and I've been doing this [type of work] for years."
Based on their outreach, they believe that the program could be filled within a week of its expected launch at the end of August.
Imwalle, the Santa Cruz city homelessness manager, said that having case management as the basis for the program is "the kind of vision that [the city] has been trying to build out over time."
"There's a level of intensity of services, and a much more robust stability [to having this type of 24/7 program]," Imwalle said. "We'll be learning as we go, but the focus is certainly trying to have people successfully exit to better housing so we can open up those spots to new participants."
Maxwell will help participants with job searches and drug and alcohol treatment, but he acknowledges it's a complicated thing. 
Maxwell said, "The main concern is to get the RVs into safe parking spots as a place to start, and then we can move from there."
Read Santa Cruz Local's related stories
Questions or comments? Email [email protected]. Santa Cruz Local is funded by members, major donors, sponsors and grants for the general support of our newsroom. Our news judgments are made independently and not on the basis of donor support. Learn more about Santa Cruz Local and how it is funded.
Santa Cruz Local's news is free. We believe that high-quality local news is crucial to democracy. We depend on locals like you to make a meaningful contribution so everyone can access our news. Learn about membership.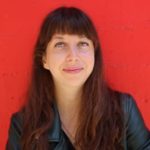 Grace Stetson is a Santa Cruz County freelance journalist who covers housing, homelessness and development. Stetson is a graduate of the Medill School of Journalism master's program. Stetson has worked for Dateline NBC, Walt Disney Publishing Worldwide, Metro Silicon Valley, the Six Fifty, Good Times and Lookout Santa Cruz.